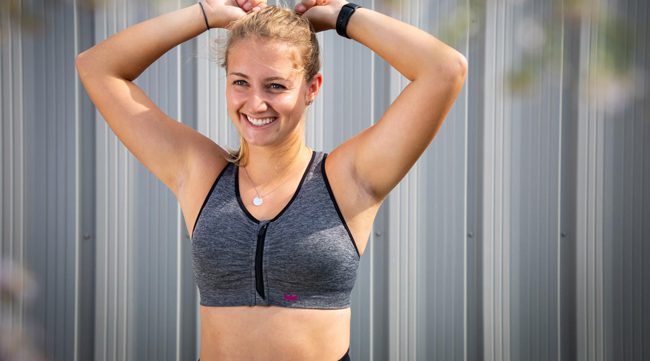 Creating products that women want to wear is tough enough. But making a sports bra that women love to wear is an even greater task. But Michigan-based SHEFIT, a Shark Tank contestant, has been up to the challenge.
Recently, the sports apparel company earned a spot on the prestigious Entrepreneur 360 list, setting itself up as one of the best privately held companies in the nation based on its impact, innovation, growth leadership and value. This is the first year SHEFIT has been named to the list.
Ranked #133, SHEFIT's inclusion on the list comes at a time when the demand for supportive sports bras is increasing. According to a recent study, the average bra size has jumped from a 34B 20 years ago to a 34DD in 2013.
Some of the company's 2018 highlights include:
• Being featured on the Inc. 500 list
• Being featured on the Entrepreneur 360 list
• Receiving a 2018 Healthy Fitness Award by SELF for the Best High Impact Sports Bra
• It expanded its team and warehouse facilities
• It launched a successful product: the Ultimate Flex Sports Bra
Founder Sara Moylan started her company with a simple mission: to provide unconditional and total support through its revolutionary athletic apparel. The company also seeks to focus on its philanthropic activities including ongoing donations of its sports bras to women's shelters and other nonprofit organizations.
The self-funded company officially launched in 2015 by Moylan, a wife, mother, former collegiate athlete and professional International Federation of Bodybuilding and Fitness competitor. After years of frustration from lack of support from traditional sports bras, Moylan decided she was going to invent a sports bra that offers the best support a sports bra should offer. She created the first SHEFIT prototype using a maternity bra and hot glue gun.
Corp! magazine recently asked Moylan about the growing company. Here is some of the interview.
Q: Was it a goal to hit the Entrepreneur 360 List and why?
A: It's always been a goal to be on the Entrepreneur 360 List. The coveted list is a compilation of the nation's top businesses based on impact, innovation, growth, leadership and business valuation. To be an Entrepreneur 360 recipient proves that we're running our business well, and we're on track for future success. Thousands of companies apply to be a recipient, and being chosen two consecutive years shows that we can compete with the largest companies. In 2017, we ranked #293 on the Entrepreneur 360 List, and in 2018, we ranked #133. Our goal is to continue to rank higher and higher on the Entrepreneur 360 List for years to come.
Q: Why did you want to be on Shark Tank and what was the best and worst parts of the experience?
A: Shark Tank reached out to my husband, Bob Moylan, and me to see if we were interested in potentially being featured on the show. Until this point, we were running so fast trying to bring SHEFIT to fruition that we were taken back by the show's outreach. We both knew that if we wanted to prove our product and impress millions of viewers, we needed to take a deep-dive into every single aspect of our business. This was one of the best parts of the Shark Tank experience because it forced us to lay a substantial foundation for the longevity of our business. Another positive about the process was being able to speak with the Sharks to gain mentorship and hear their entrepreneurial insight; even if the Sharks didn't invest in our product, we knew that being able to speak with them would be a dream come true. The advice we took from the Sharks, and the groundwork we laid during the deep-dive process before the show, are things that we still remember today.
Being on Shark Tank allowed for millions of people to see our product in a matter of minutes. The amount of reach and product awareness we instantly received was priceless and almost unheard of. We would not have been able to reach as many customers in such a short amount of time if it wasn't for the airing on Shark Tank. Shark Tank really defines the next generation of entrepreneurs and proved that almost anyone can start a business. Being a part of the Shark Tank revolution (not to mention the airing at the height of the show's popularity) was a whirlwind experience that we're very grateful for. At the same time, appearing on the show also caused immense stress.
My husband and I had about a year to prepare for our pitch to the Sharks, and this was a very emotional time. Within the year, my husband and I read every book written by the Sharks and read every article about the Sharks' insight and the show's cadence. We also rewatched the show's first six seasons and wrote down every single question that the Sharks asked participants. Altogether, there were over 60 questions that we prepared to be asked during our pitch. January 2019 marks three years since our episode aired on Shark Tank, and the entire experience has impacted who we are as a company to this day.
Q: What's new for 2019?
A: The question is, 'what's not new?' In 2018, we experienced nearly three times the amount of growth we experienced in previous years, all while remaining profitable and self-funded. Our team dynamic is ever-changing in order to keep up with our growth, and we will continue this momentum in 2019. This year we're working on four new 'staple' products that every woman needs, but doesn't currently have. These items will be combined with our patented, innovative technology, as well as new innovations that aren't currently offered in the retail industry. Our product development and technology team listens to our customers' feedback, and takes this into consideration when developing products. We develop solutions to consumers' pain points because we believe women shouldn't have to settle for support, comfort, and overall liberation.