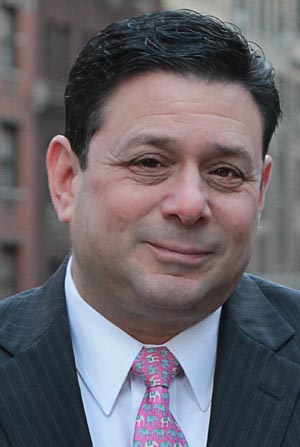 There is no job within the hospitality field that is below you, according to hotel expert Jay Stein. He believes it is how you elevate that job and its role within the hotel you serve that defines you and sets a tone for your future success.
Stein is Chief Executive Officer of Dream Hotel Group, overseeing the evolution and expansion efforts of the Company and its portfolio of brands: Dream Hotels, Time Hotels, The Chatwal and Unscripted Hotels. The company has been growing quickly of late. This year, Dream Hotel Group is projected to triple in size from 18 hotels, predominantly via management deals, an impressive 229 percent growth from 2016 to 2020.
With over three decades in the hospitality business and more than 20 years with Dream Hotel Group's predecessor, Hampshire Hotels Management, Stein has served in a variety of property and corporate roles with both large and boutique hotel brands, including Hilton Worldwide, Starwood Hotels and Resorts, and Doral Hotels.
Starting at the bottom
Stein knows what he is talking about when it comes to working at the bottom of the hotel industry and rising up based on attitude and hard work. Stein began his career in 1983 with Hilton Worldwide at the Vista International Hotel in the World Trade Center in New York City. A veteran of food and beverage management, he turned his sights to general hotel operations in 1987 and quickly rose from the ranks to become Managing Director for three Doral Hotels in New York City.
After taking those properties through the transition to Starwood Hotels and Resorts, he joined Dream Hotel Group as Executive Vice President of Operations and was soon promoted to Chief Operating Officer in 1997, overseeing hotel operations and playing a vital role in the Company's expansion efforts.
These days, Stein does a lot of work around researching new areas for growth – the company has been looking at Detroit for some time now, he says – as well as promoting Dream Hotel Group as a whole. One of his favorite jobs was hiring, even though it was a lot of work. He believes hiring the right people has been key to the business's success overall.
"I had to hire a lot of staff as a department head – I started in food and beverage – with both high and low skills. Then, as a general manager, I did hiring of all kinds. I probably hired hundreds of employees. So that means I've done lots of interviews," Stein said.
Here are some of the tips he has on hiring and knowing how to spot talent in any industry:
• Get a sense of a person. The big ask is whether they have the "soft skills" for a particular job within your field. Many HR people use software or computers to figure out if someone is good for a job. But Stein says there is nothing as important as talking to people in person and getting a sense of them. "Hospitality is not something that comes naturally to people so you want to find people who it does comes naturally to," he said. "Teaching someone to check a person into the hotel is easier than teaching someone to be hospitable."
• A potential hire shouldn't have an attitude about the job they're going to do. "If you find it demeaning to hold a door open, then you shouldn't be a doorman," Stein says. "You can make good money as a doorman, but if you find it innately demeaning, then it's a bad fit." That said, anyone who is interested in hospitality should see every role as important, he notes. Think of it as being an actor and doing your role or part to make the hotel warm and comfortable. You have to create an atmosphere that's worth paying for, he says, especially in a high-end hotel setting.
• Think about the physical aspects of the job. When Stein was hiring in the food and beverage area, he sometimes couldn't tell if a person would make a good waiter or waitress on paper. It was only when he saw them move that he knew. Being a waiter or waitress requires a kind of athleticism that has to be innate, he said. "To be a really good one, it requires a certain ability to move through a room gracefully with trays. There's a whole athletic aspect to how a waiter works," Stein says. "So I developed an interview process: I'd have them pick up a tray, put something on the table, pick up the tray and bring it back. I'd watch them do it and I found it was a great predictor of their future performance."
• Respect everyone. Stein said his father, who was a great cab driver, taught him that everyone deserves respect. That means every customer that come through a hotel's door deserves respect. He found that talking to any of his employees was better and their performance matched when he brought respect to the conversation or interaction.
• Give every upset customer a chance to do better. Sometimes, the front of the house or the public spaces are stressful. When people are upset, they tend to take it out on the people around them and that can include a hotel's employees. "Sometimes you're in a no-win situation. Nobody likes that. The idea that the customer's always right isn't always true, but we are the hotel manager and we're running the operation. If you have an irate guest, it doesn't help the situation to escalate the situation. We need to try to diffuse that situation, to play off someone else. Otherwise, say excuse me, shut door, scream for a few minutes and then come back out front. … Disney is a great example. The characters never come out of character when they're in front of people. When you're with the public, that's showtime. When you're behind the scenes, you can relax."