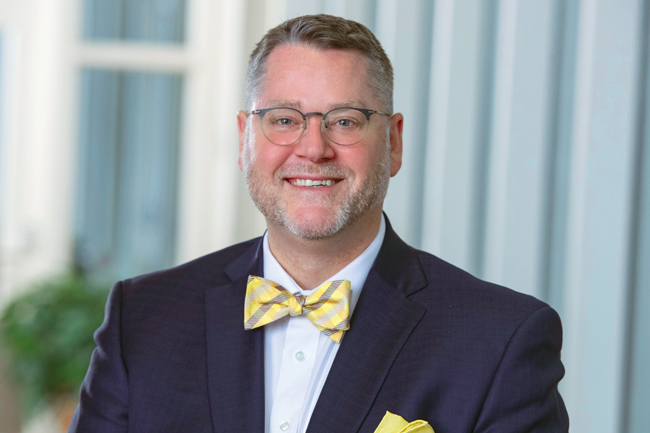 Scott Keith is a self-admitted "operations guy" who believes saving money by turning off the lights is important. No doubt that adds up to some significant cost savings at the venues he manages as president and CEO of the Lansing Entertainment and Public Facilities Authority (LEPFA). Those include the Lansing Center, Cooley Law School Stadium and Groesbeck Golf Course, as well as regional events like the Common Ground Music Festival. The Lansing Center, located along Michigan Avenue, with its western facade fronting the Grand River, is the only convention center in the capitol region.
The Delaware native says he's now "lived more of my life in the Midwest than on the East Coast." Corp! spoke to Keith about the decision to find a naming rights partner for the Lansing Center, which has had the same moniker since it was built in 1987.
Corp!: Tell us a bit about your career.
Scott Keith: Originally my undergrad degree was in education and I was a teacher. When I went back to graduate school, I fell into the management of sporting and other events and that was what landed me at University of Michigan's Athletic Department. I came to LEPFA in 2001 and have climbed the ladder. I have enjoyed great opportunities here. I love the organization and the team I work with.
Corp!: Tell us about the venues you and your team manage.
SK: The Lansing Center currently holds 270,000 square feet of space, including a main exhibition hall, meeting rooms, conference centers, banquet facilities, a restaurant and lounge, a full kitchen, and a 500-space underground parking garage. The center underwent its first extensive renovation in 2007 and 2008. The renovation included cosmetic upgrades as well as structural upgrades. We hosted more than 320 events with 240,000-plus attendees. We can host everything from concerts to conventions to sporting events.
Cooley Law School Stadium next door is a multipurpose stadium. The Lansing Lugnuts, an affiliate of the Toronto Blue Jays, play here and we have a soccer team coming in the spring, Lansing Ignite FC, part of the new USL League One.
In January 2018, we took over operation and management of the city's only municipal golf course, Groesbeck, which has 18 holes. We also assist with other municipal events, like the new MargaritaFest, which attracted 600-plus attendees and 13 participating vendors on the outdoor plaza of the Lansing Center.
Corp!: What is the thinking behind seeking a corporate partner for naming rights to the Lansing Center?
SK: Most stadiums and arenas have some kind of naming rights opportunity attached to it. Typically, events centers have moved in this direction in the last four to five years. That got us thinking it was time to rebrand with a naming rights corporate partner that helps with brand identity and with capital improvements and other initiatives. By changing the name, we think it lends itself to being seen as a regional asset, not just a city asset. (Editor's note: LEPFA is a nonprofit organization that gets some of its funding through the City of Lansing.)
Corp!: How long does it usually take to secure a naming rights partner?
SK: It is a relationship building experience. Will it be a three-year process? Not necessarily. We are getting serious about conversations now. The governor speaks here frequently and the president and vice president come here to speak. We think a corporate partner may recognize that.
Corp!: Tell us about this past year at the Lansing Center.
SK: First thing that comes to my mind: we achieved more than 25,000 directly attributable room nights to Lansing Center business, our first time in its history (nearly 31 years) to go over that mark. We exceeded the national average for occupancy by nearly 4 percent. In partnership with the Michigan Department of Environmental Quality, we held our first ever "zero waste" event. In collaboration with Greater Lansing Jewish Federation and a local rabbi, we executed our first fully kosher event in nearly 20 years.
Corp!: What has been the cumulative economic impact of the Lansing Center?
SK: It was about $65.185 million in 2017, which consists of room nights, spending within the community, our employees, and the impact it has through other companies in the region. All the venues combined, it was approximately $83 million in economic impact in 2017.
Corp!: What is your guiding principle to live by?
SK: If it's right, it's good. I believe everything has balance. There's one-third of what you hear that is true and one-third of what you see is true, the rest you need to investigate.
Corp!: What is your pet peeve in the office and why?
SK: Probably leaving the office with the lights on. Also, people looking at their cell phones in meetings drives me nuts.