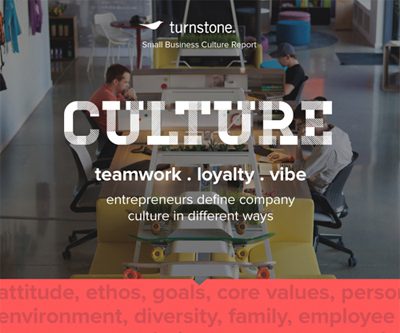 GRAND RAPIDS, Mich.– (BUSINESS WIRE) – From "teamwork" to "loyalty" to "the vibe," entrepreneurs define company culture in different ways – but nine out of 10 agree that organizational culture is key to their company's success, according to the turnstone Small Business Culture at Work Report. The survey, which examined the role of culture at 515 companies with 100 or fewer employees, revealed that 87 percent of entrepreneurs feel it helps their business thrive by fostering greater productivity and creativity as well as attracting and retaining customers, but seven in 10 are unsatisfied with their current culture.

"As this report shows, leading entrepreneurs recognize that the physical environment can activate their culture, shape the behavior of their people, and amplify the performance of their organization."
Emerging companies are often admired for having vibrant cultures that engage employees through unique office amenities and team-building activities. According to the survey though, 80 percent of respondents consider the physical environment in which they work to play a key role in the company's culture. In fact, updates to the physical environment to better reflect work behaviors, such as adding a greater variety of places to work, collaborate and socialize, were one of three areas suggested by business owners as needing improvement (26 percent). Less than one-third, (31 percent), of entrepreneurs offer employees a variety of workspace options to choose from, including private areas and lounge settings.
With only 28 percent of respondents satisfied with their current company culture, the survey found the other top areas for improvement were employee motivation and collaboration (31 percent), followed by office perks like free lunches and massages (27 percent). Additionally, well-being may not always be top of mind, as less than one-fourth (22 percent) of entrepreneurs said employees feel supported to follow healthy behaviors throughout the day, including stepping away from their desks and changing postures and workstations.
"After years of studying work environments, our research team has consistently found that companies that place value on their physical space and seek ways to champion employee well-being are more likely to have workers who are inspired, engaged, productive and loyal," said Brian Shapland, general manager of turnstone. "As this report shows, leading entrepreneurs recognize that the physical environment can activate their culture, shape the behavior of their people, and amplify the performance of their organization."
Additional findings of the survey:
Culture Carries More Weight as Companies Grow. While startups and microbusinesses are often commended for having inspiring cultures, the turnstone Small Business Culture at Work Report found company culture becomes more important to businesses as the number of employees rises – particularly after the 10th employee joins the team.
Holidays, snacks and training still matter. In addition to giving employees paid time off for vacation and holidays (51 percent), 47 percent of entrepreneurs provide complimentary snacks and meals, and 43 percent offer in-house training and outside seminars for learning opportunities.
A trend toward belonging and authenticity. Nearly half (47 percent) encourage employees to display personal items and share their passions that extend beyond work. And while larger companies have made news by asking more employees to return to the office, nearly half (41 percent) of small and emerging companies offer employees the choice and flexibility to telecommute or work from home.
Some methodology background: The research provided by Ebiquity is based on a nationally representative sample of 515 small business owners/managers of companies with fewer than 100 employees. The anonymous survey was conducted online April 28 – May 2, 2014.
Download a PDF of the report here: Turnstone Small Business Culture at Work Report
Turnstone is a Steelcase Inc. brand inspired by the startup culture exhibited by small and emerging businesses. By studying startup culture and workplace environments and applying the resulting insights, turnstone designs solutions that help customers stay focused on the business, culture and employees. For more, visit www.myturnstone.com.