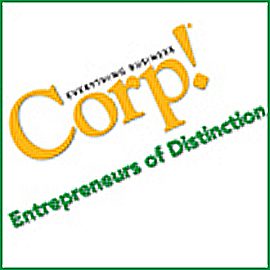 By Joseph Cabadas
Dec. 15, 2011
There's something special about the individuals who go into business for themselves.
Entrepreneurs run the businesses, provide goods and services and employ others as they help keep the economy humming. The late Steve Jobs epitomizes the type of entrepreneur in the vein of the Horatio Alger myth; he was an adopted son who created a computer business empire.
Michigan has many hometown entrepreneurial heroes of its own in the automotive, cereal, construction, pharmaceutical, legal, medical and other fields. Corp! Magazine is proud to honor 28 individuals who have led their businesses toward success with the fourth annual Entrepreneurs of Distinction awards.
The award ceremony was held Dec. 6, 2011, at the MSU Management Education Center in Troy, Mich. Among the honorees who shared some of their views were: Wendy and David Achatz, co-founders of Achatz Handmade Pie Co.; Antoine Dubeauclard, president of Media Genesis, Steve Dickinson and Mike McCowan, co-owners of Amistee Duct Cleaning; Hans Hegge, CEO and co-founder of Text Ripple Inc.; Jeanette Pierce, co-founder and director of Inside Detroit; Sonali Vijayavargiya, founder of Augment Ventures; and Mostansar Virk, president and founder, EPIC Translations.
Other award winners were: Valiena Allison, president of Experi-Metal Inc.; Mark Angott, president of Angott Search Group; Thomas Bloom, president of Bloom Roofing Systems Inc.; Steve Bronzovich, founder of S&A Solutions Inc.; Gayle Chinn, president of Chinn Jewelry; Phil Cooley, co-owner of Slow's Bar B Q; Emily Doerr, president of Hostel Detroit; David Galbenski, founder and chairman of Lumen Legal; Derek Gentile, president and CEO of EEI Global; Jimmy Hsiao, president of Logic Solutions; Gary and Don Jackson, co-founders of SunTel Services; Ronia Kruse, president and CEO of OpTech; David Maccagnone, CEO of Multi-Bank Securities Inc.; Dr. Jeffrey H. Miller, founder of Miller Vein; Aaron Opalewski, director of business development and founder of S&A Solutions Inc.; Todd Palmer, president of Diversified Industrial Staffing; Juliet Rogers, CEO of Blue Cottage Consulting; and Angela and Emmanuel Williams, founders of DetailXPerts.
Achatz Handmade Pie Co. of Chesterfield is actually the second venture of the husband-and-wife team of
Wendy
and
David Achatz.
Before starting the pie company, the couple ran an Armada restaurant for 14 years but decided to get out of the food service business. Yet both were still passionate about cooking and baking.
Achatz Handmade Pie Co. started as a home-based business making 25 pies a week. The company now sells 25,000 a week at eight locations throughout Michigan.
By the time Wendy was pregnant with the couple's fifth child, they needed to do something to pay the bills, she noted. The Achatz family began making pies out of their home's kitchen to sell at craft shows and farmers' markets.
"When I started baking out of my home there were a lot of permits I had to pull," Wendy Achatz said. "We had to send out a letter to neighbors within a 500 foot radius asking for permission from neighbors to bake in our house. Fortunately we had a good reputation in Armada."
Starting out selling 25 pies a week at the local farmers' market, David and Wendy Achatz founded their pie company in May 1993. Now after 18 years, the company sells 25,000 pies a week with eight retail locations -" including one that recently opened in Ann Arbor -" while the company's 12 delivery trucks serve about 150 grocery stores and restaurants between Detroit and Chicago.
"I think our success goes back to early days when I used to write on the wall in a big, black Sharpie the word 'think,'" she said. "That is to think three days ahead and three hours ahead. It was being prepared, thinking ahead. Thinking of what could be coming down the stream and planning for it."
Before it became cool to buy locally-grown products, Achatz Handmade Pie was using Michigan-made fruits. In fact, the Armada Apple Orchard became its bake house for many years as company farmed its own apples.
Before it became a passion to buy organic, Achatz kept its pies natural. Things like hydrogenated oils and potassium sorbet -" preservatives that "grandma would never put in one of her pies" -" aren't in an Achatz pie, Wendy said.
"What is the most important thing -" to preserve pie for two weeks so it's good for the retailer or to have no preservatives so it's good for the customer?" she said, adding that Achatz pies don't sit on store shelves.
Grocers are given a four day shelf life and customers pay for what they order. Achatz does not buy back pies, so retailers have to be smart and sell them.
The company created a new line of frozen 'Ready to Bake' pies for the Whole Foods Market chain.
"Michiganders want to buy local from craftsmen and those who are making cakes and cookies," Wendy said. "People want to meet the crafts people, the soap maker and the candle maker. Customers don't want to feel like a mass number coming into a 15 acre shopping mall. It is an awesome time to start your own business in Michigan."
Amistee Duct Cleaning of Novi was founded by Entrepreneur of Distinction honorees Mike McCowan and Steve Dickinson in 2004. Since the two Michigan State University graduates wanted their business to be one of the first listings in the phone book they created the name Amistee from their first name -" "a Mike and Steve" company.
"We both wanted to own our own business so we researched what was out there and saw the indoor air quality field was a spot where we could start," Dickinson said.
Starting with a single $100,000 vacuum truck, Amistee now has 20 people and boasts a fleet of six residential cleaning trucks. The company's insulation division has two trucks and the commercial division has multiple trucks. It has cleaned air ducts at Comerica Park, plus a number of Best Buy and Walmart sites.
After Hurricane Irene struck the United States in August 2011, Amistee's trucks went out to upstate New York to help with the disaster recovery efforts, cleaning a number of county buildings and jails that had been flooded.
"We offer 100 percent guaranties to techs wearing uniforms to being a nonsmoking company," Dickinson said. "We are obsessed with finding a better way.
In a field beset with scam artists, Amistee's vacuum trucks have a suction rate of 15,000 cubic feet per minute -" far more than a shop vacuum. The price quoted to a customer is the price that's given when the job is done.
Admittedly the economy as a whole is in a neutral space, but Amistee's business has grown an average of 25 percent a year -" and may be up 60 percent this year, Dickinson said.
"You've got to find what works for your individual business," he said. "I think when you get wrapped up in the whole political aspect you lose focus on the entrepreneurial spirit -" what's fun is running a business which is your employees and your customers. That's your business. I think the state of entrepreneurism is there is no better time to start a business because we are at the bottom already. When you set things up to grow when things turn around it will be great."
Growing up in France, Antoine Dubeauclard learned about the laws of supply and demand while participating in courtyard marble tournaments. Certain types of marbles were more valuable to players than others so Dubeauclard began exchanging marbles back and forth.
Antoine Dubeauclard believes that entrepreneurship is innate, not learned.
Dubeauclard also learned how to logistically move the marbles from one side of the courtyard to the next.
His entrepreneurial spirit grew greatly from that early school day effort. Now he manages the creative department at Media Genesis and provides strategic advice to the company's accounts, including Chrysler Group LLC, Toyota Scion, the United Nations Development Program, the University of Michigan and the United Auto Workers.
"Some will say that entrepreneurship can be taught, but I think it's an instinct that you have," he said. "One of the things that makes me different from some of the other entrepreneurs out there is I don't like to gamble. I like to take very calculated gambles because my business is in a very volatile environment in the Web-world and the dot-com world."
Dubeauclard said he does have many "wild ideas" but he partners with others who are mature and even more fiscally conservative to temper his passions.
"We could have been a lot more successful if we had gambled big on two things that were burgeoning parts of our business, but we could have also lost it all a number of times," he noted. "Ninety-five percent of the companies that do what we do are no longer in business. We survived because we are adaptable and constantly are figuring out how to develop different products, applications, and industries."
Hans Hegge, who co-founded the Royal Oak marketing firm Text Ripple with Keith Gloster in 2007, has been an entrepreneur since high school when he started learning the ropes of restaurant management.
Hans Hegge says that persistence is one of his best attributes.
After graduating from Wayne State University with a degree in corporate and personal finance, Hegge founded a real estate investment company concentrating on rehabilitation and renting single and multi-family homes for 10 years. With Gloster, he started an online distributorship of heating and cooling products.
"A funny tidbit was Wayne State would not let me graduate with a finance degree unless I took salsa dancing for one credit hour," Hegge said. "I took a whole year off because I was so frustrated but I went back just to get that piece of paper and file it away."
The idea for Text Ripple was to send text messages to cell phones for marketing and communications.
"I went to Keith (Gloster) and told him," Hegge recounted. "He said, 'That's nice. I don't have a clue how to do that. And I said, 'Me neither.'"
Although commonplace now, text messaging for marketing purposes wasn't in vogue in 2007. It was a struggle to convince business owners of the value.
After the TV show "American Idol" became popular, business owners began to realize what texting was and that their kids were texting.
"Their customers say, 'I want to receive discounts and coupons via text' and now (our clients are) asking for it that way," Hegge noted.
Now the challenge is rolling out the next generation of product now that text messaging has been well established.
"One of our challenges is the separation between people with smart phones and those who do not have smart phones, but our texting works with either," Hegge said. "We deal in a lot of large cities such as New York, San Diego and Detroit where smart phones are prevalent, but also in rural areas where they use the old flip phones-¦ We are looking for ways to engage them (the smart phone users). It is fun to think about."
Along the way of trial and error, Hegge said that he's learned that persistence is one of the best strategies along with knowing when it's good to listen to somebody and at other times when it's important to ignore negative comments.
"When somebody tells me how stupid they think an idea is, it just fires me up to be even more creative," he said.
Text Ripple operates nationally working with customers in multiple industries including schools, salons, restaurants, auto dealerships and realtors. Some clients include Century 21, Snap-on Tools, Infinity Auto and Procter & Gamble Co.
Jeanette Pierce and Maureen Kearns started Inside Detroit in 2005 as a way to share the city's history, sites, and cultural institutions to visitors. A 501(c)(3) organization, Inside Detroit operates a downtown welcome center with maps and information plus conducts public and group tours of the city.
Jeanette Pierce's business, Inside Detroit, educates visitors about Detroit.
"We thought there was a gap of knowledge and understanding even among those who live in the Detroit area about its attractions and the community," Pierce said. "We started to educate the public about Detroit's history, culture and livability from an insider's perspective. We all live in the city and we love it here. The more people know about Detroit the more they like being here as well."
Although born and raised in Detroit, Pierce didn't know much about the city's history and buildings until she moved downtown nearly 8 ½ years ago. She and Kearns decided to create Inside Detroit to tell others of city's riches.
"It started as a very simple way to affect the economic development of the city, the region and the state," Pierce said." Inside Detroit goes a long way to getting people involved and appreciating Detroit."
And in at least one case, the organization has changed the career goals of at least one University of Michigan law student. This happened recently when a young woman took a tour of Detroit and came up to Pierce afterward and said that it had never occurred to her to remain in Michigan after her graduation.
"The next day she offered to bring her friends on the tour," Pierce added. "They were in law school and maybe they could help with legal things. That's the kind of impact we have -" what Detroit has to offer -" to let people get connected with others in the community."
Since coming to Michigan from her native land in India in 2001, Sonali Vijayavargiya and her husband initially didn't know anyone, but found the community welcoming. Four years later she started Augment Capital to advise early stage companies in the clean and information technology sectors.
Sonali Vijayavargiya helps secure financing for startups involved in sustainable ventures.
She has successfully helped her clients position their startups to secure more than $20 million dollars in funding. These companies have further raised more than $60 million in follow-up funding through national and international venture funds.
Some of her successful clients include: Accuri Cytometer, AMI, Danotek Motion Technologies, Global Energy Conversion and NRG Dynamix.
Despite these successes, Vijayavargiya quickly realized there was a problem in the state.
"There is more than $2 billion spent for research at the state's universities, but a lot of times these (startup) companies are not able to grow or bloom here because of a lack of venture risk capital," she said. "We have a lot of tools and assets in Michigan, but they are not being utilized fully because we are missing some things like (venture) capital to grow these companies."
Enter Augment Ventures of Ann Arbor, an early stage capital venture fund that she founded in January 2011 to help fill the gap.
"Augment Ventures encapsulates all my 16 years of experience to identify the gatekeepers of the value chain to get investment for early stage companies," she said. "I'm always trying to find ways and means to optimize the utilization of resources and trying to find new technologies and new companies. As our population and energy demands are growing and as our environment is changing, as new middle classes are coming to be, there will be a need for new businesses and new business models to support our planet."
Vijayavargiya looks for companies and opportunities that can deliver sustainable growth, sustainable job creation, and sustainable return to investors.
Born in Pakistan, Mostansar Virk came to the United States with his family in 1985 and attended high school and college in Michigan, including Wayne State University twice -" the second time this year for WSU's Executive Development program. His background includes being a systems administrator at Covad Communications and a software distribution coordinator for Hewlett-Packard. But in that true entrepreneurial spirit, he saw an opportunity to start his own business in 2001 and founded EPIC Translations.
Mostansar Virk could see that businesses in the export trade would need translators. His company, EPIC Translations now supports 180 languages for document translation.
"I saw that for the next 20 years or so there will be all sorts of corporations and small businesses involved in the export trade and it will be important for them to have documents translated from one language to the next," Virk said.
Although initially providing translations for only a handful of languages, EPIC now supports 180 languages, including Italian, Hebrew and Arabic. To ensure quality, there are at least two translators hired -" one to perform the initial translation work, and a second to act as an editor and proofreader. The original translator also takes a second look at any document to ensure that it meets customer expectations.
EPIC's automotive-related translation and interpretation services have been growing thanks to General Motors Corp.'s and Ford Motor Co.'s plans to expand into the BRIC countries (Brazil, Russia, India and China). The company uses the SDL Worldserver -" a translation management system that accelerates time-to-market through process automation -" for content integration and business management.
There are many opportunities for other entrepreneurs in Michigan, Virk added.
"There's a group of individuals that I went to school with who in the last five years have started their own businesses," he said. "There's a huge (entrepreneurial) spirit out there and opportunities and they are taking a stab at it."
A full list of the Entrepreneurs of Distinction:
David Achatz, President and Co-owner
Wendy Achatz, Owner and Founder
Achatz Handmade Pie Co., Chesterfield
www.achatzpies.com
Nearly 19 years in business, Achatz Handmade Pie Co. has grown through involvement in special events, increasing marketing, and working closely with suppliers, while cutting cost without reducing product integrity and employee morale. It supplies fresh pies to eight Achatz pie shops around the metropolitan Detroit area along with more than 150 grocery stores and up-scale restaurants between Detroit and Chicago. It also has a line of frozen 'Ready to Bake' pies to supply the Whole Foods Market chain.
Valiena A. Allison, President and CEO
Experi-Metal Inc., Sterling Heights
www.experi-metal.com
Experi-Metal was founded in 1959 as a sheet metal stamper for small automotive parts. Over the past 52 years, it has evolved into a sheet metal prototype and assembly supplier to the automotive, military, homeland security, aerospace and alternative energy market segments. Its manufacturing expertise spans from Tri-Five aftermarket parts to rocket ship parts to full body in whites. Valiena A. Allison joined the company in the fall of 1988 as a receptionist. "I have always been motivated to get the most out of life," Allison said. "Whether it be achieving good grades in college or grad school or conquering a 100-mile bike ride around the Big Island in Hawaii, I thrive on challenge and continuous improvement -" both personally and in the workplace. This undying desire to make my world a better place fits really well into entrepreneurship." She added that she has been fortunate to meet many brilliant and caring people in her career who have offered sound advice and guidance plus has the constant support of her husband. "I have a strong focus on continuous improvement and I feel personal satisfaction when one of my tasks comes to successful completion," she said. "Each member of my team follows our core values of safety, quality, productivity, an unfailing positive attitude and dedication to excellence and collaboration where each team member gives an honest day's work."
Mark R. Angott, President
Angott Search Group, Rochester
www.asgteam.com
Angott Search Group opened in 1981 with the goal of positively impacting companies and enhancing careers with a business approach embodying the principles of honesty, integrity and professionalism. It is one of the nation's leading executive search firms. Its account managers specialize in a variety of industries and disciplines including administration, human resources, automotive, engineering, manufacturing, banking and financial services, credit unions, energy, finance and accounting, general management, information technology, insurance, life sciences, plus sales and marketing. "Our business, like many can be very stressful," Angott noted. "We always want the best for all our employees but sometimes life and business doesn't always go the way we want. It's important to lead by example; be the first in, setting the right tone, keeping a positive attitude and always on open door to anybody who is struggling." After graduating from Michigan State University with a degree in accounting, Angott spent five years as a controller and chief financial officer before becoming an executive search consultant in 1981. He specializes in search and recruitment for the banking and financial services industries plus has been a keynote speaker for various groups, associations and educational institutions. "I was successful in this business before I had the opportunity to take over from my partner," Angott said. "The lessons I've learned is to work hard to build a strong organization and to always be prepared with a rainy day fund-¦ I'm driven to see my team grow to be successful." ASG's clients range in size from small businesses to the Fortune 500 and are geographically dispersed from coast-to-coast. It has conducted in excess of 13,000 searches during the past 30 years. It has 20 employees and one office.
Thomas Bloom, President
Bloom Roofing Systems Inc., Brighton
www.bloomroofing.com
Bloom Roofing Systems provides commercial and industrial roofing to building owners in Michigan, Ohio and Indiana. Since its founding in 1979, it has installed more than 80 million square feet of commercial roof for more than 2,000 customers without a single roof failure. President and founder Thomas Bloom was interviewed while driving through Minnesota, checking out some sites for a national chain store. "I think in tough times entrepreneurialism rises," he said. "Survival creates entrepreneurism-¦ The guy who used to be an engineer and is now running a lawn service is an entrepreneur." To survive in tough times, Bloom says a business owner has to stick to their values. In his case it's sticking to industry standards, avoiding short cuts, and giving customers more than what they pay for. "It's the old goal of treating the customer like you want to be treated," he said, adding that perseverance is also required. "I think it's how Winston Churchill once said when 'you're going through hell, just keep going.'" Another lesson he's learned as an entrepreneur is that in tough times it's not necessarily a good idea to cut staff "to the bone" for survival. "When the economy starts coming around you've lost a lot of your resources, capacity and ability to operate," he noted. "What we've done (during the current downturn) is maintain our staff. We redirected them a little bit and aligned things the way we wanted." By taking that action, Bloom Roofing has started recovering and has seen an uptick in business during 2011.
Steve Bronzovich, Director of Operations and Founder
Aaron Opalewski, Director of Business Development and Founder
S & A Solutions Inc., Sterling Heights
www.sastaffingsolutions.com
S&A Solutions a recruiting firm that specializes in placing engineering, IT, defense, office, manufacturing, medical, energy, environmental and architectural services. Founded by Steve Bronzovich and Aaron Opalewski in 2009, the company places employees into contract, contract-to-permanent, and direct-hire positions. Bronzovich has more than 12 years of experience in the staffing industry. Prior to starting S&A Solutions he was an account manager at Aerotek. He graduated from Oakland University in 2002 with a bachelor's of science degree in Human Resources. Opalewski said he's been inspired to be an entrepreneur by his parents, but also by Kerry Reedy, CEO of Medical Resources of Troy, Mich. "My former employer for deciding that performance was not a main factor in who was going to be successful and move up within their organization," Opalewski continued. "It took that situation for me to realize I wanted to control my own destiny, and that I didn't want it to be decided by someone else." Bronzovich noted the some of the lessons he's learned during the previous eight years is "you don't know everything." There are so many variables in the industry that figuring things out is an ongoing process. "I learn new things every day from other entrepreneurs, from internal employees, from family -" and it helps make our company grow with the different advice you receive," he added. "When you actually listen to people whether they have 20 years in the industry or 20 days they bring a fresh new perspective that helps set up the companies' fundamentals and cultures."
Gayle Chinn, President
Chinn Jewelry, Royal Oak
www.chinnjewelry.com
The first Chinn Jewelry store was started in 1934 by Hughlette Chinn, Gayle Chinn's father, in a bedroom in their Highland Park home. A born mechanic, he started fixing pocket and wrist watches but then began selling gold and platinum rings, plus diamonds and sterling silver tableware. By 1951, the business moved into a commercial building in Highland Park. Gayle Chinn started in the family business in March 1967 after graduating from The University of Texas at Dallas – School of Management. He purchased the store in 1970 after his father moved it to Royal Oak. His son and now partner, Wayne Chinn, has a Resident Gemological Institute of America Degree. In an Aug. 13, 2011, story in the business section of The Oakland Press, Gayle Chinn noted that he instilled his son with the same beliefs that his father passed onto him, namely "that customer service that goes above and beyond is the key to success." He also donates part of his proceeds to charity. The store does custom jewelry work including hand carving, but also using CAD/CAM (computer aided design, computer aided manufacturing) machinery.
Phil Cooley, Co-owner
Slows Bar BQ, Detroit
www.slowsbarbq.com
In a renovated 1880s building nearly in the shadow of the old Michigan Central Depot in Detroit's Corktown, Slows Bar BQ on Michigan Ave. in Detroit has rapidly become one of the most popular eateries in the area. One of the men behind the creation of the restaurant is Phil Cooley. A native of Marysville, Mich., a town on the St. Clair River between Lake Huron and Lake St. Clair, Cooley was the son of real estate developer. After going to Columbia College in Chicago, he had a stint as a model, doing work in Barcelona, New York, Paris, and Tokyo.
He returned to Michigan when he was 24. Two years later, at age 26, he opened Slows with his father, brother, and other partners in Detroit. Sleek on the inside, the restaurant repurposed and reused a lot of materials from restoring the original brick to using old wood joints and frames for the front door, tables, walls and more. Cooley has also been involved in various community organizations dedicated to preserving architecture and promoting small businesses including The Architectural Salvage Warehouse of Detroit and The Center for Community Based Enterprise. Detroit Mayor Dave Bing also tapped Cooley to help the Detroit Works Project, which is Bing's plan to reshape the city for the future. Cooley has also served on the ACLU of Southeastern Michigan and Greening of Detroit boards.
Mike McCowan, Co-owner
Steve Dickinson, Co-owner
Amistee Duct Cleaning, Novi
www.Amistee.com
Founded in 2004, Amistee is a full service air duct cleaning and insulation company for the residential and commercial markets. "Inspired from the paper route and lawn cutting days as kids, Mike and I have always wanted to own our own business," Dickinson said. "When you own a business there are many hats that need to be worn throughout the year, month, week and day. It is very important to stay focused and keep striving toward your goals and not get lost in the day-to-day operations of a business." Both Dickinson and McCowan are Michigan State University engineering graduates. After graduating they opened Amistee to help business and homeowners to improve indoor air quality.
Antoine Dubeauclard, President
Media Genesis, Troy
www.mediag.com
Since 1996, the Internet services firm Media Genesis has provided a wide range of services, including Web design and development, e-learning, search engine optimization, application development, intranet, social networking, and content management systems to more than 300 companies and nonprofit organizations. Antoine Dubeauclard is the company president and his longtime partner is CEO Brad Frederick. Now considered an "old wolf" in the industry, Dubeauclard said he started programming in the pre-Internet days on the Merit network -" a system started by the Michigan Educational Research Information Triad to explore computer networking between three of the state's public universities. He manages Media Genesis' creative department and provides strategic advice to the company's accounts, including Chrysler Group LLC, Toyota Scion, United Nation Development Program, The University of Michigan and the United Auto Workers. "I offer a perspective… People rely on me more and more on advice and feasibility and how things should be laid out," he added. Dubeauclard and Media Genesis have received several awards including the 2009 Midwest Collaboration Award for the Intern In Michigan website. The website is a joint effort among 49 academic institutions, businesses and foundations to keep talented recent graduates in Michigan. Dubeauclard frequently writes and speaks on Internet-related subjects and sits on several boards, including an advisory committee for the Residential College at the University of Michigan. Antoine Dubeauclard has three citizenships; he speaks and has taught in three languages.
Emily Doerr, President
Hostel Detroit, Detroit
www.hosteldetroit.com
Hostel Detroit was founded in November 2010 as a 501(c)(3) non-profit to provide safe, affordable accommodations in Detroit while educating budget-minded young travelers about the city. Located in an historic 1900 building at 2700 Vermont in the Corktown area, near the intersection of Rosa Parks and Michigan Avenue, it has nine bedrooms, holding 20 bunk beds, three kitchens, three baths, and a common room. Founder Emily Doerr is a manager for Small Business Programs at the Detroit Regional Chamber and previously worked as a lending officer for Southwest Lending Solutions, a grant and contracts manager for Wayne Metropolitan Community Action Agency, plus was at the Community Economic Development Association of Michigan, a Michigan Fellow for the Center for Progressive Leadership, and an intern for the Governor of Michigan's office in 2004. She graduated in 2007 from Central Michigan University with a bachelor's of science in Economics and is studying for her MBA at the University of Detroit-Mercy. Doerr began thinking about creating a place for people to connect in Detroit -" a "welcome mat" to the city -" after a two-week tour of South Africa in 2007 where she met another Michigander at a remote hostel. She also had positive experiences at hostels around America too. Her dream turned into the first Detroit hostel in 15 years.
David Galbenski, Founder and Chairman
Lumen Legal
www.lumenlegal.com
A pioneer in both the domestic and offshore outsourcing industries Dave Galbenski founded Lumen Legal of Royal Oak in 1993 to provide a legal staffing and consulting company. Galbenski and his company have been featured in publications such as Business Week, Entrepreneur, Law Practice Today, National Law Journal, Small Firm Business, and The Wall Street Journal. From 2008-2009, he was chairman of the Entrepreneurs' Organization (EO), a global organization of 7,000 entrepreneurs in 38 countries. "For me, being an entrepreneur is never defined as work; it is simply an expression of a desire to create and lead and ultimately feels like an opportunity to play with ideas with the same passion that we all have as children," Galbenski said. "My motivation is to create an environment for all of our Lumen team members to reach their own individual potential and in doing so to allow us to collectively transform the legal services industry." His parents, who owned a bar/restaurant, were the first ones to inspire him to become an entrepreneur. Another person who inspired him was Fred Kiesner, a visiting professor of entrepreneurship at the University of Michigan Business School. "I became an entrepreneur because I love exploring possibilities, solving problems that change industries and making the world a better place," Galbenski said. The capacity to manage and embrace change is the key to ongoing success, he added. At the core of managing change is effective leadership. Effective leaders develop a great company culture and develop their people to achieve great things. "The abilities to change, communicate and collaborate effectively are the keys to entrepreneurial success," he added. Prior to founding Lumen Legal, Galbenski was as a commercial litigation attorney for Timmis & Inman. He graduated with distinction from the University of Michigan Business School in 1990 and cum laude from Wayne State University Law School in 1993. Lumen Legal is headquartered in Michigan with five office locations and employees in the USA, Europe and Asia.
Derek Gentile, CEO and President
EEI Global, Rochester Hills
www.eeiglobal.com
EEI Global went from being an automotive show exhibit designer and morphed into a full-service event marketing company during the past recession. The company got its start in 1981 building dazzling displays for Detroit Edison and Ford's Electrical and Electronics Division and then landed the 1984 Detroit Auto Show display contract with Dodge. Since then it has built a roster of more than 100 clients worldwide and has 125 employees with two locations. It develops, designs and builds trade show displays for Detroit's Society of Automotive Engineers (SAE) World Congress, the Specialty Equipment Manufacturers Association (SEMA) show in Las Vegas, and mobile marketing displays for the Woodward Dream Cruise. EEI Global also creates displays for corporate lobbies, customer and visitor centers, museum and retail installations, educational exhibits, and donor recognition memorials. Derek Gentile led the company through the unprecedented challenges of the past decade to the acclaim of the event marketing industry. He has played a major role as well in development of his company's technology capabilities, leading the development and implementation of proprietary exhibit and event management software that has become the standard for Chrysler and other clients. "My father has been a great inspiration in chasing my business dreams and goals," he said. "Because of him, I learned early that a company can accomplish just about anything if you stay focused and think like an entrepreneur." In 2001 he created the graphics unit of EEI and the following year established its mobile marketing component, a capability that has attracted an ever-increasing pace of business and acclaim. In 2005 he managed the purchase and logistics of the organization's move to a new headquarters in Rochester Hills, Mich. The rebranding of the company as EEI Global Inc. was carried out in 2008 under his program and guidance. "Multitasking has been turbo-charged by technology and the global economy has created an endless workday," he noted. "Everyone is connected 24/7 with expectations of an immediate response from anywhere in the world. The challenge requires continued investment in hardware, software and training. However, I make time to maintain a healthy work/life balance and enable employees to do the same." Gentile has worked across the globe, including eight different markets in Asia, as well as in Europe, Latin America and North America.
Hans Hegge, CEO and Co-founder
Text Ripple Inc., Royal Oak
www.textripple.com
Text Ripple enables companies to create long-lasting customer relationships with direct and instant text message connections. Founded by Hans Hegge and Keith Gloster in 2007, the firm works with restaurants and bars, retail outlets, realtors, churches, Web developers, and publishers, and a number of other industries that require proven communication solutions. "With 95 percent of text messages being read within four minutes, instant, direct connections do provide the greatest returns of any marketing a company can do," Hegge said. "Text messaging allows clients to generate dynamic sales leads, calculate mobile surveys in real-time, communicate employee info instantly, send alerts about upcoming events, and deliver mobile coupons to customers." Hegge graduated from Wayne State University in 2005 with a bachelor's degree in business, corporate and personal finance. He worked at Robinwood Properties from 2000-2006 before founding Text Ripple.
Jimmy Hsiao, President
Logic Solutions Inc., Ann Arbor
www.logicsolutions.com
Founded in 1995, Logic Solutions is a private, minority-owned corporation with satellite offices in Phoenix, Irvine, Calif., Hong Kong, Shanghai, Beijing, and Nanjing. It provides technology solutions and services including custom Web applications and mobile development for businesses across the United States. Logic Solutions also helps U.S.-based companies expand their Asian presence with staffing, business development, IT support, application development, and more. The company's diverse staff includes employees with Asian Pacific (Chinese, Taiwanese, Hong Kong, and Indian) and Middle Eastern backgrounds and a majority of executive positions are held by minorities. Jimmy Hsiao started Logic Solutions in 1995 after graduating from the University of Michigan. As a student, Hsiao realized that the Internet was going to "take off" and wanted to open his own IT company even though he didn't know too much about the business, he told Mlive.com in a recent story. Since its incorporation, the company has expanded into a global technology firm.
Gary and Don Jackson, Co-founders
SunTel Services
www.suntel.com
Gary Jackson opened SunTel Services in 1986 with his brother Don Jackson. The telecommunications company works with commercial customers, providing installation, management, remote monitoring and maintenance services for voice, data, video and enterprise networks. It partners with other firms such as Avaya (including Nortel), Mitel, Cisco, Fortinet, Juniper, Dell, Equallogic, HP, Microsoft, Adtran, and more to provide reliable and robust communications solutions. The company's staff has installed and maintained more than 2,500 communication systems. A graduate of Hillsdale College, Gary Jackson developed his account marketing skills with positions at IBM, Sperry Univac, Wang Laboratories and ROLM. "At the beginning of our careers, my brother and I both worked in corporate America in various sales and marketing leadership roles," Jackson said. "We had a lot of ideas and saw many opportunities in the telecommunications industry. Don and I knew that if we started our own business we'd be successful and loved the idea of working together." Gary manages the leadership team while his brother develops new business opportunities. "Because we are in a dynamic and fast paced industry, keeping our minds open to new ideas and changing technology has allowed us to continue to transform our business to meet our customer demands. Also, building a strong team of good people has allowed us to take on additional challenges to meet customer needs," he added. SunTel has 85 employees at five locations including its Troy headquarters, Detroit, Flint, Grand Rapids and Traverse City.
Ronia Kruse, President and CEO
OpTech LLC, Detroit
www.optechus.com
A technology consulting firm that provides business process re-engineering, application maintenance outsourcing, enterprise resource planning solutions and eBusiness solutions, OpTech was recently recognized as one of Corp! magazine's "Best and Brightest" companies to work for. OpTech's clients include DTE Energy, Comerica Bank, Toyota, General Motors Corp. and the state of Michigan. Prior to starting OpTech, Ronia Kruse was a lecturer at Wayne State University and a senior tax consultant from 1995 to 1999 at Deloitte & Touche LLP. She graduated from WSU with a master's of science degree. "OpTech's culture is family comes first but performance is key," she had said when the company won the "Best and Brightest" award. "We want all of our employees to have a very positive work experience at OpTech."
David T. Maccagnone, CEO
Multi-Bank Securities Inc., Pleasant Ridge
www.mbssecurities.com
Multi-Bank Securities (MBS) is a fixed-income broker/dealer that provides banks, credit unions, municipalities, insurance companies, money managers and hospitals in all 50 states with financial solutions for investing and funding. Since its incorporation in 1988, it has achieved an impeccable FINRA (Financial Industry Regulatory Authority) customer compliance record. David Maccagnone has 36 years' experience in the institutional securities industry. He founded MBS in 1975 and actively participates in daily operations of the company. Personally involved in the training and development of all institutional brokers, each year he travels the country meeting with hundreds of clients and tailors investments solutions that meet their specific needs. Maccagnone attends conferences related directly to the institutional markets MBS serves and shares his insights as a speaker at many of them throughout the year. He is a veteran of the Vietnam War, serving during the Battle of Khe Sahn during the Tet Offensive in 1968 and rose to the rank of captain in the Marine Corps. He graduated from Oakland University in 1972 with a bachelor's of arts degree and later worked as a broker at Merrill Lynch.
Jeffrey H. Miller, M.D., Owner
Miller Vein
www.millervein.com
With three locations and 20 employees, Miller Vein specializes in the treatment of varicose and spider veins. The practice uses cutting-edge non-invasive therapies to treat patients in the office. "We differ from most other clinics in that we focus only on veins," noted owner and entrepreneur award winner Dr. Jeffrey Miller. "Thus, we have the advantage of having seen every possible vein problem." Miller was born and raised in Detroit and earned his M.D. with high distinction from Wayne State University Medical School. He received his radiology training at William Beaumont Hospital where he was a chief resident and then had a fellowship in interventional radiology. Since 1994, Dr. Miller has performed complex image-guided endovascular procedures. He was also the director of the Vascular and Interventional Radiology Department at Oakwood Hospital and Medical Center in Dearborn, Mich. "For many years I read and listened to self-improvement books, which really were the inspiration behind me becoming an entrepreneur," he said. "A tipping point occurred when I attended a meeting about in-office vein procedures. As I listened to the lectures I thought to myself that I could do that…but better." With years of hospital experience treating veins, he thought that a medical office should be run like a business with customer service being absolutely critical. "In discussing all of this with my wife, she not only supported this decision but suggested that I give my 90-day notice at my hospital based job," Dr. Miller added. "At that point, I had absolutely nothing set up such as a loan, part-time job, or even a business plan. However, quitting my job was the best move ever." He founded Miller Vein in 2006, which has offices in Dearborn, Troy and Novi. The tools for success are in a "treasure box" known as failure, and he has learned from his biggest mistakes. One of the biggest challenges has been how much money the government taxes businesses -" money that could be used to hire more staff and development. "Instead, I had to worry about taking personal money to keep the business going. Furthermore, I'm concerned about the direction of health care. We have the best care in the world and I think government needs to stay out of it," Dr. Miller added.
Todd D. Palmer, President
Diversified Industrial Staffing, Troy
www.diversifiedindustrialstaffing.com
Founded in October 1997, Diversified Industrial Staffing provides skilled personnel for the construction, manufacturing and logistics industries. It specializes in placing skilled trades' personnel and professionals nationwide, including CNC programmers, machinists, welders, plant managers, and other manufacturing experts. Its sister company, Diversified PEOple LLC offers outsourced human resource functions. Founder Todd Palmer's inspiration to start his own business came from self-made individuals such as Henry Ford and Sir Edmund Hillary. "The lessons I've learned in business is to focus on the margin dollar, not the revenue dollar, and also never give up," he said. "The ability to improve the lives of our candidates, clients and internal staff members motivates me. It is very fulfilling when we help a candidate secure a job, as well as helping a manufacturing business hire an employee they need." Since banks have taken a dim view to lending to small businesses, the company has taken steps to improve its cash flow by having consistent client payment terms and aggressive collection policies. Palmer graduated from Eastern Michigan University in 1993 with a bachelor's of science in Organizations, Communications and Marketing. He later enrolled in the Massachusetts Institute of Technology, graduating in 2006 and is attending MIT's Sloan School of Management.
Jeanette Pierce, Co-founder and Director
Inside Detroit
www.insidedetroit.org
Jeanette Pierce and Maureen Kearns started Inside Detroit in 2005 as a way to share the city's history, sites, and cultural institutions to visitors. A 501(c)(3) organization, Inside Detroit operates a virtual and Woodward Ave. welcome center with maps and information plus offers public and group tours of the city. Pierce is a graduate from Aquinas College in Grand Rapids, Mich., and also was the special events coordinator for United Way for Southeastern Michigan from 2004-2008. She grew up in Detroit but learned more about the city after taking a Preservation Wayne Tour. She has also been recognized by Crain's Detroit Business as one of the "Twenty in their 20s" in 2006.
Juliet L. Rogers, President and CEO
Blue Cottage Consulting, Ann Arbor
www.bluecottageconsulting.com
Blue Cottage Consulting, specializes in health care planning, facility design, operational improvement, strategic positioning, executive coaching for health care professionals, and lean process improvement. Rogers is a former hospital administrator at the University of Michigan Health System. For five years she was a senior vice president at Karlsberger Companies before spinning off the office as the independent consulting firm that became Blue Cottage Consulting in 2010. Her specialties include visioning, futurism, women's health, pediatric health care, process improvement; executive consulting, patient flow, facility planning, operational transitioning, change management, and executive coaching. She earned three degrees from U of M including a Ph.D. in Health System Organization and Policy, MPH in Health Management and Policy, and a bachelors in Political Science. She also received her certification in Executive and Management Coaching from The University of Texas at Dallas – School of Management in 2011. Rogers teaches at U of M's graduate school of public health and serves as a board member for the university's Griffith Leadership Center in Health Management & Policy.
Sonali Vijayavargiya, Founder and Managing Director
Augment Ventures
www.augmentventures.com
Founded in January 2011 by Sonali Vijayavargiya, Augment Ventures is an early-stage venture capital fund investing in clean technology, industrial technologies and information technology companies. "My very entrepreneurial Grandmother and my entrepreneurial bosses during early part of my career have been instrumental in developing my perspective on entrepreneurship," she said. "Augment Ventures was inspired by Michigan might. I saw an opportunity to develop the regional assets into an investment strategy to deliver not only above average returns to investors, but also enhance the entrepreneurial ecosystem in Michigan and greater Midwest." Prior to forming Augment, Vijayavargiya worked in Mumbai, India, with organizations such as PricewaterhouseCoopers, Industrial Development Bank of India and Edelweiss Capital where she raised over $100 million for her clients and advised startup companies from incorporation to fund raising to successful listing. Vijayavargiya holds an M.B.A. from the Symbiosis Institute of Business Management and a bachelor's of science in Statistics from Fergusson College both in Pune, India. She is a recipient of Leaders and Innovators award by Grant Thornton.
Mostansar Virk, President and Founder
EPIC Translations, Farmington Hills
www.epictranslations.com
EPIC Translations provides translation, website localization, and interpretation services for more than 180 languages to a range of industries, including automotive, finance, health-care, legal, manufacturing, engineering and technology. Clients are able to monitor their projects in real time using EPIC Translations' innovative and secure Web portal. Founder Mostansar Virk has seen the company grow by nearly 250 percent during the past two years. It has added staff and moved into larger quarters. Virk also mentors students, recent graduates and budding entrepreneurs. Coming from a family of entrepreneurs, Virk said he was inspired by how his father, uncles, and cousins managed their own businesses while he was growing up. "I was blessed enough to have had the opportunity to manage EPIC Translations on a part time basis for 2 ½ years before I saved up enough capital to go full time without having a need for income for eight months," Virk said. "The biggest lesson I learned was to take the time to hire the right person. Otherwise you will waste time and a lot of money." He recently implemented an internship program at EPIC Translations and also served on the panel of judges for business plan for competition for the TIE (Technology & Innovation in Education) Conference last year. The TIE competition involved reading seven business plans, listening to the entrepreneurs on the stage and then selecting a winner who would receive up to $25,000 in awards and in-kind services. "On behalf of my team, I am honored to receive this award from Corp! magazine," Virk said. "The entire team at EPIC Translations works very hard to successfully carry out localization needs of our clients as they take their business into the international marketplace."
Emmanuel Williams, Founder and CEO
Angela Williams, President
DetailXPerts, Detroit
www.detailxperts.com
A native of Detroit, DetailXperts Founder Emmanuel Williams credits his then 8-year-old son with originating the idea of steam cleaning car exteriors back in 2002. As an engineer, he experimented and then patented the process -" an eco-friendly method that uses less water. His wife, Angela Williams, joined his venture and the first DetailXPerts auto detail shop opened in 2006 in Indianapolis and two years later they launched the franchise system. Emmanuel Williams is a graduate from the Detroit Engineering Institute. He attended Ferris State University and later created an independent school and taught technical engineering courses for five years. His accreditations include third class refrigeration licenses, high pressure boiler license, engineering licenses, and a certificate in asbestos removal. He has more than 25 years of experience in the engineering field including being Chief Engineer for Detroit Board of Education since 1990. Angela Williams has worked in the financial services industry, sales and marketing, information and business management industries since 1992. She earned an MBA in International Business, and a second masters in Information Management from Syracuse University, as well as a bachelor's in Accounting.