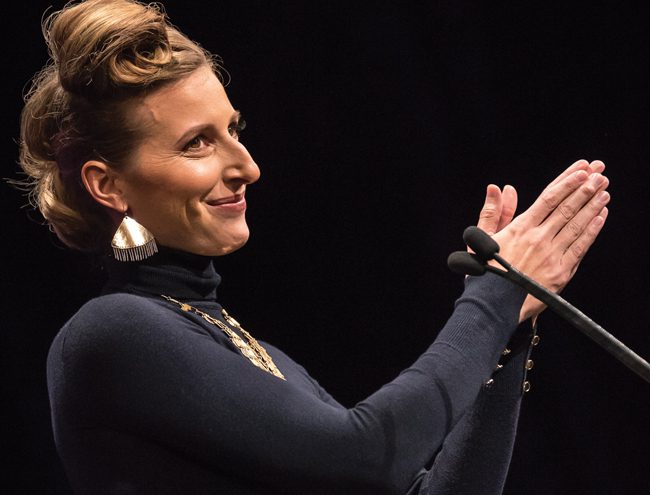 Jori Bennett says she's had "a lot of great mentors," but there's one that stands out during her years growing up in northern Michigan. Her high school art teacher "made a really lasting impression," encouraging her to pursue a creative career. That led her to Savannah College of Art and Design, where she earned a Bachelor of Fine Arts in graphic and industrial design. Hired out of college by an experiential marketing firm in Atlanta, Bennett worked on events for major brands such as Coca-Cola and Nintendo. Fast forward through a number of agency promotions, raising a family, moving to California for the agency's work, and eventually coming back to Michigan—Grand Rapids specifically—Bennett finds herself as the relatively new executive director of ArtPrize, accepting the role in early 2018.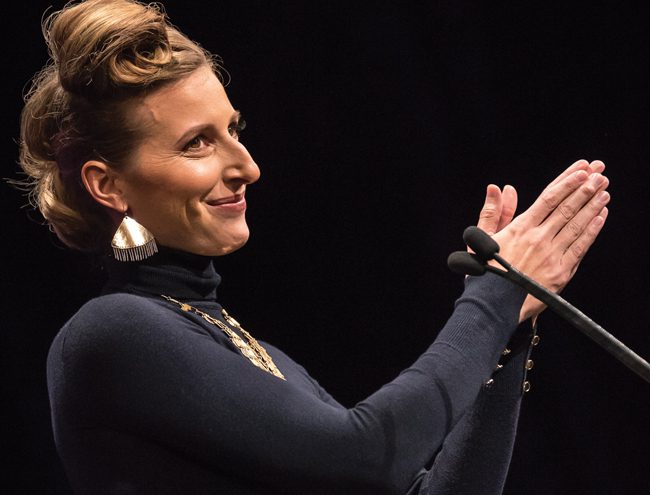 The international art competition, which just celebrated its 10th year, is now reimagining itself by moving to a biennial schedule and introducing a new citywide public art project in the alternate years. "Project 1 by ArtPrize" will begin in 2019 and ArtPrize 11 will run in 2020. Corp! spoke with Bennett to learn more about her and the next evolution of ArtPrize.
Corp!: How did you get connected to ArtPrize?
Jori Bennett: I started networking here and volunteering for ArtPrize and helping them with the sponsorship development program. [At the agency] I was typically the person who sat across the table hearing sponsorship pitches. When the opportunity came up to take the business development role for ArtPrize in 2015, it was an exciting opportunity to talk to brands about why ArtPrize was a great choice.
Corp!: What is the thinking behind the new biennial schedule?
JB: It was informed by all the feedback we receive from our key stakeholders and where we feel our audience is ready to head. We have developed this platform that allows people to talk about contemporary art that is open and engaging and critical. We wanted to know what would happen if we wanted to engage our audience in a deeper way and engage with a few artists versus thousands of artists. I like to say we are moving from being the referees in a competition year and moving to be collaborators with artists, provide resources and funding to do some fun, community-engaged, large scale work in the in-between years.
Corp!: Tell us about this year's Art Prize that just wrapped up.
JB: In 2018, ArtPrize included 1,260 entries, representing 40 countries and 41 U.S. states and territories. We award over $500,000 in prizes. We awarded two $200,000 winners (one on the juried side and one on the public vote side). They had fantastic stories and they
were able to connect with people in a relevant way. Because it was
our 10th, we wanted to make it a time of everyone coming together. We did a bigger visitor pavilion experience in the center of city
and had events going on there every day. We were up 9 percent in pedestrian traffic over last year.
Corp!: What has been the cumulative economic impact of ArtPrize?
JB: ArtPrize annually attracts more than 500,000 active participants. Since its inception, individuals of all backgrounds have cast more than 3.2 million votes for public art. We don't have all the numbers from 2018 yet, but we saw $33 million net new economic impact in 2017. It equates to an extra month of business for the Grand Rapids businesses. We had over 18,000 kids participate in education programs this year—field trips, programming in partnership with organizations like Grand Rapids Art Museum, Kendall College of Art and Design, and Grand Valley State University. That is a number we are really proud of. We had 165 venues this year that put on exhibitions.
Corp!: What is your guiding principle to live by?
JB: Knowing yourself really well and going towards what your
passion is. When you are doing what you are passionate about, that is contagious and will spread to all the people you interact with.
Corp!: How do you motivate others?
JB: For me as a leader, it's important to help my team do their best work by removing barriers for them. Encouraging people to work as a team and lean on each other is really important.
Corp!: What is the biggest management myth?
JB: That you have to have all the answers. I think being able to lean on peers and also your team to find the right answers is the best way to go about things. Management doesn't always have the right answers.
Corp!: Who is the most interesting person you'd like to meet and why?
JB: Sheryl Sandburg is someone I have admired from afar. I would love to meet her and pick her brain about where she gets her energy and motivation.
Corp!: Who is your favorite artist?
JB: Van Gogh really caught my attention when I was really young and made me understand the power of what an artist can do. I remember going to a museum in Toronto with my parents and there was a Van Gogh exhibit and feeling very connected to the work.