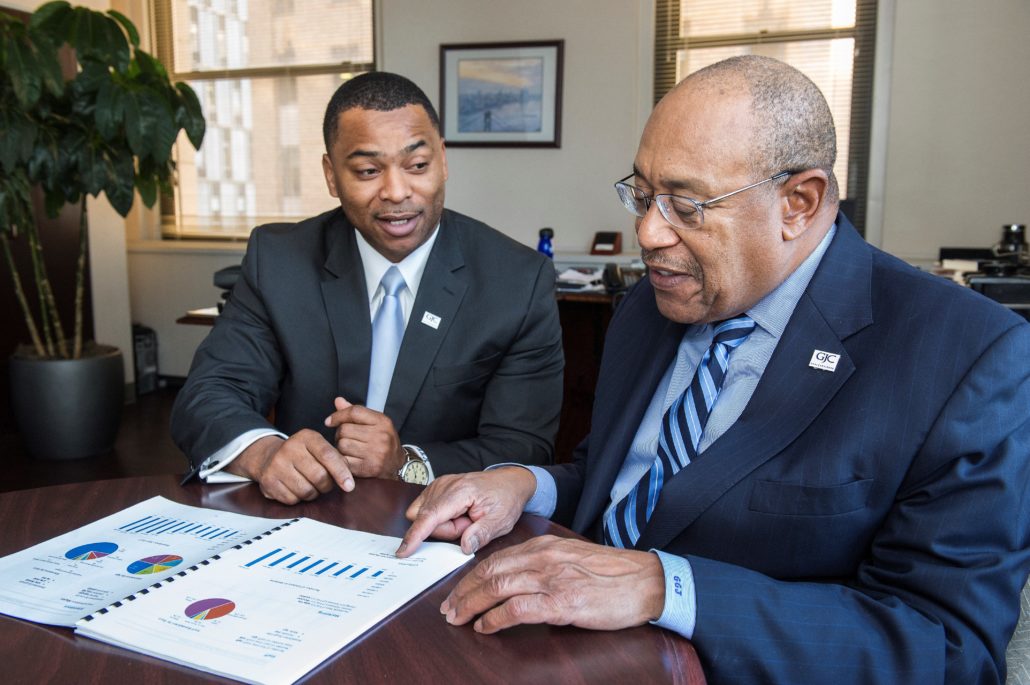 For Anthony R. McCree, serving as the managing partner of Detroit-based accounting and advisory firm GJC is a job that he enjoys but also a mantle that he carries willingly and with reverence for the history and importance of the firm and its legacy.
That is because of the man who originally founded the firm – the late Richard H. Austin – as well as the example Austin set in how he conducted the business and the kinds of work the firm did for Black- and minority-owned companies as well as the mentorship the firm has created for bringing more people of color into the accounting field, McCree said.
This year, GJC is celebrating its 80th anniversary, looking back on Austin's contributions to the industry, the hard work of subsequent leaders such as George G. Johnson and the continuing service of McCree and the current staff as they serve as one of the largest certified public accounting firms founded in the Metro Detroit area.
"We still work with small businesses and startups as well as individuals, paralleling Richard Austin's days as well as helping African Americans become CPAs, start businesses and set up nonprofits so they can be successful," McCree said.
The GJC story started in 1941 when Austin founded what was then known as Austin, Washington and Davenport. Austin – who is best known as Michigan's Secretary of State from 1971 to 1995 – was the first African-American CPA in Michigan and the 11th in the United States. That original firm worked with businesses of all kinds, McCree said, but it made sure to serve Detroit businesses in areas like the storied Black Bottom and Paradise Valley neighborhoods, where Black-owned businesses grew and thrived until the city, now controversially, decided to raze the area for roads and other developments.
In 1971, the firm was reorganized as George Johnson & Company when Johnson took over the business from Austin as a sole proprietorship. In the early 2000s, the firm expanded into the Midwest region, servicing clients in Michigan, Illinois and Ohio. GJC currently has offices in downtown Detroit and downtown Chicago.
McCree said the firm has grown steadily through formal practice development by both expanding services to existing clients and by offering a full range of services to new clients. McCree joined the firm in 2016 as managing director, bringing more than a quarter century of accounting and auditing experience.
Prior to GJC, McCree began his career in 1996 at PricewaterhouseCoopers (PwC), formerly Coopers & Lybrand. In 2002, he joined UHY LLP CPAs as Principal for over 13 years, where he was one of UHY's leading members of the Audit and Assurance Department and member of the firm's National Health Care Practice and SEC Practice.
McCree said he started talks with Johns on to come to the firm in part because both men wanted to preserve its legacy. Austin was a champion of Black business and of Black men and women working within the accounting profession – and Austin did this amid racial discrimination and other challenges all along his career, McCree said.
For example, at that time to become a CPA you had to work for another CPA for two years. Because Austin was Black, no one was interested in hiring him, McCree said. One of Austin's professors started his own practice and Austin worked for the professor at night to get his work experience. Austin never forgot that, McCree said, and spent decades making sure other Black men and women could become CPAs and giving them the opportunity for work experience at his firm.
"I made a vow (to himself and to the firm) to make sure people knew where and how we started," McCree said of his decision to join GJC and continue Austin's work in this regard.
McCree said offering to have a GJC representative at school career days is extremely personal to him as a result. He also sponsors college students from around the country but especially at traditional Black colleges to come and work at GJC as interns.
"To this day, there are not enough African Americans going into these professions. That can be from lack of awareness at an early enough age to see this is an option. There also can be misconceptions about what CPAs do. It's not just taxes – there is so much more you can do as a CPA," McCree said.