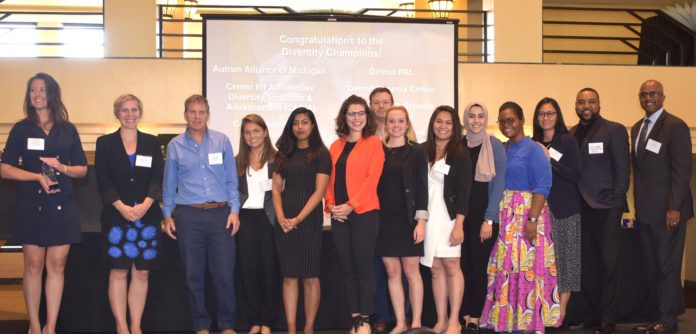 Management experts agree that workplace diversity translates into significant benefits for businesses.
But then, Corp! magazine's Salute to Diversity Award winners already knew that.
Ask them how diversity has aided their operations, and you'll hear several common refrains about how it:
Inspires creativity and drives innovation by ensuring a wide variety of perspectives and viewpoints
Promotes cross-cultural understanding that leads to more effective marketing strategies
Makes a company attractive to talented, globally minded job candidates for whom a multicultural and diverse workforce is important
Boosts problem-solving capacity and leads to higher productivity
A report prepared by consulting company McKinsey & Company puts an even finer point on it: Companies with racial and ethnic diversity are 35% more likely to have financial returns above their industry's average.
This year, Corp! is recognizing nearly 80 winners in three categories: Diversity Focused Companies, Diversity Business Leaders and Diversity Champions.
The winners were feted during a Sept. 26 ceremony at the International Banquet and Conference Center in Detroit.
Following are brief profiles of your 2019 Salute to Diversity Award winners:
Diversity Focused Companies
Argent Tape & Label, Inc.
Plymouth * www.argent-label.com


Argent Tape & Label Inc. champions and promotes diversity as a central pillar of its business model through its talent recruitment process, company culture, supplier base and community engagement. "We actively support various business organizations that provide educational, business growth, mentorship and financial assistance to minority-, women-, veteran-owned and other diverse business categories," said Lynn Perenic, CEO of the provider of a range of label, adhesive and inventory management solutions, including process, spot, flexographic and digital printing, prepress and design services, custom tags, die cut products, thermal transfer, rewinding and finishing.

The company also mentors small-business owners, provides complimentary English as a second language classes at its facility, hosts business owners at conferences and networking events and partners with diverse suppliers.

"As an open book management enterprise, diversity and inclusion are key pillars of our business culture and operations," Perenic said. "From our frontline employees to our company executives, our entire team is engaged in operating and building our business by embracing and celebrating our strengths and differences. Our philosophy is palpable at all levels of our workforce, and we further demonstrate it between and among each other and in relation to our suppliers, customers and in the community. In these ways, diversity significantly impacts all aspects of our business."


Employing the open book management business model enables Argent Tape & Label to build an inclusive workplace as all employees and executives are purposefully engaged in running the business and are uniquely positioned to value the contributions, opinions, experiences and ideas of each team member, Perenic said.

Key metrics are tracked to continually monitor progress in creating an inclusive workplace. "For example, our team tracks certain costs specific to our unique corporate structure, and we regularly discuss the costs' impacts on our bottom line, profitability, business planning and corporate initiatives and goals" Perenic said. "Simply put, workplace diversity is an invaluable asset that provides a strategic competitive advantage when optimized. From creativity, innovation and disruption to increased profitability, problem-solving ability and social responsibility, diversity is an integral component of a successful organization, no matter the size or industry."
Automotive Insight LLC
Troy * www.automotiveinsight.net


Y. Claire Wang proudly notes that the Automotive Insight LLC team consists of different ethnic groups, genders, cultures, religions, languages, education, viewpoints and abilities. "We have diversity-friendly policies," said the CEO of the certified Minority Business Enterprise and Women's Business Enterprise that provides clients with business solutions across product strategy, engineering, sales and marketing, and supply chain management. "For example, providing flexible working hours to make it an appealing place for young women and mothers to work. Similarly, allowing employees to take time off for a variety of religious holidays."

Promoting diversity helps the business find ways to appeal to a broader range of customers, Wang said. "Diversity is essential to our workplace. It encourages creativity and innovation because each team member brings a variety of backgrounds, experiences and perspectives to the table, to solve complex problems." Human capital is the company's most important asset and largest expenditure. "Making our company inclusive is a key ingredient to our success, and it will also naturally lead our company to be more diverse," Wang said. "We don't simply use the diversity in order to have legitimacy with clients, but use the diversity to increase the cultural competence of the workforce. We want to create a workplace for people to be able to bring their identities to work and to be who they are."
Bosch
Farmington Hills * www.bosch.us


Operating across four business sectors — mobility solutions, industrial technology, consumer goods and energy and building technology — Bosch offers customers a multitude of value-add, cross-sector solutions across a diversity of industry applications. "We appreciate and encourage diversity for the enrichment it brings, and see it as essential for our success," the company's website states.
CyberMerce
Caledonia • cybermerce.com

CyberMerce this summer changed its name from Digital Marketing Solutions LLC to better reflect how the business has evolved. "'Cyber' means information technology (IT) and 'Merce' means commercial business," the company's website states. "It is everything we do. We focus on three main areas: IT solutions, IT professional services and IT care and support."
DSG Staffing LLC
Lake Orion • dsgstaffing.com

DSG Staffing is a certified Minority Business Enterprise that specializes in recruiting temporary and permanent personnel. "We are committed to establishing long-term partnerships with companies across the country. We're highly diversified with a long list of services to help many of your business needs," the company's website states.
Eastern Floral
Grand Rapids • www.easternfloral.com

Eastern Floral has always arranged to have an inclusive workforce, including those of different ages, gender and races and ethnicities, as well as members of the LGBTQ community. "We intentionally seek a diverse pool of talent when Eastern Floral is looking to fill open positions," proclaimed CEO Bing Goei. "Eastern Floral is also committed to seek out diverse suppliers."

The family-owned and -operated florist is also a founding member of the Grand Rapids Coalition of Racial and Ethnic Diversity, founding member of the Multi Racial Association of Professionals, founding member of the Grand Rapids International Network, winner of the Grand Rapids Chamber 2011 Diversity Visionary Award and the 2014 winner of the Michigan West Coast Chamber of Commerce's Minority Business of the Year, and in 2014 it was hailed as a "Champion of Diversity" by Grand Rapids Mayor George Heartwell. "We have been a significant part of the West Michigan community for over 65 years and strive to be good stewards to the community that has named us their 'Best Florist' for 11 consecutive years, and nationally named a Teleflora Top 50 Florist," Goei said.
Ebinger Manufacturing Co.
Brighton • emcfasteners.com

EMC Fasteners and Tools manufactures and supplies components and related merchandise for the electrical, plumbing and HVAC industries. Core products include a full line of fasteners, anchor kits, threaded rod, wire ties, industrial tools and safety equipment. EMC is also the home of Jets Gloves, a company specializing in a wide variety of work gloves. It was founded in 1996, and current owner Janny Lu joined the company in the late 1980s and brought along the concept of global sourcing, the company's website states.
EverythingHR & EverythingHR Financial Services
Rochester Hills • www.everythinghr.net

As human resources providers, EverythingHR assists clients in hiring a diverse workforce that represents both the community and customer base that they aim to serve. "When hiring for our clients, we cast a wide net to ensure we are reaching people across all spectrums," said Felicia G. Harris, founder and CEO. "For instance, if we want to reach African American job candidates, we know we need to reach out to them not just by recruiting at universities, but at historically black colleges and universities."

EverythingHR itself is an ethnically diverse company with employees of varying ages, genders and backgrounds. "As a human resources company that has over 50% minority employees, we are consciously open to diverse candidates of all ethnicities, ages and religions," said Harris, who also heads EverythingHR Financial Services, which assists individuals and businesses by providing customized financial planning, retirement planning, business insurance and estate planning. "We promote diversity in hiring, but we also educate leadership about diversity and inclusion through our training programs. Just hiring a minority candidate or an older employee or one with special needs is not enough; you have to include them in the decision-making process. They need more than a seat at the table; they also need a voice that is heard. Our training goes a long way in teaching those philosophies and providing perspective and tools to leadership."

EverythingHR provides regular training and regular meetings, has open-door policies with management and generally keeps an open dialogue with staff on an ongoing basis. "As representatives serving client businesses, we do the same thing — we let our clients' employees know that they will be heard," Harris said. "We also train our client leadership to be more receptive to the input of their diverse workforce. We help our clients understand that they become stronger as a business if they consider and value all perspectives when making decisions."

Harris has also helped many small and minority-owned or woman-owned businesses qualify for grant funding that allowed them to train and improve their workforce. "I am often asked to help organizations such as the Michigan Minority Supplier Development Council to provide training to leadership and member businesses. I also work closely with the SBA and am a member of the Great Lakes Women's Business Council. I am the co-founder of the Women's Business Leadership Network, an organization that helps new women business owners get set up and works with existing business owners who need assistance advancing."
Golden Way Group LLC
Southfield • www.goldenwaygroup.com

Diversity is part of the foundation of Golden Way Group, a fully integrated firm focused on design, engineering, construction and maintenance services for manufacturing, research and development, office and hospitality clients.

"We are aware of the opportunity we have to strengthen our business by further enabling and encouraging the purchase of goods and services from a diverse supply base," said CEO May Zhao. "We also believe employee diversity is both a business necessity and our responsibility as a member of the business community. We believe that by actively demonstrating our commitment to a diverse workforce, we will ultimately establish a sustainable competitive advantage for the collective future of our associates."

Fostering a diverse workforce, particularly one that encourages the onboarding of candidates newly entering the workforce, has significantly improved the company's capabilities and ensured superior outcomes for clients, Zhao said. "We have long realized that the 'best and brightest' is ultimately independent of race, gender, religion or economic background. We have created an environment that seeks candidates throughout the cross section of our society, rewards performance, encourages curiosity and enables our collective success."
Greenleaf Trust
Kalamazoo • www.greenleaftrust.com

Greenleaf Trust, a privately held wealth management firm, functions each day under the premise of being honest and honorable in all it does. "That being said, we have worked hard to create a diverse workplace to create a diverse clientele," said President Mike Odar. "Our core values are the heart of our company, and several of the key values point to diversity."

Among them: "Diversity is good — it makes us better decision makers; professionalism, respect and dignity are fundamental principles by which we treat all others; we support the maintenance of balance between family, work and community service," Odar said.

"These values are things we live, teach and mentor on each day. Not only is diversity part of our core values, it is also part of our strategic plan. Our leadership team then builds the strategic plan goals into their divisional goals for each team member to be part of."

Each year, Odar sends out a strategic planning survey to see what team members are thinking. This year, he asked about diversity and what it meant to employees. "We provide training in the areas of harassment, diversity, unconscious bias, micro-aggressions and interviewing equally," Odar said.

Historically, the financial services industry has not been very diverse. Odar noted. "Knowing this, we have taken a strategic approach to recruiting by creating partnerships with community leaders, foundations, high schools and universities. We have also sought out specialized recruiting events and social media sites to broaden our candidate base." The company's founder created a scholarship program for underrepresented minorities in the finance industry 20 years. Through the program, Greenleaf Trust has awarded 71 scholarships worth more than $1.3 million since 1999. "Diversity in the workplace is critical for success," Odar said. "Our world is changing and the consumer is focused on who you employ, what your values are and how you are supporting the communities you work in. Diversity in thought, leadership, background, education and experiences allows our company to think through situations from many different angles to make sure we're providing the best service we can possibly provide to ensure the happiness of our clients."
INCODEL Michigan
Romulus • www.incodel.com

INCODEL is a vertically integrated supplier of components and supply chain services to the global automotive industry. INCODEL is also a Tier One supplier of powertrain products to OEMs and other suppliers with advanced engineering and research and development. The has received certification as a Minority Business Enterprise by the Michigan Minority Supplier Development Council, using criteria established by the National Minority Supplier Development Council, INCODEL's website states.
Integrated Recycling Industries
Wyandotte • www.integratedrecyclingindustries.com

Integrated Recycling Industries is always looking for the best and the brightest people and companies. "By us being a diverse business, this gives us the chance and the availability to tap people from diverse areas of expertise," said Rick Pacheco, president of the company that recycles a wide variety of materials. "They bring in new thoughts and ideas that otherwise might be missed. When there is diversity in the workplace, this brings in a new dynamic. Through each person's experience, the chance for a company to grow is very big. New ideas and thoughts are brought in."

The business is also inclusive in a generational sense. "My daughter is a co-owner of the company," Pacheco said. "We have on our staff my father and another employee who are seniors. We measure our progress by the reaction of our youngest member, my grandson, who interacts with all the above and hopefully will one day take over the company and use the same practices of a wide variety of people and skills to take the company to the next level."

Integrated Recycling is also involved with local schools. "We work with the administrators to help the children, many recent arrivals from different countries," Pacheco said. "We work with the school to help the young ones be prepared for the start of the school day. We work with the seniors to help prepare them to move on to the next step after graduation: finding a job, enrolling in trade school or university or joining the military."
I-Tech USA Inc.
Farmington Hills • www.i-techusainc.com

As a certified minority company, I-Tech USA Inc. has minorities on staff and also promotes business opportunities for local and overseas minority suppliers for various business commodities, including automotive, small appliances and industrial parts for North American customers.

"We currently employ staffs with diversified ethnic and skill-set backgrounds from countries including Korea, China, India and Vietnam," said CEO D.U. Kim. "Our diversified workforce helps us not only locate the best suppliers globally for our customers but also expand the business opportunity spectrum with cultural, economic and social diversity through the global exchange of intelligence and information." The company also offers employees encouragement and flexibility to devise better business practices, which also results in personal career growth. "We believe that this will also turn out to be definitely a plus to the society as a whole," Kim said.
Kyyba Inc.
Farmington Hills • www.kyyba.com

Kyyba, a global staff augmentation and technology solutions firm, promotes diversity by empowering and educating management, creating a diversity-friendly workforce, and encouraging workplace flexibility. "We always encourage individuals of all backgrounds to apply for various organizations," said CEO Thiru Ganesan.

As a global company, Kyyba understands globalization offers many new opportunities and with those opportunities come new responsibilities. "With that in mind, we work together with our customers, consultants and Kyyba team to understand and accept diversity and try to partner with those with the same value," Ganesan said. "At Kyyba, our diversity initiative has improved the quality of our organization's workforce and client portfolio. Through our minority certification, organizational partnerships and industry alliances, we have been able to increase our market presence by leveraging our minority status and capabilities to support companies like FCA, Valeo and MBFS to meet their minority program target requirements. By leveraging all that Kyyba has to offer, we have been able to successfully diversify our services across industries and geographical presence to a $60 million-plus company with multiple locations across the globe."

Diversity is an important initiative for Kyyba in all areas of business. "Not only have we been able to leverage our minority status to secure new business, it has also been the catalyst for building a better ROI in human capital," Ganesan said. "Our multicultural, talented and trained employees are key advantages for the success. Our unique approach to understand and reach out to the individual needs of people from other cultures has helped us to maintain a high-quality workplace. We have partnered with organizations like GTRI by focusing on retaining top international talent. We provide internships and job opportunities to international students to attract and retain a diverse workforce."

Kyyba promotes an inclusive workplace by celebrating and educating employees on unconscious bias, acknowledge holidays and creating diversity within the team. "We measure our progress by observing for grievances and complaints, turnover and employees' feedback through employee surveys and stay and exit interviews," Ganesan said.
Mercedes-Benz Financial Services
Farmington Hills • www.corp.mbfs.com/home

The corporate culture at Mercedes-Benz Financial Services is based on a deep respect for and appreciation of the principles of diversity and inclusion (D&I). "We focus on honoring and leveraging our differences in all aspects of our business," said Jody Jones, head of diversity & inclusion for the automotive financial services provider.

The company promotes it dedication to D&I through efforts such as recruitment, retention/advancement and pipeline programs that ensure it is providing outreach and job promotion to a variety of diverse talent; community relations; and honoring diverse talent through speaking engagements, individual award opportunities and more, focused specifically on D&I.

"Mercedes-Benz Financial Services aims to enhance the quality of life for every one of our employees by fostering an inclusive workplace," Jones said. "This dedication has been rewarded with a truly diverse workforce of some of the best and brightest individuals across every department. We know that focusing on diversity of thought and inclusivity is critical to making Mercedes-Benz Financial Services an employer of choice. We strive to create an open atmosphere that attracts and retains top talent, promotes diverse points of view and fosters respectful dialogue. This encourages innovative thinking that enables us to best serve our customers, dealers and each other every day. Promoting a culture of inclusion is a core commitment and business imperative."

At Mercedes-Benz Financial Services lives it commitment to D&I through a variety of strategic initiatives, activities, events, partnerships, professional development, educational opportunities and more. Examples include employee business resource groups, an employee-based D&I Council, D&I training, quarterly diversity dialogues and cultural and heritage celebrations. "D&I is essential in creating, maintaining and furthering a great place to work," Jones said. "Fostering a culture of inclusion is a core commitment and business imperative for Mercedes-Benz Financial Services."
Mettle Ops
Sterling Heights • www.mettleops.com

Mettle Ops hires employees who are best suited for the position and can add to the company's culture. "We value hard work and enjoy having a diverse group of individuals with a wide range of backgrounds and experiences," said Katie Bigelow, president of the defense contractor. "We hire based on competency, but when our team is diverse, the competency is transformed to stellar workmanship. At Mettle Ops we are open to any individual who can successfully do the job, and by embracing this, we were able to create a powerful team. As a woman-owned business, we are proud to have a team comprised over 50% of women with a broad range of skills."

Employees are also encouraged to voice their opinion and make their ideas known, Bigelow said. "All ideas and questions are valid. We also encourage our employees to embrace their cultural heritage, and strive to learn more about their stories."

As a veteran-owned company, Mettle Ops prides itself in supporting veterans and helping them find jobs within the industry. "Our team makeup has led us to participate in diversity organizations such as Women in Defense, an organization dedicated to supporting women in the defense industry," Bigelow said. A diverse group of workers can bring a broad amount of knowledge to the table. "When people of different backgrounds come together, a plethora of thought and knowledge is also present," Bigelow said. "Each person has a different outlook on a situation, and each employee deserves the right to use their past experiences to build the company up."
Nex Tech Professional Services
Southfield • nextechps.com

Established in 1994, Nex Tech is a diversified professional services firm serving both government and private sector customers. It provides executive search, professional placement and contract staffing services to the private sector and IT, administrative, logistics, consulting and other business services to the federal government. It also offers a full suite of business furniture and furnishings solutions, with a particular emphasis on workplace efficiency, ergonomics and ROI, the company's website states.
Pi Square Technologies
Farmington Hills • pisquaretech.com

Pi Square Technologies' core philosophy is based on one principle: "Diversity is dominance."

"Diversity has been always a key driver in enabling the best innovations in the human history," explained Sarat Kothapalli, CEO of the fast-growing automotive engineering services company. "Our business has been an active advocate of diversity, starting with our core team members to the most innovative products being launched by us in the market. We have been promote diversity by inviting diverse talent and creating diverse technologies that would fulfill the mission of our organization of creating a diversified impact."

The company promotes an inclusive workplace by hiring talent from all backgrounds and values. "We measure it every year by creating a diversity culture report to analyze the impact of it on each and every unit of our business," Kothapalli said. "Diversity creates the best possible innovations in the world and especially the automotive industry. We as a company believe in delivering the best solutions to the market and the industry."
Promax Engineering LLC
Westland • www.promaxeng.com

Promax Engineering is an ISO/TS 16949 certified automotive production parts supplier that combines manufacturing, marketing, engineering and technical service. Parts it supplies include cold forming, stamping, forging, machining, powder metal, plastic injection molding, casting and assembled products. "We provide products and services along the entire supply chain from China to end users," the company's website states. goal of high quality standards.
SK International
Farmington Hills • www.skinternational.us

Success is achievable only by encouraging diverse opinions in the workplace, said Kishen Kavikondala, CEO of SK International, which designs and builds special-purpose machines and automated assembly lines for the manufacturing industry.

"All businesses are expected to deliver service/product at the most competitive price while maintaining on-time delivery and world-class quality," said Kavikondala. "The only way to achieve this is by having the best individuals on our teams." The company also strives to identify and develop other diverse companies to work with. "Being a diverse supplier, we get some help in presenting our capabilities to potential customers," Kavikondala said. "As a business, we are focused on monitoring an equitable environment for ensuring success to all our colleagues. As a diverse supplier, we strive to ensure we have equal representation of all walls of society."
SMART
Detroit • www.smartbus.org

As a public transit agency, SMART serves everyone. "So it's appropriate that our organization reflects the diversity of the region," said John C. Hertel, general manager of Southeast Michigan's regional public transit provider, who notes that more than 80% of SMART's workforce is a minority. "Our hiring efforts reflect that by encouraging the hiring of people with diverse backgrounds and experiences and working with diverse organizations including ACCESS, Veterans Affairs, veteran job boards, women organizations and the disabled community. Additionally, as a taxpayer-funded authority, SMART strives to meet its business goals to attract small and disadvantaged businesses and contractors on solicited projects."

From a business perspective, SMART allocates 7% of its federal funding to small and disadvantaged businesses as contractors on projects solicited. "The outlook they bring may be different but it has nothing to do with their capability when compared to larger and more established businesses," Hertel said. "They bring a strong and optimistic mindset to the task they have been contracted to complete because they do not take these opportunities for granted. This is for the betterment of the project, as well as SMART, because we can grow together as entities serving metro Detroit."

SMART sets goals to improve underutilization of certain populations within the different job categories throughout the organization. These goals are evaluated and modified every three years. Progress is assessed through a monitoring procedure that tracks SMART's employment processes on a monthly, quarterly, semiannual and annual basis.

SMART also has strong internal policies against discrimination or harassment, which allows for prompt action to be taken against any offending employee. "We want all employees to feel that they can come to their place of work and feel that it is a welcoming environment where they can focus on their responsibilities without any undesired behavior," Hertel said. "SMART promotes a healthy environment where employees can feel comfortable coming forward to disclose any unfortunate conduct they are experiencing and know that the organization will take their claims seriously."

SMART's service area includes communities made up of immigrants from around the globe. "There needs to be a voice for these communities within our organization to help guide us in understanding the needs and norms of the many populations we are serving," Hertel said. "Having a diverse workforce enables SMART to appreciate the diverse requirements and demands of the different populations making up metro Detroit. This awareness allows SMART to provide service that is always improving to meet the needs of all residents throughout the region."
Spectrum Health
Grand Rapids • spectrumhealth.org

Spectrum Health is committed to achieving and sustaining a diverse and inclusive culture that fosters respect among its employees and improves the care and services provided to its patients, members and communities. To lead this work, Spectrum Health established its first diversity officer in January 2019. "We've made several public commitments through Talent 2025 CEO Diversity & Inclusion pledge, American Hospital Associations Institute for Diversity and Health Equity #123forEquity pledge and joined the Healthcare Anchor Network," said Tina Freese Decker, president and CEO of the not-for-profit health system. "These commitments align with our five areas of focus, including cultural competence, equity of care, community engagement, supplier diversity and workforce diversity."

Diversity has improved health care for the diverse population of the communities Spectrum serves, increased innovation, connected it more with communities it serves and improved the economic health of its community, Decker said, adding that the health system promote diversity through several initiatives.

"Diversity, Equity & Inclusion Center of Expertise has trained over 20,000 employees in various aspects of cultural intelligence, established eight inclusion resource groups to increase employee engagement, coordinated over 350 staff throughout 13 cities and 76 projects in volunteering on Martin Luther King Day of Service," she said. "We've enhanced visibility of our systems a Resident Diversity Council to work toward eliminating health care disparities. "Increasing and sustaining racial and ethnic diversity of our workforce at all levels of the organization will help to improve access to health care for communities of color, increase innovation and improve the economic health of our community."
The Chemico Group
Southfield • thechemicogroup.com
Leon C. Richardson

Chemico Group is a certified chemical management supplier specializing in integrated solutions for the entire chemical life cycle — from procurement to on-site inventory management, distribution to environmentally conscious disposal. Founded in 1989, the veteran- and minority-owned company generates more than $100 million in annual sales and employs 468 people across North America and is expanding services to Europe and South America.

CEO Leon C. Richardson is an active board member for the Michigan Black Chamber of Commerce, Supplier Partnerships for the Environment, the Rainbow Push Coalition and the National Association for Black Suppliers.

"Diversity and inclusion are cornerstones of Chemico's business," he said. "Chemico's corporate policies underscore the company's commitment to supporting MBEs (Minority Business Enterprises) and are outlined clearly in its corporate supplier diversity plan. The supplier diversity initiative outlines specific goals to identify qualified MBE and WBE (Women Business Enterprises) companies in each of its commodity and specialty chemical platforms. Chemico targets a minimum 12% minority spend and is inclusive of all qualified MBE and WBE proposal requests. Chemico has spent more than $11 million with MBEs since 2014."

For each of the past 10 years, Chemico has hosted a student internship program, and many of the interns are minority students from underserved communities.

"It's a priority for Chemico to hire minorities in the communities where it operates, and it has hired nearly 300 minority employees in the last two years, nearly half of the total number of employees it has hired since 2014," Richardson said.

Richardson was the 2016 recipient of the Results Mentoring Industry Award, recognizing the hundreds of hours of his time he gives each year to mentoring young black men in the community and young minorities interning and working with Chemico.
Yochana
Farmington Hills • yochana.com

Yochana is a talent acquisition and recruiting firm that embraces employees from all cultures and backgrounds. "We encourage our employees to share their traditions, holidays and cultural foods with the office," said CEO Kumar Bodapati. "Through open conversations, we are able to break down barriers and close culture gaps. Many conversational topics that are considered taboo in different work environments, we promote. Yochana believes that through fully understanding each other's thoughts and beliefs, we are able to work together with a higher level of empathy." Diversity is one of Yochana's greatest assets, Bodapati said. "Through diversity, we are able to create better processes, gain a better understanding of clients and candidates, while growing as a company. We are able to build each other up and promote each other through our professional careers."
Diversity Business Leaders
Ida Abdalkhani
Chief Catalyzer • Ability to Engage

Ida Abdalkhani likes to pose this question: "If we all think alike, are we really thinking?" In fact, it represents her mindset so well that it's emblazoned on Ability to Engage's company T-shirts to remind employees, the consumers it works with and its clients that "if we all have the same viewpoints, we are not considering alternatives and challenging our own perspectives," Abdalkhani said. "Further, we hold ourselves accountable by ensuring our own team is inclusive and open to underrepresented backgrounds. In the first several years of operation, A2E had a team comprised primarily of women and minorities. As the team has grown, A2E has continued to represent what a diverse workforce can look like."

Ability to Engage helps brands develop marketing communications, product ideas, brand strategies (brand personality, equity and architecture) and consumer segmentations. The A2E team also develops and facilitates innovation sessions, strategic meetings and team effectiveness workshops. Clients include startup companies, international government groups and some of the world's largest companies in brand and marketing such as Clorox, ConAgra Foods, McGraw Hill, Ogilvy, PepsiCo, Pfizer, Procter & Gamble and Red Bull.

"A2E focuses on inclusion and creating a supportive environment that welcomes diverse thinking," Abdalkhani said. "Recruiting team members with nontraditional backgrounds and diverse experiences and seeking out collaboration with women-owned and minority businesses are also key to promoting diversity. We believe that diverse thought is critical to personal evolution and is also a key asset in driving the business forward as A2E focuses on consumer understanding, strategy and innovation. Consumer understanding requires an open mind to various perspectives, cultures and experiences. Strategy and innovation development necessitate fresh outlooks and different ways of approaching problems."

A2E has forged strong relationships with its clients and partners, in part due to its inclusionary approach, Abdalkhani said. "When it comes to the day-to-day business, understanding the vast and diverse needs of consumers is crucial to developing communications that show audiences they are heard and understood. This has led to A2E develop global operations, from multilingual moderators to translators, enabling our work around the world. "Diversity in the workplace is not a trend," Abdalkhani continued. "It is not a fad. It is a community imperative, competitive advantage, innovation catalyst and productivity booster. Diversity promotes the ability to learn and grow from each other — creating businesses and communities that are greater than the sum of their parts."
Gary Abernathy
VP, Practice Leader-Diversity, Equity & Inclusion
Marsh & McLennan Agency LLC

As leader of diversity, equity and inclusion practice at insurance consultant Marsh & McLennan Agency LLC, Gary Abernathy assists clients with developing, growing and sustaining their diversity and inclusion (D&I) strategy. "Locally, we have created Advantz, which is a joint collaborative designed to help clients with supplier diversity procurement goals, as well as solutions to grow D&I within our industry, clients and communities," Abernathy said.

The company has also become corporate partners of the National Diversity Council. "The colleagues who sit on our National D&I committee are enrolled in trainings to achieve their Certified Diversity Professional Certification," Abernathy said. "We have become more intentional in our diversity recruiting efforts while striving to create a more inclusive environment for all colleagues."

Within the company, all leaders are required to attend Unconscious Bias training, and it is also strongly encouraged for all colleagues.

Diversity and inclusiveness is not only the right thing to do but the smart thing as well, Abernathy said. "Studies show that diverse organizations drastically outperform their competition," Abernathy said. "Organizations that focus on diversity in the workplace attract top talent and have higher engagement among team members."

In addition to providing DE&I-specific workshops and consulting for internal and external clients, Abernathy also volunteers with several organizations and boards, including those of Gleaners Community Food Bank and the Michigan Diversity Council.


Jocelyn K. Allen
Co-Founder • The Allen Lewis Agency LLC

Jocelyn K. Allen was the first person to hold an official, full-time role as a diversity communications manager at General Motors starting in 2000. "I grew that role to include diversity marketing by the time I left the company in 2015," she said.

She went on to co-found The Allen Lewis Agency, a full-service transformational agency that is committed to helping clients tell their stories, build their brands, commemorate experiences and expand their business through strategic brand development, communication planning, experiential events, marketing, press, public and stakeholder relations and reputation management.

"We are a 100% African American, woman-owned company," Allen said. "We are the multicultural PR agency of record for Nissan North America — we handle all their media outreach to the African American, Asian, LGBTQ and Hispanic markets. We also handle African American and Hispanic CSR outreach for Cricket Wireless.

Our workforce is comprised of creative consultants from all walks of life — they are diverse ethnically, geographically and experience-wise.

"My business partner and I come from a corporate background where diversity and inclusion weren't always top of mind," said Allen, who created a course for West Virginia University on the intersection of diversity and inclusion and communications and marketing, and taught it in 2018. "We have made it a priority to create an inclusive workplace that includes everything from cultural celebrations to a virtual working environment from parents and others dealing with work/life balance issues." Workplace diversity is a business imperative, she added. "By 2044, the U.S. will be a minority-majority population. Inclusion is not a nice-to-do — it's about growth, expansion and embracing the future now."
Assam Alzookery
Founder & CEO • Intvo

"Promoting inclusiveness and diversity within our workplace is one of the best ways to foster an open-minded, global company culture," said Assam Alzookery, founder & CEO of Intvo, which is developing artificial intelligence that predicts pedestrian behaviors to help developers of autonomous vehicles ensure the safety of road users. "Not only does this make good business sense helping our company to better understand colleagues, clients and customers around the world, it also makes the workplace a more interesting and personally enriching environment for everyone."

Creating workplace diversity policies isn't enough, Alzookery said. "Clear communication and follow-through are necessary to ensure the policies are effective. At Intvo, we deeply care about our employees, so we take their feedback seriously to address these challenges to make sure that we respect one another. Employees should feel comfortable coming to their managers with any concerns, especially about their treatment in the company due to their gender, ethnicity, sexuality, age or other factors." As workforce demographics shift and global markets emerge, workplace diversity inches closer to becoming a business necessity instead of a banner that companies wave to show their commitment to embracing differences and change, Alzookery said. "Employees reap tangible and intangible benefits from workplace benefits, not the least of which include respect from co-workers and business gains," Alzookery said, adding, "As a leader at Intvo, it's my duty to lay down clear guidelines for disciplining those who engage in activities such as workplace bullying and teasing, which discourage diversity. I always listen to workers who feel their treatment was affected by gender, disability, age, ethnicity or other factors and address their concerns quickly and effectively."


Tasha Blackmon
Chief Executive Officer • Cherry Health

Cherry Health, a federally qualified health center providing comprehensive health care to 75,000 individuals across the state, promotes diversity in many ways under CEO Tasha Blackmon's oversight. "Policies and procedures have been created to ensure our diversity and inclusion plan reflects the most up-to-date standards for creating a diverse, welcoming and inclusive work environment," Blackmon said.

Diversity and inclusion training occurs on the first day of employee orientation, as well as during annual refresher training. "Since over half of the patients served at Cherry Health are from diverse backgrounds, cultural competency training is also required for each team member caring for patients," Blackmon said. "Intentional efforts are made during the recruitment process to ensure our team member diversity reflects the population we serve."

Another way Cherry Health promotes diversity is through the creation of print, digital and marketing materials featuring diverse patients and providers. "Our hope is that patients feel Cherry Health is their place," Blackmon said.

To further underscore its commitment to diversity, Cherry Health contracts with a diverse supplier base for a variety of services. It also partners with organizations such as the Urban League, the Grand Rapids African American Health Institute, the Hispanic Center of West Michigan and West Michigan Asian American Association in an effort to provide wraparound services to patients.

"Diversity has impacted our organization in many significant ways," Blackmon said. "As a federally qualified health center, the federal government mandates 51% of our governing board members must be active Cherry Health patients. Since more than half of our patients are diverse, our board is also diverse. There is racial diversity, LGBTQ+ representation and homeless representation on the board. Having a variety of perspectives only adds to the breadth and depth of discussions as we contemplate the future of our organization."

According to the Pew Research Center, in the year 2065, the United States will no longer have any single ethnic or racial majorities, Blackmon notes. "It is in each organization's best interest to begin addressing this issue sooner, rather than later," she said.

Also, studies have shown that the most diverse businesses enjoy improved innovation, better creativity, higher productivity, lower turnover rates and easier recruitment, Blackmon said. "As a business case, diversity in the workplace makes sense from a strategic and financial perspective," she said.
Jinny Bromberg
President • Bromberg & Associates

Professional interpreter Jinny Bromberg founded Bromberg & Associates in 1999. "We are a full-range language service provider, DBE and WBE certified business and GSA Federal Supply Schedule Award holder," the company's website states. "We work with a large pool of qualified interpreters and translators worldwide to provide more than 200 languages for every type of product."
Charmaine Brown
CEO • Connexions Consulting

Connexions Consulting promotes inclusion and diversity by assisting organizations in leveraging the power of inclusion and diversity to increase productivity, team building, teamwork and employee engagement. "Further, we provide assistance with developing solutions to identify untapped market opportunities, improving supplier inclusion practices and community engagement," said Charmaine Brown, CEO of the strategic consulting practice that provides customized inclusion, equity and diversity solutions to address the specific needs of an organization's culture.

"Connexions Consulting was built on the idea that organizations can outperform competitors when they focus on building an environment of inclusion," Brown said. "Inclusion is a catalyst for high performance. When employees feel included, valued and have a sense of belonging, performance improves, retention improves, organizational reputation improves and ultimately business improves — all of which can be measured." Seeking the best and brightest individuals for any business is a fundamentally good business practice, Brown said. "Organizations that understand the importance human capital has on its success will invest in and optimize talent to achieve business goals and objectives. We believe a diverse workforce drives economic growth. When organizations have a diverse workforce, they can capture a greater share of the markets and/or services. In addition, inclusion and diversity helps to foster a more creative and innovative workforce — when managed well!"
Richard Chang
CEO • NewFoundry

Because it is a services-oriented company, says Richard Chang, "diversity" must remain the main word NewFoundry lives by. "We are industry agnostic, technology solution agnostic, and our team is diverse not just in skills but also at the basic human level such as race and gender," said the CEO of the multidisciplinary software product development studio. "We are almost 50% mix race and almost 35% female."

However, diversity isn't the overriding goal of its hiring practices. "It is just logical that we give equal opportunity to everyone and hire those that will be a good fit for us culturally and have the capacity to learn," Chang said. "Because we treat everyone equally, we continually grow in a balanced manner. Being diverse in industry and technical expertise allows us to share knowledge and learnings across industries and also provide the optimal solution for our clients instead of forcing them to use the tech stack that we only feel comfortable with."

Even though it doesn't put diversity at the forefront of its hiring efforts, NewFoundry does make sure that its workforce composition isn't getting skewed one way or another, Chang said.

"Diversity is just another form of being well-rounded. Well-rounded people and companies are the ones that survive the best, provide the best solutions since having a more diverse knowledge base translates into more informed solutions, and are the ones that adapt to change and feedback."

Chang has made sure that his team is diverse, NewFoundry continues to work in diverse industries, that it has diverse sources of revenue, and that he mirrors what he preaches. "We also realize that diversity does not also mean equality and that we must make sure that we provide an equal playing field for all. I also give back to my community by volunteering on various boards such as the United Way, Ann Arbor/Ypsilanti Chamber of Commerce, United Methodist Retirement Communities, Michigan Works Southeast and Intermitten."
Ehrlich Crain
Director, Business Development & Diversity • Roncelli Inc.

Roncelli is a full-service construction firm that utilizes its diversity program to maximize and enhance opportunities for diverse firms to be engaged on its projects.

"Roncelli takes pride in providing opportunities to utilize, subcontract, joint venture, partner and mentor diverse firms," said Ehrlich Crain the company's director of business development & diversity. "We have also seen the firms we have mentored excel and accelerate their own growth and graduate from small business status."

Crain is in charge of implementing Roncelli's diversity program both in subcontracting opportunities as well as working with the human resources department in exploring ways to not only attract diverse employees but also to keep and encourage their personal and professional growth.

Focusing on identifying diverse individuals for its own employment as well as utilizing diverse businesses in no way impacts Roncelli's ability to attract the "best and brightest," Crain said.

Roncelli regularly participates in career days through the Grow Detroit Young Talent initiative with the city of Detroit and DTE, which identifies and connects the firm with diverse young talent. It also participates in intern programs with Randolph School to identify minority and women intern and graduate candidates.

"We live and work in a diverse society and Roncelli promotes and embraces diversity in our workforce," Crain said. "We enthusiastically want to represent in our diverse workforce that we are representative of the many communities we work for in both southeastern Michigan as well as other parts of the U.S. and Canada."
Charity Dean
Director, Civil Rights, Inclusion and Opportunity • City of Detroit

Detroit's Civil Rights, Inclusion and Opportunity (CRIO) office that is headed by Charity Dean investigates civil rights complaints for residents and city employees. It also oversees the certification of Detroit-based businesses and minority-owned business, as well as ensures that major development projects are in compliance with the city's laws that mandate the hiring of Detroiters and utilization of Detroit-based business. CRIO also serves as the enforcement arm for projects that receive certain tax abatements and are subject to the Community Benefits Ordinance.

"Detroit has a rich history of diversity," Dean said. "One of the cool things about our department is that we get to serve our residents on a daily basis. We provide translations and interpretation services through our Language Access Program to better communicate and help residents navigate city services, we ensure that our Detroit residents are being employed on major projects throughout the city, we maintain a pipeline for the construction industry to hire Detroit residents, and we are fighting for all of our residents' rights every day through our civil rights investigations."

The Civil Rights Department hosts outreach and educational events to build awareness and promote diversity, including a Juneteenth celebration, Human Rights Day, Pride Celebration for the City of Detroit and honoring Indigenous Peoples Day.

"Diversity in the workplace means that a company's workforce includes people of varying gender, age, religion race, ethnicity, cultural background, sexual orientation, religion, language, education, abilities and perspectives," Dean said. "We do training for all city employees around topics such as cultural competencies, gender bias, etc. City employees have pledged in standing against discrimination against LGBTQ peers in the workplace and in uplifting women in the workplace through our events."
Dr. Nkechy Ekere Ezeh
Founder & CEO • Early Learning Neighborhood Collaborative

ELNC is the umbrella organization for seven community partners located centrally in target neighborhoods, where the access to preschool was lowest and the social pressures were highest. The collaborative was formed in response to the alarming and disproportionate lack of readiness for kindergarten (83%) among children in the Grand Rapids Public School system. In 2012, Dr. Nkechy Ekere Ezeh was engaged by the W.K. Kellogg Foundation to lead a collaborative process with grassroots organizations to create an Early Learning Neighborhood Collaborative to plan and design an intentional preschool service system aimed at providing, expanding and sustaining the capacity of quality early care and education programs in the vulnerable neighborhoods of Grand Rapids.

"Understanding that reducing the stressors affecting children requires addressing the stresses on their families," Ezeh said. "ELNC, in partnership with PONA Consulting L3C, developed Empowering Parents Impacting Children (EPIC), a dual-generational approach based on the philosophy that parents are essential partners in a child's development and education process and must be not only a part of the solution but the driving force. The core strategy of the model is to provide support to families, through the services of a family coach, to identify and address barriers preventing them from meeting basic needs and developing individual social capital."

The ELNC model was developed on the foundation of core beliefs: Every child deserves a fair chance at success in school and life; the economic security of families is crucial to creating the optimal conditions through which children can develop, learn and grow; people have the inherent capacity to solve their own problems and that social transformation is within the reach of all communities; racial healing and racial equity are essential if we are going to accomplish our mission to create conditions in which vulnerable children can succeed.

The demographics of ELNC staff, board and volunteers are reflective of the families it serves, Ezeh said. In addition, ELNC incorporates culturally competency trainings within its annual Training and Technical Assistance plan to ensure that individuals and systems within the organization respond respectfully and effectively to people of all cultures, languages, classes, races, ethnic backgrounds, religions, spiritual traditions, immigration status and other diversity factors in a manner that affirms and values the worth of individuals and families participating in ELNC programs.

"The EPIC component of our model was born out of the reality that for many of our family's inequity, oppression and discrimination were just the 'norms' of their lives," Ezeh said. "While parents inherently wanted more for their children's future, they were struggling with little or no resources to address the socio-economic issues threatening the well-being of their families. Our model is not based on 'what we think is best for the family.' Rather, it respects their right to the cultural rhythms and patterns woven in the fabric of their history." As CEO and founder of Early Learning Neighborhood Collaborative, Ezeh said she understands the multiple barriers facing women in leadership roles. "Additionally, as a person of color, I had to find ways to develop my leadership skills in spite of the many inequalities that not only exist, but are deeply rooted within current social systems. Through a combination of hard work, perseverance and the fact that God put certain people in my life at just the right time, I am now able to 'pay it forward.'"
Megan Fuciarelli
Executive Director & Principal Consultant • US2 Inc.

As executive director US2 Inc., diversity and inclusion is literally Megan Fuciarelli's business. US2 is a consulting firm focused on issues of equity and inclusion. "We work with corporate clients, educational agencies and individuals to identify biases, reflect on their impact and work to overcome the negative effects of bias," she said. "We provide training and facilitate authentic conversations to move toward a more equitable environment where everyone is included — all starting from a place of self-reflection. Our company name says it all: Understand Self, Unite Society."

US2 provides training across all forms of discrimination and privilege. "We strongly believe that bias surrounds every aspect of identity from race to gender and from size to class," Fuciarelli said. "We have identified 12 -isms that we highlight throughout our work and reinforce to participants that every issue counts."

Rather than seeking the best and brightest, US2 seeks out the most passionate and driven individuals. "Oftentimes, these individuals are also the best and brightest, but we don't allow society to dictate to us who 'should' be leading our clients through training and support efforts," Fuciarelli said. "Within our agency, we have individuals with doctorate degrees as well as one individual who recently earned their GED. We hire for passion — we want individuals on our team who has DEI and a passion for social justice embedded in their DNA." Diversity is more than what someone looks like — it's about recognizing the uniqueness that every individual brings to a team, Fuciarelli said. "Rather than suppressing our uniqueness and conforming to a 'norm' in the workplace, it is important to reflect on diversity in the workplace in order to highlight individuals. By valuing individual efforts and individual experiences, stronger morale and, ultimately, higher productivity, will result."
Parvathy Hariharan
Vice President of Sales and Marketing • Comcast

Comcast's goal is to make every employee feel valued and respected for who they are and the unique contributions they make, says Parvathy Hariharan, vice president of sales and marketing for one of the United States' largest video, high-speed internet and phone providers. "We believe that a diverse and inclusive company is a more innovative and successful company, which is why we aim to infuse diversity and inclusion into all aspects of our culture and our business."

As a senior executive from a diverse background, Hariharan believes in sharing her story and inspiring women and other minorities at Comcast. "I do that by sharing my life story and how I have overcome obstacles to continue to progress my career. I am frequently asked to speak at many events and provide mentorship and coaching to several high-potential diverse candidates at Comcast. I advocate on the need for building diverse teams who bring different strengths and promote an inclusive environment. "

Diversity and inclusion are central elements of Comcast's credo and DNA, she said. "Our approach to diversity and inclusion is focused on five key pillars: governance, workforce, supplier diversity, programming and community impact. As of year-end 2018, 62% of our employees were women or people of color. Our company has spent more than $18 billion with diverse tier one suppliers since 2010. We also have more than 100 diverse networks on our Xfinity video platforms."

Comcast promotes an inclusive workplace in a couple of different ways. "One really effective way is through our Employee Resource Groups (ERGs) that are far-reaching networks spanning all of our business units including members from every level of the company," Hariharan said. "The eight ERGs provide a supportive environment for employees who identify with the following diverse communities or seek to be active allies: Asian Pacific Americans; African Americans; people with disabilities; lesbian, gay, bisexual, transgender and queer employees; Hispanic/Latino employees; veterans; women; and young professionals. Many people think of ERGs as a place for employees with similar backgrounds to meet and connect. They are that — and they consistently create value for our businesses."

Comcast also conducts an annual survey called "your voice" that provides employees the opportunity to tell the company how it is doing in several areas, including diversity and inclusion. "I'm proud to say that this category is consistently one of the top-rated categories in our three-state region," Hariharan said. "In fact, nearly 100% of employees responded favorably when asked if their location supports diversity."
Tammi Hart
Purchasing Manager, Supplier Diversity • Tenneco

Federal-Mogul, the original equipment manufacturer that in October 2018 was acquired Illinois-based Tenneco, recognizes the value of diversity and actively seeks opportunities to create diverse supplier partnerships, says Tammi Hart, purchasing manager, supplier diversity. "We recognize that having a diverse supplier base facilitates mutual success and increases product value and customer satisfaction. The diversity of our suppliers is essential to our ability to adapt to the global marketplace. We are committed to maintaining a diverse supplier base and continue to implement business practices that will provide equal access to procurement opportunities for minority-, veteran- and women-owned businesses."

Federal-Mogul's goal is to increase the number of qualified vendors, representing both racial and gender diversity that meets the standards for quality and value, Hart said. "We have a commitment throughout our corporation that, as a team, we can succeed in reaching this goal."

Federal-Mogul partners with diverse advocacy groups to ensure that direct connections are made with diverse suppliers, organizations and peers. "I've created internal branding communication that connects Federal-Mogul Supplier Diversity Program to its global employees," Hart said. "I've created monthly supplier spotlight. To introduce diverse supplies to internal decisions makers. Most importantly, I've created key performance indicators and an internal scorecard by Business Unit to track, measure and report supplier diversity performance. I ensure that Federal-Mogul participates in diverse/advocacy organizations, customers and peers matchmaking, conferences and 'Meet the Buyer' events."
Sandy Harvey
President/Founder • Exodus Consulting Group LLC

Exodus Consulting Group LLC is a boutique human resources, diversity and executive consulting group focused on partnering with organizations to deliver strategic and uniquely branded solutions for growth. ​As a women-owned and Women's Business Enterprise company, Exodus strives to employ marketing efforts to suppliers seeking certified companies

"Diversity and inclusion is promoted in every aspect of how I engage clients, collaborate and deploy strategies for success," said Sandy Harvey, president and founder. "We engage with organizations and opportunities where diverse connections are primary."

As a diverse business leader, Harvey has personal insight on the importance of diversity. "As an African American female leader, I have become more innovative and creative to identifying organizations that I would like to support. I feel fortunate to speak about diversity and inclusion as well as meet a lot of great D&I leaders from across the country when I facilitate Cultural Competency for the DiversityFIRST Certification Program."

Harvey shares the business case for diversity when engaging with organizations. "It is quantitatively proven that more diverse organizations have a higher return on investment and experience increased innovation — this speaks for itself. It is our goal to share nonintimidating ways to increase conversational engagement, intentional interactive training and help organizations commit to ensuring that leaders are inclusive and held accountable for the organization's overall inclusion strategy. In essence, it is a small reminder that the best communication is the old-fashioned one-on-one conversation."
Jessica Hayes-Stallings
Founder • Skinphorea Facial Bar & Acne Clinic

Skinphorea Facial Bar offers customized care facials, chemical peels and acne treatments in a lounge setting where clients are served mimosas and champagne while watching classic movies like "Breakfast at Tiffany's" and "Footloose."

"Not only has diversity impacted our business by increasing revenue due to clients' traveling long distances because of our diverse staff and having estheticians that look like them and understand their skin, but it has also increased creativity among our leaders who have a different background," said founder Jessica Hayes-Stallings.

Skinphorea creates diverse policies that include flexible schedules that new hires choose themselves. "This appeals to our young single mothers who find it difficult to juggle set schedules or need to have time off for religious holidays," Hayes-Stallings said. "We also cater and serve to a diverse clientele who have limited skin care options."

When hiring, Hayes-Stallings seeks and values passion more so than education and experience. "We can teach the technical side of skin care, but their passion is what makes them continue to strive and the business to stay profitable," she said. "When an individual is passionate about their work, they are already considered the brightest and the best in our eyes." The business has provided jobs and on-site training to over 35 metro Detroiters. "Sixty-two percent of those hired had little to no education, no experience, but are now able to make enough income to afford their first vehicle, home and education for children."

Hayes-Stallings has also partnered with the state of Michigan to become an apprenticeship school program. Students who are unable to afford school or take out loans receive training and mentoring to receive their esthetic license. Half a dozen students have been through the program and offered full-time positions at Skinphorea.
Laura Hopson
President & CEO • EM Services LLC

EM Services LLC (Electronic Management Services) is a leader in integrated procurement. As a Minority Business Enterprise and a Women's Business Enterprise, its consolidated purchasing power lowers procurement costs and improves internal business process, says President and CEO Laura Hopson.

"I work hard to promote diversity within the organization and also with the suppliers and customers that make up our great business network," she said. "Internally, we have clearly documented goals that provide backdrop and sometimes compass for the decisions we make. We actively and outwardly discuss those goals when looking to fill open positions or when seeking out new suppliers to fulfill our customer needs. When interviewing, we look for candidates with different experiences, and really try to focus on the core competencies required to be successful in the positions."

Working with a diverse group of people brings dimension, new ideas and different perspectives to everyday decisions, she said. "Within our team, though it is small, we have people from different locations, academic backgrounds, cultural backgrounds and professional backgrounds. When you open up the lines of communications, and allow for unfiltered dialogue and input, great ideas tend to rise to the surface.

"Because of this, we make a conscious effort to ensure that we are casting a broad net when it comes to recruiting for new team members. I am convinced that creating a diverse and inclusive environment doesn't always happen automatically. Therefore, we have set some broad goals and created a diversity vision to set the framework for our actions. This could involve workforce makeup, supplier base, corporate culture, customer service, community outreach, social responsibility, communication and more." Hopson promotes diversity and inclusion in her workplace through leading by example. "I am extremely vocal about our goals and work one-on-one with individuals to ensure that they understand the goals and that they are clear about their importance. I try to be very transparent about our business — our successes and our failures. I make a point to invite people at various levels of the company to the table to brainstorm ideas to make the company better and to help us grow. I think that one of the most important aspects of inclusion is not only giving people a voice, but also actually listening to what they are saying. Measurement for some of these intangibles cannot always be easy. I frequently solicit feedback from the team and make necessary adjustments if required."
Cassandra Jones-McBryde
Founder • The International Fuller Woman Network

Cassandra (Cassy) Jones-McBryde is a social entrepreneur who has a longstanding commitment to the empowerment and positive development of women and girls of every size, internationally and specifically in Detroit. Her passion for helping women, specifically plus-size women, see their beauty from the inside out, led to Cassandra becoming the founder and CEO of LaFaye Consulting that specialized in event planning, plus fashion show production and plus wardrobe styling. In 2008, she became the executive producer of the International Fuller Women Expo in the U.S., and she recently expanded the expo to Nigeria. She is responsible for bringing together a number of outstanding local and international speakers, celebrities and fashion designers while providing empowerment seminars and workshops, according to the International Fuller Woman Network website.
Burt Jordan
VP, Global Vehicle & Indirect Purchasing & Supply Chain Sustainability • Ford Motor Co.

Ford is a leader in diversity and inclusion, and both remain key Ford business strategies, proclaims Burt Jordan, the automaker's vice president of global vehicle & indirect purchasing & supply chain sustainability. "You'll find diversity at every level of the company, from the boardroom to the design studio, from the plant floors to the engineering centers," he said. "Ford's senior executive leadership team fully endorses this model and takes great pride in celebrating our workforce that reflects the society in which we live and work. Our diversity makes us a better company, a stronger company, by bringing in fresh ideas, perspectives, experiences and life responsibilities, and by fostering a truly collaborative workplace. Diversity and inclusion is a collaborative effort across our entire enterprise. Some of our cross-functional collaboration includes working with Employee Resource Groups, Ford Fund & Community Services, Minority Dealer Operations, Recruiting, Supplier Diversity Development and Worklife Flexibility & Benefits Programs."

Ford's goal is to spend over 10% of its overall spend with diverse businesses, and it has exceeded that goal for the past eight years. "We have benefited from innovation, agility and flexibility within our diverse supply chain," Jordan said. "Our employees are smart, creative and diverse as well, and that diversity helps to create a culture that is like family. The diversity of our dealer network allows us to connect with communities across the globe. Understanding our customer through the lens of diverse marketing and advertising leaders and participants, we are able to bringing to life the ideas and visions of ownership that resonate with our diverse customer base."

There is no difference between seeking the best and brightest talent and seeking diverse and inclusive talent, Jordan said. "They are synonymous. Our recruiting efforts extend beyond our partner universities and colleges. We recruit on multiple campuses and at various conferences in order to find the best, the brightest and diverse talent."

Ford has received numerous awards in recent years from publications and organizations recognizing the value the company places on building a diverse and inclusive culture. "Our Diversity and Inclusion Vision is to have a diverse and inclusive environment that fosters skilled and motivated people working together to drive innovation and deliver results in support of our core business and emerging opportunities," Jordan said.

Diversity is important for economic empowerment and equity, he added. "However, without the intentional and deliberate act of inclusion, one will not achieve their goals. When you are inclusive, diversity happens and is directly attributed to the bottom line. It is a business imperative for everyone. Stakeholders are no longer just shareholders. The customers demand inclusion as well."

Working to positively impact diversity and inclusion across business and community is important to Jordan, who serves on several boards: National Minority Supplier Development Council, New Detroit, Focus Hope, Boys & Girls Club of Southeastern MI, Midnight Golf Advisory and the Lionel Jordan & Tommy Longest Memorial Scholarship Fund.
Veronica Kirin
President • Audacious Entrepreneur Coaching

As president of Audacious Entrepreneur Coaching, Veronica Kirin supports entrepreneurs who dream big by helping them shape their business into a long-term, goal-oriented plan that can last a lifetime.

She is also vice president of the Grand Valley State University LGBT Alumni Board and a board member of STEM Greenhouse, which supports minority students in receiving resources and tutors in STEM training at an early age. "We celebrate pride every year, collaborate with other diverse businesses and use language on our website to ensure that our doors are open and welcoming to all walks of life," Kirin said.

When hiring, Kirin looks for the best and brightest. "But I also must have open-minded individuals who understand our mission and values. This often means that minority or diverse people are those that we hire."

Diversity is in the company's employee handbook. "Everyone that works for us understands that they are never to spread hate, but also that if they ever are confronted by language or actions by any client or associate that represent hate, they are to bring it to my attention immediately. I have gladly fired clients over sexist statements and fiercely protect my team."

Diversity is critical to both business success and societal success, Kirin said. "Without diversity to move us forward, a business may miss an aspect of their work and lose out on an entire demographic of buyers. Additionally, diversity helps society continue to move forward, grow and evolve into a stronger overall community. It is well documented that when all voices are heard, the whole is unbreakable."
Natasha Lee
CEO • Make Your Dreams Come True Corp.

Make Your Dreams Come True Corp. (MYDCT) creates diversity-friendly policies. "For example, we provide flexible working hours and allow our agents to work from home," said Natasha Lee, CEO of the business process outsourcing firm whose offerings include business development, marketing, social media marketing, website design, graphic design, virtual and administrative assistance, training, curriculum and call center services. "Our intention is to make your business a more appealing place for young women, mothers, students and those with disabilities to work. Also, our management communicates expectations by always using clear language to describe diversity programs and goals. Our staff is always willing to listen to workers who feel their treatment was affected by gender, disability, age, ethnicity or other factors and address their concerns quickly and effectively."

Its diversity has given the company the opportunity to serve a range of communities, including the visually impaired, veterans, women, children and even those who are recovering from addictions Lee said. "When hiring from this pool, we receive the greatest joy that any business can receive, and that is gratitude and appreciation from our staff. Because we also are diverse, we are awarded projects that are suited to our team, which ultimately allows us to both give and receive."

Staff supervisors are encouraged to conduct meetings that consist of everyone's input. "Also, we encourage our staff leaders to create group projects," Lee said. "Our intention is to capitalize from the beauty and power of differences to create better solutions for our clients. We encourage our staff to lean on the abilities of their co-workers." Lee still remembers a lesson her mother taught her at an early age: "'Everybody is somebody and everyone was created to be equal.' This is a motto that should be implemented in our lives and workplace. Our diversity efforts are not seasonal or recreational — rather it is the core ingredient to the success of our company."
Shannon Lipp
President • Sandler Training by Turning Point Training and Development LLC

As a woman- and minority-owned business, Sandler Training by Turning Point Training and Development LLC is passionate about helping salespeople from diverse backgrounds stand out and achieve equal business stature through the use of Sandler's behaviors, attitudes and techniques training. "Our mission is to get Sandler Training into the hands of every diverse business who is committed to rolling up their sleeves and doing whatever it takes to become the best in sales," said President Shannon Lipp.

The more diverse a business becomes, the more it possesses the ability to best serve customer needs and appeal to new markets, Lipp said. Sandler provides a universal sales language that can help anyone from a diverse background create the mindset to grow, learn and get better at sales, she said. "You still get to be the unique 'you' that you know so well, but now will be armed with a 'superpower' that will make you stand out from the competition and communicate with purpose and conviction with anyone."
Jill Marlan
Founder/CEO • Peak Performance Physical Therapy

As a growing business in the community, Peak Performance Physical Therapy prides itself on community service and community education in an all-inclusive manner. "Because we started and have continued to be a female-led business, we use this to promote other women and female business leaders in our community," said CEO Jill Marlan. "We do this through leading CEO groups and other teams strictly for female business leaders and campaigns focused on building up the females in the community. Many of these campaigns have been in collaboration with organizations that provide clothing, makeup and jewelry to women for interviews and beginning their careers."

Having a diverse workforce has given Peak Performance the ability to network and develop relationships throughout its community to collaborate and grow with many influential leaders. "We believe that diversity and inclusion is part of finding the best and brightest individuals," Marlan said. "We want to be able to offer an array of services to meet the variety of needs of our patients. We treat our patients on an individualized basis to make sure that we give them the personalized care that they need. There is not a blanket treatment, and having diversity gives us the ability to do this for all of our patients."

Diversity is important in the physical therapy field because patients have a variety of needs that need to be met, not only physically, but also emotionally and mentally. "We need to be diverse in many aspects to be able to provide the care needed to this broad audience while also finding our niche in the health care field," said Marlan, who has spearheaded many community initiatives to empower women.
Joe Matthews
VP, Purchasing and Diversity Officer • Gentex Corp.

From Gentex Corp.'s perspective, without inclusion, just promoting diversity is not sustainable, says Joe Matthews, vice president, purchasing and diversity officer or the technology company that develops and manufactures custom electronic products and systems for the automotive, aerospace and commercial fire protection industries. "Thus, the two ideas — diversity and inclusion — are inextricably linked. Using that frame of reference, Gentex promotes diversity and inclusion by having a corporate leadership-supported ideology — Diversity, Equity & Inclusion (DEI) Values in Action — that underlies our efforts."

The ideology aims to cultivate a culture of inclusion where every team member belongs, value differences and team members' unique contributions and create a positive environment where all team members have the opportunity to thrive.

In striving to manifest Gentex's Diversity, Equity and Inclusion Values in Action, the company has taken steps such as implementing a supplier diversity initiative for certified minority-, women- and veteran-owned businesses; creating Community Share, a charitable fund that allocates employee donations to local organizations and includes a corporate match and targets such areas as domestic abuse, youth care and education, affordable housing, poverty support services, mental health and elderly/palliative care; and developed a workforce recruitment tool that enables the objective of evidence-based candidate review and selection process. Said Matthews: "Dr. Scott Page states it best in one of his books, 'The Difference: How the Power of Diversity Creates Better Groups, Firms, Schools and Societies': A group of ordinary people who are diverse can outperform a group of like-minded experts. When you solve problems from dominantly one perspective, you're building in an error rate of about 30%. As a manufacturer, Gentex sells to every major automotive manufacturer in the globe. If we sustained a fallout of this magnitude, we would cease to be a viable business over time. Thus, it is critical to continually improve in this space."
Mary Mbiya
VP, Diversity & Inclusion Program Manager • Flagstar Bank

Flagstar Bank promotes diversity and inclusion in different ways through using its five pillars:
1. Talent Acquisition
2. Talent Engagement and Development
3. Community Connectivity
4. Marker Share and Product Innovation
5. Supplier Diversity

"In addition, we also have active engagement of our nine Employee Resource Groups, which are all employee-led and all inclusive to employees that are not of that particular affinity group. For example men can join the women's employee resource group," said Mary Mbiya, vice president, Diversity & Inclusion Program manager.

Flagstar Bank also offers different diversity and inclusion awareness programs, educational workshops and e-learning opportunities throughout the year. "Diversity and inclusion is now a part of our core values and included in our performance management," Mbiya said. "Flagstar Bank has been intentional on integrating the process into the day-to-day business of the organization. For example, D&I is now in the product life cycle of product innovation and the Product Innovation Pillar is led by our chief product officer. Another example is that the Talent Acquisition pillar is led by the director of recruiting, which also allows for D&I to be integrated. There are pillar metrics used to measure progress of the D&I strategy and those are reported quarterly to the D&I Advisory Council, which includes our CEO." A feeling of belonging brings out the best in people, Mbiya said. "It's simply the right thing to do. There are also trends that are driving the business case for D&I, such as changing demographics, globalization, employee expectations, etc. If companies are not inclusive, they will find themselves reacting to the changes instead of being proactive. There is also evidence via research that shows that D&I increases productivity and revenue."
Lydia Michael
Founder & Owner • Blended Collective

Blended Collective is a multicultural marketing and brand consultancy that consults brands and businesses with a culture-based approach to marketing and strategy, and also by providing diversity training and development. "With our company core values encompassing authenticity, culture and diversity, it is at the core of what we do," said Lydia Michael, founder and owner. "We promote diversity through our service offering but also heavily through our multicultural, quarterly speaker event series."

Diversity has positively impacted her business by pushing forward growth, change and innovation, she said.

"We promote an inclusive workplace by educating our team and clients on what an inclusive workplace looks like," Michael said. "Listening to the team and embracing differences are importance to us. We measure our progress through regular meetings and communication about our goals and results."

Diversity in the workplace is important for a business to be innovative, successful and fully profitable, she said. "I say 'fully profitable' because, of course, a business can be profitable without being necessarily diverse. However, whenever companies choose to be less diverse or multicultural, they leave profit on the table. For some it's only a checkbox, but for others it's truly the right thing to do. In order to push forward innovation, change and growth, diversity cannot be compromised."
Donna Murray-Brown
President and CEO • Michigan Nonprofit Association

As part of living out its value of diversity and inclusion, Michigan Nonprofit Association has developed a comprehensive array of programs to help Michigan nonprofits embrace diversity and inclusion as a practice. "With limited staff and resources, many nonprofits are challenged make diversity, inclusion and equity part of their day-to-day activities," explained MNA President and CEO Donna Murray-Brown.

Some of MNA's customized programs and events include Census 2020 Michigan Nonprofits Count Campaign (working with New Michigan Media to reach those traditionally undercounted in the census through ethnic and nontraditional media outlets); Talent Strategy Summit: Thriving Nonprofit Workplaces focused on diversity, equity and inclusion in the workplace; and Diversity, Equity and Inclusion Assessment Tool developed and offered to members and other nonprofits.

Murray cites several reasons to embrace diversity. "Ethically, we believe each person has something of value to contribute and diverse perspectives lead to better solutions. Economically, research shows that organizations that leverage talent pools of different populations are stronger and more efficient. Organizationally, when leadership reflects the diversity of constituents, nonprofits understand their needs and deliver better services."

For MNA itself, diversity is part of its organizational value system and is essential to its ability to develop and deliver programs that support members and their missions, Murray-Brown said. "As important as diversity is to our core values, it is also just good business practice. In order to have meaningful impact for our members and their constituents, we need to reflect the make-up of the organizations we serve." Before joining MNA, Murray-Brown was vice president and Community Reinvestment Act director for Charter One Bank where she developed and executed strategy and leadership for Community Reinvestment Act compliance. She also strengthened the company's business and corporate citizenship with key partnerships of more than 100 civic and community-based organizations.
Brandon Ross
VP of Sales • Grand Apps

As vice president of finance for Grand Apps, which provides businesses of all sizes and of all industries with digital marketing solutions, Brandon Ross tries to empower and educate other employees on cultural sensitivity — especially managers since they are all part of our leadership team and set an example for the office. "I've always had a warming personality and am easy to speak to. Being in the position I am at Grand Apps and being an African American and multiracial, I see it as a huge opportunity to lead by example and be a staple for our cultural inclusiveness."

Empowering and promoting diversity has impacted the company's culture, Ross said. "It's created a culture for our company that is welcoming, positive and enlightening. Everyone that we've employed is encouraged to be their true selves. This is a big factor for our company due to the fact that many of our services deal with creativity, thinking outside the box, and problem-solving. Being able to voice opinions and suggestions without the fear of being judged or looked down upon fosters a company culture that's always evolving, and that's something I've seen within our company. Being the longest-hired employee with Grand Apps, I've seen the change and growth of our culture, and it's inspiring."

Diversity is an important factor for an organization within the workplace as well as outside, he said. "Diversity is becoming more of a must-have as markets of different races, ethnicities and religions merge. It's not only intangible benefits that companies reap from a diverse workforce but tangible ones as well. I've mentioned how diversity can increase employee creativity and productivity, this is because people are exposed to different backgrounds, cultures, and ways of thinking. Employees learn from colleagues whose ways of living and working vary from their own. This essentially will create more business, opportunities and profits for a company."

Ross has spoken at schools to kids and students on technology and marketing and how it impacts businesses and the world. "Kids are bombarded with different types of technology at such a young age nowadays that I enjoy being able to speak with them on more beneficial impacts of it than the negatives."
Maher Shounia
Business Banking Specialist • Comerica Bank

Maher Shounia describes himself as a trusted business adviser who helps businesses find solutions for growing their operations through lending opportunities.

"I'm able to look for solutions for many types of diverse owners of companies," said the business banking specialist for Comerica Bank, who regularly attends meetings and events to fully understand the different types of diversity groups. "You have to be able to understand the different types of cultures and how businesses are operated with different types of ethnic and gender staffing. Spending quality time with my diverse colleagues and managers helps me to continue to learn about other cultures and diverse workplaces."

Workplace diversity is important because economic conditions change constantly, he said. "We have to be able to understand and adapt to the changes."
Jason Um
VP Corporate Services • Vogel Advisors

Jason Um is vice president of corporate services at Vogel Advisors, an independent real estate advisory firm with decades of experience in corporate real estate strategy and transaction work. "We represent everyone from large multinational corporations to nonprofit organizations, to small and midsized businesses in the planning and execution of their real estate strategies," the company's website states.
Carla Walker-Miller
Founder and CEO • Walker-Miller Energy Services

As founder, president and CEO of Walker-Miller Energy Services, Carla Walker-Miller is an entrepreneur and leader determined to change lives through energy. Established in 2000, the Detroit-based firm develops and implements energy-efficiency solutions for utility, residential and commercial building owners. "Ms. Walker-Miller is a proud Detroit booster and champions issues related to water affordability and the intentional recruitment, training and employment of black Detroit residents," the company's website states.
Alleah Webb
Owner • Drifter Coffee

Drifter Coffee is an inclusive community coffee shop in Ferndale. "We serve coffee and treats to the community, but our mission is about more than coffee," said owner Alleah Webb. "We exist to create positive change in our community. Our mission is to create a safe space that lifts people up with coffee and a smile. We put on community events and programming while also offering our space to people in the community who have ideas for events that lift people up. We have free music events as well as art, yoga, workshops and more."

The space is designed to communicate a welcoming environment, Webb said. "All individuals are welcome and we take extra care to make sure the LGBTQ-plus and minority communities feel safe and welcome. We have a giant rainbow flag in our front yard to serve as a message that we are allies. We have a code of conduct at our register that communicates to all that we are a safe space and we will not tolerate bigotry or hate. This allows people to feel safe."

Webb is also intentional with whom the shop works with in the community. "We know we are lucky to have the space we do, and we use it to support others. We intentionally work with minority folks to source our pastries and tea, and we always source local. We make sure to have a wide range of events that represent the makeup of the community. We carefully choose our events and workshops in a way that promotes inclusion and positive community support. Our book club chooses books that focus on different perspectives as well and we choose authors of color to give support. We talk about inclusion with our staff and customers and promote it in our marketing as well."

Webb's shop is open in its hiring in such a way that allows people with less experience to still have a chance. "Coffee is a field that is generally dominated by white men, so we try to seek out strong women that we have a connection with," Webb said. "These women come in all colors and abilities and that makes us stronger. Having diverse opinions is more important than having years of coffee experience. I know that customers want to see people that look like them behind the counter. Potential hires know that we are a safe space and therefore we get a more diverse range of applicants to choose from and that matters." Having a wide range of experiences and opinions makes a workplace stronger, Webb said. "There is no reason to leave people out of the work place because of where they are from. Everyone deserves a chance to be a part of a team and have their voices heard. A good leader lifts up their community. Communities are colorful and full of people from all over the world. A workplace that isn't representative of the makeup of their community isn't going to be as effective as a diverse workplace. Many minds together make change."
Samuel Wells
Senior Global Director of Sales • Inteva Products

A tier one automotive supplier, Inteva believes that an inclusive culture and diverse workforce drives innovation and collaboration that contributes to the sustainability and growth of the company, said Samuel Wells, senior global director of sales. "Inteva's Diversity & Inclusion Initiative explores ideas through a cross-section of Inteva employees that design and implement diversity activities closely aligned with Inteva's core values and business strategies. An inclusive culture and diverse workforce respects, trusts and supports each other, acts as one global team and helps Inteva innovate, grow and learn. It creates trusted partnerships with customers, suppliers and the community, and drives employee engagement and retention."

Diverse and inclusive workplaces help companies attract, develop and retain talent needed to compete globally, Wells said. "These diverse groups have been shown to make higher-quality decisions faster, with fact-based and less 'groupthink' or bias. We are also able to better able to target and serve diverse customer markets and provide a more collaborative and loyal workforce."

Wells is dedicated to the stewardship of young, predominately African American youth from his hometown of. He's helped develop the Alpha Esquire Mentoring and Leadership Program and currently serves as the director. The Alpha Esquires enroll 40 members annually and emphasize education, community service, life skills and character building. They coordinate several events and workshops each year to help the young men in the program develop.

At Inteva, Wells serves on the board of the Diversity and Inclusion Committee. The committee, which is still in its early stages, focuses on projects targeted to underserved employee groups. The most recent initiative is the Inteva Mentorship Program, which pairs mentees with an appropriate matched mentor.
Diversity Champions
Autism Alliance of Michigan
Bingham Farms • www.AAoMI.org

Autism Alliance of Michigan is a statewide, professional organization that leads efforts to raise expectations and expand opportunities for people touched by autism.

"We define diversity very broadly and using non-traditional messaging such that ABILITY is a consideration when we are communicating with employers to hire individuals with autism and other disabilities," said Tammy Morris, chief program officer. "Traditionally, diversity and inclusion efforts have focused on age, gender and ethnic or racial representation. We encourage others to consider diversity by level of ability, consideration for those who demonstrate unique, sometimes different ways of thinking, behaving or contributing to a company's workforce."

The alliance has been able to recruit over 1,000 individuals with autism to its employment program. "Our goal is to get each and every person placed in a job that is appropriate to their ability, fits with the company culture and taps their unique and often exceptional skills and interests," Morris said. "At AAoM, our own staff have included individuals with ASD. We have found these employees to be highly productive and significant contributors to fulfilling our mission. Their voices are highly valued and essential to how/why we do what we do."

The organization's Upbound at Work program was developed to help companies understand the value of hiring individuals with autism and disabilities. "We assist companies of all sizes in implementation of policies and procedures to more effectively and successfully bring people with autism into the workplace," Morris said. "Our safety trainings across Michigan have reached over 20,000 first responders and other community workers, to bring awareness and education to multiple segments of the population, allowing individuals and families with autism opportunities to be included and accepted like any other Michigan resident."
Center for Automotive Diversity, Inclusion & Advancement (CADIA)
Livonia • automotivediversity.com

The Center for Automotive Diversity, Inclusion & Advancement (CADIA) aims to help automotive companies arrive at their diversity and inclusion goals. "We provide professional development for individuals and diversity and inclusion programs and tools and resources to support organizational evolution for automotive companies," said founder Cheryl Thompson, adding that the center also offers leadership and career advancement training for women and diverse talent

Building a more diverse and inclusive workforce makes companies more competitive, innovative and profitable, she said. "We have been overfishing one pond — we need to cast a wider net!" Inclusive leadership and culture are woven into CADIA's vision, mission and values. "We measure our progress in our weekly team meetings be ensuring everybody has a voice and is able to share their best ideas and provide feedback as necessary," Thompson said, adding that the company's mission is to double the number of women and diverse leaders within automotive by the year 2030.
Centro Multicultural La Familia Inc.
Pontiac • www.centromulticultural.org

As a provider of culturally and linguistically competent services, diversity is in the nature of Centro Multicultural La Familia. a not-for-profit organization whose mission is to provide support services to families in a holistic approach in order to improve their quality of life. It offers bilingual (English/Spanish) services primarily in the areas of mental health, substance abuse and domestic violence.

"We have created a welcoming environment for people from different ethnic backgrounds, religious beliefs, sexual orientations, age and levels of professional experience," Sonia Acosta, president and CEO. "We also try to partner with different cultural groups and recently applied for a federal grant where we will be working side by side with the African American community."

The organization's workforce also is quite diverse. "Even though most of us are bilingual in Spanish, we come from different Latin American countries and have learned that there are differences in some of the words we use," Acosta said. "It has been fun to learn the different meanings of the words and idioms we use. Cultural exchanges with different immigrant and non-immigrant communities has been enlightening." Centro hires staff from different ethnic backgrounds, interests, language proficiency and belief systems. "Emphasis is placed on bringing on board individuals with a desire to make a difference in the lives of others, a desire to learn from others' life experiences," Acosta said. "We strive to create a welcoming atmosphere where people are encouraged to give input, ideas and suggestions on how to improve work processes without being afraid of making mistakes."
Challenge Detroit
Detroit • www.challengedetroit.org

Challenge Detroit is a yearlong fellowship program that cultivates diverse, innovative, community-minded leaders from Detroit and across the country, fostering their talents to support local initiatives that move the city forward. Fellows spend four days a week accelerating their professional careers with host companies. Each Friday, they take a day out of the office to bring social impact projects to life in collaboration with local nonprofit partners. Fellows work in multidisciplinary teams, bringing their visionary perspectives and experiences to address some of Detroit's greatest challenges and opportunities.

"Challenge Detroit promotes diversity in every facet of the organization, from the companies we partner with to employ the fellows, the fellows themselves and the nonprofits we support," said Executive Director Deirdre Groves. "Diversity and inclusion are cornerstones of our work: ensuring that the companies are diverse representations of size and industry, supporting a majority of female fellows who are from various racial and ethnic backgrounds and working with nonprofits that support diverse neighborhoods and stakeholder groups across the city. One of the most critical elements of inclusion for Challenge Detroit is ensuring that Detroiters have a place and voice in all facets of our program."

While the organization recruits and supports diverse talent, it also works diligently to create a program with multifaceted levels and types of diversity represented. "We promote an inclusive workplace by ensuring opportunities throughout our work to focus on diversity," Groves said. "We start by recruiting diverse and minority talent to join us as fellows, and providing immersive diversity training beginning with a historical perspective of race and equity in Detroit. We then share a diversity statement on various platforms, host activities that celebrate multiculturalism and create project deliverables in multiple languages. Fellows are encouraged to have conversations about their own perspectives of culture, race and equity, and are immersed in reflective experiences that prepare them to engage with various individuals and organizations across the community." Diversity in the workplace is critical, especially diversity of thought, Groves said. "Bringing together individuals with unique backgrounds and expertise, from different places, with varied beliefs and experiences allow for greater learning and results in maximizing the impact on our community."
Detroit Development Fund
Detroit • www.detroitdevelopmentfund.com

Detroit Development Fund promotes diversity by exemplifying inclusion in the workplace. "We respect and appreciate all team members regardless of their abilities, disabilities, race and/or religion," said Ray Waters, CEO of the nonprofit certified community development financial institution that provides loans and technical assistance to small-business owners, building owners, contractors and subcontractors who cannot get all of the capital they need from traditional financing sources. "We are a family and we act as one."

Diversity has aided Detroit Development Fund by helping it to build a workforce featuring different skills and experiences. "By having these qualities, we are able to solve problems faster, make better decisions, increase profits, reduce employee turnover and have a better company reputation," Waters said.

Detroit Development Fund holds diversity training, acknowledges holidays of all cultures, stages team-building days and has an open-door policy if any employee needs additional assistance. "We measure our progress by having an open and nonjudgmental environment where employees can speak their mind," Waters said. Employees also come from varied finance backgrounds, including banks, credit unions and real estate firms. "Due to Detroit Development Fund being a diverse company, we have allocated funds to several small business organizations around the city of Detroit," Waters said.
Detroit PAL
Detroit • www.DetroitPal.org

Detroit PAL is a nonprofit organization positively impacting the lives of more than 14,000 children each year. With roots dating to 1969, the group works to create safe and supportive places for kids to play. "We also train and certify more than 1,700 volunteers each year to become encouraging coaches and mentors to the city's youth," the organization's website states.
Detroit Phoenix Center
Detroit • www.detroitphoenixcenter.org

Detroit Phoenix Center is a youth-driven, community-based, human service organization founded in 2016 to respond to the needs of homeless, unaccompanied and underserved youth. It supports young people, ages 13-24, through direct services including case management, a daily drop-in center that is safe and inclusive, after-school programming, prevention and a scholarship fund. In addition to providing direct services, it works for systemic change and contributes to the growing movement to end youth homelessness.

"We promote diversity by being intentional in creating leadership and workforce development opportunities for youth and young adults in our program," said CEO Courtney Smith. "We have a Youth Action Board to amplify the voices, experiences and expertise of youth in the community. We also cultivate compassion in our organizational culture by implementing policies and training on cultural humility and trauma-informed care. We recruit and retain talent from universities/colleges so that students have access to opportunities that will enhance their career path."

Diversity has impacted the organization in myriad ways. "As we amplify the voices of youth and young adults, we receive a fresh perspective to improve our service model and outcomes," Smith said. "Additionally our executive team has varied work and life experiences, allowing us to explore innovative ways to serve our community."

The center promotes an inclusive workplace through receiving feedback from staff and volunteers. "We also ensure that our team members have opportunities to lead and receive trainings on trauma informed care, diversity and frequently express gratitude for each other," Smith said.

Diversity in the workplace is critical to solve the world's most pressing social ills, she said. "Those who are proximate to the problems should be the ones driving solutions. Workplace diversity yields higher productivity, creativity and team efficacy."
Detroit Public Schools Foundation
Detroit • www.dpsfdn.org

The Detroit Public Schools Foundation aims to create and enhance educational opportunities for Detroit Public Schools Community District students, families and educators. Its funding priorities are literacy and early childhood education; science, technology, engineering, arts and math; career pathways; and engaging in beyond-the-classroom activities, its website states.
Disability Network Oakland & Macomb
Troy • dnom.org

Disability Network Oakland & Macomb (DNOM) is a nonprofit organization that is committed to promoting inclusion for all by breaking down barriers and opening paths toward independence and personal choice through resources, advocacy, information, support and education. As a center for independent living, it aims to change attitudes, expand community options, remove barriers and increase choice.

"Independent Living provides people with disabilities the opportunity to pursue a course of action and the freedom to exercise choices," said Kelly Winn, DNOM executive director. "Independent living is about having choices and about having the right to make those choices, to make one's own mistakes and to learn from them in the same way that people without disabilities can. People with disabilities must be empowered to take control over their own lives."

It is the heart of the organization's mission to promote an inclusive workplace. "Disability Network Oakland & Macomb is run by and for people with disabilities," Winn said. "More than 51% of our staff is comprised of persons with a disability or as we call it, different abilities. If you always keep diversity and inclusion at the forefront of your decision making process, a diverse workplace will naturally occur with the best and brightest individuals for the job."

Diversity in the workplace goes far beyond the written policies put in place, Winn said. "It is a culture that is created, implemented and is at the heart of an organization. Diversity in the workforce brings different talents together, working toward common goals. It brings perspectives to the table that someone else may not have thought of, thus enabling more creativity for ideas. In our case, having a diverse workforce also helps to know more aspects about the people we serve in order to be able to provide the resources needed." The organization also provides Disability Awareness Presentations. "Staff members are available to educate your staff on disability etiquette and how to work and interact with people with disabilities," Winn said. "DNOM can show you how this can increase customer satisfaction, service delivery and employee relations."
Eastern Michigan University
Ypsilanti • emich.edu

Founded in 1849, Eastern Michigan University is the second-oldest public university in Michigan. It currently serves more than 18,000 students pursuing undergraduate, graduate, specialist, doctoral and certificate degrees in the arts, sciences and professions. Eastern Michigan University is an institution of opportunity — an inclusive, student-centered campus where students from all backgrounds — whether first year, transfer, graduate or nontraditional — are welcome, learn together and succeed," said President James Smith. "We create an environment that supports, represents, embraces and engages members of diverse groups and identities."

The university provides a collaborative, welcoming and supportive culture where differing ideas, behaviors and backgrounds contribute to the educational experience that includes a global and multicultural perspective enhancing the individual, society and the world. "Our Department of Diversity and Community Involvement (DCI) supports and empowers minoritized students, providing intentional learning experiences, and challenging systems and structures that perpetuate inequities," Smith said. "It is comprised of The Center for Multicultural Affairs (CMA), The Lesbian, Gay, Bisexual and Transgender Resource Center (LGBTRC), The VISION Volunteer Center (VISION) and The Women's Resource Center (WRC)."

Throughout the year, DCI provides various workshops that make students aware of their multiple social identities and how they impact their lives inside and outside the classroom. In these sessions, students receive hands-on, practical skills for challenging their biases, confronting inappropriate behavior, communicating with people from different backgrounds and working to increase unity and inclusion on campus.

"Our Intersection Lounge is an inclusive space that supports our diverse student body by providing a place for students to come together to be empowered, create community and grow, Smith said. "This space is intended for all students to gather, with a focus on our underrepresented populations, and is managed by the Diversity and Community Involvement Department. Through the DCI, we also offer Multicultural Competency Training, trainings that are designed to engage students in issues of social justice, inclusion and reflecting on their own identity."
Economic Justice Alliance of Michigan
Detroit • mieconomicjustice.org

The Economic Justice Alliance of Michigan (EJAM) is a group of grassroots social justice organizations committed to achieving racial and economic equity for low-wage and working class communities. "EJAM is borne out of a long tradition of organizing in Michigan," said W. DeWayne Wells, executive director. "Hundreds of thousands of voters across Michigan have joined with us in the fight to increase the minimum wage and provide earned paid sick days for all workers."

EJAM's leadership development program, Michigan Economic Justice Fellowship, is designed to improve grassroots leaders' ability to fight for their communities while advancing racial and economic justice in Michigan. Its issue-related campaigns are also centered on a diversity equity and inclusion framework.

Internally, in its employment and fellowship participant recruiting, EJAM outreaches broadly to ensure that it is attracting a diverse group of candidates. "We collect, track and report data on our efforts to our funders and other stakeholders. We also provide ongoing training in diversity, equity and inclusion to our staff and fellows," said Wells, adding that companies and organizations focused on diversity, equity and inclusion in their hiring and operations are better aligned to achieve their business goals or missions.
Great Lakes Women's Business Council
Livonia • www.greatlakeswbc.org

Great Lakes Women's Business Council is a 35-year-old nonprofit business development organization that supports women and minority business owners through business training and counseling, financing, women's business certification, contract opportunities with major corporations and peer-to-peer networking. "Our strategically designed business development programs, such as MentorWE, leverages businesses opportunities while enhancing business owners' skills through mentoring, coaching and training and peer networking," said Executive Director Michelle Edwards. "Each year, we provide almost 2,000 small-business owners with business development services, most of which are free of charge."

Great Lakes Women's Business Council is a vigilant advocate for women business owners. "We encourage our 100-plus corporate members to utilize certified women-owned businesses as vendors as well as increase their spend goals with women and include women's spend in their Tier 2 programs," said Richards, who has provided subject matter expert testimony to both the House of Representatives and Senate Small Business Committees over the past two years on the financing disparities and needs of women-owned businesses and the need for women's business centers.

The council also provides financing up to $50,000, counseling and training to almost 2,000 women and minority business owners each year. "We assist these businesses to scale to sustainable levels, Richards said. "Only 5% of all women-owned businesses in the U.S. reach $1 million in annual revenue, while 62% of our certified women-owned businesses are above $1 million in annual revenue. We are working tirelessly to bring the remaining 38% to this level through initiatives such as B2WE Exchange, giving smaller women-owned businesses a chance to become vendors to large women-owned businesses."

To be relevant and successfully responsive to the constant changes in the market, a business must have a full arsenal of tools to weather the constant changes. "One of the most important tools is diversity of thought and strategy, which begins with diversity of your workforce," Richards said.

Richards is considered a pioneer leader for women business owners. She was an early advocate for the passing of the federal Women's Business Ownership Act of 1988, which created funding to develop women's business centers; the National Women's Business Council, which is an advisory committee to the president and Congress; and the inclusion of women-owned businesses in the national census. "Great Lakes Women's Business Council continues to educate decision-makers, community leaders and women-business owners on the buying power of women in the marketplace and economy," Richards said. "Women make 80% of the consumer decisions and influence the other 20%. Women-owned businesses are the fastest-growing segment of the economy with more than 800 new businesses started every day by women."
GROW
Grand Rapids • www.growbusiness.org

GROW is a 30-year-old nonprofit that helps entrepreneurs start and grow their businesses. It provides tools and resources they need at every stage of their business. This includes business training and classes, funding through a growing loan program, including microloans, coaching and counseling from the GROW staff and a large network of professionals, as well as networking opportunities.

"Internally we seek to view every opportunity through an equitable lens," said CEO Bonnie Nawara. "We work hard to ensure that our board and staff represent a diverse population."

GROW also believes that everyone has the right to access education, training and funding to start or grow their business no matter their differences in race, religion, sexuality and, especially, gender. "Over 40% of our clients are diverse, 88% women and 11% men," Nawara said. "We strive to meet them where they are in their entrepreneurial journey. This is done through involvement in organizations like the WM Hispanic Chamber, Spring GR and Latino Coalition, just to name a few. In addition, we support many diverse organizations through event attendance, advertisements and promotions."

The organization's approach to diversity and inclusion has provided us a deeper penetration into diverse markets. "Our board, our client base and connections to other community organizations supporting diversity continue to grow," Nawara said. "It has also shown that we can further improve our connections and communications to deepen and strengthen our inclusive approach and mindset."

Diversity means many things beyond skin color, Nawara said. "Everything that diversity encompasses is vitally important to a healthy, innovative and prosperous workforce and the overall community. Having mutual understanding, respect and trust across all cultures is critical for our future. Everyone should have access to equal opportunities."
LLEAD
Greater Lansing • www.llead.org


LLEAD is a Michigan-based organization of Latinx community leaders from many walks of life. "What they all have in common is a love for Michigan and a passion to make life better for Latinos living in the Mitten State," the organization's website states.

The statewide organization has branches in Lansing and Saginaw.
Michigan Humanities
Lansing • www.michiganhumanities.org

The study of the humanities offers a deeper understanding of ourselves and others by confronting us with the questions, values and meanings of the human experience, explains Shelly Kasprzycki, president and CEO of Michigan Humanities. From an academic perspective, that includes the study of ethics, history, literature, philosophy, art history and criticism, film studies, linguistics, jurisprudence, languages, comparative religion and the history of science. To help support these studies, Michigan Humanities actively seeks grants, sponsorship and individual donations to further support cultural programming for Michigan communities.

"The mission at Michigan Humanities is to experience and understand the importance of the humanities to enrich lives, regardless of their background — Michigan humanities does this by supporting authentic conversation, respectful collaboration and meaningful experiences for every person we interact with," Kasprzycki said. "In addition to that, we also have focused on creating a business that is filled with people who are from completely different backgrounds, which creates an environment that is welcoming to anybody."

Without a diverse environment, Michigan Humanities wouldn't be able to grow, Kasprzycki said. "Humanities in itself is finding a deeper understanding of ourselves by confronting questions, values and meanings of the human experience, and it is impossible to do so without a welcoming and diverse environment to learn and work in. The people who work for Michigan Humanities are proud to represent the company and the work that they do, which creates a welcoming environment that makes people eager to have an opinion."

Michigan Humanities is constantly trying to find ways to grow and improve, and one of the only ways that a company can do that is by keeping itself and each other accountable for maintaining a diverse workplace, Kasprzycki said. "Diversity is an ongoing task, and it requires constant attention and accountability in order to truly succeed. At Michigan Humanities, we focus on creating a board of members that are different and from all areas of Michigan so there are people personally representing every single person who calls Michigan their home, regardless of how they got here."

Creating a workplace that maintains a focus on diversity is beneficial to both the company and the individuals within it, she said. "To accurately represent a state as diverse as Michigan is, it must be a priority for our company to constantly acknowledge and appreciate the differences between everyone within it, because the differences are what help our organization succeed and impact others within the state."
Michigan Venture Capital Association
Ann Arbor • michiganvca.org

Michigan Venture Capital Association's vision is to increase the amount of capital and talent available to venture and angel investors so we can fund Michigan's most innovative entrepreneurs and work closely with them to transform breakthrough ideas into new companies and industries that drive Michigan job creation and economic growth. "As the voice of the Michigan entrepreneurial and investment community, MVCA serves as the trusted resource for venture capital and angel investment data; advocates for policies that encourage innovation and reward long-term investment; convenes the entrepreneurial community and connects its members through communications, marketing and member engagement; and grows and sustains a vibrant and resilient venture and angel investment community," its website states.
OutFront Kalamazoo
Kalamazoo • outfrontkzoo.org

OutFront Kalamazoo aims to create a just, inclusive, equitable and supportive environment in Southwest Michigan for people of all sexual orientations and gender identities and expressions. "We believe youth who know or are questioning their sexual orientation deserve a safe and nurturing environment; in the dignity and equality of all people; nonpartisan political action is part of who we are as an organization; the community we serve includes the lesbian, gay, bisexual, transgender and straight populations of Southwest Michigan," the organization's website states.
South Eastern Michigan Indians Inc.
Center Line • www.facebook.com/southeasternmichigan.indians

The nonprofit South Eastern Michigan Indians Inc. delivers human services to primarily the American Indian population and other communities of color. "We promote cultural events, such as Celebrating Our Community Drums," said Euphemia Franklin,
executive director. "We produced our first event in November 2017 and drums from many cultures came. The audience was diverse as well. The drum has been the center of communities for centuries. The services we deliver are delivered equally to all populations, social services for seniors and child and family to all populations. We have several youth events each year, and they are open to all families with children."

Franklin has also served as the co-chair of the Michigan Multicultural Network, which includes Arab Americans, Asian Americans, American Indians, African Americans, Latinos, members of the LGBT community and veterans. "This group has functioned primarily to educate our respective communities and legislative stakeholders of the health disparities found in each of our communities as a result of being heavily targeted by tobacco companies," Franklin said. "Working with our colleagues from other cultures has been invaluable to each of us and to the Michigan Legislature as well."

South Eastern Michigan Indians itself has a small staff, but it's multicultural in terms of American Indian nations. "We have Oneida, Chickasaw, Ojibwe, Lenape Delaware, Potawatomi and African American," Franklin said. "Some of our staff and community members are mixed, with Latino, Arabic and Caucasian ethnicity. I am not sure how to measure progress. I'm only aware that people feel comfortable and safe coming here for services and help. It is the mission of our staff to treat people with respect and compassion and help them find their way. Long ago, I heard the success of a man or woman is to help the person on the lowest rung of the ladder reach their highest level of competency. We do this by meeting people at their level of understanding and giving them a hand up."
University of Michigan
Ann Arbor • umich.edu and diversity.umich.edu

Under the leadership of President Mark Schlissel, in fall 2015, the University of Michigan embarked upon a renewed commitment to diversity, equity and inclusion. After a yearlong period of intense planning, 50 units across campus devised strategic goals and objectives to fulfill the vision set forth by Schlissel and the Board of Regents. The process culminated in fall 2016 with the creation of a five-year diversity, equity and inclusion strategic plan; the appointment of Robert Sellers as the university's inaugural chief diversity officer; and the development of the Office of Diversity, Equity and Inclusion, which oversees the campuswide implementation of the unit plans.

"As a campus community, we are committed to increasing diversity in its myriad forms and to pursuing an equitable policy of access and opportunity, one that gives all students, staff and faculty the chance to excel," Schlissel said. "Through focused efforts, we are working to build a critical mass of diverse groups on campus and to equip individuals with the support and opportunities necessary for their success."

As the University of Michigan enters the fourth year of its five-year strategic plan for diversity, equity and inclusion (DEI), it continues to make progress in transforming the university into a place where everyone has an equitable opportunity to succeed and contribute. "These changes can be seen and felt throughout our campus, as programs, practices and initiatives continue to reflect our values in making Michigan a more diverse, equitable and inclusive university," Schlissel said. "In the process, we have learned much about our ourselves, and how we are able to succeed when everyone is welcomed into the process."

To determine the most essential actions, planning leads across campus examined whether access and entry to our schools, colleges and units—and opportunities for development and advancement—are equitable. They also studied key progress indicators (e.g., rates of completion, promotion, turnover, exit interview data and other related measures) to understand how access, entry and development differ across various groups. Findings among the 50 planning units varied significantly, and can be found in the school, college and unit plans. "As a result of these variances, activities to recruit, retain and support a diverse community are wide-ranging and unique to the specific needs of each local community," Schlissel said. "They include everything from K-12 outreach programs to a review and revision of admissions and hiring practices, as well as programs that create advancement opportunities for faculty and staff."

UM is committed to ensuring that its campus is a place where differences of all kinds — racial, ethnic, cultural, religious, socioeconomic and political, among many others — are welcomed, Schlissel said. "As a community, we aspire to create an environment where different perspectives are respectfully heard and where every individual experiences a deep sense of belonging and inclusion. We know that by creating a vibrant climate of inclusiveness and working actively to challenge and respond to bias, harassment, discrimination and intolerance, we can more effectively leverage the resources of diversity to advance our collective capabilities."
Zaman International
Inkster • www.zamaninternational.org

Zaman is a humanitarian organization that connects marginalized women with basic needs such as food, household goods and benefits. It also provides workforce development in the areas of culinary arts and sewing.

"Zaman promotes diversity by honoring the cultural experiences and realities of its clients and staff," said CEO Najah Bazzy. "It offers a flexible and understanding workplace and considers the needs of its staff and clients in how it manages the organization and delivers services."

Zaman employees were selected based on their skill set and cultural fit. "These same criteria are used when considering potential staff," Bazzy said. "We want the most talented and appropriate staff we can afford in spite of race, gender, religious background or sexual identity." Senior management is conscious of staff needs and offers a flexible work environment. "They and the direct services staff are also sensitive to the needs of the clients," Bazzy said. "Zaman is a nimble organization that seeks to accommodate its client base."