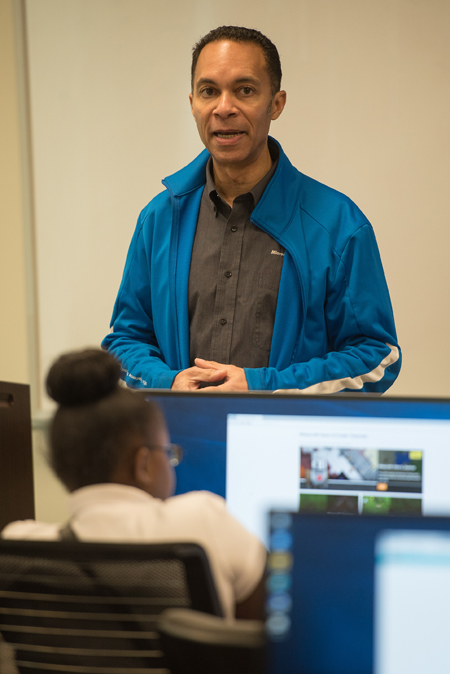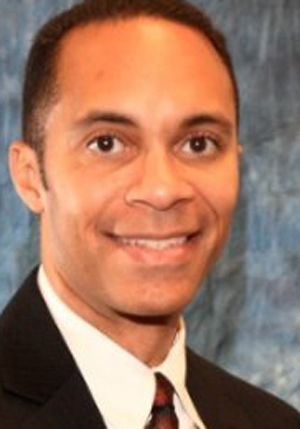 Native Detroiter Charles "Stacy" Harris III was fascinated by computers – everything about these high-tech tools sparked curiosity in his young mind.
But his family at the time could not afford one of these super machines; this was at a time when few people had computers at home because they were simply too expensive. Harris was able to solve that problem when he saw a book on microcomputer hardware and software at a local RadioShack. Harris talked his dad into buying the book, and in doing so changed the path of his life.
Harris taught himself one of many new languages with that book. He basically used the information found inside its pages to learn how to code – even before he put a single finger on a computer. He took a yellow legal pad and wrote out his version of what the code might do and why. Fast forward a few years, and that same ingenuity resulted in Harris getting a job at Microsoft.
Today, Harris is a Senior Software Architect for Microsoft, where he has been with the company for more than 25 years. Harris volunteers his time with the community to help young people learn and find opportunities for learning computer science.
In December during Computer Science Education Week, Microsoft hosted local students for an Hour of Code at the Michigan Microsoft Innovation Center in Southfield. Local teens who are learning computer science through a Microsoft program called TEALS helped teach the session with kids from the Detroit International Academy for Young Women.
Although Detroit is growing a sizable tech business community, many area students lack the computer science education/tech skills they need. The TEALS program, which Microsoft runs in 348 schools across the country and has already reached 37,000 high school students, addresses the real issue that there aren't enough teachers equipped to teach computer science by pairing teachers with volunteers from across the tech industry.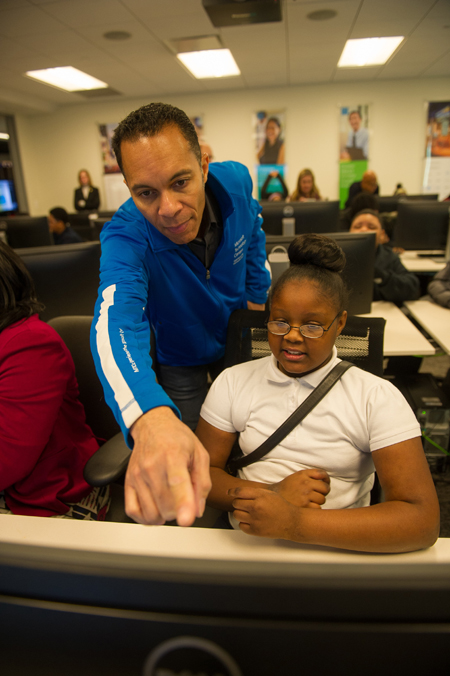 Harris willingly describes himself as a geek, loving coding to this day and enjoying the opportunities to teach students those all-important skills. It always felt like a game or puzzle to him, and he read that Radio Shack coding book from cover to cover.
Add that coding skill to a brain that already loved learning and you've got a potent formula for success. Harris said he frequently jumped on a Detroit bus to the Detroit Public Library's main branch, grabbed a stack of books and read them all day long. That stack included books about math, science and Shakespeare. He saw those poems and plays as fun.
"When I would be punished as a kid, the worst thing my parents could do to me was take away my time to read. If I didn't have that, I was devastated," Harris said.
When he finally touched a computer, it was love right from the start. He thought he might end up in the theater, a second passion of his, so he ended up studying acting as well as physics. Talk about having skills in the right brain and left brain. Some stints fixing computers for everyone from his landlord to a co-op with Ameritech resulted in Harris getting into programming.
When he heard about potential openings at Microsoft, Harris jumped at the chance. He was asked to find the error in a bit of code only to tell the expert on site that they actually had three bugs in the system. Microsoft, sensing they had a unique person, brought him into the fold quickly. It's been a great ride since then, Harris said.
If he can share any of that experience and computer fever with young people, then his purpose is fulfilled, Harris said.