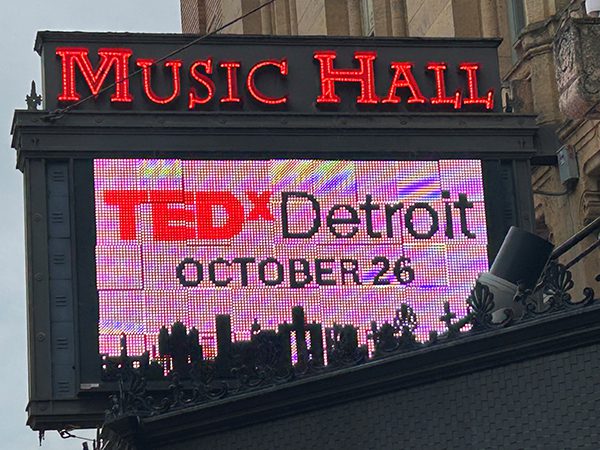 Renee Walker is not necessarily a big fan of conventional wisdom, particularly when it comes to following your career path.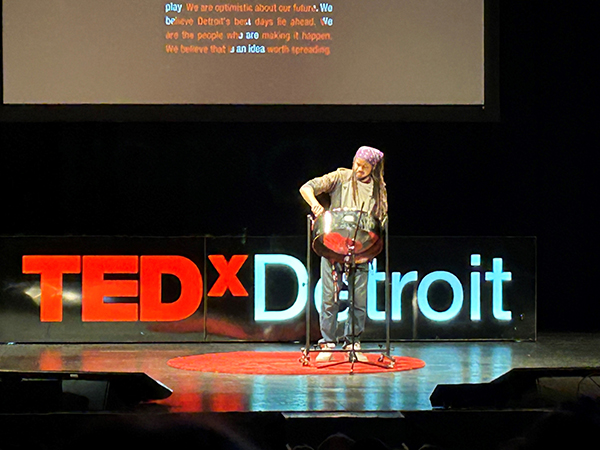 Walker explained why as the leadoff speaker in front of a large and enthusiastic audience at TEDxDetroit, which featured talks, performances and hands-on, interactive labs, all designed to foster collaboration and inspire creativity. The event took place at Music Hall Center for Performing Arts in downtown Detroit.
TEDxDetroit featured TEDxLabs and TEDxMarketplace to showcase homegrown tech, art, and small businesses.
"TEDxDetroit is always a remarkable day that fills your head with fresh ideas, rekindles the fire in your belly, and adds a spring to your step," said TEDxDetroit curator Charlie Wollborg. "It's a celebration of the creativity, collaboration, and optimism happening right here in Michigan. It's our mission to get attendees charged up for action!"
Walker's story started fresh out of Cass Tech High School as she was trying to navigate a college education at Detroit College of Business. Walker took a job with a Fortune 100 company. Four years into that job she sent some ideas for improving the company to several managers.
She received a memo from the company treasurer with some questions that made it obvious her ideas had been hijacked by another manager.
Instead of following conventional wisdom that says "don't burn bridges," and going back through the other managers, Walker responded directly to the treasurer, a move that made it obvious what had happened.
"I burned bridges that day, but I also gained respect and support," said Walker, a brand and marketing strageist and president of West Bloomfield-based Renee Walker & Associates. "Oftentimes we lean into conventional wisdom because … we convince ourselves that's the prudent, and even the safe, choice.
"We stay in our comfort zone, paralyzed by the fear of failure, the fear of change and the fear of loss," she added. "When we do that, we never really consider how much it costs us to stay in our safe space, and not burn a bridge."
She went home that day, she said, "fully expecting to be fired" the next day. But when she arrived, her director simply suggested the next time she "follow protocol" before taking action.
She told the audience they can't be afraid of burning bridges while navigating their career paths. There are, she said, "any number of ways" to burn bridges, but it needs to be done "the right way."
"Burning bridges is … about developing the mindset and the skills necessary to achieve the life you want and to follow your path," she said. "It's about removing all of the limitations we place on ourselves. It's about having the courage to cross some bridges, to build new bridges and burn others in order to see positivity as well as to let go of the activities, the environment and, yes, sometimes even the people or relationships that hinder our success."
TEDxDetroit curator Wollberg said the idea behind TEDxDetroit is to encourage what he called "cross-pollinization" among the various industries, and to inspire audiences to tap into their creativity.
Jo Bruce of Lathrup Village, president and CEO of Jo Bruce Training Associates, found the energy in the room "exciting."
"I watch TED speakers all the time," said Bruce, who is an occasional speaker herself. "I think it stimulates people, it's inspiring. It's a kaleidoscope of human emotion."
Steve Lowisz, CEO of Livonia-based Qualigence Ingternational, a Best and Brighest Company to Work For, said such inspirational messages can get garbled if business leaders aren't careful.
Lowisz, an entrepreneur, best-selling author, and keynote speaker on all things people, focused his TEDxDetroit message on getting the best "for" team members rather than getting the best "from" them.
To help drive home his point, Lowisz referenced a TED Talk delivered in 2009 by author Simon Sinek, who in that speech talked how great leaders inspire action.
Sinek focused on the need to start with this idea of "why?" Sinek said corporations, — "And I believe parents and teachers and coaches," Lowisz said — focus on what needs to be done and how it needs to be done, providing no inspiration to those being led.
"(Sinek) said this idea of why is something different, it connects with our brains in a different way," Lowisz said. "It encourages us to a higher purpose, it allows us to take action."
Sinek's talk, though, happened 13 years ago. Lowisz wondered what that data might show today, with "Quiet Quitting all the rage" and a study showing 24 percent of workers don't believe their bosses care.
"A study from March showed our current children are less inspired, less motivated and less creative than the generation before," he pointed out.
Lowisz told the story of a speech he worked hard on to deliver to his own team, a speech he said was meant to inspire team members. He started the speech, he said, 'with my why," and also talked about the what and the how of their work.
At the end of the 45-minute presentation, he said, he waited, expecting a positive response.
"I got nothing. Crickets," Lowisz said. "The silence was so loud. But then (his coach) came out, and I told him, 'this is what I said, and this was the response I didn't get.' The asked why I had shared that information with my team.'
"I said I wanted to inspire them, I wanted to get the best from my team. And John asked me a second question I'll never forget: 'Do you know the difference between inspiration and manipulation?," he added "John said, 'Your intent was to get the best'from' your team; you forgot about getting the best 'for' your team.

"When we focus on getting 'from,' inspiration decreases, Lowisz said. "When we focus on getting 'for,' inspiration starts to increase."
Elizabeth Merzin got one of the tickets provided by her employer, Finn Partners in Detroit, and attended her first TED event.
"I really liked all of the presenters," Merzin said. "Everyone was very interesting."