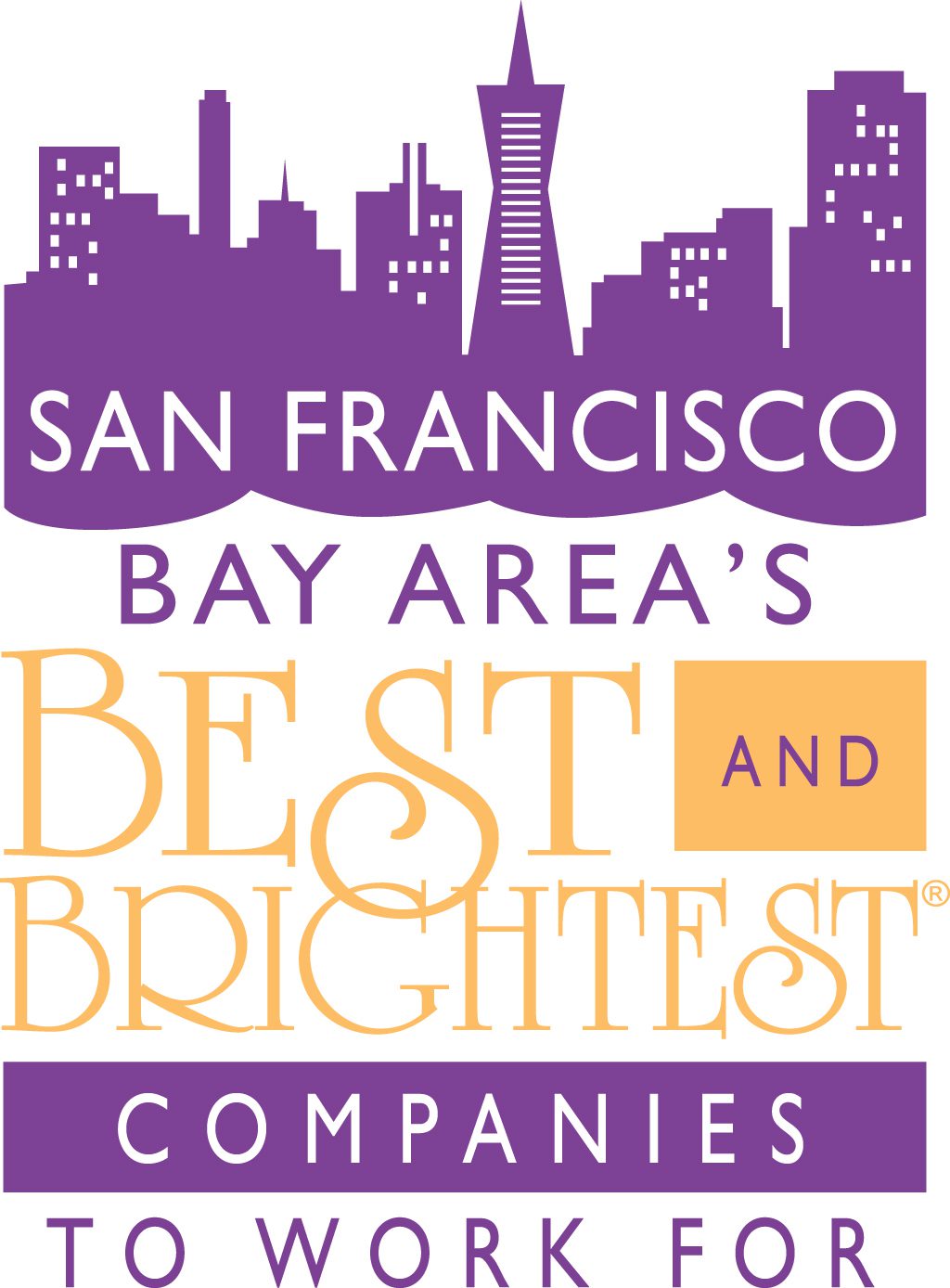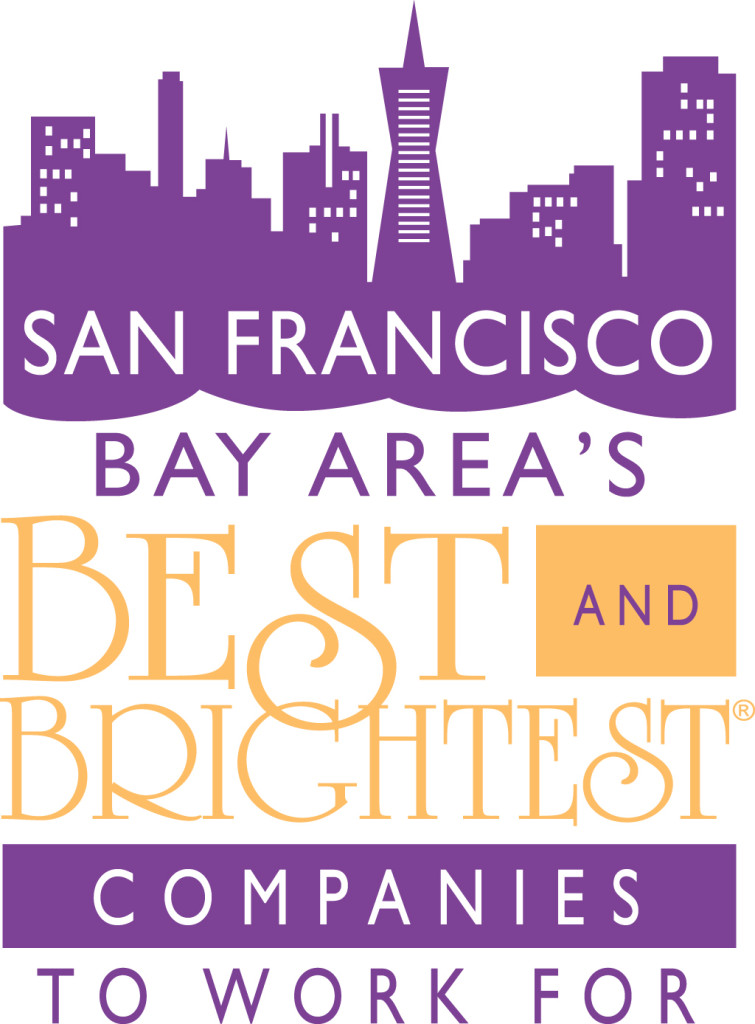 Good companies and organizations know that inspired employees and satisfied customers are their best sales and marketing engines. Good employees foster contented customers and that makes for better business.
In the premiere San Francisco Bay Area Best and Brightest Companies to Work For competition, the results were clear – good companies abound and deliver on their promises to employees, customers and communities. The companies were honored during a Dec. 9 ceremony.
The Best and Brightest Companies to Work For competition identifies organizations that display a commitment to excellence in human resource practices and employee enrichment. Organizations are assessed based on categories such as communication, work-life balance, employee education, diversity, recognition, retention and more.
One of the elite winners in the competition, Good Technology, showed why employees seek them out for careers. "Why work at Good," they ask on their website: "Working at Good lets you fully contribute your talents – to both your team and the company. You're one of the important few instead of one of many, and opportunities for growth abound."
In describing their culture, they add this: "We bring together the brightest people and provide a stimulating, challenging, and supportive environment where they can create, market, sell, and support great products — all in an atmosphere of fun and excitement." That translates to bottom-line results.
Good Technology stood out as the elite winner in the Medium Size Business category. The categories are based on size in the region. The other elite winners were Nigel Frank International, Small Size Business; and TriNet, Large Size Business.
Here are the winners from the 2014 San Francisco Bay Area Best and Brightest Companies to Work For:
3Degrees Group Inc.
San Francisco
www.3degreesinc.com
3Degrees provides green power and carbon offset products and services to Fortune 500 companies, utilities, green building firms, and other organizations that are working to make their operations, products and services more sustainable.
ADP
San Francisco
www.adp.com
ADP provides comprehensive payroll services, employee benefits administration and human capital management solutions for businesses of all sizes.
Aerotek
Alameda, Calif.
www.aerotek.com
Aerotek is a leading staffing agency that matches qualified candidates with top companies worldwide.
AnswerLab
San Francisco
www.answerlab.com
AnswerLab helps the world's leading brands build engaging user experiences across digital platforms. It focuses exclusively on user experience research to give companies a clear understanding of what people see, do, think and feel when they use websites, mobile applications, and other digital products and services.
Any Mountain
Corte Madera
www.anymountain.net
Outdoor enthusiasts are born at Any Mountain, whether their adventure takes a winding path or a snowy down-hill trail to a favorite destination or ski vacation. At the foundation of thrilling-outdoor lifestyles are the quality gear, apparel and service that customers at Any Mountain have come to expect. With an unmatched selection of outdoor, skiing, and snowboarding equipment—from bombproof tents and sturdy packs, to performance snowsports boots and boards— its specialty retail focus has made Any Mountain a leader in preparing Bay Area outdoor enthusiasts for every imaginable adventure.
Arena Solutions
Foster City
www.arenasolutions.com
Since 2000, Arena has provided innovative companies with a product lifecycle management (PLM) solution that increases the speed of prototyping, reduces scrap, and streamlines supply chain management. It invented cloud-based PLM applications that enable manufacturers to deliver quality products on time and on budget. Arena provides a collaborative environment for centralizing, controlling and analyzing complex and constantly changing product information, including bills of materials (BOMs), part specifications, and change orders.
Ascent
Walnut Creek
www.ascentsg.com
Ascent has grown into an award-winning, nationally recognized professional staffing company. It made it its mission to constantly find innovative ways to deliver services and it has resulted in being recognized as an industry leader.
Ask.com
Oakland, Calif.
www.ask.com
Founded as Ask Jeeves in 1996 and re-named Ask.com in 2005, Ask.com has spent the past 15 years committed to its mission of increasing personal knowledge by empowering people with answers. Headquartered in Oakland, with an international presence in the UK and Europe, Ask.com is the fourth biggest site on the Web when it comes to monthly searches, and attracts more than 100 million unique users globally every month in the U.S. alone. Ask.com is a wholly owned business of IAC.
Birst
San Francisco
www.birst.com
Birst brings the benefits of fact-based decision making to a much broader audience than ever before. Founded in 2005 by Business Intelligence experts, the company witnessed firsthand the power of enterprise-wide BI platforms, but was dismayed to see how the fragmented offerings, complexity, and high costs inhibited widespread adoption.
Buchman Provine Brothers Smith LLP
Walnut Creek
www.bpbsllp.com
Buchman Provine Brothers Smith LLP provides responsive, high-quality legal advice across a broad range of issues affecting businesses and individuals. It counsels clients with prompt, innovative, and cost-effective solutions to legal problems. Throughout the course of representation, the firm ensures that clients are informed, and invites them to be active participants in the resolution of legal matters.
California Pacific Medical Center
San Francisco
www.cpmc.org
California Pacific Medical Center is one of the largest private, not-for-profit, academic medical centers in California and is a Sutter Health affiliate. As a tertiary referral center, the Medical Center provides a wide variety of services, including acute, post-acute and outpatient hospital care; home care and hospice services; preventive and complementary care and health education.
Commune Hotels + Resorts
San Francisco
www.communehotels.com
Commune is an international hotel management company with a leading portfolio of transformative, boldly innovative boutique hotel and resort brands. It creates the kind of distinct experiences that can transform your day, your trip, or even your life.
Connectivity Wireless Solutions
Fremont, Calif.
www.connectivitywireless.com
Connectivity Wireless Solutions delivers best-in-class consulting, engineering, project management, installation and staffing services to wireless carrier and enterprise customers who need in-building wireless (DAS) solutions.
Corporate Visions Inc.
Larkspur, Calif.
www.corporatevisions.com
Corporate Visions is a leading marketing and sales messaging, tools and skills company that helps global B2B companies create more sales opportunities, win more deals and increase sales profitability by improving the conversations salespeople have with customers.
Crane Worldwide Logistics
Hayward, Calif.
www.craneww.com
Crane Worldwide is a full service air, ocean, trucking, customs brokerage and logistics company.
DigitasLBi
San Francisco
www.digitas.com
Digitas is a global integrated brand agency that builds active brands for some of the foremost companies in the world
DoubleDutch
San Francisco
www.doubledutch.me
DoubleDutch creates mobile applications for events and conferences, designed to engage and delight attendees and generate actionable success metrics.
EDG Interior Architecture and Design
Novato, Calif.
www.edgdesign.com
EDG is a leading innovator in hospitality, restaurant and commercial design, with expertise in branding, strategy and operational excellence. It presents authentic stories with the power to transform audiences and create value for owners and operators throughout the world.
Emerge Marketing Group
Emeryville, Calif.
www.emergemarketinginc.com
Emerge Marketing Group is focused on outstanding company culture and specializing in generating revenue through non-traditional marketing methods.
Freedom Financial Network
San Mateo, Calif.
www.freedomfinancialnetwork.com
Freedom Financial Network is a growing group of more than 500 employees – known internally as "The Freedom Family." They are all about helping customers with innovative financial solutions. Freedom was founded in 2002 by Stanford Business School graduates Andrew Housser and Bradford Stroh and since that foundation the company has built a stellar management team. Freedom works out of two offices in San Mateo, Calif., and Phoenix, Ariz. Its customers are spread across the United States, and span many financial services products.
German Motors Corp. dba BMW/MINI of San Francisco
San Francisco
www.bmwsf.com
At BMW of San Francisco, the goal is to sell the best vehicles at the lowest prices and treat customers with respect. As a California BMW dealer, it believes that when you choose BMW of San Francisco you are making the right choice.
Ghilotti Bros. Inc.
San Rafael, Calif.
www.ghilottibros.com
If you've lived or worked in the Bay Area in the past 100 years, you probably have heard of the success story of James Ghilotti, the Italian immigrant, who coming to San Rafael in 1910, started a small construction company after his arrival. Today, Ghilotti Bros. Inc. employs more than 275 people working in 11 Bay Area counties and generating annual revenues in excess of $100 million.
Gild Inc.
San Francisco
www.gild.com
Gild is changing the way everyone — from startups to Fortune 1000 organizations — finds and evaluates technical talent. Gild scours the Web for developers, using predictive technology to automatically evaluate their abilities. That means you not only find candidates — you know who can get the job done. Backed by proprietary data analysis that examines developers' actual work, Gild's tech hiring software is used by growing companies to find the developers they need to innovate. Founded in 2011, Gild is headquartered in San Francisco and has offices in Salt Lake City and Milan.
Good Technology
Sunnyvale, Calif.
www1.good.com
Good Technology delivers one of the world's most comprehensive secure mobility solutions, and continuously develops new innovations—innovations that fuel its passion for security, manageability, scalability and usability. This passion results in technology that enables users and business leaders to pursue new and bolder strategies. The results: a world where business moves freely, where people focus on what matters, and where security and mobility are not an either/or proposition. It's why we are Good Technology.
Great Giant Moving & Storage
San Francisco
www.greatgiant.com
Great Giant Moving & Storage is the latest addition to Gentle Giant Moving Co. in San Francisco. They are an award winning San Francisco moving company built on more than 30 years of experience offering the highest quality local and national moving, storage and packing services.
Harley Ellis Devereaux
Oakland, Calif.
www.harleyellisdevereaux.com
Harley Ellis Devereaux combines imaginative design with meaningful experience to give true purpose to the environments it helps create, preparing organizations for what's next.
Highwire Public Relations
San Francisco
www.highwirepr.com
Highwire is a modern communications agency designed for disruptive companies. Its roots in journalism and Silicon Valley give it the drive, imagination and experience to create meaningful business results through smart communications programs. Borders + Gratehouse rebranded as Highwire in 2013.
Hitachi Consulting
San Francisco
www.hitachiconsulting.com
With decades of business process, vertical industry, and technology experience, Hitachi Consulting delivers practical, value-based business strategies and technology solutions and services to help its clients quickly realize measurable business value and achieve sustainable results.
hrQ Inc.
San Francisco
www.hrqinc.com
Whether it's the pipeline of human resources professionals it connects with on a daily basis to fill HR searches, a contract assignment, or one of its HR consultants for a key project or training, the company's "Q" covers all areas of HR expertise and is top notch.
Intacct Corp.
San Jose, Calif.
www.intacct.com
Intacct is 100 percent invested in meeting the needs of financial professionals, 100 percent focused on customer success, and 100 percent committed to the cloud. That's who they are, and always will be. More than 8,500 Intacct customers across 51,000-plus entities are using Intacct cloud financial management to help their organizations run better and grow faster.
Lending Club
San Francisco
www.lendingclub.com
Lending Club is America's top credit marketplace, transforming banking to make it more efficient, transparent and consumer friendly. It operates at a lower cost than traditional bank loans and passes the savings on to borrowers in the form of lower rates and to investors in the form of solid returns.
McGuire Real Estate
San Francisco
www.mcguire.com
McGuire Real Estate has been an integral part of the San Francisco Bay Area real estate market since 1919. Its local focus, extraordinary service, and deep commitment to the communities it serves distinguishes it from competitors. McGuire is Bay Area real estate.
MRC Smart Technology Solutions
San Diego
www.mrc360.com
MRC believes that investing in its customers, employees, suppliers and others demonstrates its desire to strengthen long-term relationships. It helps build a better business and work with better people. From document management to collaborative communication tools and multifunction systems, it provides the broadest portfolio of technology and services for companies of any size and in any industry.
NetSuite
San Mateo, Calif.
www.netsuite.com
NetSuite is the world's top provider of cloud-based business management software. NetSuite helps companies manage core business processes with a single, fully integrated system covering ERP/financials, CRM, ecommerce, inventory and more.
Nigel Frank International
San Francisco
www.nigelfrank.com
Established in 2006 in Newcastle U.K., Nigel Frank International has rapidly grown into the global leader in Microsoft recruitment. With additional offices in London, New York, San Francisco, Singapore and Melbourne, it offers Microsoft partner and end user clients unparalleled access to the widest range of high caliber candidates.
Plum Organics
Emeryville, Calif.
www.plumorganics.com
Plum Organics offers a complete line of organic baby foods, including fruit puree, toddler snacks and more as well as information on the growth and development of healthy babies, portable baby food pouches and reviews.
Praetorian Digital
San Francisco
www.praetoriandigital.com
As a global leader in digital media for public safety and local government officials, Praetorian Digital helps governments, companies, organizations and citizens keep their communities safe and secure. Its proprietary technology platform and network of flagship websites delivers expert content, mobile solutions and online tools that facilitate information sharing, enhance effectiveness, mitigate risk and streamline training.
Prezi
San Francisco
www.prezi.com
Prezi is a cloud-based presentation software that allows you to present from your browser, desktop, iPad, or iPhone and always have the latest version of your work at your fingertips.
Protiviti
Menlo Park, Calif.
www.protiviti.com
Protiviti is a global business consulting and internal audit firm composed of experts specializing in risk, advisory and transaction services.
Resolution Media
San Francisco
www.resolutionmedia.com
Resolution Media, a global digital marketing company backed by Omnicom Media Group, combines the results-focused entrepreneurial spirit it has had since day one with constantly evolving media expertise and experience with global brands.
ReTargeter
San Francisco
www.retargeter.com
ReTargeter is a full-service display advertising platform specializing in audience targeting and retargeting. It offers a full suite of targeted display solutions that can be customized to meet client needs. Founded in 2009, it was the first firm to make retargeting accessible to all businesses. They are experts when it comes to retargeting, display advertising and real time bidding.
RiseSmart
San Jose, Calif.
www.risesmart.com
RiseSmart offers outplacement services that are better, smarter and faster – delivering greater value for a fraction of the cost of outdated, traditional offerings.
Royal Ambulance
San Jose, Calif.
www.royalambulance.com
A leading provider in the medical transport industry, Royal Ambulance is a full service ambulance company committed to delivering complete transportation solutions to Bay Area communities and health care systems. Its services are customized to fit client needs and focus on the highest standard of quality patient care, customer satisfaction and responsive, on-time performance.
Serena & Lily
Sausalito, Calif.
www.serenaandlily.com
It all began in 2003 when Serena, a freelance artist and designer, stopped into a Mill Valley baby boutique owned by Lily, a former Microsoft manager turned entrepreneur. Within an hour of meeting, the unlikely pair had decided to form a new company. Eight short months later, they launched their first collection of bedding for the nursery and children's rooms, showcasing Serena's original fabric patterns. An instant hit, the fresh designs became the go-to choice of tastemakers and celebrity moms alike.
Sparkpr
San Francisco
www.sparkpr.com
Sparkpr provides communications, marketing and social media strategy and services to startups and leading Fortune 500 companies.
Sqor Inc.
San Francisco
www.sqor.com
Sqor loves and admires athletes as much as you do. With Sqor Sports you can now quickly find all of the best news and social media on your favorites — all in one place. But wait, there's more. Now you can post to and from the major social platforms with Sqor Sports.
SquareTrade Inc.
San Francisco
www.squaretrade.com
SquareTrade provides warranties for iPhones, iPads, laptops, and other electronics. It covers drops, water damage and all sorts of accidents. They are consistently rated five stars by customers for quick and easy claims process.
Taulia Inc.
San Francisco
www.taulia.com
Taulia provides cloud-based invoice, payment and dynamic discounting management solutions that revolutionize the way businesses interact and partner with each other. Taulia is headquartered in San Francisco, with offices in Germany, London, Park City, Austin, and New York City.
ThoughtWorks Inc.
San Francisco
www.thoughtworks.com
ThoughtWorks' mission is to better humanity through software and help drive the creation of a socially and economically just world. It brings together the most capable, driven and passionate people – the "ThoughtWorkers."
TriNet
San Leandro
www.trinet.com
TriNet provides HR solutions to small to mid-sized businesses so they can focus on what their company does best. Its bundled HR products, TriNet Cloud applications and strategic services simplify HR. TriNet's bundled HR products cover the core services of payroll, benefits, risk and compliance, an HR team and a cloud platform. TriNet partners with more than 9,000 clients in a variety of industries and managed more than $17 billion in payroll and payroll taxes in 2013.
Undertone
San Francisco
www.undertone.com
Undertone develops digital advertising solutions for brands. It offers a suite of video, high impact and display ad formats that enable advertisers to engage consumers across mobile and desktop environments. These formats are served, optimized and measured at scale across a handpicked portfolio of the world's best digital media properties.
Zipcar
San Francisco
www.zipcar.com
Zipcar is the world's largest car sharing and car club service. It is an alternative to traditional car rental and car ownership.