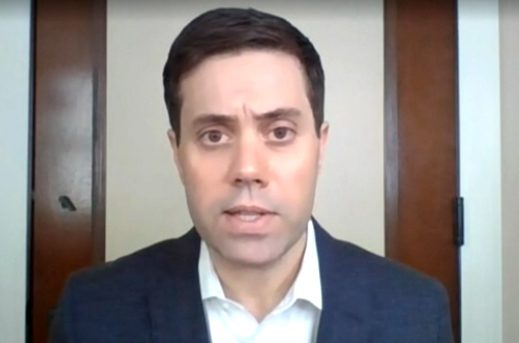 After record numbers of Michigan residents surged online to file unemployment claims and a well-publicized website crash, the Michigan Department of Labor and Economic Opportunity reassured the public that it is adding staff and computer servers to assure such an event will not happen again and that everyone who applied will have a chance to receive benefits if eligible.
On Tuesday morning, LEO Director Jeff Donofrio updated the media during an online press conference that record-setting unemployment claims plus a state-wide outage caused the department's website to shut down for about six hours. But an expansion to its web servers, adding call center employees and setting up special hours for people to get through via phone if they cannot file their claims online should help ease these frustrations, Donofrio said.
Right now, the Department of Labor and Economic Opportunity has three focuses, Donofrio said. The first is to drive down curve of the spread of COVID-19 by implementing "Stay Safe, Stay Home" initiative. The second is to make sure the state gets emergency benefits to individuals and business during this crisis time to recover and rebuild. The final one is to plan for the restart and recovery of Michigan's economy.
More: Governors to Trump: Allow 30-Day Enrollment Period on Healthcare Exchange
More: Whitmer: State Working On Plans To Reopen Economy, Get Back To Work
More: CEOs Weigh Tough Payroll Decisions as Crisis Continues to Impact Economy
"We're committed to making sure that every Michigander who is eligible for unemployment benefits receives them," Donofrio said. "We've seen historic increases in the need and, of course, in the filing for unemployment insurance as well because of COVID-19."
More than 1 million people – which amounts to almost a quarter of the state workforce – have filed for unemployment benefits so far, Donofrio said. California and Pennsylvania are the only states that are higher than Michigan in these filing, he added.
Historic applications
The site crashed on the day when self-employed workers and independent contractors were first eligible to apply for benefits. Right now, to file a claim the state has asked people to follow a system where they go online or call on certain days depending on their last name. A-L names file on Mondays, Wednesdays and Fridays. M-Z file on Sundays, Tuesdays and Thursdays. The website is open 24 hours a day, seven days a week. The call center is open 8 a.m. to 5 p.m. Monday through Friday.
The state also is creating special hours – 7 a.m. to 2 p.m. on Saturdays – dedicated to people who cannot file online to be able to call in and get help, Donofrio and Michigan Unemployment Insurance Agency Director Steve Gray said. Gray also was on the Tuesday press conference call.
Donofrio said the LEO has expanded its web service, hired more staff and is training hundreds more as well as moving people over from other departments to help with the extra calls. They also are working with the state to boost its online response time via more servers to help the system handle the immense number of people applying.
"We have struggled to cope with these historic numbers," Donofrio said, and he promised to make sure everyone who is eligible gets benefits. "That number is only going to grow as we move forward. … We won't rest until everyone is helped."
Most of those eligible have been able to file, Donofrio added. As a result, the state of Michigan has paid out $350 million to more than 600,000. Some 90 percent have filed online. But he expects more to apply with the federal funding that is now available via the CARES Act.
Under the $2.2 trillion federal coronavirus relief package signed into law in late March, workers on state unemployment have already begun receiving a $600 federal weekly payment that's in addition to their normal state benefit amount.