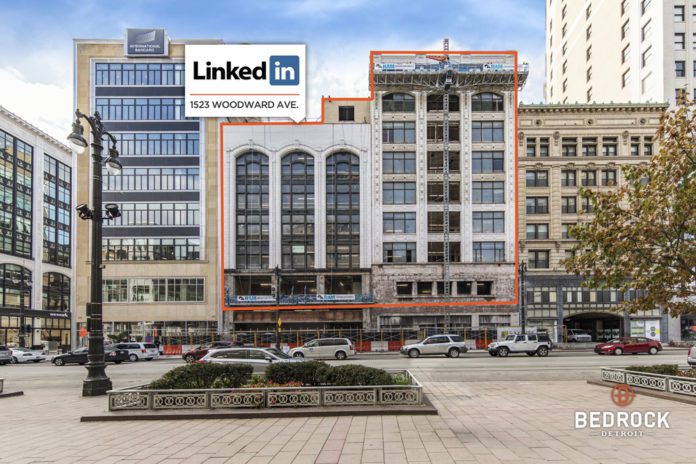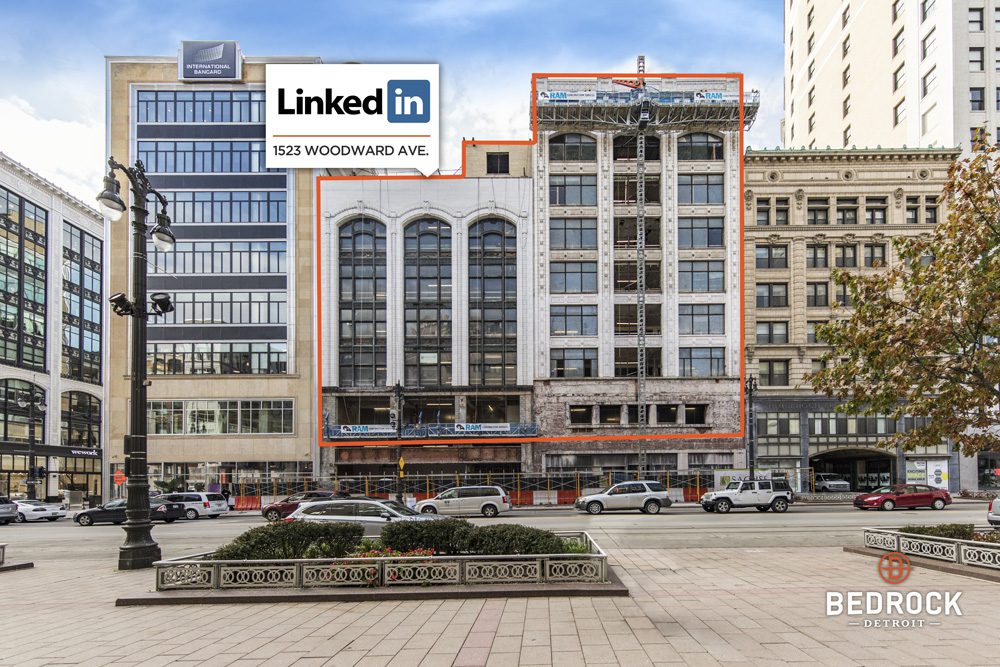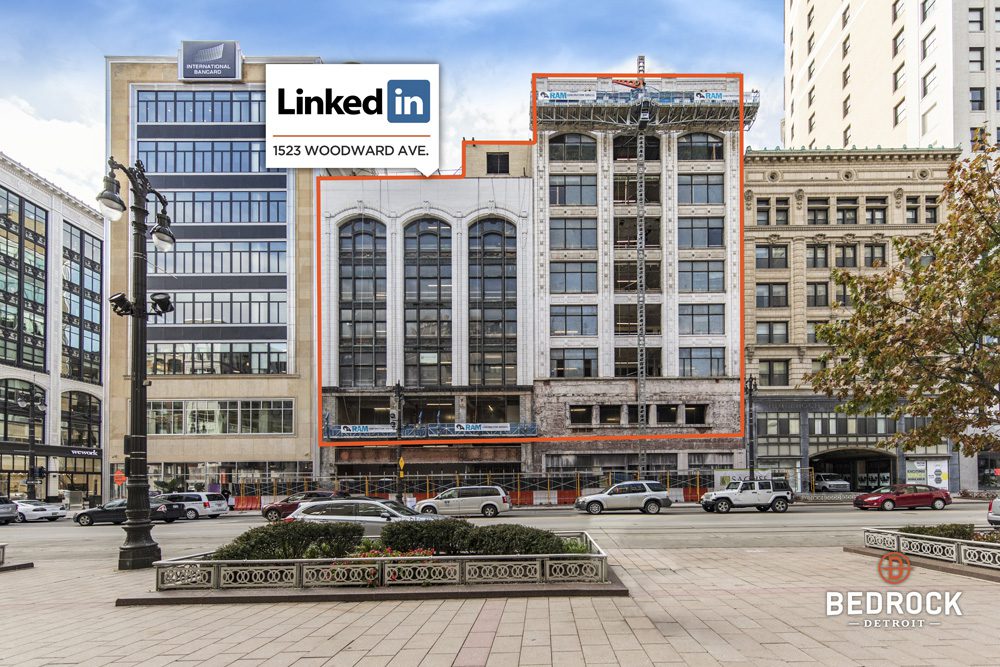 With LinkedIn's recent announcement about its larger downtown Detroit office, you can expect the company soon will have a bigger space for employees, a more sizable presence within the Motor City and an expanded part of the tech scene around Michigan.
LinkedIn opened its Detroit office in October 2017 with 13 employees. The space was a temporary location, company officials said, and they had plans to find a more permanent spot. In April, LinkedIn said it now has nearly 40 employees in Detroit and needed a larger area for them to work and to bring in additional hires as needed.
Along with Bedrock Detroit, LinkedIn announced it has signed a lease on the historic Sanders building, located at 1523 Woodward Avenue.
"With 74,500 square feet of space, the Sanders building gives us room for future growth and the opportunity to become part of the lower Woodward corridor community in the heart of downtown," LinkedIn officials said in a release. "Renovations are underway and we look forward to moving into the new space within the next year."
This is about creating additional economic opportunity for, and within, Detroit for LinkedIn and its partners, company officials said.
"Since opening our temporary office in October, we've committed to making a positive impact in the community and have hosted numerous events on topics including professional branding, nonprofit engagement, and LinkedIn workshops," the company said in a statement. "Each of our offices around the globe partners with one local nonprofit partner to help close the opportunity gap in their local community. Today we're thrilled to share that our Detroit team will be working closely with the Midnight Golf Program (MGP) to help local youth get a strong start on their professional journeys."
LinkedIn officials said they are excited to be within the vibrant Woodward corridor, where Quicken Loans, Bedrock Detroit and its affiliated companies are deeply invested.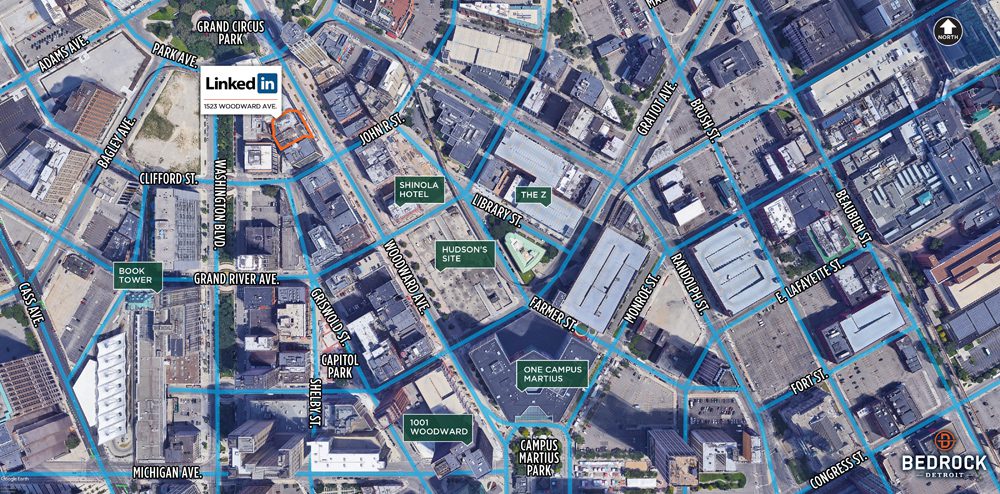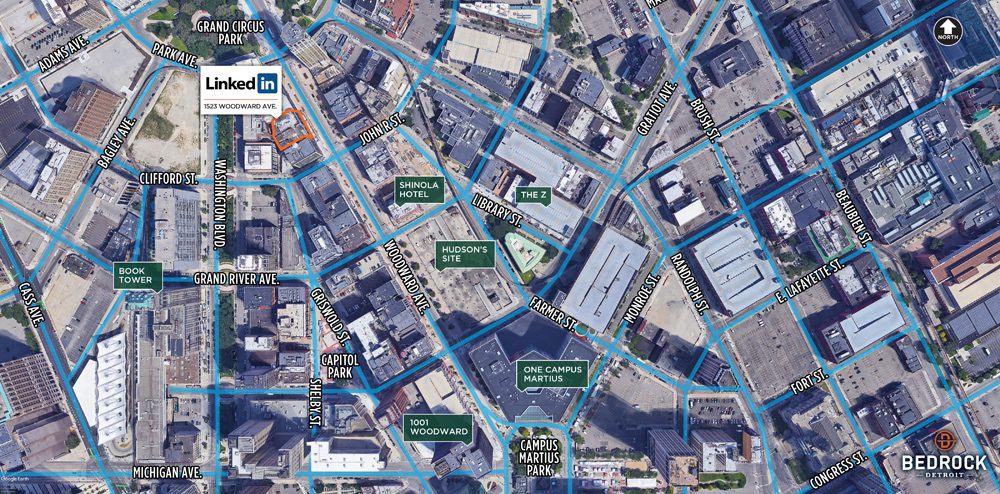 "LinkedIn knows more about the absolute importance of connectedness than anyone else, so it only made sense that they look to Detroit's urban core for their next office," Dan Gilbert, Bedrock founder and chairman, said in a statement. "LinkedIn's move downtown is even more proof that Detroit's tech scene is rapidly growing, bringing with it established companies and start-ups alike. In a very short time, the city has seen businesses including Microsoft, Google, Amazon, Quicken Loans, StockX, Detroit Labs, Twitter, Snapchat, Pinterest, Duo and dozens more leverage the amazing talent and energy Detroit has to offer."
Last year, LinkedIn officials said they selected the Motor City as a new hub to show the company "walks the walk."
"Why Detroit? After evaluating more than 10 U.S. cities, we chose Detroit because we believe the Motor City presents a unique opportunity for LinkedIn to hire top talent and be a part of an exciting economic turnaround story," wrote Mike Gamson in a blog post. "This new office gives us a chance to marry LinkedIn's uniquely powerful culture with Detroit's dynamic talent to create economic opportunity for our employees, the city and our company."
UBS was previously announced to occupy the 1523 Woodward Building on the sixth floor. As a show of its support for downtown Detroit and the influx of technology businesses in the city, UBS agreed to relocate their office to 1201 and 1217 Woodward, making room for LinkedIn, said officials from Bedrock Detroit.