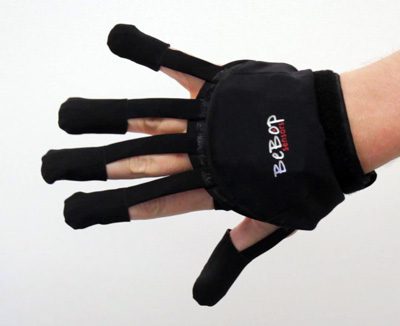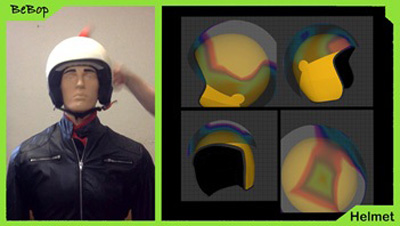 You've heard of autonomous vehicles, artificial intelligence and X. Now, Sri Peruvemba, vice president of Strategy at BeBop Sensors, wants you to get to know wearable smart fabric sensor technology.
BeBop provides fabric sensors that are said to conform and flex. Thin and light, the products have high accuracy and seemingly unique. Add to the description the fact that BeBop has found early applications for its technology, including wearables such as gloves that are wireless, offer sensors and haptics, accessories that are used in medical, auto, gaming, industrial and consumer apps.
"Sensors are currently being deployed in millions and soon to be billions and trillions," said Peruvemba. "We offer a unique sensor made of fabric, as thin as you would expect a fabric to be. It's light and can be cut to pretty much any shape. Unlike those rigid sensors that look like blocks, the resolution is very high so the accuracy is very high with quality diagnostics. Our sensors literally disappear into the device, but provide you with a stream of rich, highly accurate, real-time data that is invaluable."
The company, based in Berkeley, Calif., says it has over a million sensors in daily use, making products knowable with fabric sensors that transform helmets, automotive airbag systems, drums and more to make them smart, safer, and able to be analyzed by understanding force, location, size weight and shape of impacts.
The company says it recently closed a $10 million Series A funding round that was led by San Francisco-based Bullpen Capital.
Corp! magazine recently conducted a Q & A with Peruvemba.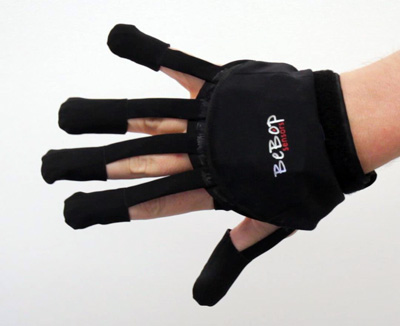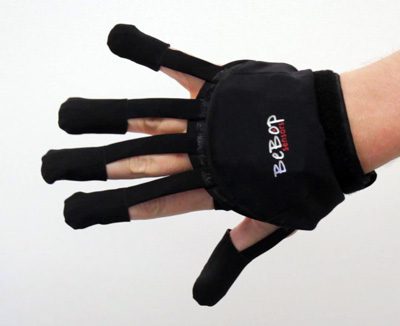 Corp!: How radical will the shift to wearable smart fabric sensor technology be? What would you compare it to?
Peruvemba: We expect the shift to smart fabric sensors to happen swiftly in applications where there is an obvious and undisputed value that can only be provided with sensor technology. In applications ranging from outdoor wear that can sense and save the life of a hiker or skier, to applications in sports gear, which could help diagnose and accurately pinpoint injury, to applications that reduce injury in the workplaces (particularly in industrial environment), we will all see fairly quick transition to sensor-based technology such as BeBop's smart fabrics.
I would compare this to airbags in automobiles, to carbon monoxide detectors in buildings, that are all pervasive. In applications such as gaming, in VR, in casual wear garments, etc., this shift could happen more gradually, though we are seeing tremendous traction in gaming applications. There are many medical, industrial, consumer, and military applications for our sensor technology, and we are working with several OEMs to bring these products to market in very practical, useful ways that offer value to the consumer and the OEM.
Q: What kind of products using wearable tech will be the biggest change makers?
A: We are currently working on designs in the sports industry – adapting our fabric-based sensors into helmets and protective gear to not only help pinpoint injury but also help design better sports gear for the future, we believe this will revolutionize that industry. Our sensor and actuator based wireless gloves (BeBop Forte Wireless Gloves) used in the VR environment is adding touch to existing visual and audio features, making the experience much more realistic and valuable to the designers.
Our one size fits all, wireless, cordless, gloves are exactly what that market was looking for. That exact product (BeBop Forte Wireless Gloves) with some modifications is now being designed into industrial applications that will measure and prevent worker injury in a factory setting. It will allow the planners to design tasks that reduce health risks to its workforce, reducing downtime, costs while increasing productivity. We start with a fabric before coating it with our proprietary materials to make the sensors, therefore our sensors are naturally a great fit in athletic and outdoor wear, jackets for example with sensors embedded provide rich data in real time that are hugely valuable.
While these are some examples of wearable devices using our technology, we have already shipped over two million sensors into non-wearable, but many times portable products, such as electronic musical instruments, and into hospital beds and wheelchairs, into automobile steering wheels to infant seats, super accurate foot pads to laptop pads. The applications are numerous.
Q: Why should consumers look for BeBop as a wearable?
A: In each of these different applications, BeBop brings something unique which makes the product very desirable to the OEM and consumer. When you are in a VR environment, you already have good visual and audio, but you feel nothing so that the experience is "virtual," but we can bring the virtual in VR by incorporating our gloves into the experience. The user can now feel the strings in a guitar, the texture of the brick wall, the recoil from the bat striking the ball. The user can accurately tell where their hands are in the VR environment, the motion of each finger, each bend or twist or even stretch. In the case of protective sports gear, we don't want the consumer to see our sensor, nor feel it. It's buried inside the gear. It adds negligible weight, yet it provides invaluable data to diagnose, to protect. Similarly, in the industrial application or medical wheelchair or hospital bed, we don't want the user to "feel" our product. It's invisible/unobtrusive. It allows them to continue their activity while measuring, collecting, and providing data that can make their lives better for fewer injuries for the factory worker and more comfort for the patient in the hospital by the better design of the bed or chair.
While a skier might not ever know where the BeBop sensor is embedded in their jacket, they are assured that it will sense and alert when the user is in danger. On a daily basis, the BeBop fabric sensor can provide rich information to the user to tune their workout, to have better data on their bodies, enabling better living.