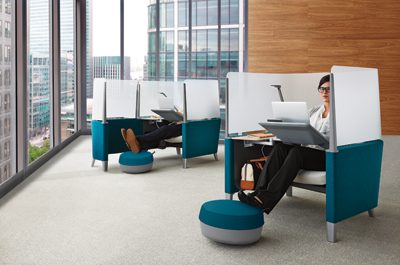 With an up to 90-minute daily commute, Katie Garry decided to ask to work from home one day a week. It's an exception she said she never would have requested just a few years earlier, when she started with the company. But now, after three years with Personnel Unlimited, a Warren, Mich.-based staffing company, she felt she'd proven herself. And, as a senior recruiter, her job was well-suited to remote work, she said. The company agreed to test the remote option, but only for one day a month.
Not long after this decision, the company's office flooded. Given the damage, management gave Garry permission to work from home for a full month while the office was repaired.  What she found was that she worked better from home. She said she experienced fewer distractions, felt more focused, and had a little more "sanity."
The long commute wasn't Garry's only reason for wanting to work remotely. At some point, she said, she wants to have children. She needed to find out if remote work would be an option when that time came.
Garry's experience highlights some major themes in research on remote work: office distractions, long commutes, stress, and family-work balance. That research is spurring business leaders to re-evaluate the traditional white collar work model (9-5 at a desk, in an office). The result certainly won't be a flexible schedule for every worker. Yet, a more significant outcome may already be happening: By re-thinking traditional workspaces and work schedules, business leaders are gaining a better understanding of the connection between employee well-being and company success.
Reduce work-family stress
According to Gallup's 2011-12 State of the Global Workplace Report, engaged workers are the lifeblood of their organizations. Those companies that scored in the top 25 percent for employee engagement also had significantly higher productivity, profitability, and customer ratings, less turnover and absenteeism, and fewer safety incidents than those who scored in the bottom 25 percent.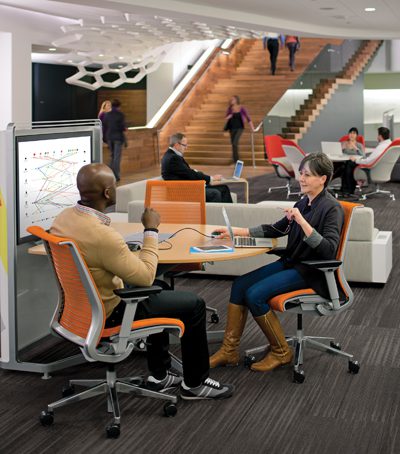 Among other factors impacting employee engagement, the report emphasizes the connection between a worker's personal life and work life: "Great managers know that the whole person comes to work and that each employee's well-being influences individual and organizational performance." A recent study conducted by the Work, Family, and Health Network illustrates this point.
The WFHN researchers set out to reduce workers' work-family conflict by getting employees to re-think "how, when, and where they would like to work." According to the study, as a result of improved manager support and greater scheduling autonomy (including the option to work from home), workers experienced less work-life stress, despite workloads staying the same.
Right space for the right task
The remote work option is inspiring business leaders to think of workspace as a tool that can enhance or diminish an employee's productivity. Steelcase, the office furniture icon, encourages its clients to think of workspace as an ecosystem that supports different types of work, says Christine Congdon, director of Research Communications who points to central activity hubs, small group workspaces, and individual workspaces at the company's Grand Rapids headquarters.
David Rock, director and CEO of the Neuroleadership Institute and author of "Your Brain at Work," agrees that the task should determine the space, pointing out that business leaders sometimes conflate collaboration and creativity, despite that they are two different processes with very different outcomes.
Collaboration is important when a group needs to execute a decision quickly or find the flaws in a plan, said Rock. However, the goal of creativity is to generate new ideas, and that task is a solitary one; group brainstorming does not yield innovation, he said.
Rock advocates for allowing both remote and office work. Let the leadership determine which days and times everyone needs to be at the office, he says. For the remainder of the time, he advises, let the workers decide. This, says Rock, ensures both management control and employee autonomy.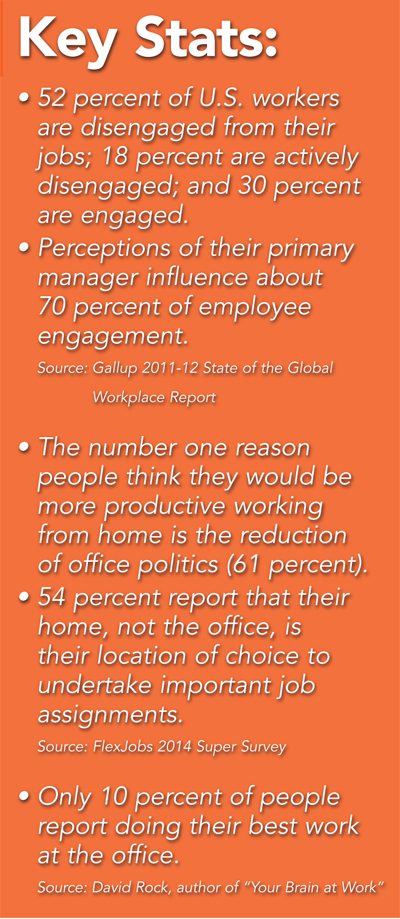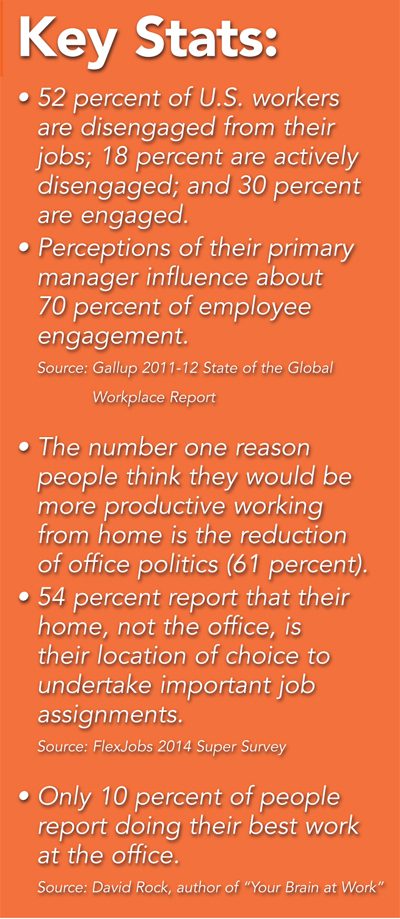 Mobile app developer Detroit Labs allows its staff to work remote or at the office any time – so long as the team agrees. For employee Marc Nischan, that means he's at the office when collaboration is most critical – typically, while the team ramps up on a project. As each member begins to work on their own piece of the project, though, he said he may work from home where he can focus better.
Cost savings
Sara Sutton is CEO of FlexJobs, a job search website devoted to part-time, telecommuting, flexible schedule, and freelance jobs. Sutton said employers seek out remote workers for a variety of reasons, including to expand their talent pool and to gain a presence in a particular region without having to establish a costly footprint to do it.
In a 2014 Stanford University study, a Chinese travel agency randomly selected call center workers to work from home. Compared with the control group that stayed at the office, the at-home workers increased their performance by 13 percent over the nine-month experiment. Combined, the increased performance, reduced IT and building space costs, and reduced turnover resulted in annual savings of $1,900 per employee.
Work type
Despite the proven benefits of remote work policies, researchers and business leaders agree that remote work is not a one-size-fits-all opportunity. The type of work a company does can profoundly impact whether or not remote work is a viable option.
Like Detroit Labs, TeamSnap is a mobile app developer that utilizes a whenever-wherever work model for all employees. Their website encourages workers to work in the place that best suits their personalities and to do that work according to a schedule that works for their lifestyles. But, warns the website, employees are accountable for delivering stellar results.
In part, this highly autonomous structure is effective because these are technology companies. Almost any space with power and an Internet connection can serve as their workspace. Product delivery is not a physical hand-off, and, of course, clients can be local or across the world. TeamSnap's website declares, "Our customers don't play from 9 to 5, so we don't either."
However, at the Alzheimer's Association of Greater Michigan a whenever-wherever policy could be detrimental, says CEO Jennifer Lepard. The AAGM provides support services to Alzheimer's patients and their caregivers. Lepard notes that, unlike the technology industry, in-person interaction is integral to social service work. That component alone creates the need for a regular meeting space during hours that are amenable to the clients' lifestyle.

Lepard acknowledges that there are some administrative positions in her company that, in theory, could work remotely. However, she says, implementing a policy that benefits only a few people has the look of special treatment. It's a particular concern when the few who would benefit from such a policy are already those who have the most flexibility and the highest salaries, says Lepard. And it's an issue of fairness. "I feel like you've got to have a policy you can implement with everybody," she concluded.
Culture
Though most of Detroit Labs' staff chooses to work at the office most of the time, and 75 percent of TeamSnap's staff chooses to work remote, both companies boast strong cultures. In conversations with each company's founders and employees, certain themes resonated: trust, autonomy, and transparency.
To make those values a reality, Detroit Labs co-founder Nathan Hughes said that he and the other founders, Paul Glomski, Dan Ward, and Henry Balanon (who has since left the company), eliminated the factors that often promote territorial battles: titles (with the exception of Glomski as CEO), corner offices, management, and inner-circle information. "If you are working in an environment where you have to have a personal political agenda in order to succeed, that creates an enormous amount of organizational chaos and organizational junk," he said.
In place of a traditional management hierarchy, Detroit Labs created a much more democratized structure, one in which all employees have a say, said Hughes. Whether the decision is who to hire, who leads a particular project team, or which project to take, there is open discussion, said Hughes.
Staff member Marc Nischan said that Detroit Labs can feel like a family, which can be both good and complicated, adding that without cubes to sulk in and an HR department to complain to, colleagues have to talk issues through. He thinks that kind of open conversation is critical to the company's culture: "There is a lot of support and trust."
Like Nischan, Detroit Labs' employee Matt Lauer noted that the company is open, not only in communication and office layout but with information: "We care a lot about learning and sharing here, and having no cube walls reminds us there are no closed-off bastions or silos of knowledge."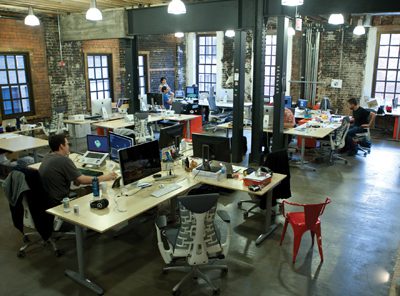 Although Hughes admits that developing this kind of culture in a remote environment would be challenging, Dave DuPont, TeamSnap's founder and CEO, thinks his company has managed to do it.
DuPont says that technology is key. In their onboarding process, the company introduces its new-hires to the various apps that will help them stay in touch with their colleagues, he said. DuPont said an app called Slack has been particularly helpful in building culture. (Amanda Hess of Slate magazine dubbed the app "a cool office culture, available for instant download").
Much as Detroit Labs has democratized its structure (shuffling teams, no org chart levels), the virtual space between TeamSnap colleagues has served a similar function. Chief Product Officer Andrew Berkowitz said, in a virtual office, employees get to know everyone, not just those on their own team or in the next-door cube.
Yet, DuPont recognizes the value of in-person interaction. So, two times a year, he brings the entire company together in one space. At the most recent of these meetings, DuPont observed that virtual co-workers behaved as if they'd been in-person friends for years.
Both Detroit Labs and TeamSnap started from scratch just a few years ago; both set out with a deliberate vision of how they wanted their companies to operate; and both have vigilantly safeguarded their cultures through smart hiring practices and space and technology investments. At the other end of the spectrum is an agency that is more than 30 years old, the AAGM.
When she took over as CEO nearly two years ago, Lepard said the company was shackled by many structural challenges. For years, the staff had been told the company was on the verge of going under. Adding to the sense of uncertainty, the staff hadn't received raises in four years, she said. This environment encouraged a culture of self-interest and distrust. She said the prevailing theme of that time, and one she is still working to change, is "what do I get out of this?"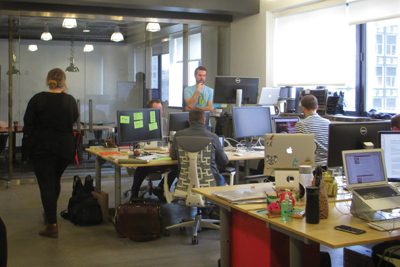 In this type of fractured environment, Lepard's job is to roll back the distrust and sense of uncertainty which, she said, means staying on message and helping staff regain their connection to the agency through communication and transparency.
Of Gallup's 12 key indicators for employee engagement, six revolve around personal relationships, including having a best friend at work and a supervisor who cares about you as a person. In the WFHN study, it wasn't just increased schedule control that alleviated work-family conflict, it was manager involvement and support. At Detroit Labs, staff has the option to work from home, but most come to the office – even the introverts. At TeamSnap, it appears to be the culture, not the location, of the employees that accounts for the company's success.
If these examples are a guide, then the greatest impact of the remote-work debate may be that it encourages business leaders to think about each employee as an individual and as a critical team member whose well-being, inside and outside the company's walls, profoundly impacts company success.
As for Garry at Personnel Unlimited, she said that, on a week-to-week basis, her manager has been giving her the option to work one day from home.