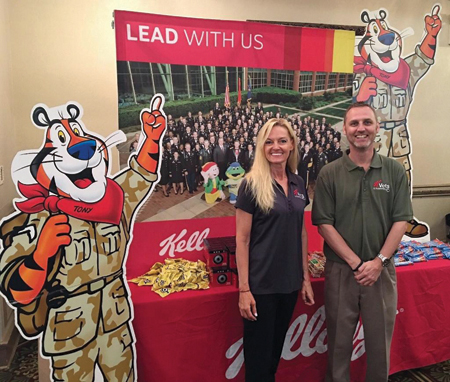 Four decades later, the U.S. Marines commercial slogan—we're looking for a few good men—has been co-opted and, if anything, been pointed back at them and their armed services brethren.
Corporate America is taking aim by plucking men and women exiting the military ranks to fill the shortfall within their own industries. The full-court press is on to hire military veterans at Fortune 500 companies like General Motors, Ford Motor, IBM and Kellogg. And both sides are declaring this engagement as a win-win.
Those who served in the military bring a steely mindset, which isn't acquired through an internship or learned through a business course.
"They actively want to have more veterans within their employment ranks," said Matt Sherwood, executive director of VetBizCentral, a U.S. Small Business Administration outreach center for veterans in Flint, Michigan. "And they feel veterans are already coming to the table with a lot of skill sets like leadership, discipline and ability to follow through with the mission, doing the best job they can at all times."
Sherwood, a veteran himself, says companies looking for "a few good men" (and women) are looking in the right place.
"They have a lot of the same characteristics that are kind of instilled within us right out of the service that employers are seeking. So it's a good correlation."
Against this backdrop, companies are expanding and faced with holding onto skilled employees.
More than 2.1 million jobs were created in 2017 and nearly 44 percent of firms planned to increase hiring this year, according to Robert Half, a search firm.
Transition to 'new collar' jobs
In May, IBM convened a session to train veterans for tech careers at its Southfield facility. About 300 people attended and were trained in the tech giant's i2 Link Analysis software.
The five-day Detroit session was one of 16 the company hosted throughout the country in an effort to prepare veterans for "new collar" careers, including ones as data analysts. The program is in its third year and about 20 percent who take part find jobs with IBM or with one of its corporate partners in the financial industry, among them Chase, CitiBank and PNC.
"First of all, general work ethic and experience, we know that veterans make great IBMers, for one," said Martin Laird, IBM's senior corporate manager of Citizenship and Corporate Affairs. "They're very organized, task driven team players, so we like battle-tested. We have a very strong internal network of veterans. We also have commitments from our CEO to increase the rate at which we hire veterans, which plays into our foundation for this very nicely."
Michigan Veterans Affairs Agency is serving as a nerve center to connect veterans and prospective employers, ranking companies by gold, silver and bronze in terms of their willingness to hire former members of the military.
Unemployment was 6.3 percent among the state's 672,213 veterans, according to 2015 U.S. Census data.
Consumers Energy joins DTE Energy, GM, Michigan Department of Transportation, Michigan State Police, Prestige Engineering, Quicken Loans, Roush and Whirlpool as the MVA's gold-level employers.
The standard not only takes into account the number of veterans hired, but those retained. In 2016, more than 30 percent of Consumers' new hires had spent time in the military.
Those efforts helped Consumers surge to 30th from 62nd on the "Best for Vets" list published by the Military Times, a feature that considers a firm's percentage of veteran employees, reservist pay, military spouse policies, and military experience, instead of certification. GM ranked fifth in the same study.
The Jackson-based utility also received U.S. Veterans Magazine's Best of the Best Award for veteran-friendly company.
In Consumer's case, though, the commitment to veterans involves more than maintaining hiring quotas.
Consumers Energy has a veteran advisory panel, which grapples with issues affecting those who have served, such as pay differentials when reservists are deployed.
Building a common bond
Chief among them has been educating people about stigmas—often related to PTSD (Post Traumatic Stress Disorder) that's associated with service members returning from Iraq and Afghanistan. John Broschak, Consumers vice president of Generation Operations and Compression, who serves as executive sponsor of the advisory panel, has vouched for veterans as model employees in testimony before the state House and Senate.
The panel, which was formed three years ago, continues to blossom.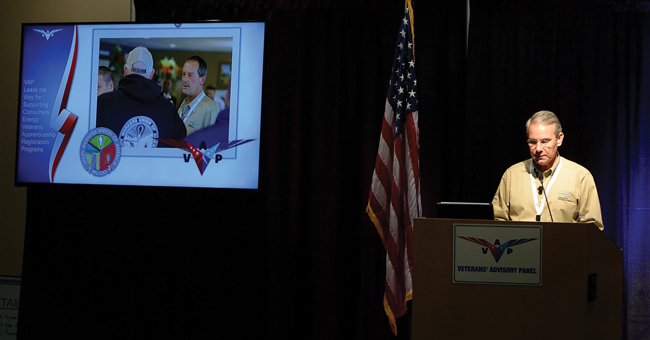 "We've always had a lot of veterans with the company and never really focused on having those folks self-identify and then really creating an internal community of veterans, so that we could provide a broader sense of camaraderie," said Broschak, a former member of the Navy who spent six years on submarines as part of the "nuclear Navy."
"Regardless of what branch you've been in, there's this common bond that has just been wonderful for me to reconnect with."
Consumers Energy has enlisted a full-time veteran recruiter within its human resources department. Many jobs are tailor-made for those with military experience, Broschak said.
"Throughout our operational ranks, whether it's on our gas distribution and transmission pipelines, our power plants, or our electric distribution system, there's a lot of work that goes out in the field that's very similar to the types of work that military personnel has done," he said.
Broschak says there's a natural fit for those who come from a military background. He references the company's response to a recent storm as an example.
"We had significant storm damage up north and we've had over 2,000 of our employees involved in varying degrees to manage the logistics and the planning, resourcing, being there to clear the trees, actually put the lines back up to restore folks' power. It's very much like a military campaign operation."
While every analogy has its limits, Broschak firmly believes "in all areas of the company we are well-suited to take on a veteran."
Open arms
Battle Creek-based Kellogg has a similar open-arms policy to those who've served.
The company has a dedicated veteran career site, which enables applicants to input their Military Occupational Specialty Code (MOS) to find potential roles for which they might be qualified, said Mark King, Kellogg's global head of Diversity and Inclusion.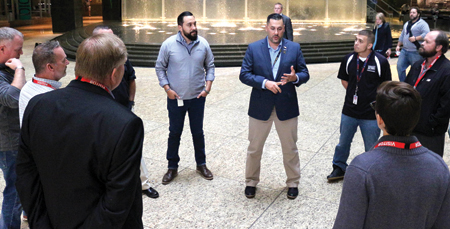 Veterans work throughout Kellogg, ranging from its supply chain, sales and information technology to human resources areas. While the company has always hired those who have served, it redoubled those efforts in 2012.
Kellogg was also recognized by U.S. Veterans Magazine with a Best of the Best Award as a veteran-friendly company this year and ranked 71st on Military Times' "Best for Vets" list.
"When our Talent Acquisition team becomes aware of a veteran candidate, the candidate always receives a phone call, regardless of perceived qualifications for the role," said King, whose company received a silver designation from Michigan Veterans Affairs Agency for its veterans-employee outreach.
The cereal giant's internal K Vets & Supporters business and employee resource group also helps with the recruitment, retention and support of former military personnel. K Vets, which is one of eight employee resource groups, also sends care packages to those deployed and holds celebrations on Veterans Day and Memorial Day.
"We are proud of our history of recruiting and developing veterans across the United States and are committed to recruiting and hiring more," King said. "We recognize that military-experienced talent brings exceptional and valuable knowledge, skills and experience to our company."
Jim Cowper, president of Waterford Township-based Contract Professionals Inc., a veteran-owned technical staffing firm that specializes in aerospace, automotive, defense, industrial, information technology, manufacturing and telecommunication industries, says he has been hiring former military personnel for 36 years. In that time, he says, he can count on one hand the number of times a veteran failed to meet his client's needs.
Best-kept secret
"Veterans are the best kept secret and (hiring) must expand," said Cowper. The company is certified by the National Veterans Business Council as a veteran-owned business and has a bronze ranking by the Michigan Veterans Affairs Agency. "Veterans are adept at relocating, quick studies, take direction without hesitation. The lead time for a veteran to become productive is much shorter by the mere basis of their training."
An attitude shift is needed when it comes to hiring, Cowper says.
Companies run the gamut to lure and keep talent, adding cappuccino machines and ping-pong tables for their cool workplaces, especially in the IT field. However, those same firms are stuck in the past when it comes to bringing in qualified candidates in the first place.
"Clients often struggle with viewing the veteran military experience as applicable to the private sector," Cowper said. "Given the STEM (Science, Technology, Engineering, Mathematics) shortage, hiring firms must look past traditional degrees and work experience and hire every veteran that is presented."
He also recognizes that entry-level college grads have far less experience than a military veteran with eight or more years of service.
In government, the Michigan Veterans Affairs Agency is doing its part, telling potential employers about the benefits of hiring military personnel re-entering the workplace.
In September, the agency announced plans to visit bases to meet with service personnel transitioning out of active duty. On-site interviews with prospective employers were also expected to take place.
When active military members are getting out of the service, they go through a transition assistance program, or TAP. The program, which is provided through the Departments of Defense, Veterans Affairs, Transportation and the Department of Labor's Veterans' Employment and Training Service, gives service personnel and their spouses help to pursue school, a job or starting a business.
MVAA hosted a National Veteran Workforce Development Conference at Greektown Hotel in Detroit Sept. 24-26, where program managers shared insights with military transition counselors on best practices involved in connecting veterans with employers.
A learning curve for employers
Employers who may be expressing doubts about hiring veterans find themselves having to navigate a learning curve, said Suzanne Thelen, MVAA strategic communications and customer engagement director.
"I think they've wanted to do it, but they have not been sure how to do it successfully," Thelen said. "One of the things we do is help with military cultural competence. So people who are civilians understand what motivates and drives veterans, what their experiences are and how to recognize their experiences."
One example comes into play when a hiring company sees the MOS—military occupational specialty—on a resume, but may not fully grasp what the candidate has to offer.
That would include "the leadership experience that person might have had, the flexibility or skills that they learned and the responsibilities that they were assigned," said Thelen. "We help to counsel and coach some of that."
Employers are also brought into some of the thinking around the promotion of people in the military.
"It's not (necessarily) based on what you have done, but on the potential of what we think you have," notes Thelen. "The experiences in the military and things you learn and the training you get is quite a bit different than the training you get in most jobs. There are skills sets that are transferable. You don't learn how to build a specific thing, but you learn how to think. That is the best way to put that."