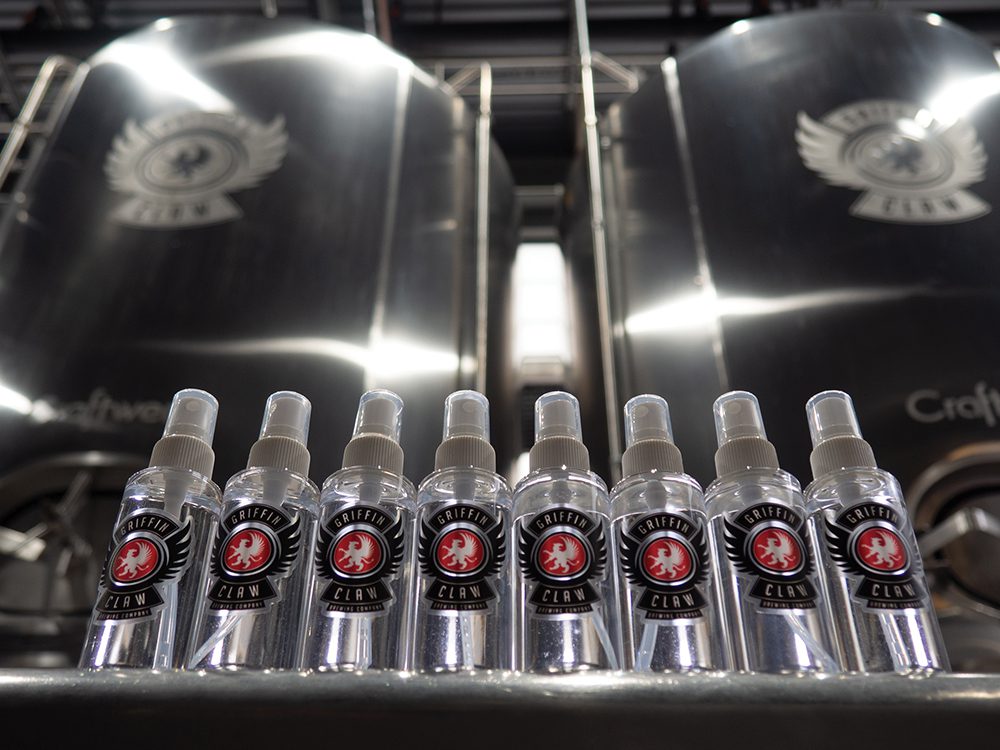 Everyday heroes come in all shapes and sizes, from all walks of life, from every area of industry.
They really shine, though, in times of crisis. And there hasn't been a time of crisis like the COVID-19 pandemic in a lifetime.
When heroes were needed, all manner of everyday people stood up and became just that — heroes.
There are scores of stories about heroic action during this pandemic, too many to count and certainly too many to print.
Corp! Magazine honors as many accomplishments as we can and, as always, throws a shout-out to heroes we couldn't document.
Frontline Foods
Unlike many of the heroes of the pandemic, Frontline Foods didn't make a switch to help fight the spread of COVID-19.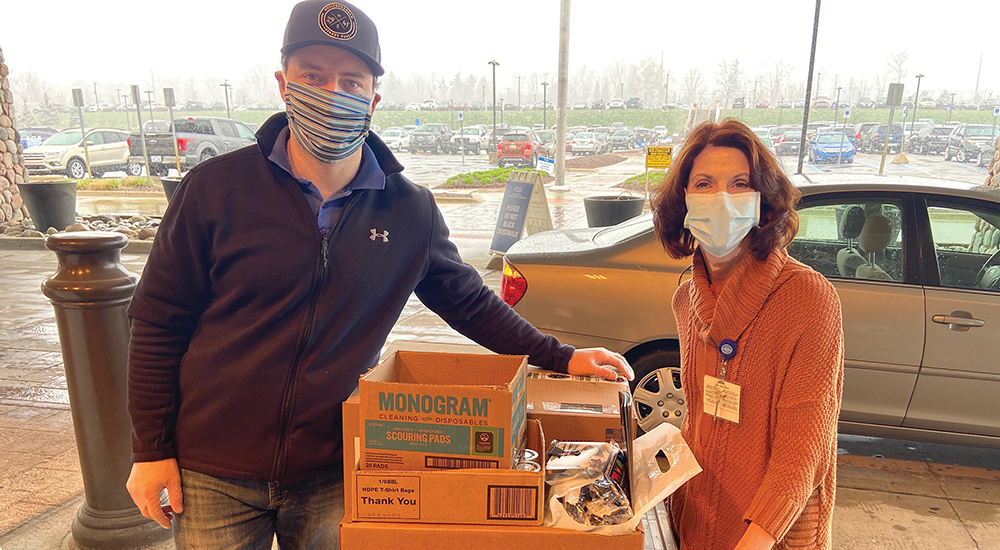 Frontline Foods, formed with 10 volunteers in March 2020, was actually created BECAUSE of the crisis.
Frontline Foods facilitates meals between local restaurants and frontline healthcare workers in southeast Michigan. It starts with fundraising donations to pay for the meals and, from there, volunteers identify potential partners in the community, understand needs, and help coordinate the logistics so the process is as seamless as possible for both the restaurants and frontline workers receiving these meals.
The southeast Michigan chapter of Frontline Foods was on track to have delivered more than 20,000 meals by the end of June.
Frontline Foods started with a small group in San Francisco, with the idea to support small local restaurants by purchasing meals and delivering them to healthcare workers facing unprecedented challenges when the COVID-19 pandemic began.
Partnering with restaurants such as Three Cats Cafe, Slows BBQ, Ivy Detroit Kitchen & Cocktails, Table no. 2, Fillmore 13 Brewery, Spectacular Spudz, and Pilar's Cafe and Tamales, the southeast Michigan chapter began serving meals on April 17, 2020 and has delivered over 12,000 meals since then.
"This pandemic has created an existential obstacle for restaurants never experienced before," volunteers told Corp! in a statement. "However, knowing there are frontline workers and others in need, it has been a great opportunity to help restaurants tap into that demand and benefit both sides in need."
Volunteers say the biggest challenge has "just been adapting to the needs of our community."
"Our mission has been fueled by this pandemic, which is something we've never really experienced, but is ever-changing," said Sam Schwaeber, a volunteer who handles the chapter's PR. "No one truly knows what the future looks like, even just in the short-term, so we've tried to remain as flexible as possible."
Griffin Claw Brewing Company
In normal times, Griffin Claw is a Birmingham, Mich.-based microbrewery, distillery, cidery, and taproom, distributing beer and cider throughout Michigan, as well as serving all its beverages in its restaurant.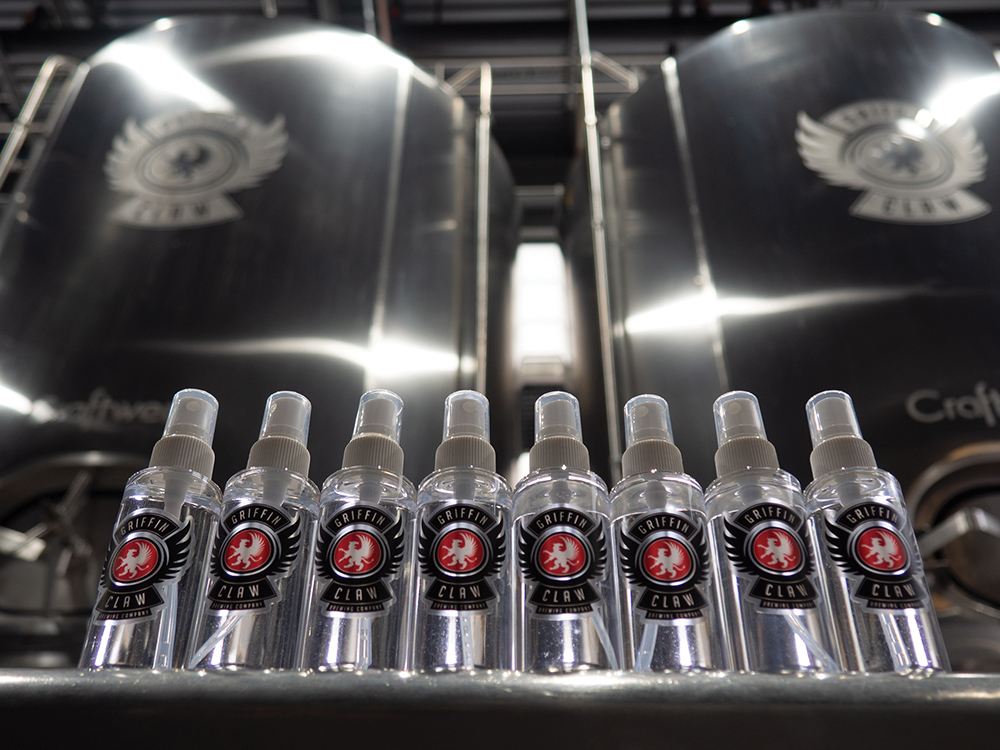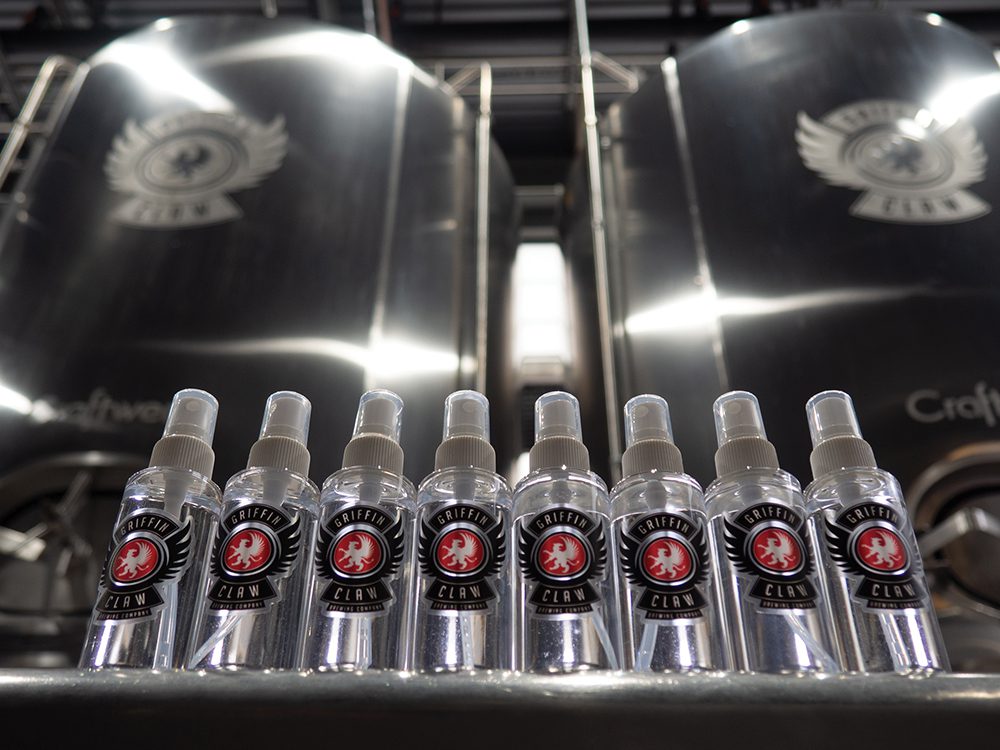 The COVID-19 crisis does not constitute "normal times," and so Griffin Claw has repurposed its distillery to full-time production of sanitizer.
The brewery shifted all distillery operations to sanitizer production following CDC and FDA guidelines. Griffin Claw was able to get as much as possible to the front lines and those in need. They also began giving a free bottle of hand sanitizer out with every carry-out order. Brewery officials point out that Griffin Claw was eventually able to produce enough to supply the state of Michigan, as well as help out some essential businesses and other businesses prepare to reopen with required sanitizer.
Griffin Claw and its 40 employees also worked with the Front Line Appreciation Group, dedicated to purchasing meals from restaurants to deliver to hospital workers.
"When we found a void we could fill and help, that was all the motivation we needed," Griffin Claw Director Scott LePage said. "There was not a hesitation and we are very proud of how our people were able to see a necessity, switch gears, adapt to the situation and completely flip our operations to help."
The Cabin
The Cabin is a pizzeria/bar that's been serving Mt. Pleasant residents since 1934. Born the year after prohibition ended, it's one of the oldest bars in the city.
When the COVID-19 pandemic hit Michigan and stay-at-home orders closed bars and restaurants to dine-in service, leaving delivery and carry-out as the only options, the 18-member staff decided they wanted to help and settled on helping the best way they knew how: with pizza.
The Cabin created Pizza 4 Hope on April 5 for front-line workers and people in need in the community, and The Cabin has donated more than $17,000 in pizza, cabin sticks and more. Pizza 4 Hope, the brainchild of owners John and Danae Hunter, general manager Angela Nguyen and kitchen manager Brandon Meiste, is a three-phase donation program:
Phase 1's objective was to collect donations via check, Venmo or gift cards from community members, with the first donation coming from its own parent company, Hunter Brands.
Phase 2 consisted of donations being brought to front-line workers in hospitals, nursing homes, police and fire departments, postal services, and more.
Phase 3 was the Pay-It-Forward Pizza Program tree, where donations came in the form of gift cards placed on a tree located in the restaurant for those in need.
The Cabin staff has taken every necessary measure to protect essential staff members and customers. Staff members wear masks and gloves from the beginning to the very end of the pizza-making process to ensure the safety of their guests. The Cabin's attention to detail goes as far as making "clean" and "used" pen piles and no-contact deliveries available for guests.
The biggest challenge The Cabin faced was a good one: finding enough places to donate to.
"Our community members were so generous in their donations that we nearly ran out of places to donate," Nguyen said. "Luckily for us, our community is always actively looking for ways to give back and who to give back to. We've had the pleasure of working with soup kitchens, the Strickler Nonprofit Center, women's shelters and more to ensure we are reaching every corner of our wonderful community.
"The Cabin is one of the few fortunate businesses in Mount Pleasant that stayed open during the pandemic," she added. "The motivation to be an active part of the solution has always been there and the opportunity to do so is something we will always be grateful for."
Beer City Bread Company
Beer City Bread Company was founded in Grand Rapids in 2017, an artisan bakery and a new restaurant born of a long lineage of bakers.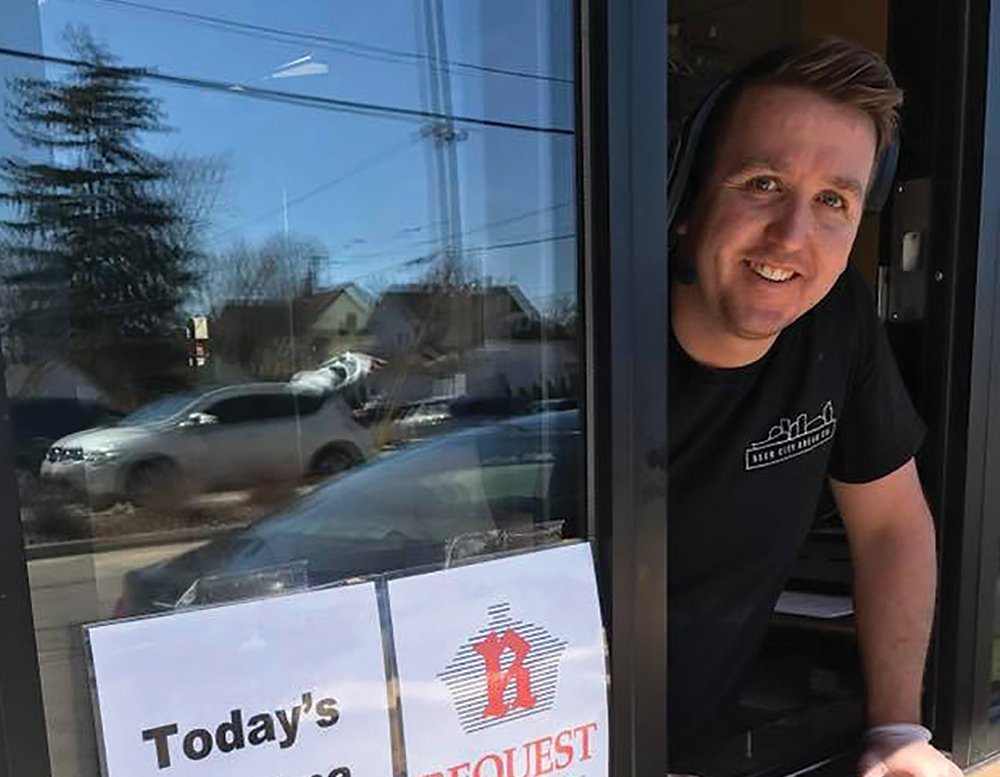 As the coronavirus continued to spread, the owners — the Fahlen family — began to talk about ways Beer City Bread and its 50 employees could help the neighbors "who have always supported us so well" in a time of need.
The result: Beer City Bread's #Sharetheloaf movement.
On March 30, owners opened the drive-through at Beer City Bread's Leonard Street location for the first time and began to pass out free meals, along with creating a menu with high-quality food where everything is priced between $2 and $7. Since then, the company has opened a drive-thru at its 54th Street location and begun to do free meals there on Tuesdays and Fridays from 2-4 p.m., as well.
Today, Beer City Bread has four drive-thru/in locations open, offering the same special priced menu and free pizza at two locations.
The biggest challenge for Beer City Bread is the same as it has been for other businesses: adjusting to this new reality, while keeping their family-run business safe, healthy and open.
"We're so grateful our company was deemed essential and we wanted to be able to give back to the community," the Fahlen family said. "That's why we created the share the loaf movement, to help people no matter their circumstances."
Gleaners Community Food Bank
Gleaners Community Food Bank, one of the first of its kind in the U.S. when it was founded in 1977, has as its normal mission providing households with access to sufficient, nutritious food and related resources. Gleaners now has five distribution centers serving communities in Wayne, Oakland, Macomb, Livingston and Monroe counties.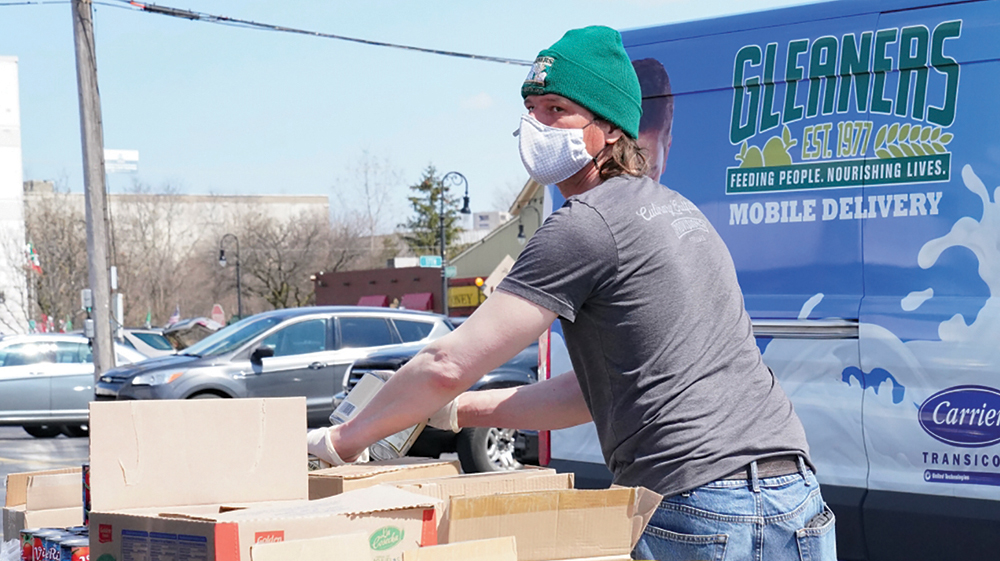 In response to the COVID-19 pandemic, Gleaners has been expanding that mission, extending services to reach children, families and seniors affected by the state of emergency.
Among its efforts, Gleaners:
Used its ongoing School Food Mobiles to help reach the 300,000 children in Michigan who are missing free and reduced-price school meals.
Working together with community organizations and local city governments, Gleaners launched 70 drive-up distribution sites in high-need areas throughout our five-county service area. These sites provide nutritious groceries to families and individuals affected by the crisis.
Gleaners is also reaching at-risk populations, including seniors, home-bound health care patients, veterans, and others, by delivering emergency food boxes. Gleaners aims to continue this expanded work through September 2020.
As part of its effort to help during COVID-19, Gleaners is operates 5 to 9 drive-up food distribution sites each day, Monday-Friday, with alternating Saturday events. The sites serve an average of 300 households each and provide families with 36 pounds of nutritious groceries, including fresh produce, milk, lean protein and shelf-stable items.
As of May 29, these efforts have served more than 8,700 households per week.
Gleaners also partners with a wide variety of community organizations to reach vulnerable populations, providing emergency food boxes of 22-26 pounds of well-balanced shelf-stable food to community organizations that serve seniors, home-bound healthcare patients, veterans, formerly houseless, and many others. As of May 29, these efforts have served more than 38,000 at-risk individuals.
With disruptions to the food supply chain, as well as food donations, the challenge for Gleaners has been making sure the influx of food remains consistent, in order to feed struggling families and individuals. Before the COVID-19 pandemic, one in five people in Michigan struggled with hunger. Today, Gleaners officials believe many more people are facing food insecurity.
"We believe hunger can be solved. We also believe everyone benefits from a hunger-free community," said Gerry Brisson, president and CEO of Gleaners. "Food banks are dedicated to serving the community through any type of situation — from economic downturn to a global pandemic. When we come together to solve hunger, we improve the health and well-being of our entire community."
Amicci's Pizza
Amicci's Pizza, located on W. Vernor in Detroit, has faced an interesting challenge as its 47-person staff has tried to navigate the COVID-19 crisis.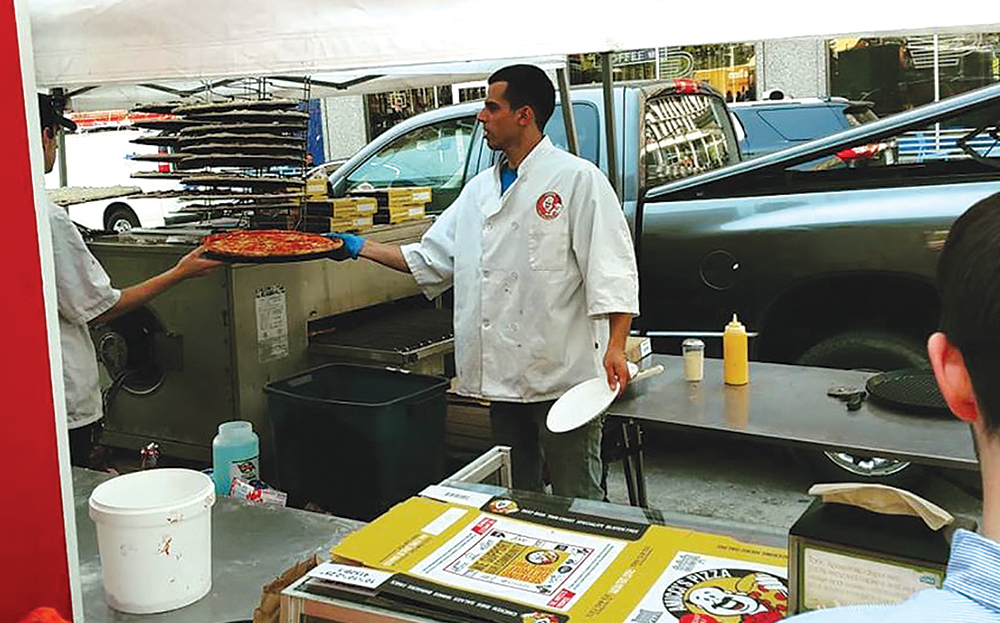 Amicci's, opened in 1981 and serving Detroit, Hamtramck, Highland Park and other areas, thrives on the delivery and carry-out orders of more than 100 menu items, including pizza, salads, sub sandwiches, Calzones, Italian dinners, burgers and house-made desserts.
But once the COVID-19 crisis began, Amicci's noticed many of its customers were worried about ordering food.
"Our biggest challenge has been educating our community on how far we go to help prevent COVID," said owner Jason Ghannam. "Although we do our best to educate everyone, many are simply too scared to order food."
Those efforts have included supplying staff with personal protective equipment, performing constant cleanings of the facility and educating neighborhoods on how they can prevent COVID-19.
Among its COVID-19 efforts, Amicci's has donated more than 1,000 pizzas to local hospitals and is "looking forward to more opportunities to help those who put their lives on the line," Ghannam said.
"We look forward to the day that we are a stronger, closer, more open and welcoming community," he said. "We look forward to everyone looking back at their time during COVID and being able to proudly say they acted in the best interest of the community and humanity."
Atwater Brewery and Spirits
For more than 20 years, Atwater Brewery and Spirits has been a manufacturer of craft beer and spirits, along with operating three biergarten tap house locations in Michigan that serve food, as well.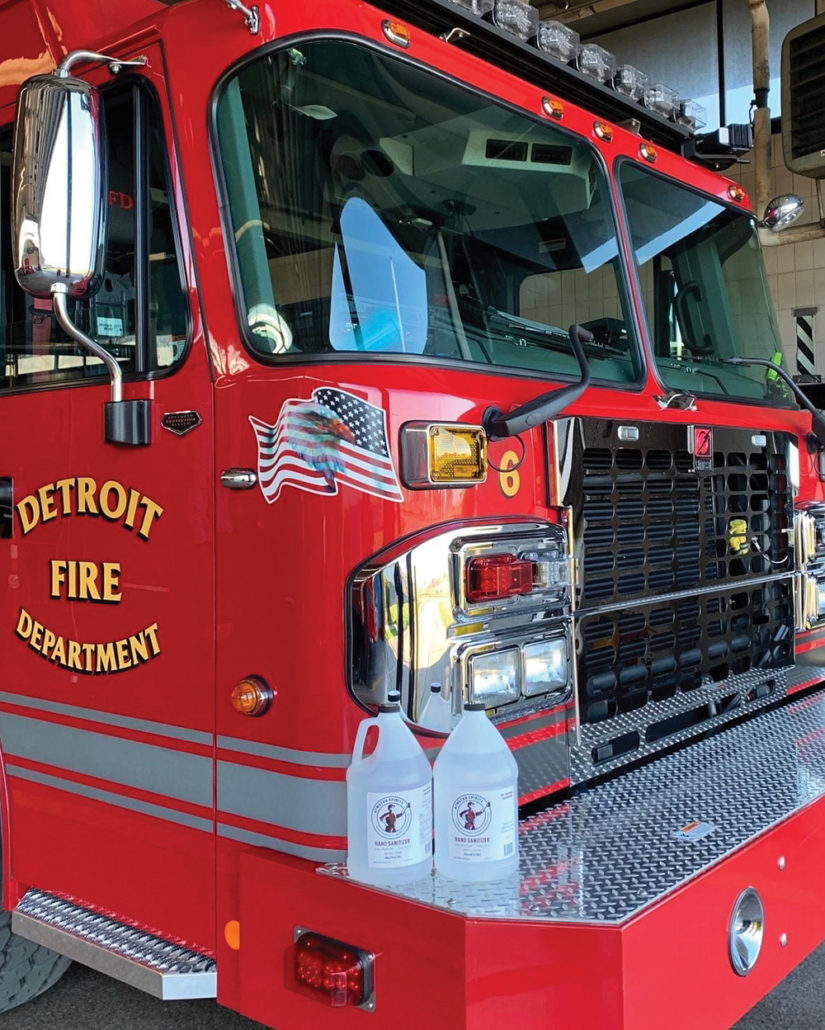 But the brewery, with locations in Detroit, Grosse Pointe Park and Grand Rapids, had to make adjustments, just like so many other Michigan businesses, once the first COVID-19 cases were detected in the state in March.
Atwater shifted its production in the first week of the COVID crisis to making hand sanitizer for hospitals, first responders, essential companies and then — with Detroit becoming a hot spot for the virus — the general public.
But it came with a cost. Atwater had to furlough 80% of its employees, something owner Mark Rieth called "the most difficult" challenge by far. That move, however, allowed Atwater to keep some of them on board and "we can't wait to bring more back," Rieth said.
In the meantime, Atwater donated much of its product to hospitals and first responders that needed it the most. The brewery has continued to assist nurses throughout, with not only the sanitizer, but special offers for its products. Fire trucks, police cars and healthcare professionals in scrubs are a frequent sight for Atwater.
"This is all of our responsibility to help in the time of crisis," Rieth said. "We define ourselves in difficult times, especially here in Detroit. We are tough-minded and stick together. We are all about the community."
Food Gatherers
With supply chains being interrupted and a brief slow-down of the food supply during the COVID-19 crisis, efforts from groups like Food Gatherers have been important while the coronavirus has been spreading.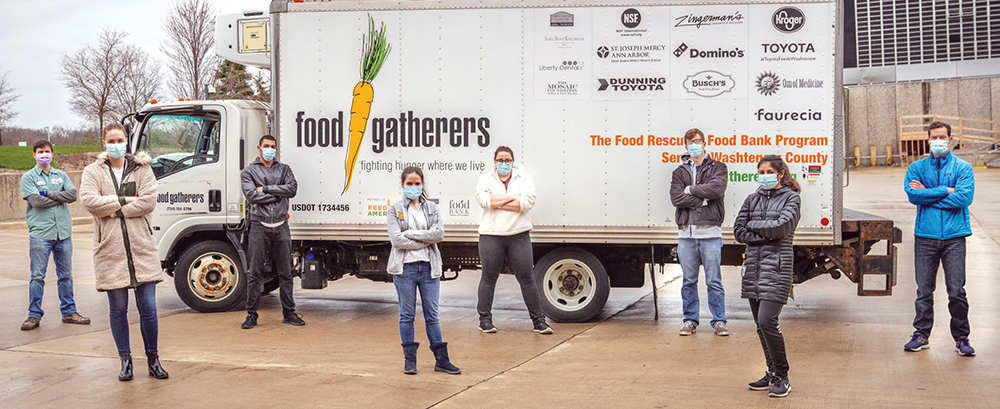 Food Gatherers is the food bank and food rescue program serving Michigan's Washtenaw County. The Ann Arbor group, established in 1988, exists to alleviate hunger and eliminate its causes in the community. Every year, Food Gatherers partners with 170 local programs and agencies to distribute groceries and meals to anyone in need.
Last year, the group distributed 6.6 million pounds of food, the equivalent of 5.5 million meals, to neighbors in need.
Once COVID-19 hit, Food Gatherers quickly adapted its service model to respond to the increased need for food assistance, while following the public health guidelines that were put in place because of the pandemic. In April, Food Gatherers distributed a record-breaking amount of food in the community, the largest one-month total in 31 years and an increase of 30% from an average month.
Since March 2020, Food Gatherers' partner programs have reported a 30%-300% increase in demand for food assistance.
"We are feeding more people than ever before, including individuals, families, children, seniors, and veterans," president and CEO Eileen Spring said. "We are also working closely with local school districts to address the needs of students who no longer have access to school meals, and partnering with local agencies who are delivering groceries to home-bound and high-risk residents."
Spring said Food Gatherers' work has "never been so critical." The pandemic exacerbated food insecurity among those already food insecure and they are now seeing people in need of food assistance who have never had to ask for help before. At the same time, issues with the food supply chain and stay safe at home order caused Food Gatherers to lose half of its food and almost all of its volunteers overnight.
"Our operations adapted overnight as part of our emergency COVID-19 response, but we know that our response is going to be a marathon, not a sprint," Spring said. "The increased food insecurity in our community will remain long after the economy re-opens. Food Gatherers is a critical part of the safety net in our community and we will continue to work to meet the need."
Journeyman Distillery
When the COVID-19 crisis hit Michigan in March, Journeyman Distillery in Three Oaks, Mich., felt the same sting that stung so many other businesses.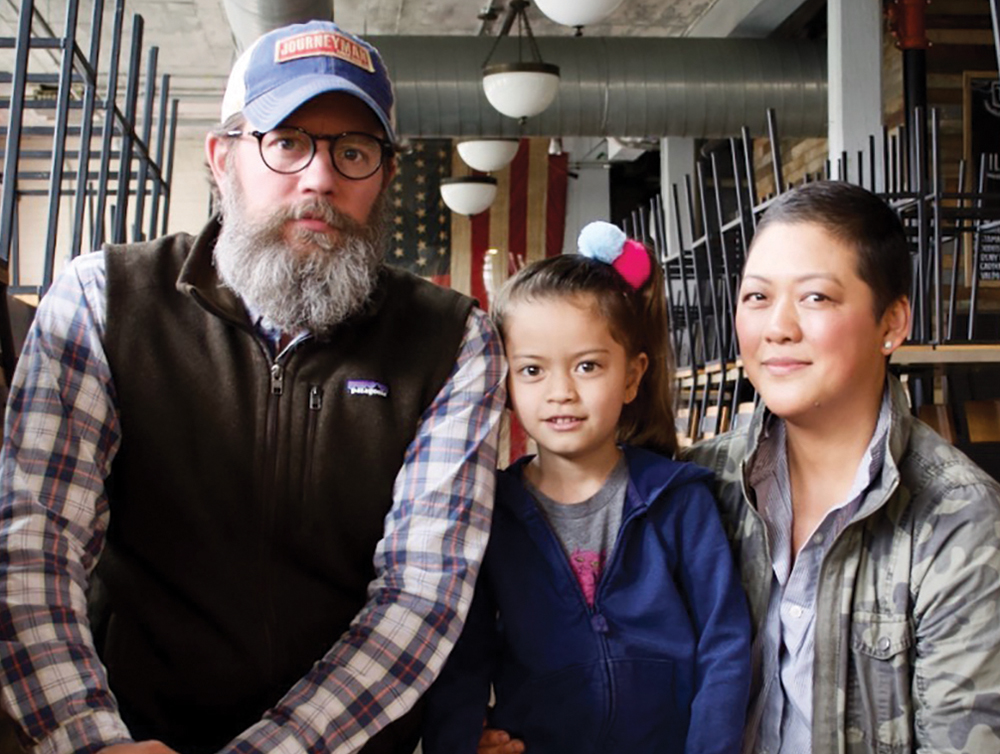 Journeyman, a family owned and operated certified organic and kosher craft spirits maker, with a focus on whiskey, had to lay off about 100 workers from its pre-coronavirus in-season staff of about 140 when restaurants were forced to close by Gov. Gretchen Whitmer's stay-at-home order.
While waiting for Whitmer to ease the restrictions (which she did in early June) Journeyman, home to a 160-seat restaurant, a 30,000-square-foot putting green and multiple event venues, shifted its distillery production to make hand sanitizer.
During the crisis, Journeyman:
Created and distributed thousands of bottles of free hand sanitizer.
Did multiple employee fund-raisers for laid off staff.
Made employee meal kits for staff.
Did a fund-raiser for local elementary school kids, to provide them with art supplies.
Hand-delivered many bottles of hand sanitizer to local elderly who could not make it out.
The biggest challenge — aside from its 2010 first-year opening — has come from Whitmer's orders, said owner Bill Welter. The order led to significant layoffs and significant reduction in revenue. Compounding the problem, Indiana opened its businesses just two miles from Journeyman, putting a further strain on limited operations.
"Hand sanitizer was an opportunity to 'do good' by filling a need for hospitals, first responders, and the general public," Welter said. "It was a blast while it lasted and put a lot of smiles on our staff's faces and the customers that received the product. Secondly it was an opportunity to get some people back to work and also have some revenue coming through the door to assist with paying fixed costs."
Kids' Food Basket
In the days pre-COVID-19, Kids' Food Basket in Grand Rapids, founded in 2002 to provide a nutritious, ready-to-eat meal to the 1-in-5 West Michigan children affected by food insecurity, would serve some 8,800 children at 52 schools in four West Michigan counties.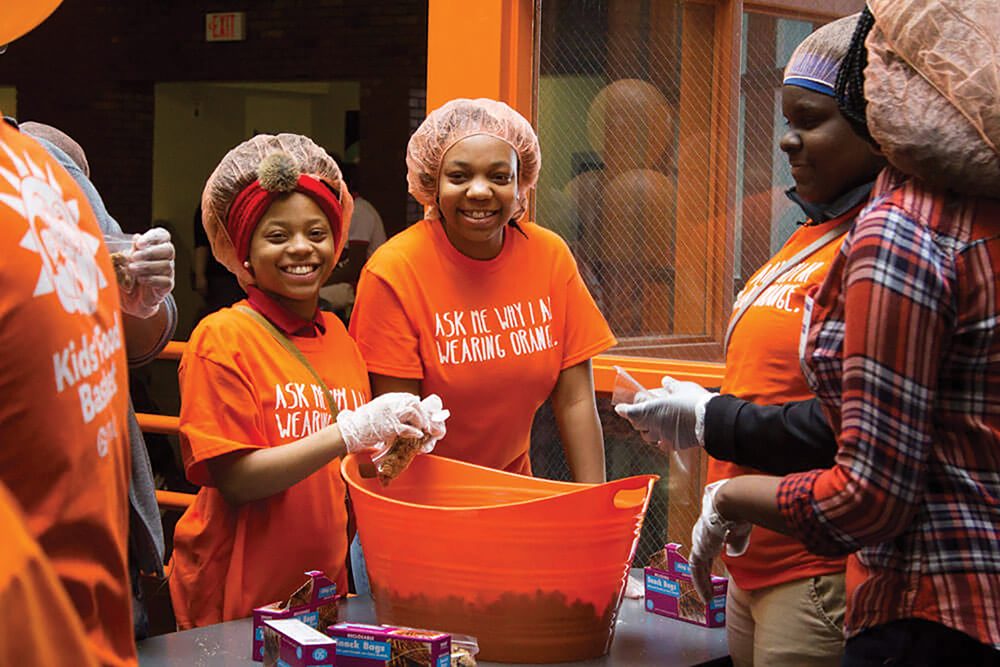 That's impressive growth from humble beginnings, which started in a shared facility in Kent County, then added three locations, now operating in Kent, Ottawa, Allegan and Muskegon counties.
The numbers have grown higher since the beginning of the COVID-19 crisis in March. During this time, the team is working with over 70 distribution sites in Kent, Muskegon, Ottawa and Allegan counties to provide over 240,000 emergency meals to families in need.
The COVID-19 crisis has escalated need for access to consistent, healthy meals," said Bridget Clark Whitney, president and founding CEO. "It has shone a spotlight on serious inequalities within our communities. More people are hurting — and people who were already dealing with low-income, discrimination and barriers are hurting even more. We are seeing more families in need."
From day one of the school closures, Kids' Food Basket has been on the front line. The team is working both on- and off-site, and has implemented safety and emergency protocols for staff, volunteers and community liaisons. Kids' Food Basket staffers are making shifts and pivoting, following guidelines provided by public health officials.
"This is who we are, this is what we do," Whitney said. "This crisis is unique and unsettling, but we are filled with hope, gratitude and drive. Poverty is complex, and the virus makes it more so. But feeding a child is not. Having healthy food is a right, not a privilege, for every child. We have believed this all along and, in this time of pandemic, we're feeling it deeply. When things seem the worst, we have the opportunity to be our best."
Long Road Distillers
Before the COVID-19 crisis, Long Road Distillers, a Grand Rapids-based craft distillery, was producing internationally acclaimed spirits from Michigan-grown grain and fruit. The distillery, located on Grand Rapids' northwest side, featured a cocktail bar, restaurant and special events space (they also have a cocktail bar and restaurant in Grand Haven and a tasting room in Boyne City).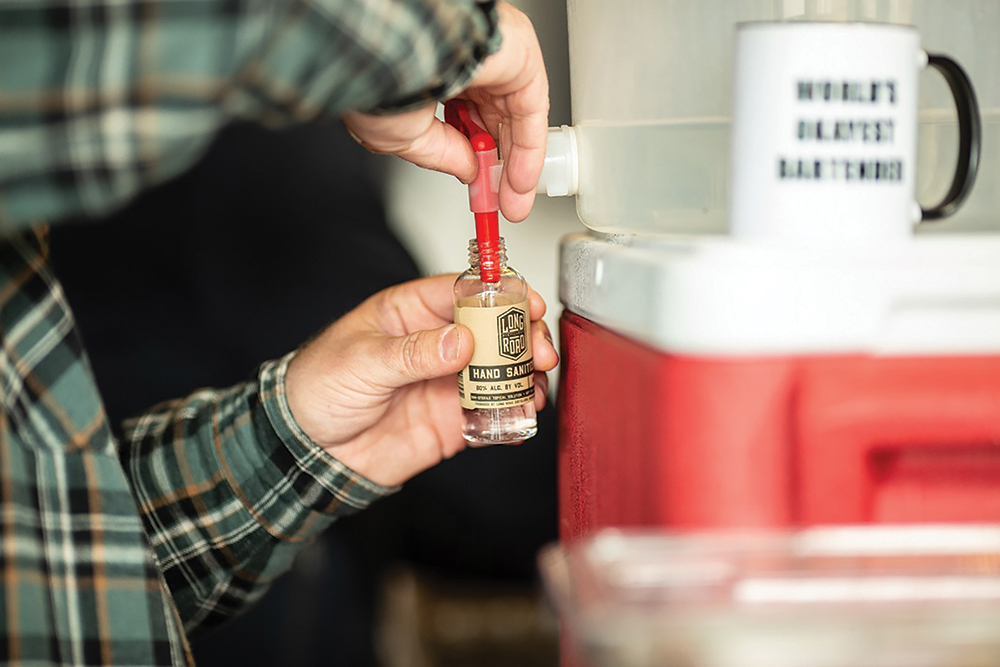 That all changed shortly after Gov. Gretchen Whitmer ordered the closure of bars and restaurants in the state. That's when Long Road shifted its entire production operation to begin producing hand sanitizer for frontline workers and essential businesses and organizations.
And, since they weren't allowed to serve people in-house, Long Road shifted to offering take-out cocktail kits, hand sanitizer and food to-go from its locations.
Long Road partnered with over 600 essential businesses and organizations to provide them with much-needed hand sanitizer. They collaborated with The Mitten Brewing Company, Founders Brewing Company, Short's Brewing Company, Perrin Brewing Company, and St Julien's Winery to distill unused beer and wine into ethyl alcohol, the base ingredient in hand sanitizer.
The biggest challenge, of course, was the elimination of normal revenue streams shut off by the stay-at-home order and the laying off of nearly the entire team of employees.
"We are fortunate to have the opportunity to help the community during this time," co-owner Kyle VanStrien said. "In doing so, we were also able to bring back several of our employees to help in the production of sanitizer."
Grand Traverse Distillery
Grand Traverse Distillery is a leader in its industry, established in 2005 and among the first grain-to-bottle distilleries in the country. The goal was to bring spirit production back to its roots, distilling small batches using local grains and a combination of technologies both new and old.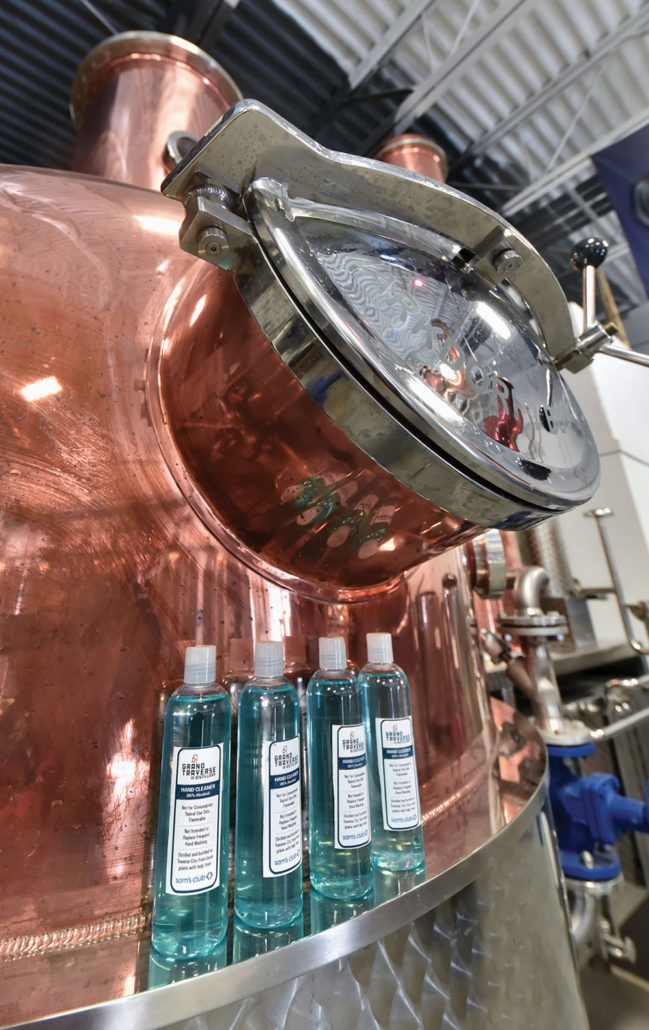 With that tradition of leading, then, it shouldn't be a surprise that, when they saw the coronavirus coming in March, Grand Traverse staffers took the lead in helping to fight it.
Grand Traverse took notice of what was happening on the west coast and saw some of these issues coming.
Among the first in Michigan to produce sanitizer, they quickly switched tact and focused 100% of their output into sanitizer. As a fully functional distillery, Grand Traverse felt they were perfectly suited to this and took to it as swiftly as possible. Grand Traverse continues to produce sanitizer and foresee its need for many months to come.
The distillery has donated several hundred gallons to first responders and those who desperately needed sanitizer. Along with that, they have worked hand-in-hand with other distillers in the state to create affordable supply chains for essential sanitizer-making supplies and ingredients. They've also donated a percent of spirit sales to a relief fund for service-industry employees impacted by the stay-at-home orders in Michigan.
Finding sources for the materials needed for proper sanitizer, as well as affordable packaging for the sanitizer, has been a challenge.
"This is getting better as time goes on, but it was really tough initially, as supplies dried up almost overnight and we really had to be creative in sourcing these materials," said owner Kent Rabish. "We saw an opportunity to help our friends and neighbors and jumped head first. We are all in this together; everyone can help in their own way. We had the ability and knew it was the right choice."
Vinotecca Restaurant And Event Space
When the COVID-19 crisis hit Michigan, the folks at Vinotecca Restaurant in Birmingham started looking for ways they could help.
The course of action became more like a "seven course" of action, if you'll pardon the pun.
Vinotecca and its sister restaurant, Vinology in Ann Arbor, began providing hospital meals to frontline workers, then shifted to special-occasion take-out meals for holidays like Mother's Day. The restaurant then began offering a carry-out and delivery menu they said focused on finishing food at home and easily frozen meals.
Once the restaurant was forced to close by Michigan's stay-at-home order March 16, owners donated all of the restaurants' perishable food to families in need. Then they partnered with Front Line Appreciation Group (FLAG) to provide hospital meals as often as possible.
"We focused our efforts on building awareness and fundraising for FLAG throughout the crisis," owner Kristin Jonna said. "We are also planning to donate a portion of our revenue from our first weekend open to them, as well."
Jonna said Vinotecca, which includes event space, may not get its party business back any time soon. Since the large restaurants bank on banquet business, Jonna said, they're still "trying to figure out how we can replace the revenue losses" from that side of the business.
But Jonna figures the restaurants will bounce back.
"Restaurant workers are used to being in the trenches," she said. "We rally around each other during busy services like no other industry, so it didn't take much to mobilize our team when we were needed. Most of our staff volunteered to help without pay and diligently embraced new PPE and sanitation procedures. In general, the restaurant industry is filled with employees dedicated to serving others. Because of this, I find they are naturally empathetic."
The Big Salad
The Big Salad has always supported the communities they serve, including hosting fundraisers for schools, arts organizations and other nonprofits, at its six Michigan locations.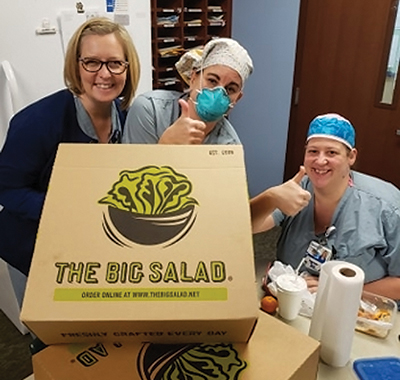 So it shouldn't come as a surprise that The Big Salad stepped up during the COVID-19 pandemic.
The Big Salad, a salad specialist that also has a wide variety of soup and sandwich options, created a program inspired by founder John Bornoty's niece Emily, a nurse at Beaumont Hospital, to provide food to essential care workers. Emily's Program has delivered more than 100 meals to first responders and health care workers, and also raised money for them through the sale of the store's Big Meal Deal.
"The Big Salad has a long history of supporting community organizations," Bornoty said.
The Big Salad chefs are equipped to prepare more than 17 million possible iceberg, romaine or spinach salad combinations for customers right at the point of purchase, with a choice of 40 toppings and 30 dressings. The Big Salad also offers a variety of fresh sandwich and soup options, as well as putting any salad into a wrap.
Currently, The Big Salad, founded in 2008 and with 100 employees company-wide, can be found in Ann Arbor, Grosse Pointe Woods, Woodhaven, Commerce Township, Troy, Charlotte – all in Michigan, along with Pittsburgh, Pa., and Spring, Texas.
The stay-at-home orders issued by Michigan Gov. Gretchen Whitmer shut down dine-in services in restaurants, negatively affecting The Big Salad's Michigan location franchisees and their employees.
"We have worked diligently with our owner-operators to take actions that will ensure their survival as a small business and make the needed pivots to offer curbside, carryout and delivery, as well as reopen while meeting state guidelines," Bornoty said.
Among the community outreach programs The Big Salad has created for schools, arts organizations and other nonprofits is a program for college and high school students called "Seal the Deal." This "reality-based learning" project allows students to create, design, test, and market a new product for the chain.
The program has been implemented with students from Madonna University, Novi High School, and Grosse Pointe North High School. The project lasts one academic quarter. Each group gets a list of all the menu items and kitchen equipment and are challenged to develop a product.
Bornoty personally meets the student groups. Each group creates, designs and markets their product and gets one day in a store to sell their new product in the restaurant.
"After all the products are introduced in the restaurant, the group that sells the most amount of product will be selected as the winner," Bornoty said.