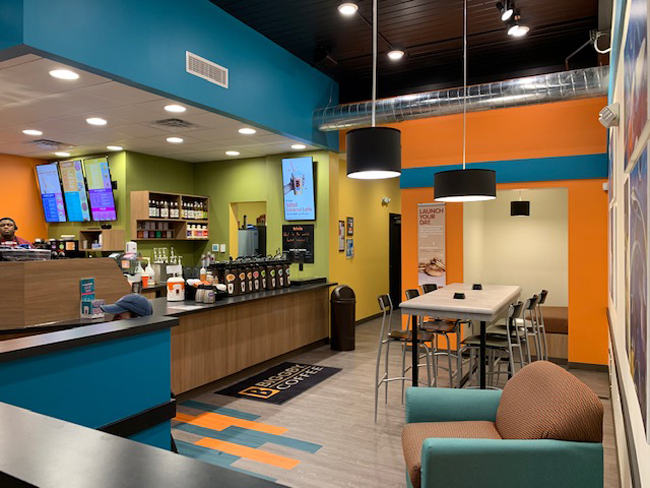 Coffee shops became popular destinations for telecommuters, freelancers and entrepreneurs for good reason – these quiet havens had caffeine, ample space to work and good Internet access. But the one thing they were missing for business users and coffee lovers alike was a feeling of happiness or excitement.
That is where the new Biggby coffee shop design comes in. The East Lansing-based coffee company is calling its redesign Jakarta and describes it as "bright, airy and effervescent … meant to meet customers where they're at in their day."
The result is a warm, safe and unintimidating environment – the kind of place where writers, corporate types, designers and anyone else can feel comfortable enough to linger a while to get their work done in an enjoyable space.
According to Biggby, the new Jakarta design came about as a way to bring other parts of the world to your local Biggby coffee shop. Officials said the Jakarta design was largely inspired by the coffee shops co-CEOs Bob Fish and Mike McFall saw when they visited Jakarta, Indonesia.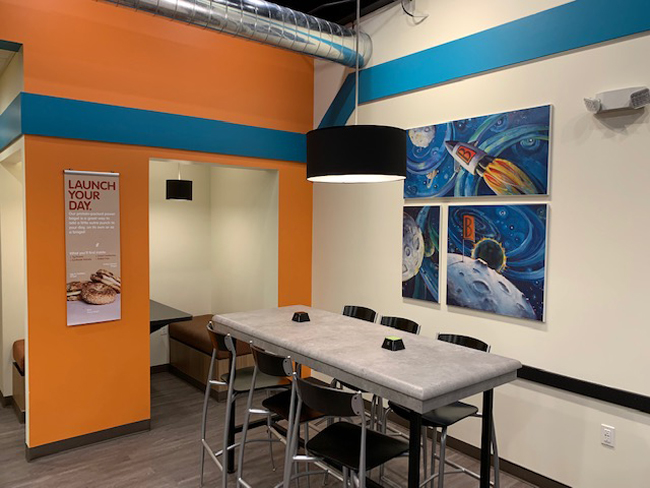 "As they walked the streets of Jakarta, Fish and McFall frequented a handful of coffee shops, and while they were all unique one thing rang true through all of them—they were energetic, bright, happy, and welcoming. As they visited these coffee shops, Fish and McFall found a vision for the new look and feel of Biggby coffee shops throughout the nation," the company said in a statement.
Biggby's Fish and McFall said they had a fresh direction so they wanted someone innovative and inventive to help them with a design concept. They contacted a Japanese firm that knew about what they had recognized in the Jakarta locations. Then, they got together with Biggby's Store Development Manager, Jeannie Cleary, in East Lansing to talk further.
The end goal of creating an inclusive environment where all demographics feel at home made the design approachable, Fish said.
"Our intent has always been to be welcoming, approachable, universal, and for everybody. It's not exclusive, it's inclusive. We want all demographics to know they belong," Fish said in a statement.
The Biggby philosophy centers around several concepts, including "Everyone deserves to feel special" and "Coffee brings people together." So Fish and McFall said they wanted their customers to feel that way the moment they came into a Biggby location, no matter where it is.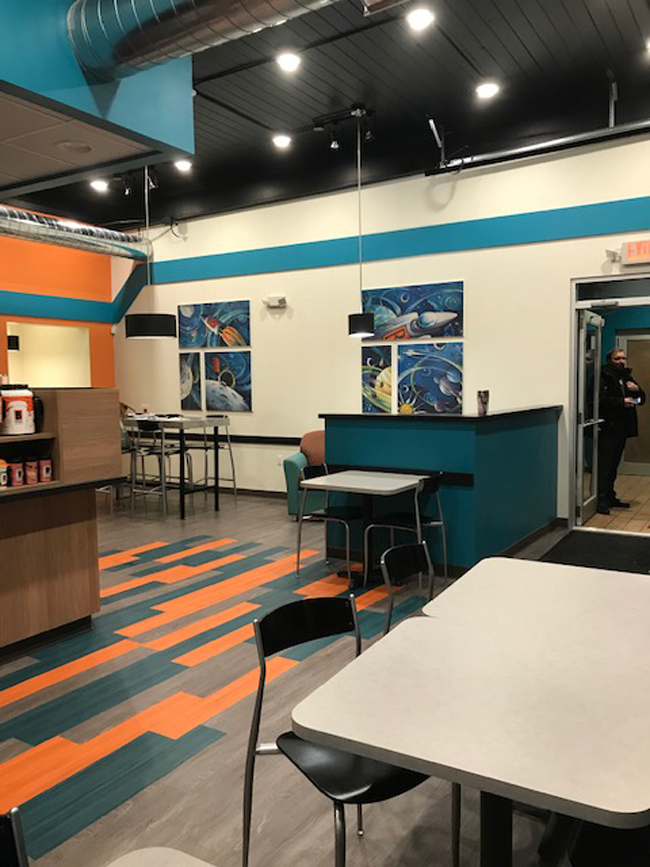 "We always wanted it to be a place where when you walk in it's like you get injected with energy and positivity," McFall said in a statement. "[Like you] walk in and it gives you a little boost!"
Customers can see the new Jakarta design at the Michigan City, Indiana, store, and coming soon to Celina, Ohio, and East Lansing, Michigan, locations.
The new store concept features four seating areas, which are unique to the new space design. These designs are: Standard tables and chairs that sit 2-4 people, soft seating, a community table that fits 6-10 people, and pods that fit 1-2 people. Each space is designed with a purpose for different levels of comfort and activity.
The community table, which acts as the main focal point in the coffee shop, is meant more for people working out of the office; this space is supposed to feel like a space where they can get their work done in an alternative environment to the office or home.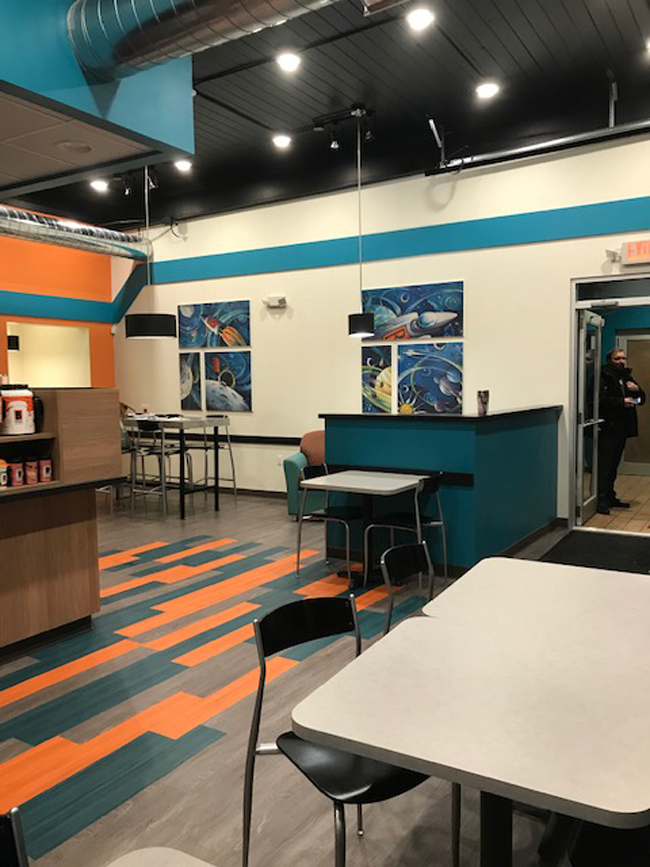 Between the large sleek table, overhead lighting and electronic outlets, Fish and McFall describe the space as the perfect equation for getting work done away from the office. The soft seating, on the other hand, is meant for those that want to sit and stay, sipping their coffee and perhaps staying for a few hours.
These comfortable chairs give people a home-away-from-home feeling and invite customers to sit and enjoy their stay, the company said. The standard seating acts as a good spot for a group of people to meet and chat, study, or work together.
The most popular seating area, however, is the pods. These semi-private areas give 1-2 people the space to have privacy, but still feel somewhat connected to something other than themselves. With a warm light above them and a spot to plug in their electronic device, this is the space for someone to work, make a phone call, or have some private time with the opportunity to engage with those around them as they choose.
"We made a real effort in this look to do some things that are progressive and meet customers where they are at in their day. The four different areas of the store provide different levels of comfort for where they're at in their day," McFall said in a statement.
The design features warm teal and orange colors, contrasted with sleek black chairs and lighting, and soft wood tones. A modern take on a checkerboard floor leads customers down a path from the entrance right to the register. On the counter customers will also see a lava lamp, gifted to owner/operators directly from Fish and McFall.
Biggby Coffee was started with a single store on March 15, 1995. One year later, and on the cusp of opening a second location, Bob Fish and Michael McFall, on a handshake and $4,000, decided to franchise the concept. Today, Biggby has more than 230 cafes across nine states and counting including Michigan, Ohio, Indiana, Illinois, South Carolina, Wisconsin, Kentucky, Florida and Texas. In 2018, Biggby launched an Area Representative Program and currently has eight Area Representatives in six states.