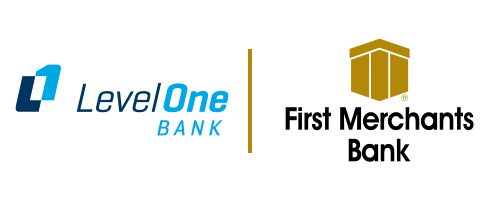 MUNCIE, Ind. and FARMINGTON HILLS, MI — First Merchants Corporation and Level One Bancorp, Inc. announced they have executed a definitive merger agreement by which Level One Bancorp, Inc. will merge with and into First Merchants Corporation in a stock and cash transaction currently valued at approximately $323.5 million.
Upon completion of the merger, Level One Bank will merge with and into First Merchants Bank.
Headquartered in Farmington Hills, Michigan, Level One operates 16 banking center locations in the southeastern Michigan area. Since its founding in 2007, Level One has grown to be one of the largest community banks in Michigan with consistent double-digit loan and deposit growth rates. Level One has total assets of $2.5 billion, total loans of $1.7 billion, and total deposits of $2.1 billion earning a 1.50% return on average assets and 16.3% return on tangible common equity for the quarter ended September 30, 2021.
The transaction is expected to be completed in the first half of 2022, subject to the affirmative vote of a majority of LEVL common shareholders, regulatory approvals, and other customary conditions. The combined company, conducting its banking business as First Merchants Bank, expects to complete its system integration during the third quarter of 2022.
First Merchants and LEVL will have combined assets of approximately $17.6 billion and First Merchants will remain the second largest financial holding company headquartered in Indiana. The combined company will have 122 banking offices across Indiana, Michigan, Ohio and Illinois.
Mark Hardwick, Chief Executive Officer of First Merchants, said: "Like First Merchants, Level One Bank has a strong customer-focused history and a deep-rooted commitment to community banking," said Mark Hardwick, CEO of First Merchants. "We are excited they have chosen to become the newest member of the First Merchants family."
The merger agreement provides that the common shareholders of Level One will have the right to receive a 0.7167 share of First Merchants common stock, in a tax-free exchange, and $10.17 in cash for each share of LEVL common stock owned, currently an approximate 75% stock / 25% cash mix.
Based on the closing price of First Merchants common stock on November 3, 2021 of $43.50 per share, the implied merger consideration for each share of LEVL common stock is $41.35 per share. In addition, each share of Level One's 7.50% Non-Cumulative Perpetual Preferred Stock, Series B, outstanding immediately prior to the effective time of the merger will be converted into the right to receive one share of a newly created series of preferred stock of First Merchants having voting powers, preferences and special rights that are substantially identical to the Level One Series B preferred stock. First Merchants expects this combination to be mutually beneficial to First Merchants and LEVL shareholders and customers. First Merchants anticipates earnings per share accretion of approximately 10.4% in 2023 (the first full year of combined operations) and a tangible book value earnback of 2.9 years.
Mike Stewart, President of First Merchants, said the deal extends First Merchants further into southeastern Michigan.
"Our operating approach is focused on enhancing the financial wellness and prosperity of the communities we serve," Stewart said. "Consistent with our brand reputation, our service model reflects a genuine relationship-oriented way of meeting the financial needs of businesses and consumers within the communities we serve."
In First Merchants Bank's newly acquired market, the executive team will include Level One Bank President, Timothy Mackay, Chief Lending Officer and Corporate Secretary, Gregory Wernette, and Risk Management Officer, Eva Scurlock. Chairman and Chief Executive Officer, Patrick Fehring, Chief Human Resources Officer, Lani Barrett, and Chief Financial Officer, David Walker will retire after completion of the merger.
"We believe our partnership with First Merchants will provide tremendous benefits to our customers, shareholders and communities as we look forward to continuing the legacy of exceptional customer service, local responsiveness and strong community engagement that has defined Level One Bank since it was founded in 2007," said Patrick Fehring, chairman and CEO of Level One.