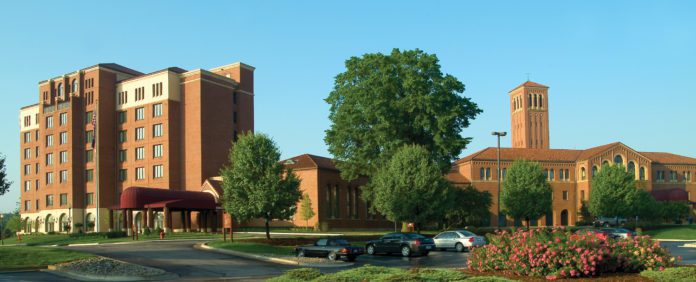 PLYMOUTH – Pulte Family Management SJ LLC, a wholly owned for-profit entity of  the William J. Pulte Trust, and the Archdiocese of Detroit announced the sale of The Inn at St. John's complex in Plymouth. The transaction was completed on July 30 and further financial details of the sale will not be disclosed.
The late William Pulte, who passed away in March 2018 at the age of 85, was an active philanthropist and founder of home building giant PulteGroup Inc. He also served with a small group of local Catholic business leaders who worked closely with Cardinal Adam Maida to finance and develop the former St. John's Seminary campus into a world class hotel, conference center, and 27-hole golf course.
"The Inn at St. John's was near and dear to my father's heart," said Mark Pulte, William Pulte's son. "He was honored to work with Cardinal Maida on the transformation of this beautiful property and to have played a role in its success. When the Archdiocese expressed interest in selling the property, my father's estate was a natural choice. They knew that it would be in good hands."
The hotel, conference rooms, and reception centers will continue to serve and support business, civic, and private events. The golf course will operate as usual with daily tee times, organized outings, and events and league play. The chapel will remain available for Catholic weddings. The family's future plans for the property include upgrades that will be announced by Pulte Family Management in the coming weeks and months.
"This purchase is yet another example of the Pulte family's longstanding commitment to southeast Michigan and the local Church in Detroit," said Archbishop of Detroit Allen Vigneron. "The decision to sell was motivated in-part by the considerable challenges of a Catholic organization operating a hotel conference center – especially during the pandemic – so we are grateful that Pulte Family Management SJLLC has stepped forward to purchase the property and operate it going forward, ensuring its continued legacy and value in the local community."
The decision to purchase was made in-part as a tribute to the late Bill Pulte, according to his son.
"My father would have loved this moment as he played a significant role in the vision for the campus from the beginning," said Mark Pulte. "He was passionate about helping others and he was a creative thinker. We are in the unique position to seamlessly integrate both his vision and values with the purchase as well as continue to make an impact with its future successes."