Statistics from the Michigan Department of Labor & Economic Opportunity show that more than half of Michigan businesses predict a return to in-person working by the third quarter of 2021.
But rumblings out of Lansing say it could be sooner than that.
Sean Egan, the state's director of COVID workplace safety, said in a webinar Tuesday on office reopening that, despite emergency orders put in place by the Michigan Occupational Health & Safety Administration that offices could begin reopening early.
While the emergency order MIOSHA issued in December (which is slated to end April 14) is likely to be extended, Egan said employers could begin shifting their policies to allow in-person work to begin earlier than that.
"The (emergency) rules do accommodate a phased-in return," Egan said Tuesday. "We do want to reiterate that, while the media has suggested the word 'ban' several times, there is not actually a ban within those rules.
"It is important employers make a determination and prohibit in-person work for those whose work can feasibly be completed remotely," he added. "Feasible takes into account things like economics and technology and how those interact."
Encouraging numbers
While COVID-19 numbers in Michigan had been starting to stabilize and even lower (although the number of cases in recent days has gone back up), the pandemic is still very real in Michigan.
Among the encouraging numbers:
The state has passed 610,580 confirmed cases.
Michigan is closing in on 16,000 fatalities.
There's a 5.3% positivity rate (it had dropped down to 3% before a recent surge.
There are 158.1 cases per million people.
As of March 14, at least 24% of Michiganders have had at least one dose of the vaccine, and 13.7% who have received both doses.
"We're continuing to see COVID go up and down … which means there's just that much more work we all need to do to remain diligent to implement the safety protocols and mitigation strategies in our lives and in our workplaces," Egan said.
Gov. Gretchen Whitmer said on a local radio show recently that she hopes businesses can start bringing back workers ahead of the April 14 deadline.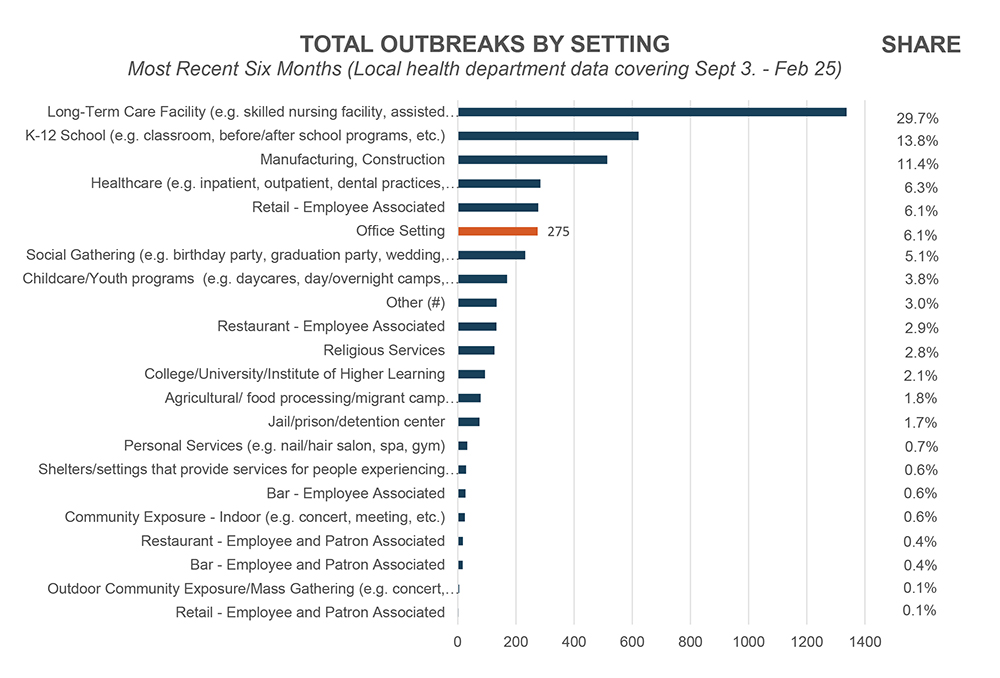 Beating the deadline
Whitmer said she's was working with business leaders, the Michigan Occupational Safety and Health Administration and the state Department of Health and Human Services on a strategy to make it possible.
"It is my hope, if our positivity numbers stay low where they are and our vaccination rates are high where they are, that we will be able to do that in the coming weeks," Whitmer told Smith.
But rising numbers could put a damper on that. Whitmer is getting help from a work group she created to provide recommendations on the question of when a safe return to the workplace could be done.
The group, which Egan said expects to complete its work in 4-6 weeks, consists of business and labor leaders, public health experts and others.
The group, Egan said, is focusing on areas "we really want to hammer home" – the physical work place and what challenges might exist there, HR policiies, public health piece issues and employee support.
"It's important to recognize employees have been struggling through this crisis, and we want to make sure we understand and hear about child care issues, school, transportation, paid leave … and make sure that's part of the discussion as we move forward," Egan said.
Office outbreaks climbing
Unfortunately for those urging Whitmer to reopen offices, the numbers aren't necessarily in their favor. According to LEO statistics, offices have the sixth-highest number of outbreaks (defined as two or more cases linked in space and time) and are responsible for 6.1% of the COVID outbreaks (275 outbreaks in the office setting alone) in Michigan over the last six months.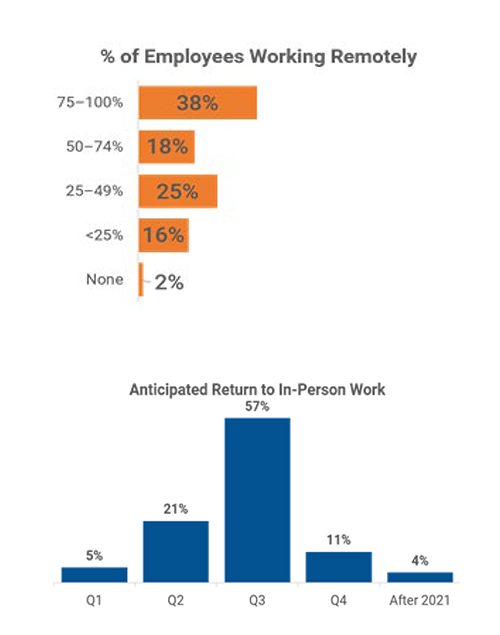 Long-term care facilities (29.7%), K-12 schools (13.8%) and manufacturing/construction (11.4%) are the top three.
Workplaces, Egan pointed out, are places of congregation. Avoiding that congregation "really helps us," and driving up vaccination rates is "really going to help us move back to a more normal life that we all want to get back to."
"Some workers have to be at work, that's where the work is … Some workers continue to remain remote," Egan said. "Employers should really focus on finding ways to encourage or engage employees in getting vaccinations to ensure we can get back to work safely.
"We certainly have a big light at the end of the tunnel, but we're still in the tunnel," he added. "We have work to do."
Moving too slow?
Still, there are those who think the state's efforts to reopen offices is moving too slowly. Reopen Michigan, a coalition with representatives from various chambers of commerce around the state, is sounding the alarm that Michigan jobs are being permanently lost due to current restrictions.
"It is time to safely reopen Michigan for business," Michigan Chamber of Commerce President and CEO Rich Studley said. "With the widespread distribution of COVID-19 vaccines and a substantial decrease in COVID caseloads, it is time for state government to be more proactive about saving jobs and allowing businesses to reopen. Given everything we have learned over the last year, it is time to let job creators and employees put that information to work and safely reopen our offices and other businesses."
Despite the COVID numbers, LEO statistics show business owners are pretty optimistic about the state of things. Consider the results of a study conducted by Business Leaders of Michigan:
88% of executives predicted stable or expanded employment
91% are expecting steady or increasing capital investment
Nearly 55% say at least half of their staff members are still working remotely
Most employers don't anticipate bringing employees back into the office until at least July.
Egan said the state is "happy to see most companies see a continued strong economy, expanding employment and increasing investments in Michigan.
"Many businesses do expect at least some portion of their workers to remain remote," Egan said. "We're going to see a shift here in the dynamics of business, and there are a lot of pressures outside of what we're talking about that are going to push that.
End of the tunnel
"There's a lot of work to do to get from here to there," he added, "but we will work through the work group and others to make good recommendations and best practices to make sure we can do that safely."
Egan said the state is encouraged that case numbers and deaths had begun to decline (until recently) and that vaccinations have gone up.
"We will reach a point where trends are going to change," he said. "There's a light at the end of the tunnel, and that light is getting bigger. But we're still in the tunnel. It's not time to give up just yet. We still have to be diligent.