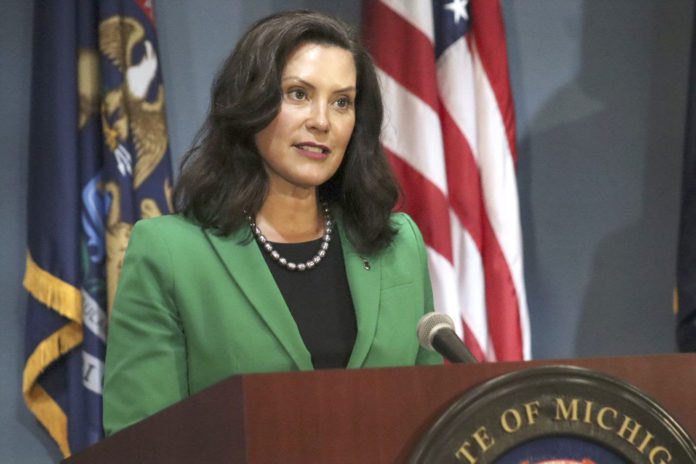 For months, Michigan Gov. Gretchen Whitmer has been saying vaccines against the COVID-19 virus are the best way out of the havoc the pandemic has wreaked.
On Thursday, Whitmer unveiled a plan to get back to normal largely based on how the vaccination program in Michigan works.
At a COVID-19 press briefing, Whitmer unveiled what she called the "MI Vacc to Normal" plan as the state continues to push toward its goal of vaccinating 70% of Michiganders ages 16 years or older. To facilitate this goal, Whitmer said, the Michigan Department of Health and Human Services will base future epidemic order actions on four vaccination-based milestones that, once achieved, will enable Michigan to take a step toward normalcy.
"The MI Vacc to Normal challenge outlines steps we can take to emerge from this pandemic as we hit our vaccination targets together," Whitmer said. "On our path to vaccinating 70% of Michiganders 16 and up, we can take steps to gradually get back to normal while keeping people safe. If you haven't already, I encourage you to rise to the challenge and be a part of the solution so we can continue our economic recovery and have the summer we all crave."
The four step plan to get the state back to normal includes the easing of restrictions at each level of vaccination:
Step 1 – Two weeks after 55% of Michiganders (just over 4.4 million) are vaccinated, restrictions requiring remote work can be lifted and in-person work can be allowed for all sectors of business. Whitmer said she believes this benchmark could be reached as early as the end of next week.
Step 2 – Two weeks after 60% (4.85 million) are vaccinated, indoor capacity at sports stadiums and other venues can be raised to 25%, at conference centers/banquet halls/funeral homes to 25%, exercise facilities and gyms to 50%. At this point, curfews on restaurants and bars can be lifted.
Step 3 — Two weeks after 65% (5.26 million) are vaccinated, all indoor capacity limits can be lifted, with only social distancing between parties required. Limits on residential social gatherings can also be relaxed.
Step 4 — Two weeks after 70% of Michiganders (5.6 million) are vaccinated, the Gatherings and Face Masks Order can be lifted.
Since April 9, when Whitmer asked for a voluntary two-week pause in activities such as indoor dining and youth sports, the state reported the number of daily cases has dropped from 649.9 cases per million to 439.3 cases per million, the percent of positive tests has declined from 18.3% to 13.2%, and the number hospitalizations has fallen from 3,780 to 3,520.
"There is light at the end of the tunnel, and it's getting brighter, but we're still in the tunnel," Whitmer said again Thursday, repeating a phrase she's used frequently.
Whitmer also said that, as early as Friday, she envisions the state issuing a revised epidemic order that "encourages Michiganders to gather safely outside" by relaxing our rules for outdoor gatherings." She said the state will also issue guidance that follows new CDC guidance on wearing face masks outdoors.
"I can't predict with certainty when we'll hit 70%, if we all do our part I know we can get there together," Whitmer said.
Recently, Michigan reached another vaccination milestone in record time — administering more than six million doses of the safe and effective COVID-19 vaccines, with the latest one million doses being administered in 11 days. Although progress has been made, it is crucial that Michiganders continue to mask up and socially distance as the state takes steps to get back to normal. It is also crucial for everyone to get their second doses of the Moderna and Pfizer vaccines, which Michiganders have been doing at a rate of 96.4%, above the national average.
"The safe and effective vaccine is the most important tool we have to reduce the spread of COVID-19" said Dr. Joneigh Khaldun, chief medical executive and chief deputy for health at MDHHS. "By getting shots in their arms as soon as possible, Michiganders can protect themselves, their families and their communities and help end this pandemic as quickly as possible."
Michigan continues to have some of the strongest public health policies in the Midwest. The state still has a mask mandate and capacity limitations on indoor dining, indoor gatherings, and entertainment venues. As the number of vaccinations increase, experts have said that states can begin loosening some public health policies as these activities become less risky for vaccinated individuals.
"Our state had made great progress in slowing the spread of COVID-19," said Elizabeth Hertel, MDHHS director. "I am proud of the progress that we have made by working together. If residents continue to get their vaccines, wear masks and avoid indoor gatherings, we will soon be able to take further steps to loosen our public health requirements and better be able to enjoy the activities that we all love."
If new cases remain greater than 250 daily/million as a 7-day average in a Michigan Economic Recovery Committee (MERC) region at the time of implementing steps 2 through 3, MDHHS may delay implementation in that MERC region.
To date, Michigan has administered 6,657,997 vaccines. Currently, 48.8% of Michiganders ages 16 and older have received at least one dose, with 35.9% percent of Michiganders ages 16 and older being fully vaccinated, moving the state closer to its goal of equitably vaccinating at least 70% of Michiganders ages 16 and older as soon as possible.