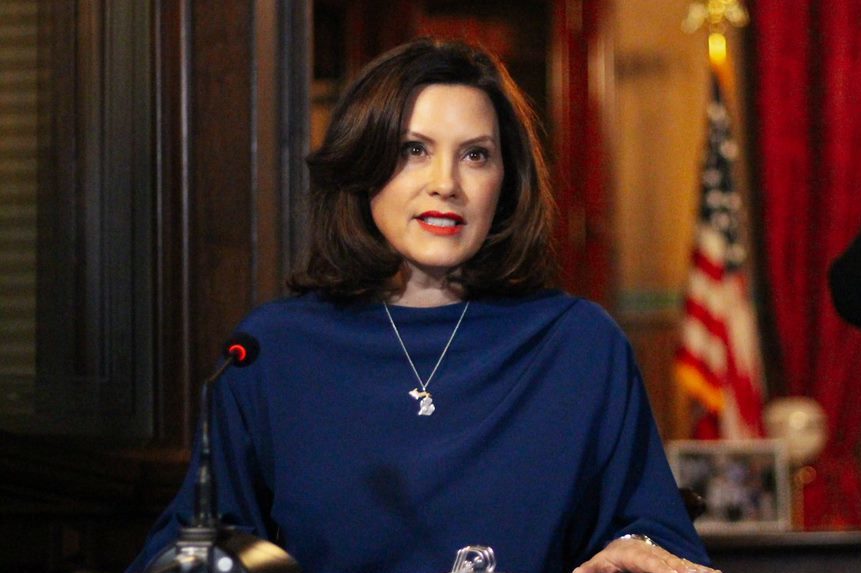 Residents and business owners upset with Gov. Gretchen Whitmer's latest stay-at-home order who hoped to get her to relax some of the policies apparently aren't going to have any luck.
With hundreds of protesters rallying outside the Capitol Building in Lansing, Whitmer used her latest coronavirus briefing from the Romney building across the street to point out that the measures, which include closing all but the most essential businesses and severely limiting the amount of contact residents can have with each other, are working.
Whitmer and Dr. Joneigh Khaldun pointed out the state is just now reaching what they called a "plateau" in the number of COVID-19 cases (there are now 28,059) and deaths (1,921) in Michigan and, although it's far too early to be overly optimistic, those numbers are indications, they said, that the strategy is working.
"I think about the demonstrators here today, and I understand the frustrations people are feeling," Whitmer said of the protest, organized by the Michigan Conservative Coalition. "I'm frustrated, too. None of us wants to be here, in this moment, but we are, and we have to do the best that we can.
"I know people are angry, and that's OK, and if you want to send it my way, if that makes you feel better, that's fine," she added. "I support your right to free speech, and I respect your opinions."
She reiterated what she said at Monday's briefing, that the decision to re-engage the Michgian economy will be driven by facts and by science, and not by politics. She said the best thing business owners can do at this point, with two weeks still left in her extended stay-at-home order, is to start looking ahead.
She said she's had "a lot of conversations" with people who have small businesses that are "really struggling" who wonder "whether or not they'll still have something" when business resumes.
She said she's encouraging business owners to start planning around what safely reopening looks like.
"Now is the time to throw our energy into planning, because we know COVID-19 is not going to be gone … this is a virus that will continue to spread unless we all do our part," Whitmer said. "That's why, as we thinking about re-engaging sectors of our economy, it's going to be really critical that we have confidence we can do that safely."
Whitmer said she understood the frustration of the protesters, but took issue with the way it was conducted. There were large traffic jams, and pictures of an ambulance stuck in traffic unable to move surfaced during the protest.
Those same photos showed large crowds congregating, with many of the people eschewing face masks and ignoring social distancing protocols. With Michigan ranking third in the country in number of cases and deaths, Whitmer lamented the potential for putting even more people at risk.
"This kind of activity will put more people at risk and, sadly, it could prolong the amount of time we have to be in this posture," she said. "I know there are people who are hurting because of this. But I also know it was absolutely necessary, with the path that we are on. I can tell you as tough as this has been, if we have to come back to this position in a month or two, it'll be absolutely devastating."