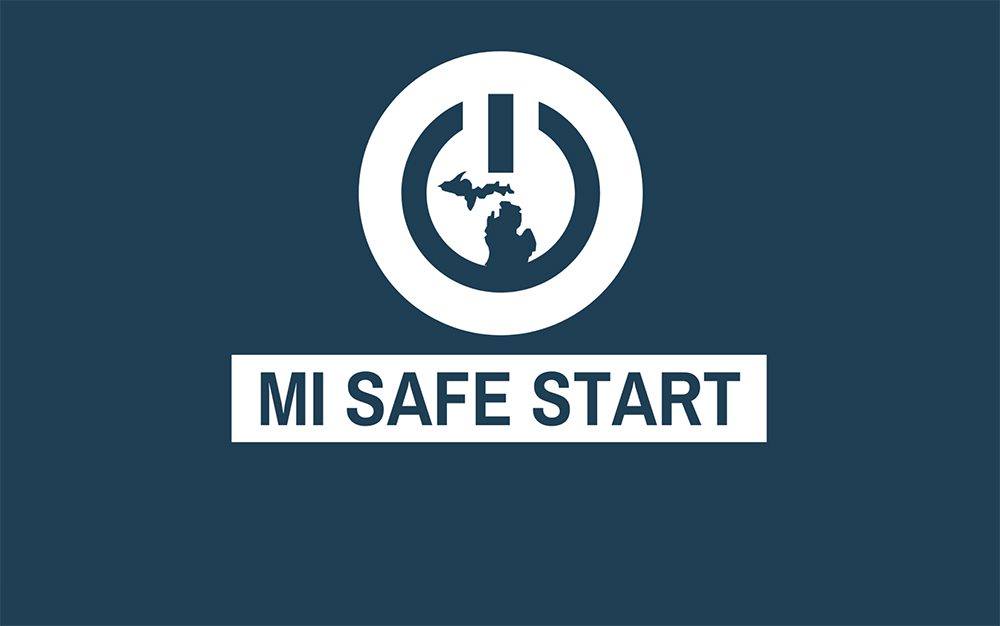 In the last eight weeks or so, Michigan has passed through two phases of the COVID-19 pandemic: Uncontrolled growth and persistent spread.
According to the MI Safe Start Plan (see the entire plan here) she's using to re-engage the state's economy in light of the fight against the coronavirus, Michigan Gov. Gretchen Whitmer said Thursday Michigan has moved into the third stage, which is why she's slowly reopening the state economy.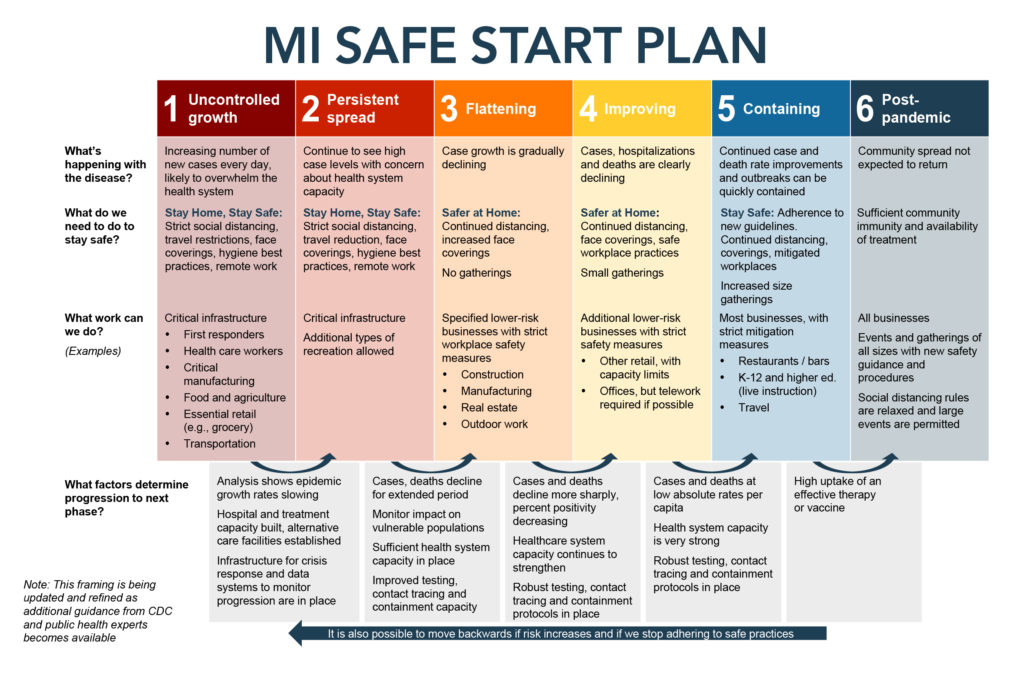 Whitmer, who Thursday extended the state's stay-at-home order through May 28, said the state has "come a long way" in the last two months – "It seems like a lot longer in many ways," she said – which is why she said she's been "so aggressive" in the fight against the virus.
At one point, she said, Michigan – the country's 10th-largest state – had the third-highest case total and still has the third-highest death total.
"Because of this, Michigan has had a uniquely tough time with COVID-19," she said. "That's why we've had to be so aggressive."
At her coronavirus press briefing Thursday, Whitmer detailed the six phases of her MI Safe Start Plan to re-engage Michigan's economy. The governor said she has worked with leaders in health care, business, labor, and education to develop the plan.
More: Manufacturing, Automakers Cleared to Resume, Stay-Home Order Extended to May 28
More: Executive Order Designed to Expedite Unemployment Benefits for Thousands
More: Traditional Brick-and-Mortar Retail, Restaurants Go Virtual: 'We Had to Change and Evolve'
The phases include:
Uncontrolled growth, with increasing numbers of new cases every day, overwhelming state health systems. "That's where we were eight weeks ago," Whitmer said Thursday.
Persistent spread, when the state continues to see high case levels with concern about health system capacity.
Flattening, when the epidemic is no longer increasing and the health system's capacity is sufficient for current needs. "That's where we are right now."
This is the stage Whitmer said the state is in now, which is why she has reopened some segments of the economy. Thus far, Whitmer has allowed construction, real estate activity, landscaping work, manufacturing (May 11) and automakers to resume (at 25% capacity, beginning May 18).
She's also allowed motorized boating, golf (practicing social distancing), and other outdoor activities that can be done safely.
"We know that, even in this phase, we're still safer at home," Whitmer said. "While we can re-engage in more things, we've got to be smart about it."
Improving, when cases and deaths are clearly declining.
"This is where we hope to move next, in short order, depending on how well we all continue to be vigilant," she said.
Containing, with continued case and death-rate improvements, with outbreaks quickly contained.
Post-pandemic, when community spread is not expected to return. "It's going to be awhile, let's be clear about that," Whitmer said. "The good news is we're starting to move forward."
Whitmer said she's been "working closely" with health care experts and epidemiologists to "closely monitor" the state's progress. Moving forward, she said, she's working with leaders in business, labor and education "to determine the best way to move forward each day."
"All of us know the importance of getting people back to work and the economy moving again," Whitmer said. "The worst thing we can do is open up in a way that causes a second wave of infections and death, puts health care workers at further risk, and wipes out all the progress we've made.
"Case studies abound that those who resume life as it was … can go right back into a second wave, and that wave can be as deadly or worse than the first, and certainly as economically damaging as the first," she added. "That's why this staged recovery is so critical. We have to continue to move incrementally and measure our data every step of the way."