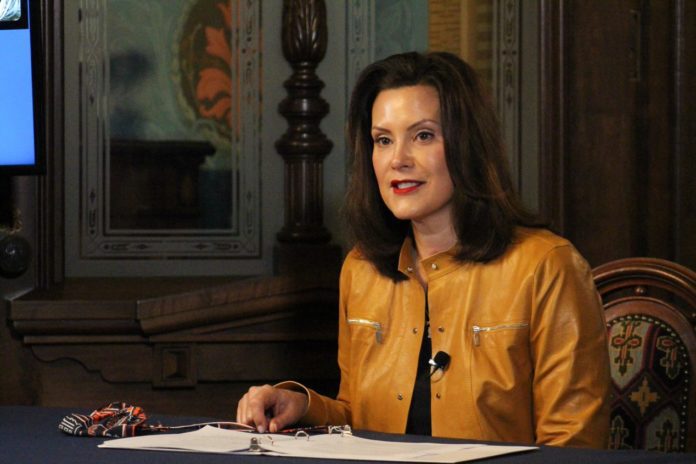 Michigan residents and businesses hoping to re-engage sooner rather than later were dealt a blow Thursday when Gov. Gretchen Whitmer announced she was extending the state's "Stay Home, Stay Safe" order through April 30.
The order, which she signed March 23, was originally scheduled to end Monday. But Whitmer, in announcing the extension, said any slight improvement in the pace of the disease is not reason to shift gears.
Quoting Dr. Anthony Fauci, the scientist on the White House's coronavirus task force, Whitmer agreed with him that states "need to keep pushing mitigation strategies.
"There's no doubt they are having an impact on the outbreak," Whitmer said. "Now is not the time to pull back at all, it's a time to intensify. That's what we're doing."
Whitmer's new order (find it here: EO 2020-42.pdf) more specifically identifies the mitigation effort:
Workers who can leave the home include, among others, those in health care, public safety, law enforcement, grocery store workers, public health and more (the full list is available at Michigan.gov/coronavirus).
Public and private gatherings of any size are prohibited.
Outdoor activities such as jogging, canoeing and other forms of recreation are permitted – in fact, Whitmer encouraged them – as long as the six-foot social distancing recommendations are followed.
The new order also adds restrictions to retail outlets:
Large stores must limit the number of shoppers to four customers per 1,000 square feet of space. Smaller stores must limit shoppers to 25% of their occupancy limit.
Stores must establish entry and exit lines and other markers to help shoppers maintain the six-foot social distancing protocol.
Families are encouraged to severely limit the number of members who run errands. Whitmer's recommendation: One family member per trip. "The fewer the people the better," she said.
Shoppers are limited to buying essential items like groceries and medicines. Stores, she said, will be asked to rope off other areas of non-essential items.
"If you're not buying food, medicine or other essential items, you should not be going to the store," Whitmer said.
Re-engaging economy
Whitmer was asked about opening up parts of the economy. Recent discussions have centered around opening businesses such as golf courses and landscaping companies, for instance.
But Whitmer was adamant that such a move could have negative consequences, at least not yet. In the last three days, she pointed out, 116 people per day have died from the virus. Opening up such businesses would make more deaths more likely, she pointed out.
"These are not just numbers on a screen, these are husbands and wives and daughters and sons and grandparents who've lost a battle with a disease that's incredibly … deady," Whitmer said. "Golf, landscaping … that's not crucial infrastructure. It's just not. It's additional opportunity for exposure.
"You could come up with all sorts of scenarios that someone is safe in whatever activity," she added. "For the sake of the health of our state, it's important we remember we're all in this together."
TCF Center ready
Whitmer and Dr. Joneigh Khaldun, the state's chief medical executive, also said the TCF Center in Detroit, converted into a field hospital by the Army Corp of Engineers and the Michigan National Guard, will accept its first 25 COVID-19 patients Friday.
The temporary hospital will be run in partnership, Whitmer said, with Henry Ford Health System, McLaren Health Care, Beaumont Health and the Detroit Medical Center.
"It's a truly remarkable thing," Whitmer said. "I appreciate them stepping up to make this possible."
A second site, the Suburban Collection Showplace, has been chosen as a field hospital. Khaldun said that facility should be ready to accept patients "in the next few weeks."
All of this comes as numbers continue to rise in Michigan. Whitmer and Khaldun pointed out the state now has 21,504 positive COVID-19 cases, with 1,076 deaths.
And, in the light of statistics that show the disease is hitting a disproportionate number of minority patients – 33% of the cases and 40% of the deaths are among African-Americans, Whitmer announced the formation of a Coronavirus Task Force on Racial Disparities to be chaired by Lt. Gov. Garlin Gilchrist.
"We continue to see high numbers of COVID-19 cases and deaths," Khaldun said. "We are seeing some very early data that suggests the growth rate for positive cases may be slowing, but there still isn't enough testing around our state.
"Too many people are getting sick, and too many people are dying," she added. "All model projections are clear that without sustained social distancing measures – if we loosen up too soon – more people will die."