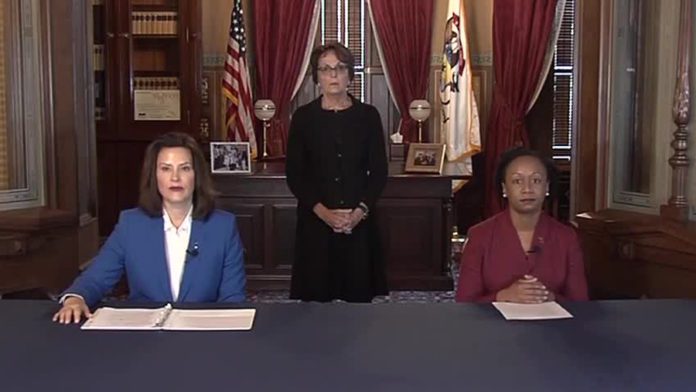 After nearly a week of fending off questions about why she hadn't yet put Michigan on a stay-at-home status, as other states have done, Michigan Gov. Gretchen Whitmer on Monday did just that.
Citing "exponential growth" in the number of cases in Michigan and an insufficient number of tests, Whitmer announced her "Stay Home, Stay Safe" executive order, directing all Michigan businesses and operations to temporarily suspend in-person operations that are not necessary to sustain or protect life.
Michigan has more than 1,200 cases, including 15 deaths, a spread Whitmer pointed out puts enormous strain on the state's hospitals.
"If we stay on our current trajectory, just like Italy, over 70% of our people could get infected," Whitmer said. "Of that 7 million projected, about a million of them would need to be hospitalized. We have about 25,000 acute care beds in Michigan … Stopping the spread is the most important tool we have right now to keep our communities safe."
School closures extended
The order takes effect shortly after midnight Tuesday morning, and will be in effect at least three weeks, Whitmer said at a Monday morning press conference. Whitmer also said the K-12 schools she closed will remain shuttered until at least April 13.
Her order directs Michiganders to stay in their homes unless they're a part of that critical infrastructure workforce, engaged in an outdoor activity, or performing tasks necessary to the health and safety of themselves or their family, like going to the hospital or grocery store.
"Grocery stores will remain open; do not panic, do not hoard," said Whitmer, who said businesses that provide medicines, banks and credit unions and gas stations will still be available. "
Individuals may only leave their home or residence under very limited circumstances, and they must adhere to social distancing measures recommended by the Centers for Disease Control and Prevention when they do so, including remaining at least six feet from people from outside the individual's household to the extent feasible under the circumstances.
"In just 13 days, we've gone from 0 to over 1,000 COVID-19 cases," Whitmer said. "This is an unprecedented crisis that requires all of us working together to protect our families and our communities. The most effective way we can slow down the virus is to stay home. I know this will be hard, but it will be temporary. If we all come together, get serious, and do our part by staying home, we can stay safe and save lives."
Aggressive action
Michigan Department of Health and Human Services Chief Deputy for Health and Chief Medical Executive Dr. Joneigh Khaldun said taking this "aggressive action" to protect communities is the "most important thing we can do to mitigate further spread" of COVID-19.
"If we do this now, we can make sure our hospitals and healthcare workers are prepared to take care of the sickest people," Khaldun said. "It is crucial that people do the right thing by staying home and staying safe."
Whitmer's order prohibits all businesses and operations from requiring workers to leave their homes, unless those workers are necessary to sustain or protect life or to conduct minimum basic operations. Businesses and operations are to designate the workers that meet those criteria, and must adopt social distancing practices and other mitigation measures to protect workers and patrons in the performance of that necessary in-person work.
"I didn't make this decision lightly," Whitmer said. "All of the (medical) experts recommended today's action. It's clear this is what we can and must do to protect ourselves. By taking this action, we protect the public health and, ultimately, the … economy. Doing this now shortens the time our economy suffers."
Critical workers
Workers that are necessary to sustain or protect life include those in health care and public health, law enforcement and public safety, grocery store workers, and more.
All public and private gatherings of any number of people occurring among persons outside a single household are also temporarily prohibited. People may leave the house to perform for limited, necessary purposes, and may engage in outdoor activities like walking, hiking, running, cycling, or any other recreational activity, consistent with remaining at least six feet from people from outside a person's household and with other restrictions imposed by prior executive orders.
"You can go outside," Whitmer said. "Get some fresh air, walk your dog … just be smart about it."
Michigan is currently in the top five states in the nation in number of confirmed COVID-19 cases. Several governors across the country have taken similar steps to protect their communities from the spread of COVID-19, including governors Mike DeWine in Ohio, Andrew Cuomo in New York, J.B. Pritzker in Illinois, Tom Wolf in Pennsylvania, Gavin Newsom in California, John Bel Edwards in Louisiana, Phil Murphy in New Jersey and Ned Lamont in Connecticut.
Information around this outbreak is changing rapidly. The latest information is available at Michigan.gov/Coronavirus and CDC.gov/Coronavirus.
For those who have questions about the state's actions to mitigate the spread of coronavirus, call the COVID-19 Hotline at 1-888-535-6136 between 8 a.m. and 5 p.m., daily.
Michiganders can apply for unemployment benefits if they have left work or taken a leave of absence because of self-isolation or self-quarantine in response to elevated risk from COVID-19 due to being immunocompromised, displaying the symptoms of COVID-19, having contact in the last 14 days with someone with a confirmed diagnosis of COVID-19, the need to care for someone with a confirmed diagnosis of COVID-19, or a family care responsibility as a result of a government directive. Those temporarily laid off from work should apply for unemployment benefits online at www.michigan.gov/UIA or 1-866-500-0017.
Whitmer is working to ensure children who rely on the food provided by schools will have the resources they need. The Michigan Department of Education (MDE) has developed an online map for families to find meals. Families can access the map at: https://www.mcgi.state.mi.us/schoolnutrition/.