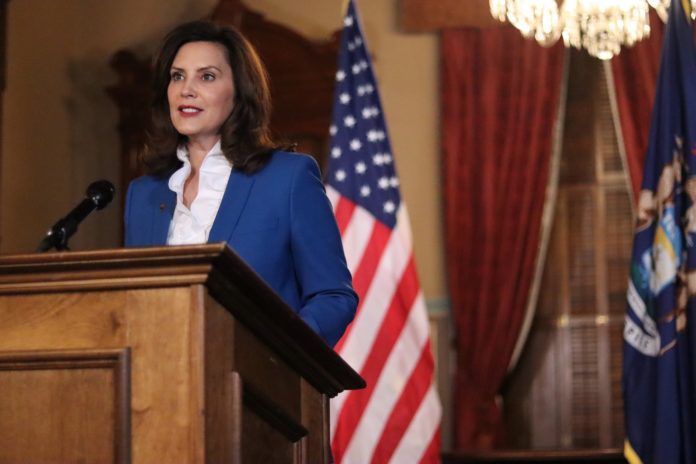 As she's done in most of her public comments recently, Michigan Gov. Gretchen Whitmer on Wednesday used her third State of the State address to call for bipartisan action to get the state through the coronavirus pandemic.
Extolling the virtues of many actions she says she and the state Legislature have worked on during the pandemic – and paraphrasing the trademark claim that she'd "fix the damn roads" that helped win her the governor's office in 2018 – Whitmer called on lawmakers to "fix the damn road ahead."
"My mission is to find common ground so we can emerge from this crisis stronger than ever," Whitmer said. "Now, to the legislative leaders tuning in: our job now is to fix the damn road ahead – together. Let's commit to the strong bipartisan action we took last year and focus that same energy to end the pandemic, grow our economy and get our kids back on track. The people of Michigan are counting on us."
The address, normally an in-person affair in front of lawmakers and others, was instead delivered virtually by Whitmer from the Capitol.
The question of bipartisan efforts was put in question earlier in the day. The state House proposed a $2 billion package in education funding, but tied it to shifting the power for decision-making on schools reopening to county health departments. The state Senate, meanwhile, blocked 13 of Whitmer's appointees.
Republicans did not officially respond to Whitmer's speech Wednesday night, instead scheduling their response for 11 a.m. Thursday morning.
House Democratic Leader Donna Lasinski, a Democrat from Scio Township, said House Democrats will work on the shared priorities outlined by the governor. Those include faster COVID-19 vaccine distribution, direct small-business support, relief for families and a plan to get students and educators back to school safely.
"House Democrats are ready to work for the people of Michigan and ensure we come out of the COVID-19 pandemic a stronger and healthier state," Lasinski said. "We know the distribution of COVID-19 vaccines is the only way for our state to fully recover from this pandemic and we need federal stimulus dollars to speed up delivery. It is unfortunate legislative Republicans are standing in the way – pushing a false narrative with calls for the state to fully reopen without consideration of the health and safety of the people of Michigan."
More: State Opens Restaurants to Indoor Dining Effective Feb. 1 With Curfew, Limitations
More: Expert: Tenants, Landlords Should Talk Openly about Shifts in Space Needs Before Issues Occur in 2021 or Beyond
More: Economic Survey: State Economy Depends on Health, Vaccines to Recover
During the speech, Whitmer touched on a variety of topics, including:
Pandemic relief – She called on lawmakers to to pass her $5.6 billion COVID-19 relief plan. She announced the plan – which calls for $2 billion for schools, $225 million for economic development and a permanent extension of unemployment benefits to 26 weeks. The plan also includes $90 million allocated by Congress for vaccine distribution and $575 million to expand testing and tracing.
"My plan gives crucial support for small businesses and resources to help them thrive long after the pandemic is over," Whitmer said. "I invite the legislature to partner with me on the health of our people, the education of our kids and the resurgence of our economy."
The bipartisan Michigan Reconnect Program, tuition-free job training and community college for adults looking to earn a postsecondary certificate or associate degree.
Bipartisan Clean Slate Legislation, making the criminal justice system "more fair and expanding opportunities for Michiganders who have served time."
The Michigan Legislative Black Caucus for all of the work they have done on criminal justice reform.
"Let's tap into that same energy and end the pandemic, revitalize our economy and get our kids back in school," Whitmer said.
The Protect Michigan vaccine commission was created to "ensure we get this right," Whitmer said. She pointed out the state has administered more than 800,000 vaccines, sixth-most in the country.
"I know people are anxious and ready to get the vaccine … That's a good thing," Whitmer said. "The fact of the matter is we don't have the supply we need yet, but we will – and the good news is that we do have a plan to get 50,000 shots in arms per day when the supply comes in. Every eligible Michigander who wants a vaccine will get one."
Education – Whitmer shut schools down last March and, while there have been brief periods when classrooms were open, more restrictions closed them down again. Now, Whitmer wants districts to reopen in-person learning options by March 1.
"There are students in Michigan who have not been in a classroom since March 13 of last year," she said. "The pandemic stole more than 10 months of in-person instruction and support. We've seen by following the safety protocols, this can be done successfully."
Whitmer is also reconvening the members of the Return to School Advisory Council, which she said will provide guidance by the spring to policyakers, districts and schools
Infrastructure
The long infrastructure saga in Michigan, Whitmer said, "impacts our ability to safely navigate our roads" without spending hundreds of dollars each year in vehicle repairs.
Even during the pandemic, Whitmer said, the state got a lot of infrastructure done:
In Lansing, the I-496 Rebuilding Michigan project was completed, with hundreds of more projects on the horizon. Including heavily traveled sections of I-96 in Oakland County, I-69 in Calhoun County and I-94 in Berrien County.
Days after the May flood in Midland, MDOT workers rebuilt a crucial bridge on US-10 in record time. "Hardworking union construction workers – the Laborers and Operating Engineers – got this done safely in the middle of a pandemic," Whitmer said.
"We're going to forge ahead rebuilding our roads in 2021 to protect our families and keep more money in Michiganders' pockets," Whitmer said. "We proved we can walk and chew gum at the same time."
In a massive bit of understatement, Whitmer called 2020 a "tough year," using the Latin phrase "Annus Horribilis – "a year of horribles" – to describe it.
"This year didn't pan out like any of us wanted or imagined," she said. "It required compassion, strength, and a lot of Michigan grit. The state of our state is … resilient."