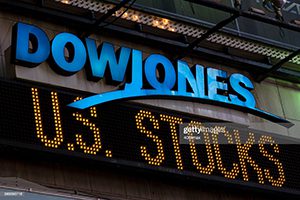 Retail giants Target and Walmart announced disappointing financial figures this week, and the stock market did not react well.
The Dow Jones Industrial Average sank more than 1,100 points and the S&P 500 had its biggest drop in nearly two years Wednesday, the Associated Press reported.
After Target reported Wednesday that its profits fell some 52% compared to the same time last year, shares of Target Corp. fell 27%, the biggest one-day selloff since 1987, according to AP.
That drop went along with a similar fall for Walmart, whose shares fell 17% initially following the posting of its sluggish quarterly financial results. Walmart shares fell another 8% on Wednesday, the AP reported.
"Our first-quarter results mark Target's 20th consecutive quarter of sales growth, with comp sales growing more than 3 percent on top of a 23 percent increase one year ago," said Brian Cornell, chairman and chief executive officer of Target Corporation. "Guests continue to depend on Target for our broad and affordable product assortment, as reflected in Q1 guest traffic growth of nearly 4 percent."
Cornell pointed out Target faced "unexpectedly high costs, driven by a number of factors, resulting in profitability that came in well below our expectations, and well below where we expect to operate over time."
Target's quarterly financial report comes a day after shares of rival Walmart tumbled about 17% for similar reasons after it posted quarterly results. Both companies missed profit expectations by a wide margin. Shares of Walmart fell another 8% Wednesday.
Target said that revenue rose 4% to $24.83 billon in its most recent quarter, which was a little better than expected.
Walmart International net sales were $23.8 billion, a decrease of $3.5 billion, or 13.0%, negatively affected by $5.0 billion due to divestitures, and $0.4 billion from currency fluctuations, the company said in a release posted to its website. Positive comps across all markets.
Global advertising business grew more than 30%, consolidated gross profit rate declined 87 basis points, primarily due to Sam's Club and 38 basis points in Walmart U.S. on elevated supply chain costs and product mix.
"U.S. inflation levels, particularly in food and fuel, created more pressure on margin mix and operating costs than we expected," Doug McMillon, president and CEO of Walmart, said in the release. "We're adjusting and will balance the needs of our customers for value with the need to deliver profit growth for our future."
The Dow dropped 3.6%, while the Nasdaq fell 4.7%. The three indexes are on pace to extend a string of at least six weekly losses, the AP reported.
"A lot of people are trying to guess the bottom," Sam Stovall, chief investment strategist at CFRA, told the AP. "Bottoms occur when there's nobody left to sell."