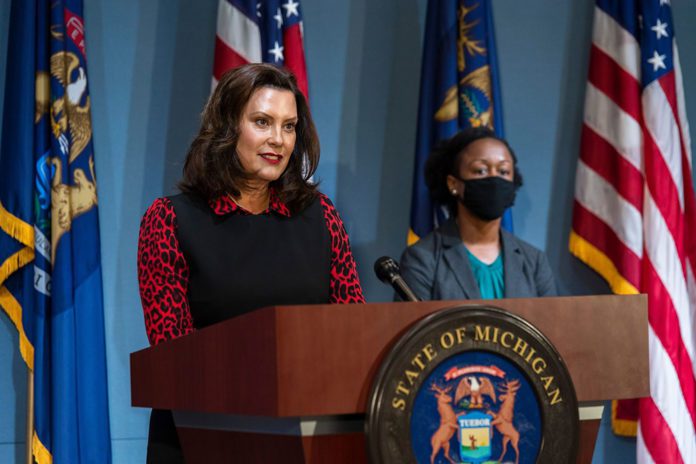 Last week, Gov. Gretchen Whitmer followed new CDC guidelines and announced that people in Michigan no longer had to wear masks outdoors regardless of their vaccination status against COVID-19.
The order also said that fully vaccinated people could drop the masks indoors.
Now, Whitmer is easing COVID-related restrictions even more as the state progresses toward its goal of fully vaccinating 70% of Michiganders.
In an outdoor press conference from Midland, Whitmer on Thursday announced an updated 'Vacc to Normal' plan, which outlines steps Michiganders can take to emerge from this pandemic and lifts nearly all mitigation efforts by July 1.
As of June 1st, capacity limits will be lifted for outdoor events. Additionally, indoor capacity limits will increase to 50%, allowing indoor social gatherings such as weddings and funerals to move closer to normalcy.
As of July 1, the state will no longer limit capacity at indoor or outdoor gatherings, and will eliminate all broad-based mitigation efforts, Whitmer said.
"For the most part, life will be back to normal," the governor said. "We can have the kind of independence Day we're all looking forward to. Starting June 1, we will be moving forward, faster than expected, toward a return to normalcy. Soon, Michiganders will be able to celebrate together, have summer weddings and even enjoy a 4th of July barbeque with family and friends.
"This is what we have all been working so hard toward, and I am so grateful to every Michigander who continues to go above and beyond to keep themselves, their family, and our communities safe." she added. "Thanks to them, we can take these final steps towards a return to the normalcy and build our economy back stronger than ever."
Michigan is expected to lift restrictions on in-person office workers Monday. The Michigan Occupational Safety and Health Administration is expected to shift its rules to bring them in line with the revised mask guidance. Whitmer hinted Thursday that new MIOSHA guidance could come as early as next week.
To reflect these changes, the Michigan Department of Health and Human Services will release an updated epidemic order on Monday. Throughout the month of June, people who are not yet fully vaccinated will still be required to mask up while indoors.
"This pandemic has been so difficult for so many Michiganders. We've made incredible sacrifices for the good of public health and the safety of our friends, family, and communities," said Lt. Governor Garlin Gilchrist. "This vaccine is helping our small businesses reopen their doors. It's allowing our economy to come back stronger than ever and allows for a sense of normalcy to return for families across our state. I hope that this news is an added incentive for those on the fence about getting a vaccine."