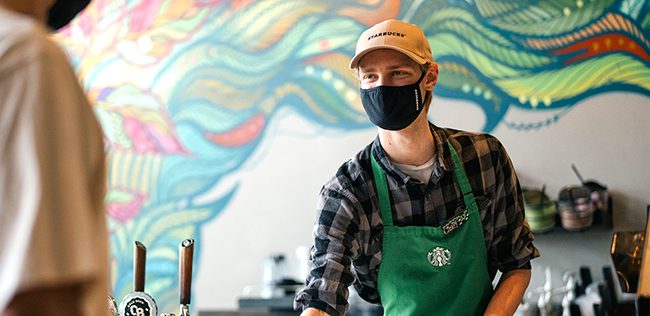 SEATTLE (Business Wire)— Starbucks Corporation (NASDAQ: SBUX) today reported financial results for its 14-week fiscal fourth quarter ended October 3, 2021. GAAP results in fiscal 2021 and fiscal 2020 include items that are excluded from non-GAAP results. Please refer to the reconciliation of GAAP measures to non-GAAP measures at the end of this release for more information.
"Our strong finish to fiscal 2021, including record performance in the fourth quarter, demonstrates the resilience of Starbucks and reinforces the value of the bold strategic moves we have taken over the past two years. Through it all, we have thoughtfully navigated a strong recovery with an eye towards our future, all guided by our Mission and Values," said Kevin Johnson, president and ceo.
"Today we announce we will be doubling-down on our investments in our partners, the heartbeat of our company. We know that when we exceed the expectations of our people, they in turn exceed the expectations of our customers – which creates value for all of our stakeholders – our partners, our customers, our communities and our shareholders. We anticipate that our strong business momentum, increased operating efficiency and continued global store expansion will fund these unprecedented investments while delivering yet another year of significant growth," concluded Johnson.
Fiscal 2021 Re-segmentation
In the fourth quarter of fiscal 2021, certain changes were made to the company's management team, and the operating segment reporting structure was realigned as a result. The company realigned the fully licensed Latin America and Caribbean markets from the Americas operating segment to the International operating segment. The Americas operating segment has been renamed the North America operating segment, comprised of company-operated and licensed stores in the U.S. and Canada. Fiscal 2020 segment information has been restated to conform with current period presentation.
There was no impact to consolidated net revenues, consolidated operating income or net earnings per share as a result of these changes.