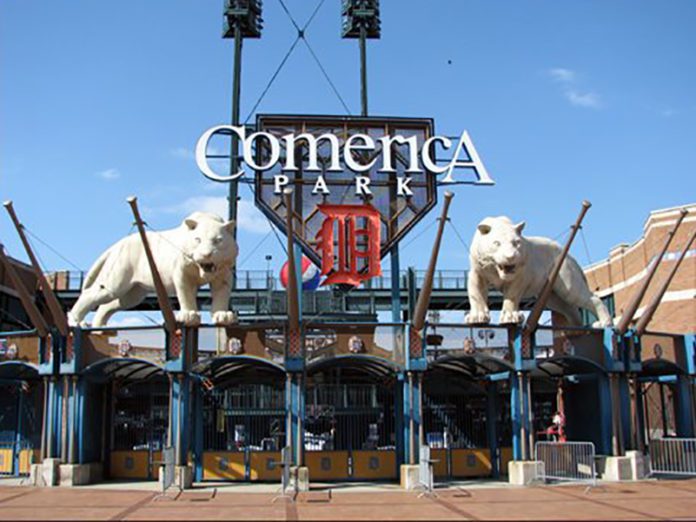 Major League Baseball owners earlier this week announced the return of baseball in a shortened 60-game season, and today were talking about the possibility of allowing some fans to watch from stadium seats.
Whether that happens anywhere else, it won't be happening in Michigan. Detroit Tigers fans, at least for now, are going to have to settle for watching on TV.
Gov. Gretchen Whitmer Thursday signed an executive order allowing professional sports to return, but nixing the idea of fans.
Baseball has said it will start its 60-game season around July 23 or July 24. The Tigers are set to restart spring training July 1.
Whitmer signed executive order 2020-133, which sets guidelines for professional sports to return safely. One key prohibition: No live audiences.
"Good news, sports fans: We are now ready to gradually and safely allow professional sports to resume in Michigan," Whitmer said. "While this is an encouraging step in the reopening of our economy, it is critical for athletes to continue social distancing and taking precautions to stay safe. We want to keep our momentum going and keep moving forward, so it's incumbent on everyone doing their part to slow the spread of COVID-19."
More: Food, Beverage Heroes Pivot in Effort to Fight COVID-19 Spread
More: Experts: CEOs Must Lead Actions, Difficult Discussions on Race
More: Martha Ford Stepping Down
MLB and the MLBPA have issued a list of coronavirus safety protocols teams must follow to minimize the risk of spreading the virus.
Under Whitmer's order, professional sports training and competitions can resume as long as the activities are conducted according to a COVID-19 safety plan that is consistent with any guidelines from the Centers for Disease Control and the Michigan Department of Health and Human Services. Participants must also maintain social-distancing protocols, where the physical aspects of the sport can allow it.
"No live audiences are allowed, except for staff of the facility at which a sporting event is held and media personnel reporting on, filming or otherwise documenting the sporting event," Whitmer's executive order says.