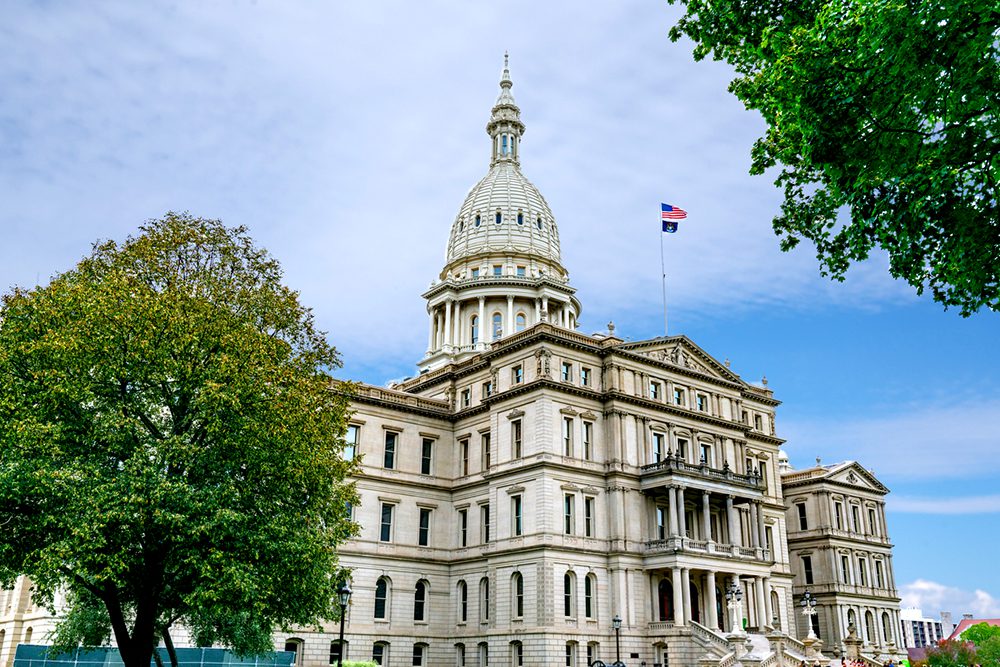 One chamber calls it what it is – a huge budget deficit – while the other simply refers to a rollback in projected revenues.
But both the Michigan Senate and House fiscal agencies agreed in separate financial reports released Thursday that the fiscal picture in the state in this time of the coronavirus is not a pretty one.
The Senate Fiscal Agency projected a $1.4 billion deficit in the state's general fund and, combined with a projected $1.2 billion deficit to the school aid fund, concludes some $2.6 billion in cuts are going to have to be made.
And, while it doesn't call it a deficit, the House Fiscal Agency's report suggests cutting revenue projections for 2020 fiscal year down by more than $3 billion.
The reports were released a day before a state revenue conference to set revenue projections both for this year and next. And both reports, not surprisingly, blame the high cost of fighting the COVID-19 crisis for the budget problems.
"During 2020, both the U.S. and Michigan economies are expected to experience recessionary conditions, largely driven by COVID-19 disruptions primarily during the first and second quarters of 2020," the Senate report reads. "Both the U.S. and Michigan economies are expected to then exhibit growth during 2021 and 2022, although Michigan is generally expected to grow more slowly than the nation as a whole."
Michigan's first COVID-19 cases appeared in early March. On March 23, Gov. Gretchen Whitmer issued her first Stay Safe, Stay Home order closing all but essential businesses, banning large gatherings of people, closing facilities such as gyms, restaurants (to dine-in) and movie theaters.
More: Facing Massive Deficit, State Furloughs Workers to Save Salary Costs
More: Manufacturers Back on the Job as Stay Home Restrictions Ease
More: Historic Ford Estate Shares Its Floral Bounty with Essential Healthcare Workers
With cases (now approaching 50,000) and deaths (nearly 5,000) from the virus, Whitmer extended the stay-home order through May 28, although she has opened small portions of the economy, including landscaping, real estate, construction and manufacturing (manufacturers started Monday, the Big 3 are back May 18).
But the cost of fighting COVID-19 has had a deleterious effect on Michigan's unemployment. With so many businesses shuttered, the state's unemployment rate has risen steadily; the House Fiscal Agency report predicts a rise to 13.1 percent this year.
Since March 15, more than 1.7 million Michiganders have filed unemployment claims. The state has handed out some $5.62 billion in benefits thus far to some 1.4 million claimants.
State officials point out that some 92% of eligible claimants have either received benefits or been approved to get them.
"While we appear to be outpacing most other states in paying benefits and processing claims, our focus remains on helping those who still need one on one assistance to receive benefits," said Department of Labor and Economic Opportunity Director Jeff Donofrio. "No one will lose a dollar of benefit they are eligible for and we will not rest until everyone gets the benefits they deserve."
With Congress currently debating a fourth round of coronavirus relief – President Donald Trump called a $3 trillion proposal from the U.S. House "dead on arrival" Wednesday – Whitmer has been telling anyone who'll listen that the proposal must include benefits to state and local governments.
The next relief package isn't in sight, and state budget decisions are going to have to be made long before another round of relief comes from Congress.
At one of her recent coronavirus briefings, the governor acknowledged hard choices were going to have to be made, whether the next relief bill included money for states or not.
"By the end of May, we're going to have to make some tough decisions," Whitmer said. "Even if the feds come through, we're going to have to make some tough decisions."