Many Michigan restaurants and hospitality companies say that the end of 2020 cannot come fast enough as they look toward the New Year and the start of 2021 as a time when they hope to regain all they have lost professionally and financially because of the coronavirus pandemic and its related shutdowns.
Restaurants in Michigan remain closed for indoor dining but can still offer carryout meals and cocktails as allowed as part of an order from the Michigan Department of Health and Human Services. While the order is in effect until Jan. 15, Michigan Gov. Gretchen Whitmer said the state will "seriously consider" lifting the protocols sooner if the state makes progress toward slowing the spread of coronavirus.
"These past few weeks, Michiganders across the state stepped up and did their part to slow the spread of COVID-19, and because of our collective hard work, we are now able to begin the steps to carefully lift some of the protocols we have in place," Whitmer said in a statement. "I am encouraged by the progress we have made since early November, and will continue to monitor the data closely during and after the holidays."
According to the Michigan Restaurant & Lodging Association, more than 2,000 restaurants have permanently closed in Michigan since the start of the pandemic. As of mid-September, two-thirds of hotels were operating with less than 50 percent capacity, and currently, 63 percent of hotels have less than half of their typical staff working full-time, the MRLA research shows.
Finding new ways to celebrate has been a big part of adjusting for restaurants and foodservice companies of all sizes, said Chef James Oppat, Director of Corporate Foodservice, Joe Vicari Restaurant Group.
Since 1929, Joe Muer Seafood has been a family owned and run business. This New Year's Eve, it is creating to-go dinner packages as well as offering additional sides and champagne as add-on items for customers. People can take home ready-to-serve steaks, seafood and classic sides such as Spicy Crab Dip and Lobster Mac 'n Cheese to share as families celebrate New Year's Eve, Day and the start of 2021.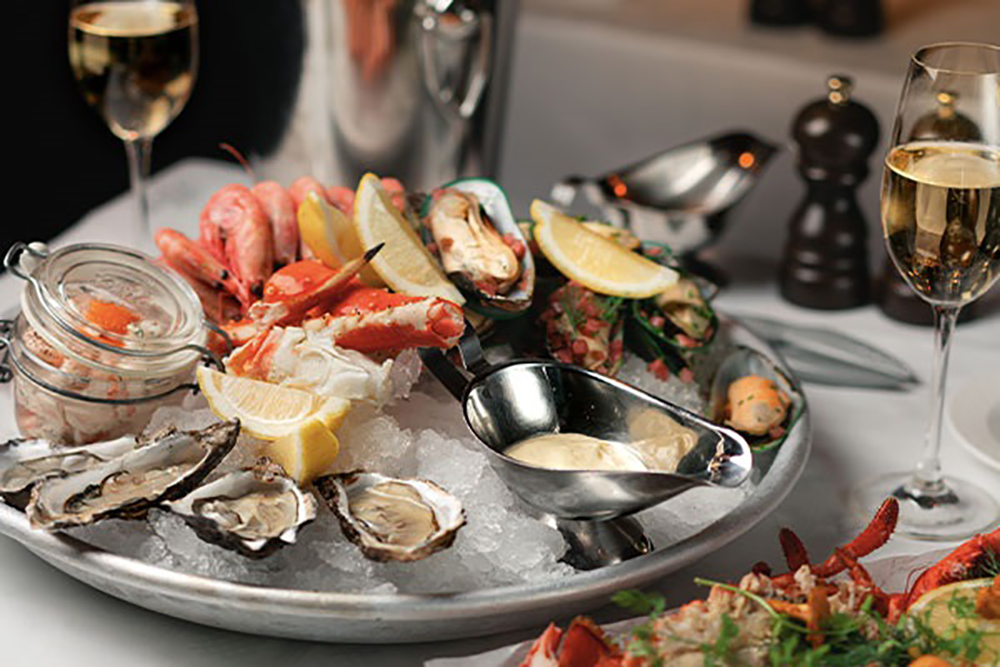 "Over the years, we have built a tradition of spending the Holidays with our loyal guests and are not allowing COVID-19, along with the shutdown, to break this tradition," Oppat said. "We know everything has a new look and feel as we now spend the Holidays in your kitchens and dining rooms at home
"Food is always at the center of any gathering, especially the holidays," Oppat added. "Joe Muer Seafood is honored to provide the highest quality foods, prepared fresh from scratch, so families, friends and loved ones can share in some sort of joy this season."
Michigan restaurant decline
2020 has been an incredibly trying time for restaurants with all of the shutdowns, according to Zenreach, the brick-and-mortar marketing firm that has been tracking restaurant foot traffic across the country.
And states such as Michigan still have a long way to go for restaurants to fully recover, according to John Kelly, CEO of Zenreach.
"With the number of COVID-19 cases skyrocketing and with the return of more business restrictions, it's clear we will not be out of the woods for a bit," Kelly said in a statement. "The difference, however, between this recent wave of closures and the ones which took place earlier in the year is that we now better understand the formula for getting through this challenging period.
"If you can create a safe dining environment, effectively target your best customers, and maintain or even boost your marketing spend, the more likely you are to successfully drive customers into your locations and sustain your restaurant business during this challenging time," Kelly added.
Recent data from a study done by TOP Data and Zenreach shows that overall nationwide restaurant spending is only down 1% from where it was in January 2020. In fact, many states have seen an increase in restaurant spending since the pandemic started. States such as Washington (26%), South Dakota (20%) and Alabama (18%) show that people are currently spending more at restaurants than they did in January 2020.
Among the states spending less at restaurants than they did in January 2020, Michigan comes in about the middle of the pack with an 11% decline. Spending is down 47% in Idaho, 41% in Massachusetts and 34% in Rhode Island, Zenreach's research found.
Association reacts
Michigan Restaurant & Lodging Association President & CEO Justin Winslow and its staff in December issued a call to action for all Michigan residents to support the hospitality industry by purchasing gift cards, placing carryout orders and taking staycations. Gift card purchases from a local restaurant provides immediate revenue to keep a business operating. Carryout helps cover food and labor costs. Staycations increase hotel occupancy with a convenient in-state getaway.
"While we continue to strongly advocate for elected leaders in Washington D.C. and Lansing to pass a meaningful stimulus package, we know our neighbors across the state also can help the industry by patronizing their local restaurants and hotels during the holiday season and in the coming months," Winslow said in a statement.
In addition to carryout, cocktails-to-go and gift card purchases, customers can support restaurants by bringing the dining experience home during the holidays. Order a full meal, holiday hors d'oeuvres or dessert prepared by your favorite restaurant. Options available at area restaurants and hotels include prepared family-style holiday catering menus for groups of two, four and more as well as pre-packaged ingredients with instructions for cooking a holiday meal at home. For families that live near one another, consider ordering a large feast and splitting it up among different households to share the same dining experience from the comfort of home.