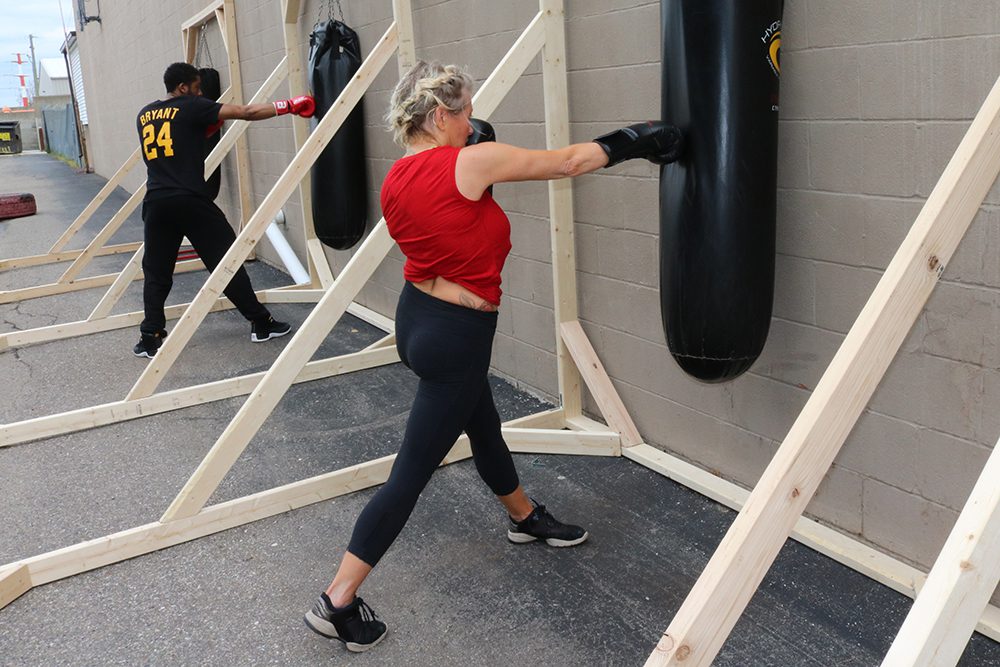 As Metro Detroit gyms, indoor theaters and casinos remain among the last unopened businesses in the wake of the state's response to the coronavirus pandemic, a few owners are getting creative with how to hold classes with social distancing in mind while others are planning large layoffs to get through the shutdown.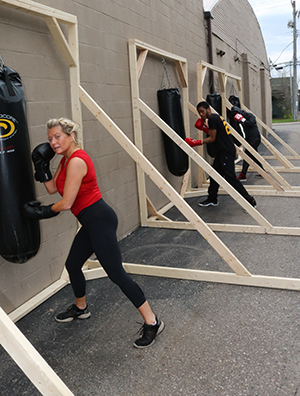 In Birmingham, Jabs Gym created outdoor boxing classes so its members can exercise and stay the required six feet apart. Willie Fortune, who goes by the professional name Fortune when boxing, built spaces in his gym's parking lot where people can box while adhering to the state's mandate to keep gyms closed.
At the same time, at least one Metro Detroit gym said it would open its doors this week contrary to the state's orders to remain closed. And one indoor theater chain said it would start showing movies to the public inside its facilities in direct violation of the state's orders.
Gyms such as Xtreme Fitness in Chesterfield Township sent messages across its social-media platforms saying it would officially open June 13. "Let's re-build ourselves … together, guys! We are so excited to see you all," the gym posted on June 12. Corp! Magazine called the gym Thursday morning to confirm it was open.
Another Metro Detroit mainstay, Emagine Theaters, said on its website and social media that it is opening its Royal Oak location on June 19 to show a "Juneteenth Film Festival," featuring films about and by Black storytellers. This is a one-time occasion, according to owner Paul Glantz, who told local media that he has not been in touch with Gov. Whitmer's office about the film festival.
More: 10 Minutes With: Diversity Expert Offers Thoughts on Protests, Progress
More: State Plan Coming for Fall Reopening of Schools
More: CEO's Crucial in Fight for Much-Needed Racial Action
"All other Michigan locations are still not open and we do not have any information on when those locations will be opening again," the theater said on Facebook.
Safe workouts
At Jab's Gym, people are using the newly built wooden workout spaces to do their boxing classes, train in their favorite sport or just enjoy having a fitness outlet that also allows them to socialize in a responsible way again, Fortune said.
Fortune knew he had room in his adjacent parking lot, so he and his uncle designed an outside boxing class that accommodates 10 people or fewer while adhering to the six-feet social distancing rule. Fortune said these outdoor spaces give his members a great way to exercise, enjoy the beautiful weather and be around people in a safe and effective way.
He has been holding classes for his famous bo-yo – a combination of boxing and yoga – as well as traditional training courses online through Zoom, Fortune said. Yet he and his members were missing the in-person aspect of working out.
"I started the distance boxing because, as a concerned business owner who's responsible for everyone's safety from my staff to clients, I felt the safest route is outdoors and controlled, using our awesome mayor's advice on social distancing and the rules on it," Fortune said. "This seemed to be the best way to keep everyone safe while making sure we all could utilize the wonder stress relief of boxing and fitness workouts."
As a Metro Detroit business owner and a boxing-fitness expert, Fortune said, "This makes me happy to be able to be creative to help others, as well as to see my business push through this. This is by far the toughest fight I've ever been in, but it's not just my fight. It's ours."
Casino layoffs
Gyms, casinos and indoor theaters expected to remain closed until July, according to statements from Gov. Gretchen Whitmer's office. However, many businesses are opening up as the quarantine ended in early June. On Wednesday, Whitmer also announced schools are likely to be able to have in-person classes in the fall as the coronavirus infection rate has dropped in recent weeks.
Casinos are feeling the pinch, as well. The Detroit News reported this week that Greektown Casino Hotel is laying off employees, a result of the pandemic's impact on the company, according to a letter obtained Tuesday by the News. Layoffs would begin Sept. 15 or during the 14-day period after that date, according to the letter.
In the letter dated June 12, the hotel's general manager John Drake said that the company is reducing its workforce, resulting in permanent layoffs. The layoffs will impact 621 employees, according to a notice filed with the state under the Worker Adjustment and Retraining Notification Act.
The Michigan Gaming Control Board recently approved new protocols which call for MGM Grand, Greektown and MotorCity to limit capacity and gamblers' temperatures for signs of a fever that could be caused by COVID-19. The minimum guidelines from the MGCB for initial opening include: Limit of 15% of the legal capacity at each casino; limited entrance points with temperature checks; a ban on smoking on the casino floors; no poker rooms during initial opening; no concerts, nightclubs, live events or shows; and no buffets, as well as no valet or coat check services.
Meanwhile, in neighboring Indiana, Horseshoe Hammond Casino resumed gaming operations on Monday, according to casino officials. Horseshoe Hammond Casino will operate at reduced capacity in accordance with Phase One Casino Reopening Guidelines issued by the Indiana Gaming Commission, according to a casino statement.
"While focused on the well-being of team members, guests and the community, Horseshoe Hammond Casino strives to create an enjoyable environment that emphasizes sanitization and physical distancing practices. Horseshoe Hammond Casino will implement new health and safety protocols previously announced by Caesars Entertainment Corporation, which enhance its existing plans and practices in these areas," the statement said.
Inside the casino, slot machine banks will be arranged to allow for social distancing; table games will be offered as non-smoking and with limited seating; and guests will be required to wear masks while playing table games. Certain amenities including sports book, poker room, buffet, steakhouse, the Venue and valet will remain closed until further notice, and are planned to reopen in phases that are in-line with consumer demand and pursuant to guidance provided by public health authorities.