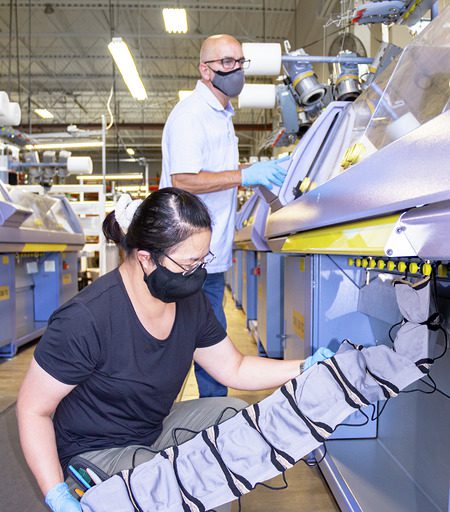 Like many things having to do with the COVID-19 pandemic – from stay-home orders to the creation of vaccines – the CDC's recent lifting of mask mandates in the face of the disease brought forth a variety of reactions.
And, after the first maskless weekend in more than a year, those reactions have run the gamut: It's too soon. It should have been done earlier. Mandates shouldn't have been done at all.
But they have been. And last week, the Centers for Disease Control issued new guidance – Michigan's Department of Health and Human Services followed suit a day later — saying it's no longer necessary for people fully vaccinated against the virus to wear masks or socially distance at small indoor gatherings.
And they said, masks are no longer necessary outdoors at all – regardless of your vaccination status.
While the guidance has been hailed as a kind of "light at the end of the tunnel" in terms of the pandemic, not everyone is necessarily happy with it, particularly because it now leaves most people on the "honor system" if they're not vaccinated.
Ann Arbor resident Abigail Samuels is just such a person. Samuels has been home since May 2020 guiding her four children through the pandemic – "I am one of the many mothers for whom leaving the work force was the only option to meet our family's needs," she said – while her husband, Steven, worked from home after the global company for which he works moved all of its employees to remote work at the start of the pandemic.
Still, with a 4-year-old child and parents who are high-risk Samuels, whose family has been "super conscientious" about following all of the COVID-related rules, is "disappointed" hearing about the mask mandate being lifted.
"Of course I would love to not wear masks, and perhaps it is safe for vaccinated folks to do so," she said. "But, this whole pandemic has been politicized in a polarizing way. The same folks who have been convinced this vaccine is unsafe are frequently the same folks who believe masks are a joke. Relying on the honor system at this point, seems moot."
Then there are folks like Bryan Bentley of Westland. He has been critical in social posts of both the CDC and Dr. Anthony Fauci, and says both "have flip-flopped so many times, they became nothing more than white noise to me."
Still, when the mandate was lifted, Bentley said he felt "so comfortable" going out in public that he ran errands to three different stores and a gas station. He said the only place he ran into trouble was Kroger, where he was informed the store was maintaining its mask requirement.
And therein lies the rub, according to Bentley: There was a lack of guidance that created some confusion about who could require what.
"The big problem with the abrupt change to the mask mandate is that the state did not have any language in place to guide businesses," Bentley said. "It's almost as if they never planned for the day when masks would no longer be required. Businesses can't legally ask if you've been vaccinated, so how are they supposed to enforce the new rules?"
Since the guidance does not come with any kind of tracking component that allows businesses to know the vaccination status of customers, Fauci, President Joe Biden's chief medical adviser, acknowledged the honor system is exactly what people will have to rely on.
During an appearance on CNN last week, Fauci was asked how people will know if others had been vaccinated. His response: They won't.
"You're going to be depending on people being honest enough to say whether they are vaccinated or not," he told the network.
The guidance allows states and even individual businesses to maintain the mask mandate, should they choose. That's exactly what businesses like Michigan-based Meijer (at least at first) and Kroger, the country's largest grocery chain, are doing.
"While we are aware of new CDC guidance, many state or local orders in the Meijer footprint remain in effect regarding masks," Meijer said in a statement. "In order to help ensure the continued health and safety of all its team members and customers, Meijer continues to require face coverings by anyone entering a Meijer store or Meijer Express station at all locations, except where medical conditions prevent them from wearing one."
Meijer then reversed its decision and is no longer requiring face coverings.
In Ohio, where Gov. Mike DeWine is lifting all COVID-related health orders effective June 2, Kroger company representatives released a statement Thursday saying the chain "continues to require everyone in our stores to wear masks."
Although sharing its appreciation for the updated guidance for vaccinated individuals to return to some sense of normalcy, Kroger says masks will still be required at area stores.
"We are encouraging and incentivizing associate vaccinations by offering a $100 one-time payment to associates who receive the recommended doses of the COVID-19 vaccine. As we have throughout the pandemic, we are reviewing current safety practices, the CDC's latest guidance, and soliciting feedback from associates to guide the next phase of our policy," Kroger stated.
Not everyone is keeping the mask mandate in place. Companies like Starbucks, Target, CVS, Trader Joe's and Publix almost immediately began easing their mask restrictions.
A day after the CDC issued the new guidance, Walmart announced customers who are fully vaccinated no longer have to wear masks, and staff members can ditch the masks next week.
"Beginning today, vaccinated customers and members are welcome to shop without a mask, and we will continue to request that non-vaccinated customers and members wear face coverings in our stores and clubs," the company said in a statement Friday, adding that masks would still be required where mandated by local authorities.
"These are positive developments. We can do this. We've been through a lot this year, and now we need to do our part to finish this," Walmart said in its statement, which was signed by corporate leadership.
Joe Bauman, president of the Birmingham/Bloomfield (Mich.) Chamber of Commerce, pointed out the MI Occupational Safety & Health Administration has not yet ruled on the issue, though guidance is expected soon.
"We are advising (local businesses) not to lift mask requirements since MIOSHA emergency rules have not been rescinded as it relates to the workplace and public facing businesses," Bauman said. "It is a very confusing jumble of contradictory regulations."
Jim Vermeulen thinks there will be people wearing masks the rest of their lives, regardless of the pandemic or their vaccination status. And, while the end of the mask mandate will certainly help Vermeulen and his staff communicate with loved ones planning a ceremony, that alone won't do much to change his business.
Vermeulen, the owner of Vermeulen Funeral Home in Plymoth, has had his staff and customers observing COVID-19 protocols all along – masks, hand sanitizer, social distancing, et al – but, while he agreed with the mask mandate to begin with, he thinks the next step looms even larger for economic improvement in his industry.
According to the MI Vacc to Normal plan announced by Gov. Gretchen Whitmer, capacity at funerals will be raised from the current audience of 25 people to 25% of the funeral home's capacity when the state hits a 60% vaccination (one dose) level.
"That will have a big effect for us," Vermeulen said. "Right now you tell someone who's lost a son who had a lot of friends they can only have 25 people, that's a big impact. Putting a mask on or not didn't mean nearly as much as cutting the number of people. That severely changed how people were going to run Mom or Dad's funeral."
Vermeulen said the percentage of Michiganders being vaccinated warrants the lifting of the mask mandate. Ultimately, he said, it's the wearer's choice. The CDC, he pointed out, is saying "you don't need masks anywhere."
But, unlike Meijer and Kroger, Vermeulen said he has no intention of mandating their wear in his funeral home.
"I think it's an appropriate time (to end the mandate)," he said. "People can always wear them (if they choose). We're not going to make a mandate. We're going to ask each family how they feel about the mask mandate, and if they want us to require a mask, we will. If they don't, we won't."