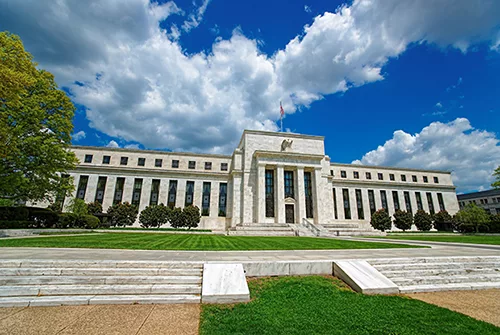 After raising its key interest rate for the 10th time, Federal Reserve officials gave a subtle indication that such raises may be in for a pause.
The Fed again raised its rates by a quartr-point on Wednesday – to their highest level in 16 years – but signaled it may pause the string of hikes.
A statement released after Wednesday's policy meeting said it will "consider a range of factors in determining the extent" to which future increases may be necessary, the Associated Press reported.
Previous statements had simply said "some additional rate hikes" might be needed.
Rate increases over the past 14 months have more than doubled mortgage rates, elevated the costs of auto loans, credit card borrowing and business loans and heightened the risk of a recession. Home sales have plunged as a result, the AP reported.
This latest hike raises the Fed's benchmark rate to roughly 5.1%.
Inflation has fallen from a peak of 9.1% in June to 5% in March but remains well above the Fed's 2% target rate.
"Job gains have been robust in recent months, and the unemployment rate has remained low," the statement said. "Inflation remains elevated."
The Fed's decision Wednesday came against an increasingly cloudy backdrop. Consumer spending was flat in February and March, perhaps indicating many shoppers have grown cautious in the face of higher prices and borrowing costs. Manufacturing, too, is weakening, the AP reported.