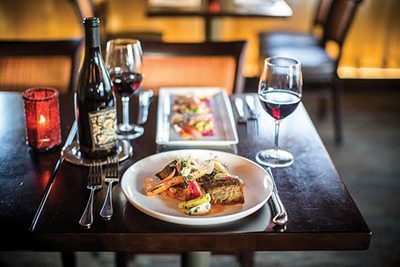 As restaurants consider their strategy moving forward with cooler temperatures, concerned consumers and constantly changing coronavirus-related safety and sanitation mandates, experts say diners are likely to see more innovation throughout the industry, including adding robots to do some labor in the back of the house.
Most of that innovation will happen with robots – yes, robots – that will help businesses that serve food and drinks offer quality customer service while also limiting their staff exposure to the public and boost cost savings, all important to a food or hospitality company going forward.
"Restaurants and hotels need enough labor to handle the cleaning tasks now necessary, and they need to find ways to use that labor more efficiently," said Leith Martin, Executive Director at the Troesh Center for Entrepreneurship and Innovation at the University of Nevada, Las Vegas.
Automation was inevitable within the restaurant and hospitality industries, Martin said. Coronavirus simply hurried that process further, bringing more unique ideas about how to handle simple tasks and fill in for staff when needed. But robots likely will go beyond simple tasks to eventually doing things like making drinks for patrons inside bars, Martin added.
Martin is on the steering committee of the Lee School Prize for Innovation and Entrepreneurship, a competition which aims to speed entrepreneurs in the development of innovations necessary to rapidly address the urgent problems facing the hospitality, entertainment and travel industries resulting from COVID-19. This year, Martin said the competition focused on key safety and sanitation efforts, such as creating new air-filtration techniques within hotels and the like.
"We're also seeing (projects) that help manage temporary peaks and valleys in staffing in hospitality that might not have happened in the past," Martin said. "If you have multiple people get coronavirus and you lose a third of the staff, how do you bring people in for two weeks? … We're going to be seeing more technologies act like an Uber of labor – people will get on a list, get a call, work three or four days and then work elsewhere the next week."
Robot labor force?
In her study, "How to Build a Better Robot for Quick Service Restaurants," recently published in the Journal of Hospitality and Tourism Research, Dina Marie Zemke, an associate professor of residential property management in the Miller College of Business at Ball State University in Ohio, found that the overwhelming majority of respondents believe that there is no stopping the robotic transformation of the food service industry, including quick-service restaurants (QSRs).
More: Economist: U.S. Economy Needs a 'Foot on the Accelerator' to Fully Recover from the Pandemic
More: DTE Foundation Grants $1 Million to Domestic Violence Shelters
More: Talent Agency Looks to Expand with New Division Focused on Social-Media Influencers
Zemke noted that the majority of robots used in the hospitality industry are technologies initially developed for other industries, such as automobile and food manufacturing, which have been modified from their original functions to perform their tasks in a hospitality setting.
Examples include the work performed by robotic vacuums, information displays and robotic manufacturing assembly arms, which put together pizzas and cocktails. The study also found that robots are still a novelty for most people.
"At this point, a lot of people have a positive impression of robotic technology that entices guests to visit the location at least once, although they were unsure whether the robotics would sufficiently overcome average food or service to entice them to return to the restaurant a second time," Zemke said.
"This is consistent with past examples of restaurant concepts that provided a highly unique experience but suffered from the reputation that the guest would visit once because of the 'experience' but would not return because the food was too expensive and/or the food quality or service provided a poor value overall."
Despite the impending changes, the study found that respondents have major concerns regarding the societal impact of robotics entering the realm of QSR operations, including the cleanliness and food safety of robot technology, and communication quality, especially voice recognition, from both native and nonnative English speakers.
In the end, Zemke believes that rising labor costs will force restaurant owners to turn to robotics.
"The genesis of this study was the 'Fight for $15' movement, which focused heavily on hourly service jobs, such as those in franchised quick-service restaurants," she said. "Many restaurant operators cautiously suggested that they may explore robotics as an alternative to absorbing these increased labor costs."
The hospitality, restaurant and entertainment industries account for much of the nation's Gross Domestic Product, Martin said. According to studies, the U.S. travel and tourism industry generated over $1.6 trillion in economic output in 2017, supporting 7.8 million U.S. jobs. Travel and tourism exports accounted for 11 percent of all U.S. exports and nearly a third (32 percent) of all U.S. services exports.
"These are massive industries (and) our nation's GDP will lag if these industries cannot recover. We need tools in place that insulate them from the severity of issues like this that will happen in the future," Martin said. "This is about the health and resilience of our economy."