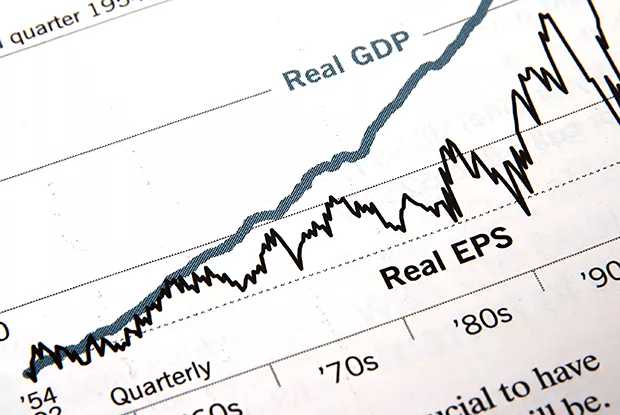 U.S. real GDP increased at a modest 2.0 percent annualized rate in the third quarter, well below the 6.7 percent growth rate from the second quarter. Real consumer spending was soft, increasing at only a 1.6 percent rate following a 12.0 percent growth rate in Q2. Lack of inventories for automobiles and other durable goods products held consumer and business spending back. The Q3 surge on COVID also hurt consumer spending in a variety of areas. Business fixed investment was weak, increasing at just a 1.8 percent rate in Q3. The structures component of BFI contracted at a 7.3 percent rate and business investment in equipment declined at 3.2 percent rate. Real residential investment declined at a 7.7 percent annualized rate in Q3 after contracting at an 11.7 percent rate in Q2. Inventory depletion continues to be an issue. Real inventories fell by $77.7 billion ($2012) in Q3. But because inventories fell less in Q3 than they did in Q2, the overall impact on GDP from inventories was positive, if somewhat counterintuitive. We expect to see inventory restocking through the second half of next year add to GDP growth. International trade was also a drag as real imports expanded at a strong 6.1 percent rate, mostly from services, while real exports fell at a 2.5 percent annualized rate. Government spending increased at a modest 0.8 percent annualized rate, held back by a contraction in federal nondefense spending. We look for moderate real GDP growth in the fourth quarter of 2022.
Initial claims for unemployment insurance continued their declining trend through October, falling by 10,000 for the week ending October 23, to hit 281,000. Continuing claims for the week ending October 16 fell by 237,000, to hit 2,243,000. We expect the declining trend in UI claims to continue through year end.
Market Reaction: U.S. equity markets opened with gains. The yield on 10-Year T-bonds climbed to 1.56 percent. NYMEX crude oil is down to $82.30/barrel. Natural gas futures are down to $5.94/mmbtu.
Dr. Robert Dye is senior vice president and chief economist at Comerica. Daniel Sanabria is a senior economist at Comerica.