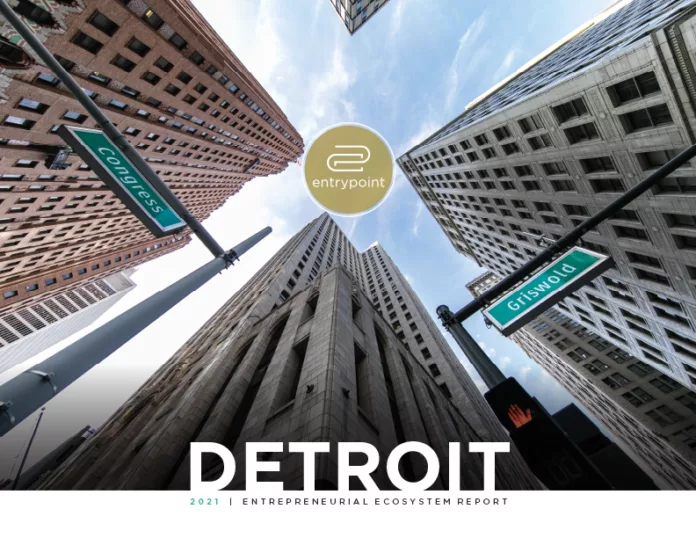 ANN ARBOR – More than one-fifth of venture-backed startups in the state are in Detroit, they've raised hundreds of millions in venture capital funding and many of them are led by a person of color.
Those are some of the findings in a report released Monday by EntryPoint, a nonprofit research institution that promotes entrepreneurship across the Midwest.
EntryPoint's 2021 Detroit Entrepreneurial Ecosystem Reportprovides Wayne County economic development organizations and nonprofits with the insights necessary to serve the startups in the community and help founders navigate challenges that arise when growing their companies.
"Detroit's entrepreneurial ecosystem has seen incredible growth over the last seven years; however, our research shows the challenges facing the region, such as racial inequality and the global pandemic, hit the community hard this past year," said EntryPoint founder and Managing Director, Emily Heintz. "We hope that through comprehensive and ongoing research, we can do our part to support the community in its continued growth and progress."
Key Findings from the 2021 Detroit Entrepreneurial Ecosystem Report include:
Over 23% of the venture-backed startups in Michigan are located in City of Detroit.
There are 38 venture-backed startups in Wayne County, a 58% increase in the number of startup companies over the last seven years.
Startup companies in Wayne County have raised an aggregate of $806.3 million in venture capital funding, a 333% increase in total capital raised over the last seven years.
In the last year, 24 startup companies in the Detroit area attracted more than $316.5 million from venture capital firms, nearly five times the amount of capital raised in the year prior.
Ten venture-backed startups headquartered in the City of Detroit are led by a CEO who is a person of color. These companies have raised 1.5% of the total venture capital raised by startups in the city in the last year.
The cost of living in dense tech hubs, like San Francisco, is 88% higher than Detroit, making the region an attractive location for entrepreneurs who are looking for an energetic, vibrant city to locate, live and launch their companies.
Support for the EntryPoint 2021 Entrepreneurial Ecosystem Report was provided by Rocket Community Fund, Michigan Economic Development Corporation, Bank of Ann Arbor, Detroit Venture Partners, ID Ventures, Bodman, and other prominent community organizations.