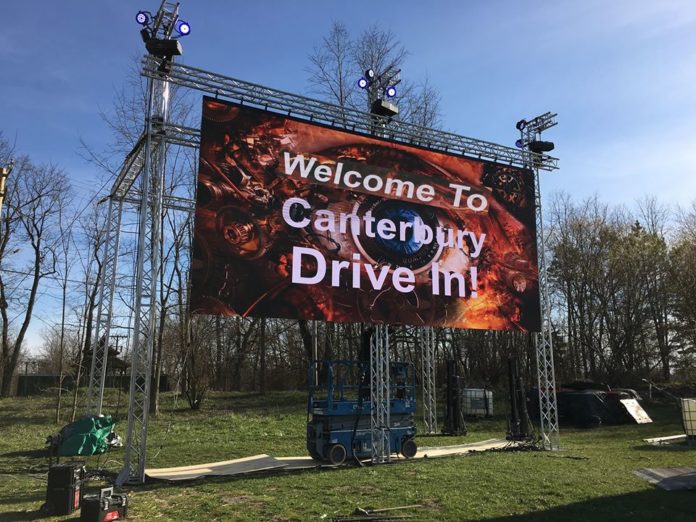 Drive-in theaters have been a part of Michigan for nearly a century, but as "non-essential businesses," these classic summertime entertainment venues have been shuttered until the "Stay Safe, Stay Home" executive order expires.
But drive-in theater owners are becoming frustrated with Gov. Gretchen Whitmer's order to stay closed. Longtime owners are wondering when they can open, especially given the considerations being given to outdoor businesses. And one Metro Detroit newcomer was met with excitement and then disappointment when it announced it would begin showing movies on its jumbo screen April 30, only to be shut down by the state of Michigan.
The main issue started when Canterbury Village, a Lake Orion business, partnered with an audio-visual business called AV7 Productions to open a drive-in theater in the site's parking lot. Canterbury Village is a shopping center and entertainment venue that has been closed during the "Stay Home, Stay Safe" executive order.
The proposed drive-in theater at Canterbury Village got huge attention both on Facebook as well as from local media. The operators announced they would start showing movies April 30 after having discussions with local officials and police departments, who reportedly approved its opening. It began selling tickets and sold out quickly as local residents sought some form of entertainment outside their home. The theater had social-distancing plans in place and promised to clean its bathrooms regularly after patrons used them.
The Canterbury Village Drive-In charged $30 per car for one movie; scheduled showings included "Jumanji" and "The Lion King." Gov. Whitmer's office heard about the showings and issued a response via email to media, including Corp! magazine.
In a statement to Corp! magazine, Bobby Leddy, Deputy Press Secretary in the office of Gov. Whitmer, said her "first priority is the health and safety of all Michiganders as the state starts to safely reengage sectors of our economy."
"The administration is in constant contact with health and business experts to build a path forward for each industry, and consistent with our executive orders drive-in movie theaters are to remain closed to the public at this time," Leddy wrote. "Each decision will be based on data and facts to ensure that we can protect employees and patrons across the state."
Owner frustrations
The online backlash was immediate – Canterbury Village posted a controversial Facebook post entitled, "The Governor Just Shut Us Down," which elicited derision from some fans for being too political while others chastised the governor for the office's stance on these theaters. The Village took that post down and put up a non-political one as of Thursday morning.
Paul Glantz, owner of the Emagine Theaters chain, said he understands theater owners' frustrations. His popular indoor movie theaters have been closed as well, and the only thing going on inside has been cleaning, Glantz said.
"I think it's tragic that drive-ins have been precluded from opening," Glantz said Thursday, noting that Canterbury Village's plan for opening was sound and that he was "deeply saddened" for the organizers.
For his personal business, reopening the indoor theaters will be challenging because of the movie supply chain. The first-run "blockbuster" movies planned for summer are either postponed until 2021 or don't plan on going on screens until mid-July.
"In our case, we don't have any compelling first-run film product until July," Glantz said. "If we reopen, we'll have to reopen with classic films and other forms of entertainment, which is fine. We'd rather be serving our guests than not serving our guests. We are working with our trade association and industry officials how to best satisfy the expectations of our guests when we open as well as fulfill the expectations of government officials."
Every theater owner has the same goals, Glantz said: To entertain and delight customers. Right now, none of that is possible.
"Our job is bring escapism and joy to people and if you apply mandates to our business that remove the joyful aspect of going to the movies that's contrary to our goal," Glantz said.
Moreover, it is likely that half of the movie goers will be fearful of going back to the show, and the other half will be ready to do so with social distancing. It will take time to find a happy medium, he believes.
"It is a question of proportionality and attitude change over time," Glantz said.
So when will these outdoor movie palaces open up again? That remains up for debate. But Michigan residents, eager to get out of the house, certainly show a willingness to visit the state's eight remaining drive-in theaters – something that may make these facilities more viable and financially successful than they have been in decades.
Michigan has eight drive-in theaters that date back to the late 1940s in their construction. The one closest to Metro Detroit is the Ford-Wyoming Drive-In theater; it has not announced an official reopening date. From social media, it looks like the Capri in Coldwater is remaining closed as well for the time being, but the Hi-Way may reopen soon per local permissions.
Drive-in theater owners are making efforts to fire up their projectors: Multiple locations have asked fans and regular visitors through social media and their famous marquees to reach out to Whitmer to ask her to clarify when they can open. One fan went so far on Wednesday to start an online petition to get the governor's attention; to date, it has more than 750 signatures.