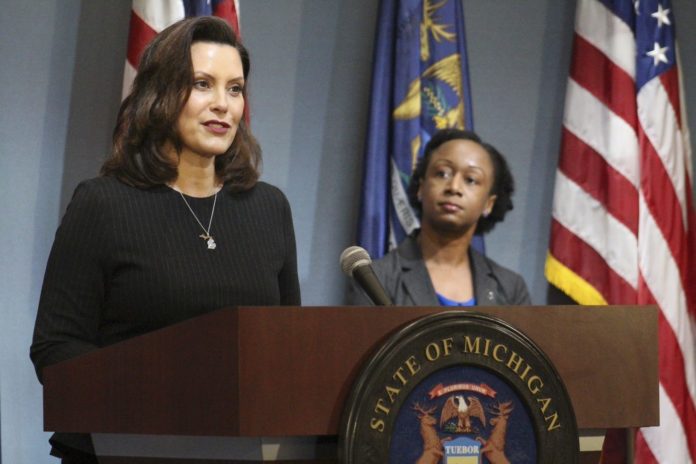 Ted Barker officially got the news he's been waiting for Wednesday: He can get back to work.
Barker, the president of Livonia-based Shaw Construction and Management Company, was happy to hear Michigan Gov. Gretchen Whitmer announce at her coronavirus briefing that the construction industry can reopen next week.
While Barker is still concerned about what workplace safety requirements might look like, and whether a week is enough time to meet them, he said talks have already started about upcoming projects.
"I'm struggling a little right now with PPE, but I think it's good news," Barker said of Whitmer's announcement. "There's some pent-up demand. I'm excited to have the conversations and get the guys back in. We need to get rolling again."
Whitmer said she'll sign an executive order Friday opening both residential and commercial construction on May 7.
"We are comfortable taking this step because it is a lower-risk enterprise as we've scored risk and developed and worked with industry to make sure we've got appropriate protocols," Whitmer said.
It's the latest easing of restrictions Whitmer put on the state's economy in the order she issued earlier this month extending the state's Stay Home, Stay Safe order. Last week, Whitmer allowed motorized boating and golf (without electric carts), and allowed businesses such as landscaping companies and nurseries to reopen.
Whitmer was asked why the arbitrary delay in opening the construction industry, a description she flatly refuted.
"It's not arbitrary at all," Whitmer said. "It's to make sure the industry has notice, so they can start to get prepared for re-engagement. It is defined by what we believe is the lowest risk and the right cadence to keep risk down."
More: Agency Chief Preaches Patience As Unemployment Claims Continue to Surge
More: Universities Freeze Tuition, Plan Ahead for Reopening Campuses This Fall
More: PPP Already Ran Out of Money Once, So Experts Say to Think Smart, Fast This Time
The latest move comes as Whitmer and Dr. Joneigh Khaldun, the state's chief medical executive, say the coronavirus curve in the state is flattening. As of Wednesday, the state had seen 40,399 cases and 3,670 deaths.
Khaldun also said the state is averaging some 6,000 coronavirus tests per week, a 50% jump over previous testing, she said.
"Social distancing measures are working, and we're saving lives," Khaldun said. "As long as we continue to see those cases and deaths, we need to remain vigilant."
Whitmer's office Wednesday also released details about a series of initiatives she says will "help Michigan workers and their families."
The biggest of those is the "Futures for Frontliners" program, designed to provide a tuition-free pathway to college or a technical certificate to essential workers who don't have a college degree.
Whitmer said Wednesday the program is "the first of its kind in the country," inspired by the federal government's support of soldiers returning from World War II by providing educational opportunities.
"The Futures for Frontliners program is our way of saying 'thank you' to those who have risked their lives on the front lines of this crisis," Whitmer said. "This program will ensure tuition-free college opportunities and give these dedicated Michiganders an opportunity to earn a technical certificate, associate degree or even a bachelor's degree.
"I want to assure all of our workers we will never forget those of you who stepped up and sacrificed their own health during this crisis," she added. "You're the reason we're going to get through this."
In other moves, Whitmer:
Expanded the state's Workshare Program to allow employers to reduce employee hours to receive weekly unemployment insurance benefits as well as the additional $600 Pandemic Unemployment Assistance weekly benefit. Both benefits will be funded through federal dollars. Through July, the program can act as supplemental pay for critical infrastructure workers by allowing them to collect the extra $600 per week.
Called on leaders in Congress to support Sen. Gary Peters' Heroes Fund to provide hazard pay for frontline workers putting their lives on the line to ensure access to life-saving care, food, and other critical services during the pandemic. It is estimated that more than three million of these essential workers are currently on the job in Michigan. The proposal, which Whitmer said had the support of both Peters and Sen. Debbie Stabenow, would provide these workers with an additional $13 per hour, up to $25,000, with an additional potential recruitment incentive of up to $15,000 for essential medical workers.