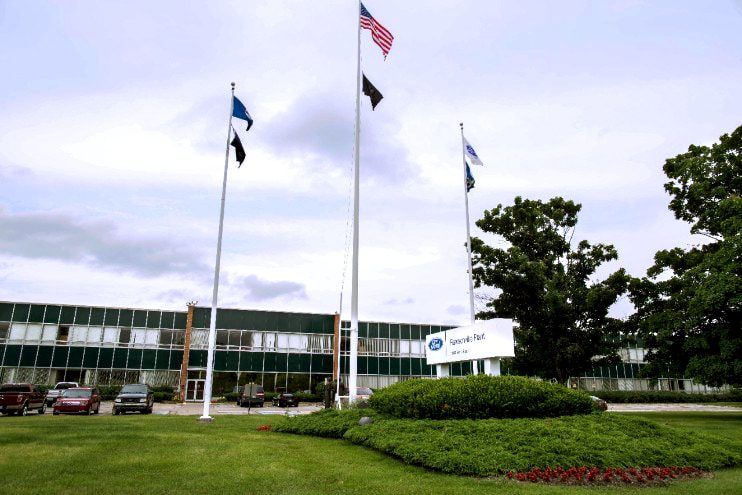 With Ford's announcement Monday that it will work with GE Healthcare to begin producing ventilators in Michigan, all three Detroit car companies are now engaged in filling what healthcare officials have called a desperate need for personal protective equipment to battle the spread of the COVID-19 virus.
The goal of the collaboration, Ford said in a statement Monday, is to produce 50,000 of the vitally needed units within 100 days and up to 30,000 a month thereafter as needed.
Ford will provide its manufacturing capabilities to quickly scale production, and GE Healthcare will provide its clinical expertise and will license the current ventilator design from Airon Corp., a small, privately held company specializing in high-tech pneumatic life support products. GE Healthcare brought the Airon Corp. design to Ford's attention as part of the companies' efforts to scale production of ventilators quickly to help clinicians treat COVID-19 patients.
Production of the GE/Airon Model A-E ventilator is targeted to start the week of April 20 at Ford's Rawsonville, Mich., components plant.
"The Ford and GE Healthcare teams, working creatively and tirelessly, have found a way to produce this vitally needed ventilator quickly and in meaningful numbers," said Jim Hackett, Ford's president and CEO. "By producing this ventilator in Michigan, in strong partnership with the UAW, we can help health care workers save lives, and that's our No. 1 priority."
Meanwhile, General Motors said in a statement Tuesday morning the first sample of a face mask had been produced under a rapid-response project it launched March 20 to address the critical shortage of face maks. The sample landed on the new production line Friday, a week after the program's launch.
By April 8, GM expects to deliver its first 20,000 masks to frontline workers, according to a statement issued by the automaker.
More: Whitmer redirects spending for COVID-19 fight, delays decision on extending stay-at-home order
More: Order clarifies unemployment benefits, adds workers who were previously ineligible
More: Researchers team to bring COVID-19 drug trials to southeast Michigan
Without help from GM's partners around the globe, officials said, the project would have taken several months to plan and execute. The team working on GM's face-mask project accomplished the task in just one week.
"Our team began looking at ways we could quickly utilize our talents and resources to help in the shared fight against COVID-19," said Peter Thom, GM vice president, Global Manufacturing Engineering. "Working around the clock, our team rallied with incredible passion and focus to come up with a plan to produce masks that will help protect the women and men on the front lines of this crisis."
And on Friday, Fiat Chrysler Automobiles CEO Mike Manley announced the company is converting its first plant to produce face masks for donation to first responders and health care workers. In a statement, FCA said the first machinery has been delivered and installed with supply and donation coming on stream in the coming weeks.

FCA is expanding its program of measures to support coronavirus relief efforts, focused on two principal areas: charities providing food services to children and support for a range of technical, logistical and manufacturing programs, such as face mask production.

"There has never been a more important moment to help children and their families with vital needs in our communities than during this time of great uncertainty," Manley said.
General Motors
In addition to the production of masks, General Motors and Washington-based Ventec Life Systems had already announced a plan to build critical care ventilators at GM's Kokomo, Ind., manufacturing facility. The goal there is to deliver the first ventilators in April and ramp up to a manufacturing capacity of more than 10,000 critical care ventilators per month with the infrastructure and capability to scale further, the companies said in a statement.
The announcement was made before President Donald Trump announced he was invoking the Defense Production Act and ordered GM to start producing ventilators.
"We are proud to stand with other American companies and our skilled employees to meet the needs of this global pandemic," said Mary Barra, GM chairman and CEO. "This partnership has rallied the GM enterprise and our global supply base to support Ventec, and the teams are working together with incredible passion and commitment. I am proud of this partnership as we work together to address urgent and life-saving needs."
Ventec Life Systems CEO Chris Kiple said the "unique partnership" combines Ventec's "respiratory care expertise" with GM's "manufacturing might" to produce the ventilators.
"This pandemic is unprecedented and so is this response, with incredible support from GM and their suppliers," Kiple said. "Healthcare professionals on the front lines deserve the best tools to treat patients and precision critical care ventilators … are what is necessary to save lives."
In a separate effort, GM is expanding its support of medical equipment production by temporarily converting its Warren plant to build Level 1 surgical masks. Production will … ramp up to 50,000 masks per day, with the potential to increase to 100,000 per day. Daily mask production will be influenced by the availability of materials to build the masks.
Ford Motor Company
Ford expects to produce 1,500 ventilators by the end of April, 12,000 by the end of May and 50,000 by July 4 – helping the U.S. government meet its goal of producing 100,000 ventilators in 100 days.
Ford's Rawsonville plant will produce the ventilators nearly around the clock, with 500 paid volunteer UAW-represented employees working on three shifts. Airon currently produces three Airon pNeuton Model A ventilators per day in Melbourne, Fla. At full production, Ford plans to make 7,200 Airon-licensed Model A-E ventilators per week.
"From the days of Rosie the Riveter, UAW members have stepped up during difficult times in this nation's history for the good of us all," said UAW International President Rory Gamble. "Today's announcement by Ford that UAW employees will make ventilators at Rawsonville is in that tradition."
Working with firms including 3M and GE Healthcare, Ford is also lending its manufacturing and engineering expertise to quickly expand production of urgently needed medical equipment and supplies for healthcare workers, first responders and patients fighting coronavirus.
Ford also has plans to assemble more than 100,000 face shields per week and leverage its in-house 3D printing capability to produce disposable respirators for healthcare workers.
"This is such a critical time for America and the world. It is a time for action and cooperation. By coming together across multiple industries, we can make a real difference for people in need and for those on the front lines of this crisis," said Bill Ford, Ford's executive chairman, said in a statement. "At Ford, we feel a deep obligation to step up and contribute in times of need, just as we always have through the 117-year history of our company."
Fiat Chrysler
In a statement posted to its website, FCA officials said the company is expanding its program of measures to support coronavirus relief efforts, focused on two principal areas: charities providing food services to children and support for a range of technical, logistical and manufacturing programs, such as face mask production.

"There has never been a more important moment to help children and their families with vital needs in our communities than during this time of great uncertainty," CEO Mike Manley said. 

FCA will work in partnership with non-profit organizations and foundations that are providing food to children until schools return to session. FCA is helping provide more than 1 million meals to school-age children in the communities around its principal manufacturing plants in Illinois, Indiana, Michigan and Ohio. The program will then be extended nationwide in the U.S. and to Canada and Mexico, supporting similar relief efforts for kids who would normally access school meal services.

Following the first actions taken to start face mask production, the company is now investing technical, logistical and manufacturing resources at medical equipment and personal protective equipment, according to the statement.
With the donation of face masks produced by the company starting in the coming weeks, the company will invest to extend that production capacity to other plants and ultimately donate masks to first responders and health care workers across the world. Drawing on experience from the company's engineering and logistics team in Italy who are assisting a local ventilator manufacturer, FCA is engaged with other companies producing ventilators and other much needed medical equipment and PPE.

"In this time of need, we've focused our resources on those actions we can implement quickly and that will have the greatest impact, as we did in Italy as soon as the emergency started," Manley said.