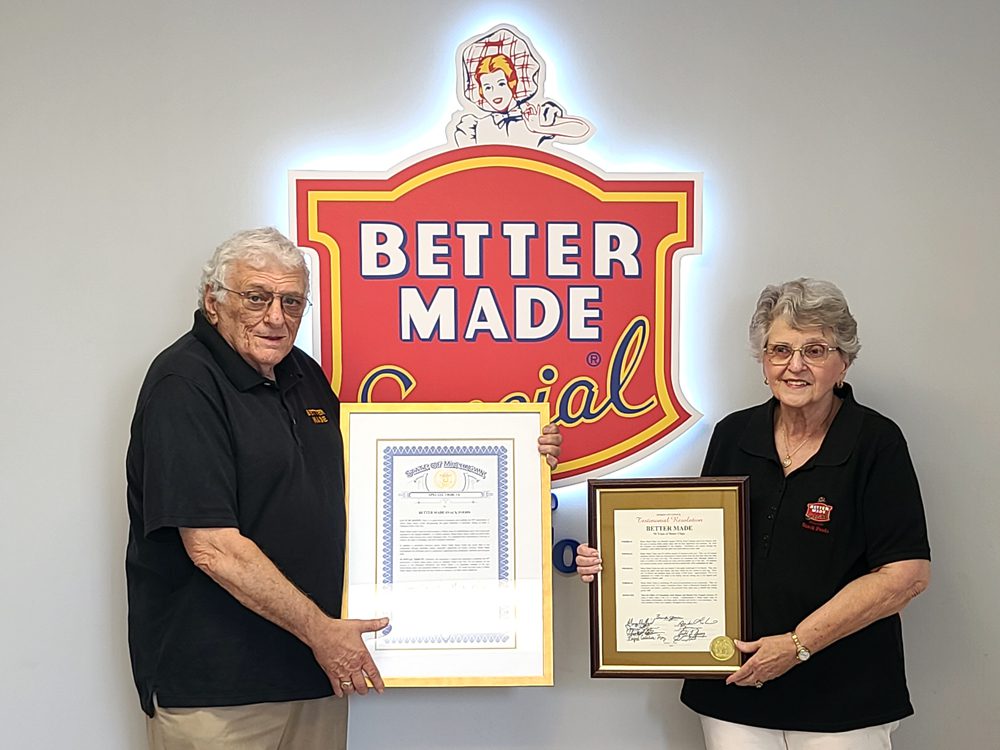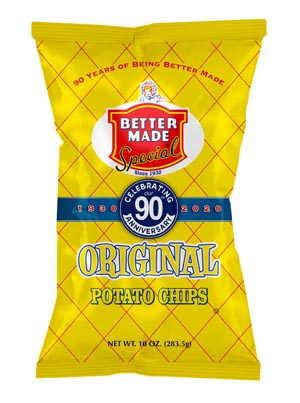 It is a classic business story: Two young entrepreneurs saw an opportunity to add their ideas to the marketplace and they jumped into the food business with verve. They were Pete Cipriano and Cross Moceri, the founders of Cross and Peters Co.
Today, most people know their business as Better Made Snack Foods, and their small start-up potato-chip company is celebrating its 90th anniversary in August. The Cipriano family, which still operates the iconic brand, launched an anniversary-themed bag, received a city award and has plans to boost its new flavors as part of its month-long celebration.
It wasn't easy – Detroit is a "foodie" kind of city, and Better Made had to prove itself time and again with new flavors, new products and new advertising programs. It has had its own ups and downs in terms of business, going through the city's economic ups and downs as well. But what makes Better Made different than most companies is clear, especially after 90 years: It has the resiliency, determination and commitment to its city and the greater state of Michigan to remain true to its humble roots and continue to serve everyone who loves a great potato chip.
"Our family has always taken pride in how we make our products with quality being paramount," says CEO Sam Cipriano. "From our humble beginnings when Detroit had over 20 potato chip manufacturers, we've tried to make the best product possible, and that hard work paid off as we're the last one standing."
"I've always said, 'We're not trying to be the biggest, we're trying to be the best.'"
Detroit pride
"We started in Detroit and we are committed to remaining in the city," says David Jones, President of Better Made. "A great deal of our success and longevity can be attributed to our loyal customers and faithful employees. We're grateful to each and every one of them and want to thank them for 90 wonderful years".
More: The Parade Company Seeks Approval to Move Headquarters to Historic Naval Armory
More: Tourism, Hospitality Businesses See Customers Shift Their Spending to Other Locations As a Result of Coronavirus
More: Hatch Detroit Launches Small Business Alumni Relief Fund with $100,000 from Comerica Bank
Moceri and Cipriano created Better Made to compete with other Detroit-based brands. But what made the company stand out against its competition is its commitment to quality ingredients, especially its potatoes and oil. According to those who watched Better Made develop as a company, it was its understanding of food and food science that made its chips, popcorn and potato sticks just plain old taste better than other brands that kept it going from 1930 to the present.
Pete was the quiet presence within the company, making sure Better Made had a strong supply of cash, that it paid its bills on time and that it always put its best products into its bags and on the store shelves. Cross was the natural extrovert – he loved selling, promoting and getting the word out about Better Made. Cross was the one who gave away the free bags of chips to anyone and everyone while Pete minded the books and made sure there was a balance to everything.
The duo also hired right – they brought in people who had worked at other chip companies throughout their tenure. These experts, such as Russ Leone, Felix "Phil" Amigoni and George Orris, helped build up Better Made's expertise and business strength. Managers such as Mike Schena continued to grow the company throughout its challenges, especially in the early 2000s as competition from Frito-Lay and other chip companies became more robust.
Chipping legacy
Today, the Cipriano family owns the company outright, buying out the Moceri family. The main "shareholders" in the business are Pete's three children and their children. Its management staff includes industry experts as well who have brought their expertise to that of the Cipriano family, who have maintained Pete's legacy throughout the past nine decades.
Better Made continues to support the community by raising funds for The National Multiple Sclerosis Society, Michigan Medicine CS Mott Children's Hospital, frontline workers battling COVID-19 at various hospitals, police and fire stations, The American Red Cross/Michigan Flood Victims Relief Program and other charities.
The company recently took 1st place in three divisions in national and international publications: Best Original Potato Chip and best Wavy Potato Chip from www.thekitchn.com, a U.S.-based online daily food magazine and best BBQ flavored Potato Chip in the United States from The Wonderful World of Chips & Crisps 2020, a UK-based annual guide written by Paul Cassella.
Part of Better Made's success is the development and release of delicious new products. So far in 2020 the company has released their Jalapeno Cheddar flavored Popcorn and Peanut Butter Filled Pretzels. The company has plans to launch between six and eight more products by year's end.
Many parts of the United States do not have independent chip companies – they have to eat national brands only. So having Better Made in Michigan and supporting Detroit is unique and something to honor. (This author is biased, to say the least, but it really is 'better made' as a chip.) Hopefully, the company is around for another 90 years and more.