Big company holiday parties or even smaller, more-intimate business events to celebrate the year's end and beginning of a New Year are likely to be subdued at best or be cancelled outright at the worst, according to local trends and insights from Metro Detroit restaurants and entertainment venues based on consumer behavior so far.
In a wide-ranging survey of Metro Detroit and West Michigan venues, places that said they would normally be completely booked by the end of October to the beginning of November for the rest of the holiday season, which traditionally runs through the first week or two of January, said they have had little to no interest in parties. Those that are getting bookings said companies are putting together events that include a dozen to perhaps two dozen people at most in hopes of maintaining social distance in light of the pandemic.
Restaurants and event spaces are responding to these changes by offering more unique spaces, such as heated outdoor tents, and private dining rooms as an alternative to the big, showy holiday parties of the past. Given that 2020 is a year like no other, owners and managers at these venues say they are hoping they can host get-togethers safety and bring some joy to an otherwise challenging end-of-year season.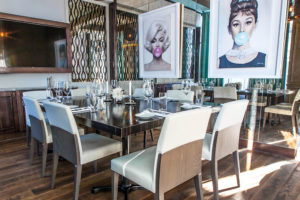 "We're doing more intimate-style parties, anything between the size of 10 to 20 people. We're asking the guests to require masks, and the staff wears masks and gloves. … We want everyone to feel safe and have a good time here," said Alyssa Fardell, director of events for the Iconic Collection, a Metro Detroit premier hospitality group, where staff is gearing up for the holiday season at Parc, 220 and The Rose Room.
At the Essence Restaurant Group, the West Michigan hospitality firm said it plans to expand its private dining offering to include five unique private event spaces in time for the holiday season, with the reassurance that proper safety guidelines are being met. All spaces offer menu items from Bistro Bella Vita and can accommodate small and large groups. In addition, The Essence Room, located in the former Grove location in East Hills, will offer favorites from The Green Well and a former Essence pop-up eatery that featured gourmet roasted chicken.
"What we've learned (during coronavirus) is any plan is set in sand. You have to be like the palm tree and not the oak tree – you need to be able to adjust in what you're doing and not get too entrenched in your plans," said Essence Restaurant Group managing partner James Berg.
"This point in previous years, we were almost 100% booked. Now, we have minimal events. People are waiting to see" what happens next, Berg said.
Holiday hopes
According to the National Retail Federation, 87% of U.S. consumers said they plan to celebrate the winter holidays, which are defined as Hanukkah, Christmas and Kwanzaa. This comes alongside the coronavirus pandemic, which has changed the way many families will celebrate these traditional holidays in terms of shopping, gift giving, entertaining and food, experts agree.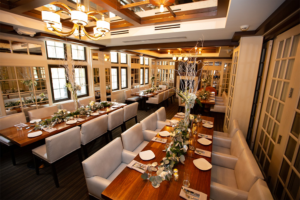 For holiday 2020, the National Retail Federation predicts people will spend $998 on average on items including food, gifts, decoration and other holiday-related purchases for themselves and for their families. Food and non-gift purchases are likely to amount to about $230 of that total, the association said about its consumer surveys.
Although the National Retail Federation doesn't look at business entertaining or holiday parties, these events also are likely to be down slightly to completely given the coronavirus pandemic. Its data shows how this is likely given travel plans for seeing family and friends. In its surveys, the association said one in five (19%) holiday shoppers said they typically travel for the holidays but will stay home instead this year. Over half (53%) of those who changed their holiday travel plans said they are likely to spend more on holiday items this year, specifically because they will not be traveling.
Fardell said her staff at the Iconic Collection started calling companies that previously booked parties at their locations to see if they're coming back, and some are. Yet others say they are going in different directions or having smaller events.
"We're taking it day by day," Fardell said.
To accommodate companies and their changing needs, Parc is adding a 20-by-30-foot tent that is heated to allow for businesses to host events for their workers. Plus, with Parc's great Campus Martius location, Fardell said they have a view of the park and its skating rink. If they want to add skating to the party, it is easy to put that activity into the plans.
"Plus, the tent allows for more seating in the restaurant" because of social distancing, Fardell said. "We also have a new brunch menu and we've added a singer and DJ on the weekends. It's a nice change of pace and give people more options with their teams."
Local efforts
Berg said they have had many patrons inquire about having the Essence experience in a more controlled setting, like what private event spaces offer, so the staff decided to make some adjustments and add more unique options for corporate and personal events.
"We're essentially providing the 'best of Essence' with our menus, kitchen team and service staff, while also showcasing some intimate spots at our locations," Berg said.
For example, at the Bistro Bella Vita, the Private Dining Room currently accommodates up to 40 guests, Berg said it is "a beautiful private dining space" adjacent to Bistro's main dining room. Regular capacities of 80 for seated events, and 120 for standing, will resume post-COVID. The flexible space can accommodate receptions, corporate meetings, parties and more with a range of menu items from small plates, buffet style, custom courses and kids' items.
Similarly, Bistro's VIP Cellar Table is an intimate setting where hosts can entertain up to 14 guests in their own private corner of the restaurant—ideal for dinner meetings or groups out for a night on the town. Guests can order directly from Bistro's menu or create a custom menu for the event, and there is no minimum menu charge or room fee.
"Our priority at Essence Restaurant Group is to maintain the safest possible spaces for our guests to enjoy," said Berg. "Regardless of event size, we ensure strict attention to our safety guidelines for guests and staff, along with top-notch performance, aesthetic presentation and ultimate flexibility."