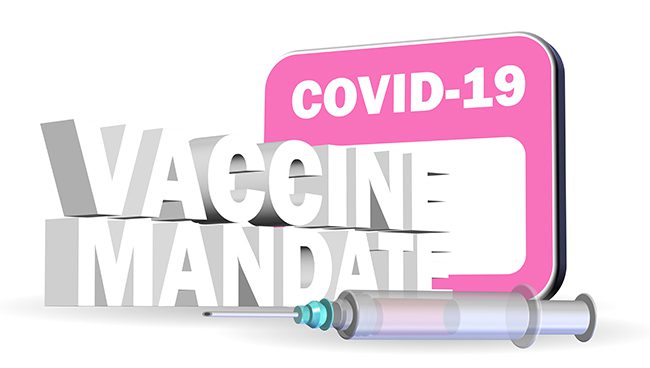 The U.S. Court of Appeals for the Fifth Circuit in New Orleans on Friday refused to lift a stay it had issued six days earlier halting President Joe Biden's mandate for large businesses to require COVID-19 vaccines for their workers.
The same court on Nov. 6 initially stayed the measure, announced earlier this month by the Occupational Health and Safety Administration, which would require businesses of 100 or more employees to require either a COVID vaccination or weekly negative tests.
In issuing its latest ruling Friday, the court called OSHA's rules a "mandate" which it said "grossly exceeds OSHA's … authority."
The court ordered OSHA to "take no steps to implement or enforce the Mandate until further court order."
Dozens of states are challenging the mandate in court, likely to constitute a lengthy legal battle. Employment attorneys told the Society for Human Resource Management the legality of OSHA's orders "likely won't be decided until it is reviewed by the Supreme Court."
The Justice Department responded to the court's latest ruling by pointing out in a statement the decision "is just the beginning of the process."
"The department will continue to vigorously defend the standard and looks forward to obtaining a definitive resolution following consolidation of all of the pending cases for further review," the statement said.
The appellate court originally stayed the requirements in response to challenges by the attorneys general of Texas, Louisiana, Mississippi, South Carolina and Utah, as well as several private companies.
Judges called the mandate "fatally flawed" and "staggeringly overbroad," arguing that the requirements likely exceed the authority of the federal government and raise "serious constitutional concerns," according to CNBC.
The Biden administration had asked the court on Monday to lift the pause, warning that delaying implementation "would likely cost dozens or even hundreds of lives per day" as the virus spreads.
According to CNBC, attorneys general in at least 26 states have challenged the requirements in five federal appellate courts. The cases will be consolidated in a single court through random selection among the jurisdictions where lawsuits have been filed, the network reported. The Justice Department said earlier this week that it expects the random selection to take place on Tuesday at the earliest.
David Vladeck, a professor of law at Georgetown University, told CNBC that there's a "high probability" the case will ultimately end up in the Supreme Court, where there's a conservative majority.
"There are justices on the court who want to rein in the administrative state and this is a case in which those concerns are likely to come to the fore," Vladeck told CNBC.