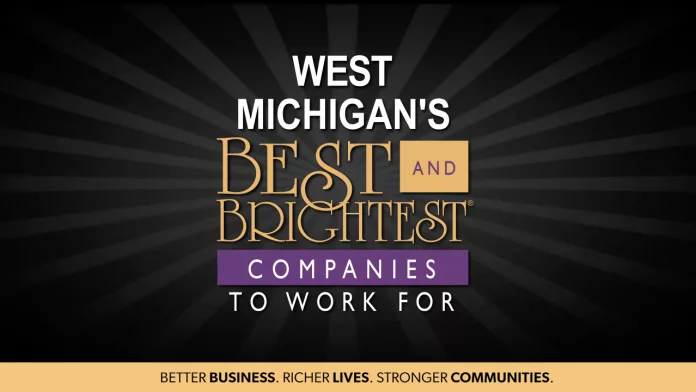 For Bruce Carrier and the staff at University of Michigan Health-West in Wyoming, Mich., it's all about the patients and, by extension, the people who take care of them.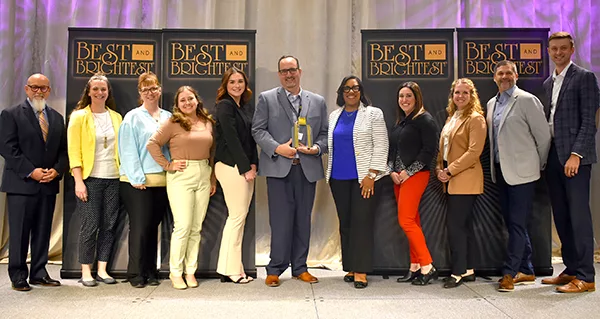 It's an attitude Carrier, UM Health-West's chief human resources officer, believes carried his organization to one of the prestigious "Best of the Best" awards at Tuesday's 2023 West Michigan Best and Brightest Companies To Work For celebration.
Held at The Pinnacle Center in Hudsonville, the 21st annual ceremony recognized organizations that display a commitment to excellence in their human resource practices and employee enrichment.
UM Health-West was honored as the Best of the Best Large Business. The 208-bed acute-care osteopathic teaching hospital serves some 250,000 patients and 61,500 emergency patients a year, with more than 500 physicians on staff.
"This truly means the culture we're creating for our employees … how as a large organization we step up and actually everything we do we try to do for the employees," Carrier said. "The employee is what we're here for, taking care of our patients. Our patients, our community mean the world to us and we want to make sure we have the best culture and organization to achieve this."
A large and enthusiastic crowd of West Michigan business leaders was treated to panel discussions on topics ranging from hybrid work schedules to challenges in recruiting and retention being faced by companies today.
Of course, the dozens of awards were the highlight of the day. The Best and Brightest is a powerful community of the nation's elite leaders who share ideas, practices, and have proven they are employers of choice. The Best and Brightest designation has been a great recruitment tool to attract and retain talent.
Organizations are assessed based on categories such as communication, work-life balance, employee education, diversity, recognition, retention and more.
"We are very proud of this powerful community of the nation's elite leaders who share ideas, practices, and have proven they are employers of choice," said Jennifer Kluge, CEO of the Best and Brightest Programs.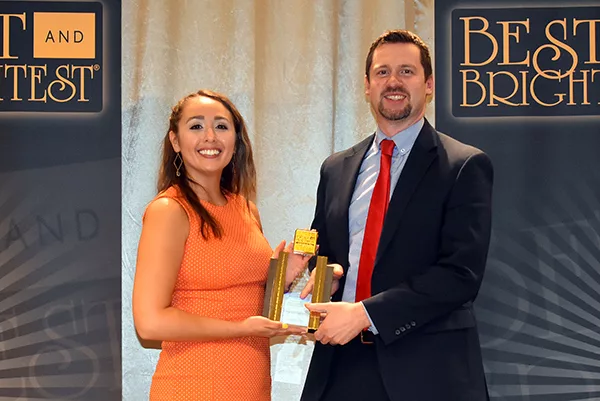 Best of the Best Medium Business
Brio Living Services, the Grand Rapids-based senior care service that has been serving older adults for more than 160 years, was named the Best of the Best medium-sized business.
Care delivered by Brio includes independent and assisted living, skilled nursing and rehabilitation, and dementia care. The company involves employees at every level of the organization, with focus groups conducted to provide insight into what they are doing well as an organization, as well as ways they can improve.
Courtney Phiscator, Brio's learning and development manager, called the award a "testament to all the hard working we've been putting in over the last couple of years."
"With the pandemic slowing things down and uprooting most of everyone's work life, this has been a way for us to know we're on the right track and that what we're doing is working," Phiscator said. "For us, it's the ability to adapt and the ability to take feedback and turn it around to make change. It's the act of following through that allows us to succeed."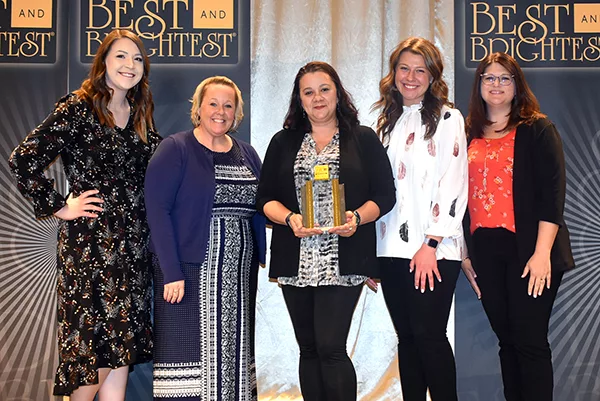 Best of the Best Small Business
For more than 100 years, the Andy J. Egan Company has built a reputation as West Michigan's largest mechanical contractor. That legacy, along with the company's ability to adapt to recent working conditions, helped Andy J. Egan earn honors as the Best of the Best small business at Tuesday's celebration.
As emcee Steve Kelly of WOOD Radio put it in reading the award, Andy J. Egan has "found a new normal … no longer tied to the traditional operations of in-person working."
"With collaboration from management, this company has settled into a good balance of a hybrid workforce, while increasing employee benefits, enhancing their workflow and experiences through upgrading technology for the team," Kelly said.
Abby Tutas, human resource associate for Egan, said the company's "focus on the people" helps set it apart.
"Top management has such a focus and passion for their people, they take care of us, we all are part of a team," Tutas said. "We all have one goal – to work together and get the job done. An award like this means a lot because we work very hard behind the scenes every day, so to be recognized for that work … means a lot to us."
In addition to the Best of the Best honors, a variety of Elite awards were given (You'll find the full list of winners in the upcoming May/June edition of Corp! Magazine). Elite winners Tuesday included: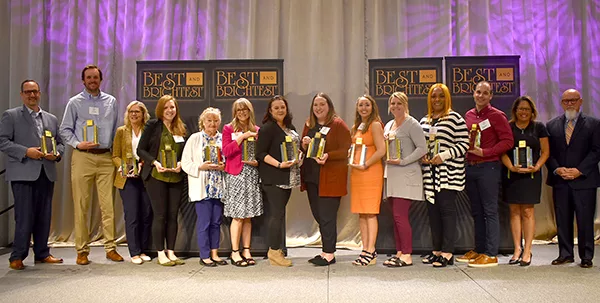 Community Initiatives and Corporate Responsibility
Padnos
Employee Education and Development.
Mercantile Bank
Creative, Wellness and Wellbeing Solutions
Honigman LLP
Employee Achievement and Recognition
Lake Michigan Federal Credit Union
Compensation, Benefits and Employee Solutions
Consumers Credit Union
Communication and Shared Vision
EV Construction
Recruitment and Selection
4Front Credit Union
Diversity, Equity and Inclusion
Blue Cross Blue Shield of Michigan
Employee Enrichment, Engagement and Retention
Holland Hospital
Work-Life Blend
MSU Federal Credit Union
Leadership, Strategy, and Company Performance
Total Quality Logistics