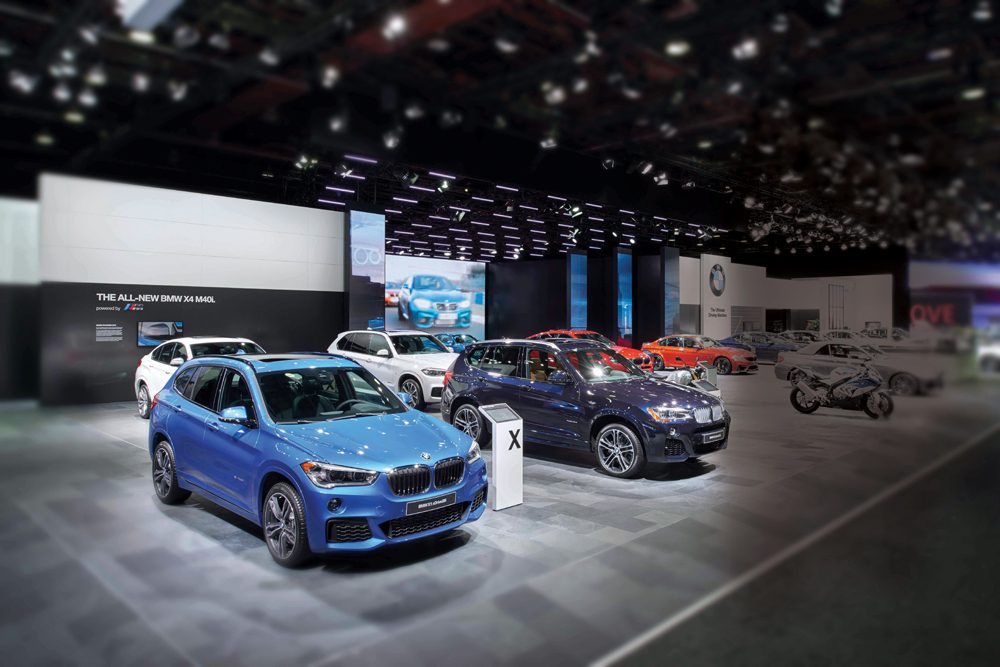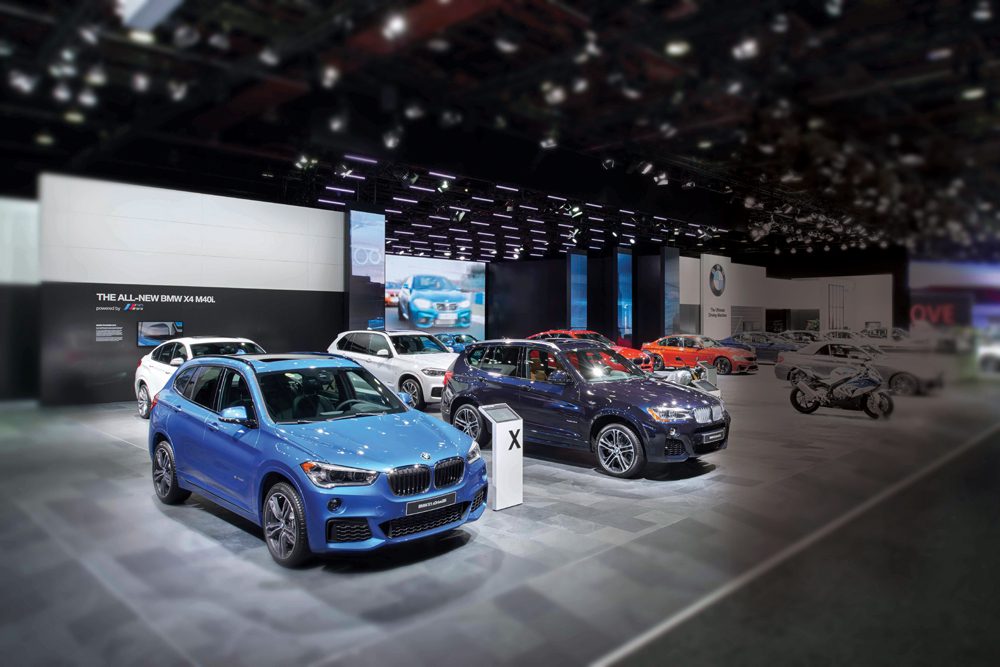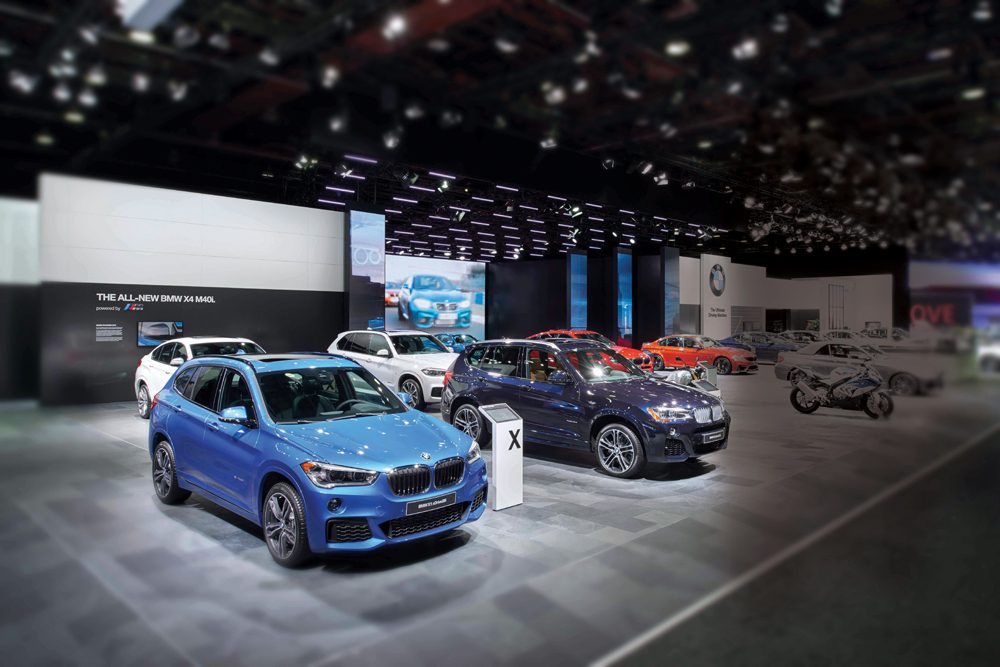 With technologies related to the auto industry continuing to evolve at an unprecedented pace, one question is worth asking: where does design come into play?
And even more to the point: how does today's high-tech automotive industry, with its integration of sensors and computers capable of making the vehicles we drive ever safer, incorporate something like design into the development stream that some might say is increasingly crowded, even turbulent?
In researching this story, we spoke with those whose career includes the shaping of vehicles, as well as others who help breathe life into brands through the development of exhibits, the kind that an estimated 800,000-plus visitors to the North American International Auto Show saw in mid-January.
What we discovered is that the art of asking questions and probing for answers may be among the most important skills that a design team can bring to the table, a "soft skill" that people like Helen Emsley, executive director of Global Buick and GMC Design, firmly believe is key to the differentiation that helps drive innovation and success.
"There's so much choice on the road today," says Emsley, a native of Yorkshire, England, who began her career at Opel Design in Germany. "There are similar prices, which means that standing out depends very much on design, even when it comes to options and accessories."
That design process, says Emsley, who earned a degree in textile design from Birmingham Polytechnic and a Master's in Transport Design from London's Royal College of Art, begins with conversations with customers, some who have bought one of GM's vehicles, but some who have purchased a competitor's product.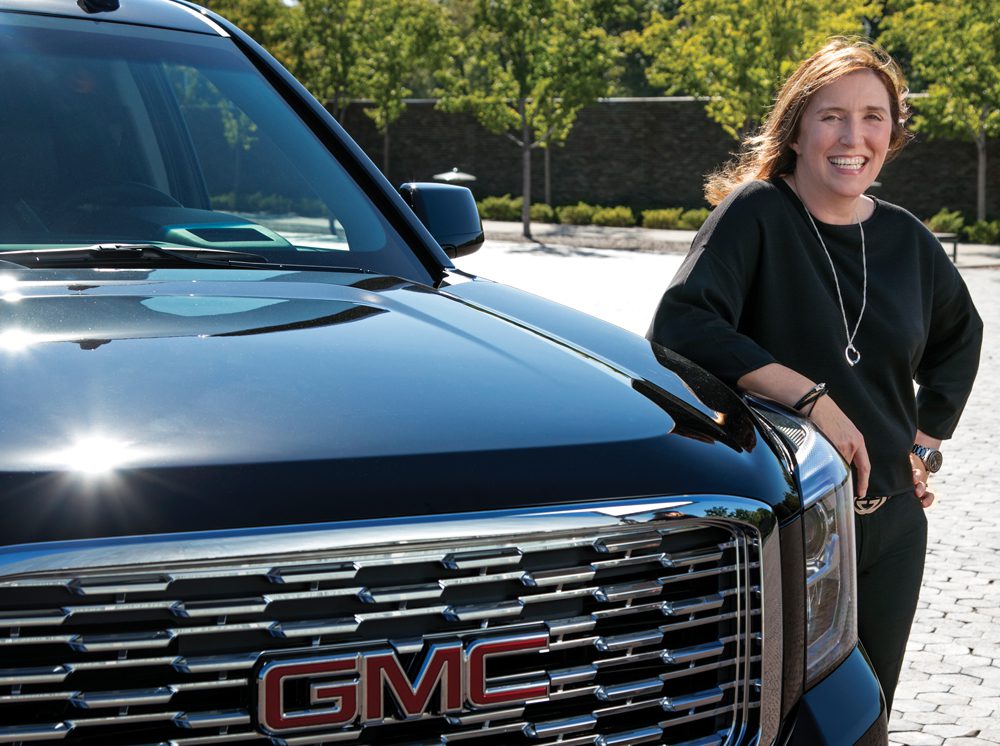 She uses the 2018 GMC Terrain as an example of how that design process worked its way through to completion, a vehicle that was introduced at the 2017 NAIAS in Detroit and which hit dealerships later that summer.
An already successful crossover whose first generation was launched in 2009 as a replacement for the Pontiac Torrent, the Terrain was poised for a rebirth.
And so the questions began.
"We asked people what they use it for, how many people are going to be in the vehicle, how often do they use the second row, the materials that they like in the vehicle, the options, the radio," said Emsley, running through the litany of customer inputs her team sought out like it was just yesterday.
"At this point we don't need them to pick the final design. What we're looking for is as much information as possible, so we can design around this information."
Competitive juices flow
And here is where Emsley puts forward a key reason for why her team is asking those questions in the first place.
"It's very important that we find out why someone bought that Ford or Lexus and not my vehicle," she says. "And what can I offer that would make you come into the GMC dealership."
As part of those conversations, Emsley's team realized that the answers they were getting were different ones than they would have heard six years ago.
Emsley also came to realize that the relationship that a customer is building with the automaker is no longer centered around the dealership, a change in mindset that GM has embraced.
"Our dealers aren't the ones that are probing the customer for answers as to what they like or don't like," adds Emsley. "We're the ones doing that now."
Those seemingly incessant questions have resulted in some interesting insights, like the one that came out a few years ago related to the GMC Sierra and the size of the vehicle's knobs and switches, which needed to be bigger because people were wearing gloves.
And then there was the simple issue of how once-pristine looking seats would turn into something of a war zone after a few spills. "We needed to go for clean, durable fabrics," notes Emsley.
Once answers to those questions are sought out and incorporated into sketches, they become one-quarter scale clay models.
Clay? Really?
Yes, really.
"We've tried going away from the clay, using digital technologies, but you have to be able to touch it, to feel it," says Emsley.
That said, advancements like virtual reality are also playing a part in the process, where the clay models (a select few are turned into full-scale versions) are then used to incorporate the Virtual Reality experience—VR— that allows designers to digitally sit in a vehicle.
"They can look around and reach for controls that aren't really there," says Emsley. "It saves a lot of time because we can then go back and change things as a result of what they see in the VR."
Full-scale models are also validated for their aerodynamic characteristics, again a key part of a successful design process that includes the often iconic grille, a highly functional part of any vehicle that has an internal combustion engine.
"The vehicle needs air to breathe, so that's key, but we also want the grille to be a work of art," says Emsley.
Bringing in manufacturing experts
There is certainly part of a design process that includes bringing in representatives from manufacturing, who offer valuable insight into the design process.
"It's easier to change something at the beginning of the design process than when it's closer to production," notes Emsley.
Emsley's career progression at GM, from her days when Opel was part of the automaker, included getting a call from Ed Welburn, the former head of design at the automaker.
Welburn, who retired in 2016 after 44 years of service and a year later was inducted into the Automotive Hall of Fame, asked Emsley to move stateside to help with the design of the seventh-generation Corvette (C7) and the Camaro that had a big part in the Transformers movie franchise. Later he put her in charge of overall design at GMC and Buick.
Welburn now has his headquarters in a renovated fire hall, "Ladder 12" on Lafayette Boulevard, accompanied by three of his favorite vehicles, including one of those C7 Corvettes, the Camaro he shepherded through to completion, and a classic Corvette he bought from baseball great (and friend) Reggie Jackson.
"I'm not really retired," says Welburn with a gentle smile. At least partly as evidence of that assertion, he told Corp! magazine that he'll become a visiting professor at Detroit's College of Creative Studies, where in 2017 he was presented with an honorary Doctorate of Fine Arts.
Among his current endeavors is the work he's doing as chief design advisor at BMAX, a subsidiary of a France-based company that includes former nuclear scientists working on magnetic pulse systems for metal processing.
"One of the things they're able to do is to stamp sheet metal in a way that it's never been done in the past, in a way that designers would have always dreamed of being able to do," said Welburn.
He's also working with someone (whom he would not name) who wants to design a one-off GT car.
"I'm not even sure if it will ever be built but it's a fun project and I do something every day, sketching on it. There's no real timeline but it's fun," he said.
Welburn is clearly "staying in the game" while acknowledging that he has an opinion on what makes good design (and what doesn't).
And here he talks about what works in crafting a well-thought-out automobile, at least from a design perspective.
"There are some that I think are quite good, but unfortunately, the ones that I think of the most are the ones that looked like they were in a knife fight and lost," says Welburn.
So what happened with the Aztek?
While not speaking about any one vehicle in particular, we did ask what we thought (out loud) might be an awkward question around the Pontiac Aztek, a vehicle which by nearly all measures was a marketplace failure, evoking at least one question by one potential customer: "What were they thinking?"
Welburn responded to the question without hesitation.
"Great design happens when you have a great relationship between all the partners involved in the development of a car, primarily design and engineering," he said. "That relationship is everything, and everyone needs to be on the same page, with a common vision for that vehicle. When you don't have that common vision, bad things happen."
In the case of the Aztek, those bad things were the result of design wanting an aggressive, sporty, off-road vehicle and engineering wanting to have a vehicle that was based on a car, with the same architecture, suspension and wheel size.
"That's what happened there," he said.
The design element becomes even more important when you consider the interplay between an aggressive design and one that's more on the timeless end of the scale.
"I love aggressive design, but if it's overtly aggressive, it has to change more often, because it can get old very quickly," said Welburn, recalling a vehicle that he saw in South Korea. "People were calling it the fish car and when I asked why, they said it was a reference to the idea that fish after a few days starts to smell. And people saw that this design, which was very aggressive, had started to go bad."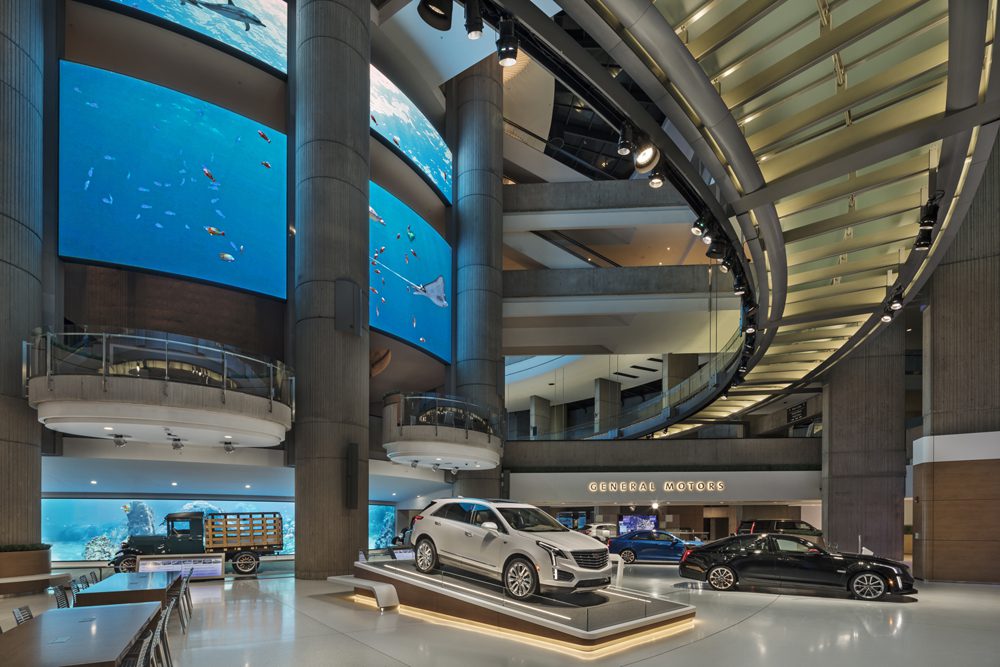 As vehicles find their way into production, consider the design work undertaken by professionals at exhibit houses like George P. Johnson, EWI Worldwide, and EEI Global, all firms that represent multiple vehicle brands at events like the recent North American International Auto Show.
Paul Hemsworth, vice president and creative director at George P. Johnson Experience Marketing, is familiar with one of the firm's clients, Fiat Chrysler Automobiles, whose Jeep nameplate is among one of the world's most iconic brands.
Designing the space at various auto shows is a mission that Hemsworth and his team take seriously, starting with their commitment to create an evocative experience.
"It's about that message and that character," he said. "It's capturing the lifestyle and values that the Jeep brand represents, which means we want in the exhibit space a physical expression of the vehicle's fun capability, the go anywhere, do anything image of Jeep."
While those are touchpoints for Hemsworth and his team, there are variations that reflect how the brand continues to evolve through various positioning statements and strategies.
For example, at one point, auto show exhibit spaces would feature waterfalls and rocks. More recently, in a strategy that sees the Jeep brand appealing to a city dweller, the elements at an auto show reflect that aspirational positioning.
With another brand represented by George P. Johnson, exhibit designers for Dodge have incorporated the specific front grille pattern into an architectural expression on an entire wall at the Detroit show.
Language is often 'subliminal'
"Some might see it right away, but it's more of a subliminal part of the language that's graphically represented in the space," said Hemsworth.
All through the kinds of changes that professionals at George P. Johnson see, there's a link back to the kind of communication process that GM's Helen Emsley spoke of earlier.
"We actually know the Jeep designers," said Hemsworth. "Some of them we went to college with and we get to speak with them and see how products are coming along in the design process, so on a confidential basis we develop an understanding of where they're headed from a design standpoint."
At EWI Worldwide, another exhibit design house where Chuck Bajnai serves as chief creative officer, the ongoing mission is to "create experiences that highlight and showcase features, as well as giving people a connection to a brand."
Certainly the core of that work has its expression at an auto show like Detroit's, says Bajnai, who worked at George P. Johnson before joining EWI in mid-2013.
But EWI is also busy creating permanent installations, so-called experience centers like the 50,000 square feet of space it is currently working on for General Motors at its Renaissance Center headquarters.
"We create stories and content that allow people to understand the brand's messaging," he adds.
Today's automakers and the exhibit houses that help them are even more focused on the details that they see as being essential to the first impression a brand will have with a prospective buyer, often at an auto show like NAIAS.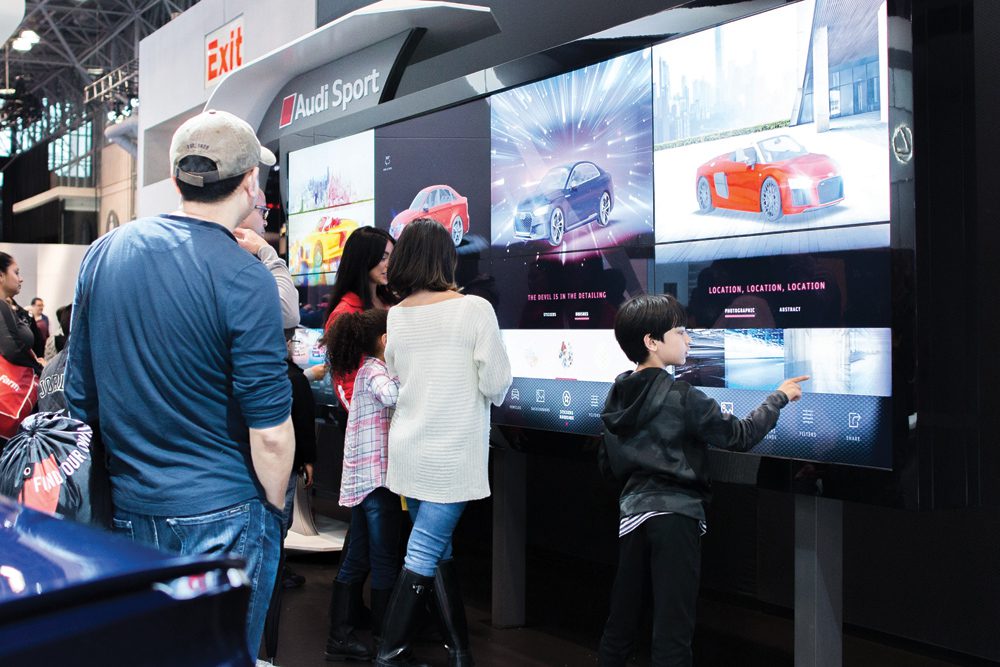 Derek Gentile, CEO at EEI Global, points to BMW as an example of a client that extends its obsession with engineering detail to an auto show exhibit.
"It's important to them how the stand design communicates to the public about their brand character," says Gentile, whose company has been building the BMW space at the Detroit show for some 17 years.
That includes elements like the sub-flooring (which can't move or have any squeaks), the lighting (including the "temperature" in different areas of the display), and other standards, such as no exposed hardware in the entire exhibit space.
As far as trends are concerned, one element might speak to GM's Helen Emsley's background in textile design, albeit in a roundabout way.
"You can't go into an exhibit today and not see a fair amount of textile," says Gentile.
"People might think at first that they're looking at brick or cement, but it's likely a fabric that has been used to create a unique look and feel but at a reasonable cost."
Which provides an interesting segue into the overall amount of money that automakers are investing in events like an auto show or other events.
"They are typically spending more on technology like LED video walls and panels, elements that can be integrated for video and atmospheric effects," adds Gentile. "The whole goal is to tell a unique story in an engaging way."