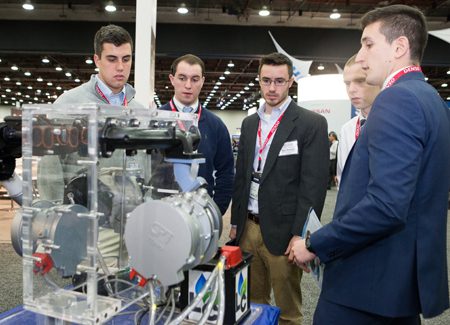 It may be a somewhat obvious statement, but for at least 10,000 members of the organization once formally known as the Society of Automotive Engineers—the place to be this week is the annual SAE World Congress, a three-day event that began Tuesday and wraps up Thursday at Detroit's Cobo Center.
Corp! magazine is there to take note of what automakers are busy developing, typically features that won't be in dealer showrooms and events like January's North American International Auto Show for months, even years in the future.
And while we'll be featuring highlights of the World Congress in our May/June 2017 print edition, we've already been sifting through some nuggets worth sharing with our readers.
As evidenced by numerous announcements—seemingly at the pace that might surprise industry observers used to a "slow and steady" approach to development—those who are taking the lead (or hope to) when it comes to a technical revolution in mobility are busy people indeed.
Considering that the SAE World Congress serves as the technical "meeting hub" for those that will, metaphorically at least, drive the future of a next generation of automotive innovation, it's a lot to take in over three days of workshops, seminars and presentations where suppliers and experts share the latest trends and views around industry standards.
There are two overarching topics, however, one involving a thoroughly modern version of the propulsion paradigm that was one of the first for automobiles—electrification. The other is the seemingly parallel innovation known as autonomous driving, or simply, the self-driving car.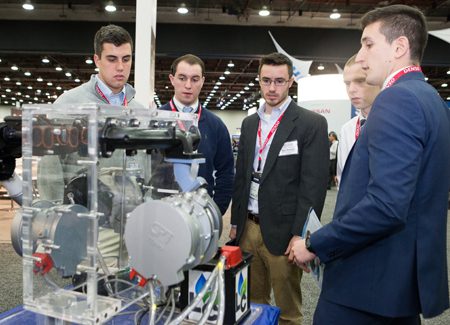 With Tesla poised to begin production of its $35,000 all-electric Model 3 and GM's Chevrolet brand already marketing the Bolt, the idea of a rechargeable vehicle has come off the drawing board and into dealer showrooms.
Those at the SAE World Congress will be among those who will be unpacking the various details required to make a vision of an electrified automotive landscape a reality.
One observer who is bullish on that future is Paul Eichenberg, an industry consultant who spent more than a decade at Magna, where he helped shape the auto supplier's business around self-driving cars.
While much more of what Eichenberg and others have told Corp! magazine will appear in our May/June feature, we can say that the attention around electrification and the technology around the advance of self-driving cars is justified.
For those wondering if the Trump administration's willingness to ease off mileage standards will slow the pace of electrification, Eichenberg's view is that from a global standpoint, the momentum is inevitable.
He points out that governments beyond America—including the European Union and China—are mandating an increasing percentage of vehicles will be zero emission (meaning electric or fuel cell).
A European Union mandate that all new homes (or those being substantially renovated) after 2019 be equipped with an electric vehicle charger simply adds to the momentum.
In the meantime this is SAE World Congress week and the people who will be ultimately responsible for much of what consumers will soon be driving—or being driven—are busy talking about the steps required to make all this happen.
Stay tuned.