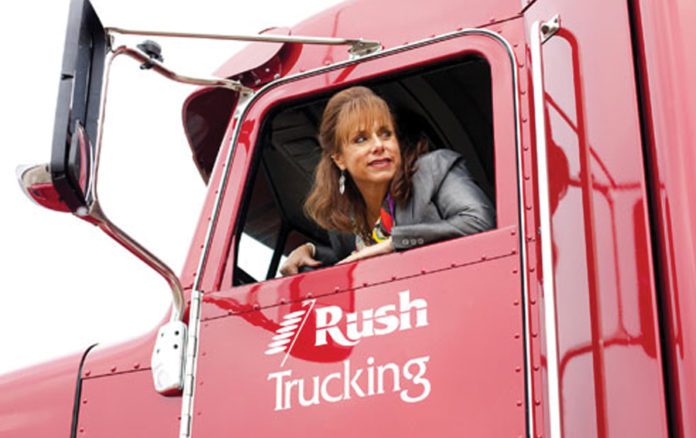 One of the state's largest woman-owned businesses is no longer woman-owned.
Rush Trucking Corp., an automotive parts hauler based in Wayne, Mich., recently ceased operations and has reportedly been sold to New York-based LaValle Transportation, Inc.
Emails and phone calls to both Rush Trucking owner Andra Rush and LTI officials were not answered. But FreightWaves.com, which covers the trucking industry, reported the sale earlier this week.
Rush confirmed the transfer of RTC to "new providers" in a statement reported by various outlets.
"With COVID-19's impact and the continual driver shortage, it became even clearer that the automotive focused segment of the trucking industry required consolidation," Rush said in the statement. "I collaborated with our major customers to ensure that a smooth transition of our business to new providers occurred, while maintaining the quality of service and ensuring continued employment opportunities existed for our employees."
Rush Trucking was founded in 1984 with a van and two pickup. The business eventually grew to more than 1,000 trucks transporting parts across the U.S. and Canada
FreightWaves reported that Rush Trucking had 354 power units and 374 drivers, according to the Federal Motor Carrier Safety Administration's SAFER website, and that many former Rush drivers hired on with LaValle, which has 425 power units and 440 drivers.
Andra Rush launched Dakkota in 2001. According to its website, Dakkota Integrated Systems is a joint venture with majority partner Rush Group LLC and Magna International Inc., and manages the complete assembly and sequencing of modules for OEMs and Tier One suppliers.
In her statement this week, Rush pointed out she has "other businesses that serve the auto industry," and is looking forward to "other opportunities."
"I am very excited about Dakkota Integrated Systems' new growth opportunities here in Detroit and Hazel Park, where, along with my team we are aggressively working to continue to meet our customer expectations while providing meaningful employment in historically underserved communities," the statement read. "We appreciate their continued support of Dakkota in our joint pursuit of optimization of the triple bottom line, 3P as it is sometimes referenced: "People, Profit and Planet" is a core value of Dakkota, and it's aligned with our major customers Ford, GM, Stellantis and Toyota's values as well."