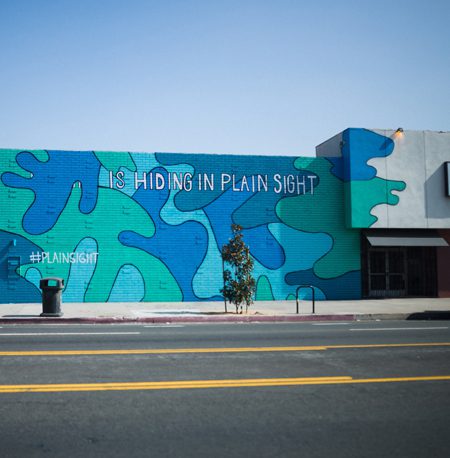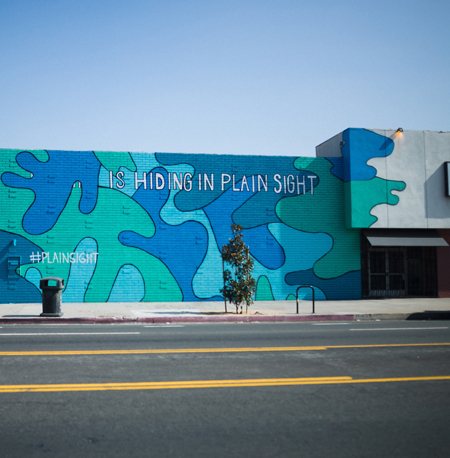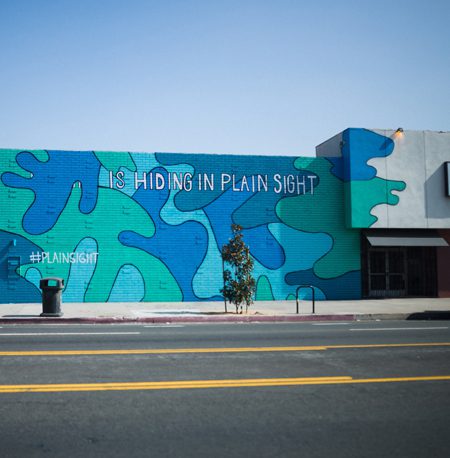 The idea of something "hiding in plain sight" isn't necessarily what might first come to mind regarding a series of murals that are appearing throughout Los Angeles.
But that's the question pop artist Richie Velazquez, AKA Deladeso, is presenting through his work.
And the answer? It turns out to be part of a content campaign produced for a peer-to-peer parking app called Pavemint.
The murals are located on busy thoroughfares like Melrose and Fairfax in West Hollywood, Sunset and Highland in Hollywood, Figueroa and MLK in Downtown LA next to Banc of California Stadium, Runyon Canyon in the Hollywood Hills, and Lincoln and Venice in Del Mar.
When put in place, they drew crowds of people all taking photos in front of the walls and offering their own opinions of what was hiding in #plainsight.
One example of the "buzz" created in the campaign was when Cody Walker, the younger brother of the late Paul Walker, hiked to the top of Runyon Canyon to have his photo taken doing "whatever this pose is."
Other initiatives came from former Vine superstar Brittany Furlane, who posed in front of one of the walls with the caption "What Is Yo Nayme???" and YouTube personality Chester See and director, writer and actor, Milana Vayntrub.
In addition to the stars, some used the murals as an opportunity to offer some uplifting takes on the hashtag. Instagram user @umm_steph and actress @brianaericaposted both posted that "Humanity is hiding in #plainsight." Another user, @marissamarz23 posted "Sometimes the bravest people you will ever know are right there in #plainsight." And yet another inspiring idea was offered by musician @dinarenee when she posted that "Beauty is hiding in #plainsight."
Officials from Pavemint said even businesses jumped on the campaign bandwagon. One was DoctorInsole, said to be the first over-the-counter, custom-grade orthotic insole. Its message was: "Pain relief is hiding in plain sight."
Pavemint CEO Randall Jamail expressed delight over the initiative.
With the app's "Parking Is Hiding in Plain Sight" campaign, officials hope to encourage people to make use of the numerous private spaces they've made available through the technology.
"In a season that often gets obstructed by the commerce of 'getting the best holiday deal,' it is so easy to miss the little gifts that brighten your day, like public art. We hope our temporary splash of color brought a smile to your face on your commute to work, home, your errands trip over the weekend, or your Runyon hike. We feel that there is so much in our community to be thankful for this holiday season that is hiding in plain sight."
A complete list of "Parking is Hiding in Plain Sight" murals can be found here.
Pavemint's iOS app was launched in October 2017. Officials say it manages more than 4,000 parking spaces in "some of the most difficult areas to find parking in LA." Pavemint (pavemint.com) launched a website in 2018, allowing drivers to search for and reserve parking from any device with a mobile browser, including smartphones with Android operating systems, Windows tablets, and desktop and laptop computers.